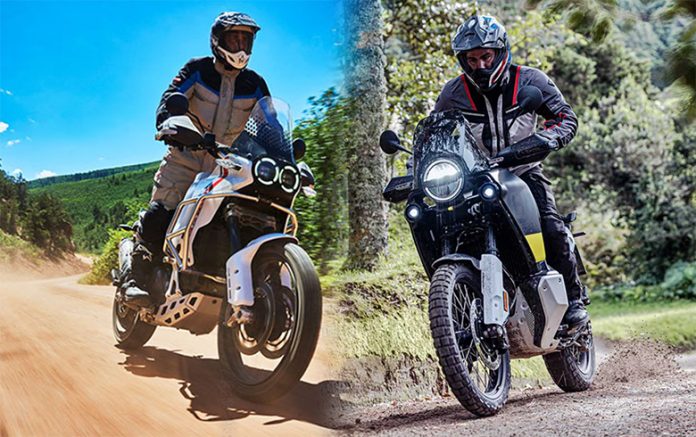 It looks like a chess game with two opposing black and white sides. One belongs to Swedish Husqvarna Norden 901 , and the other is Italian Ducati DesertX. From paved to unpaved, winding canyon roads to superhighways, the harsh cold of the north to the sweltering heat of the desert, they move over the bright and dark squares. Their competitive history and technicalities support their power of play and in this article, we will have a brief comparison review of the Ducati 2022 DesertX vs Husqvarna 2022 Norden 901.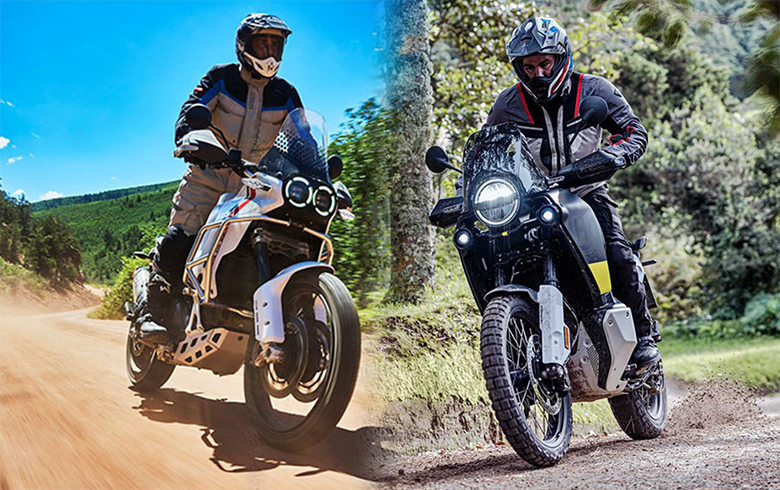 Ducati takes to the dirt to compete against the opposition in its environment with an arsenal of the most excellent tools from the Borgo Panigale, including high-end components, a premium feel, and the appeal of its name.
Husqvarna starts with the Scandinavian Defense, Black's earliest known opening move in contemporary chess. Husqvarna employs its pawns with a track record of off-road competition, Scandinavian design, and affordable price to thwart White's attempts to seize control of the board's center.
Ducati 2022 DesertX vs Husqvarna 2022 Norden 901– Comparison Review
Styling
The DesertX will probably be the iconic model of the 2020s if history confirms that decade as the heyday of adventure bikes. It conveys that beauty is a virtue in and of itself in the way that only an Italian machine can. The entire DesertX is a directly homage to Edi Orioli's Desmodue-powered Cagiva, which won the 1990 Paris-Dakar. It includes the dual headlights and the ducktail rear fender—the seat height is decent at 34.4 inches, and a 63.3-inch wheelbase. The broad-shouldered gasoline tank and tall, wide handlebars are practically in your face. However, it has a gorgeous appearance.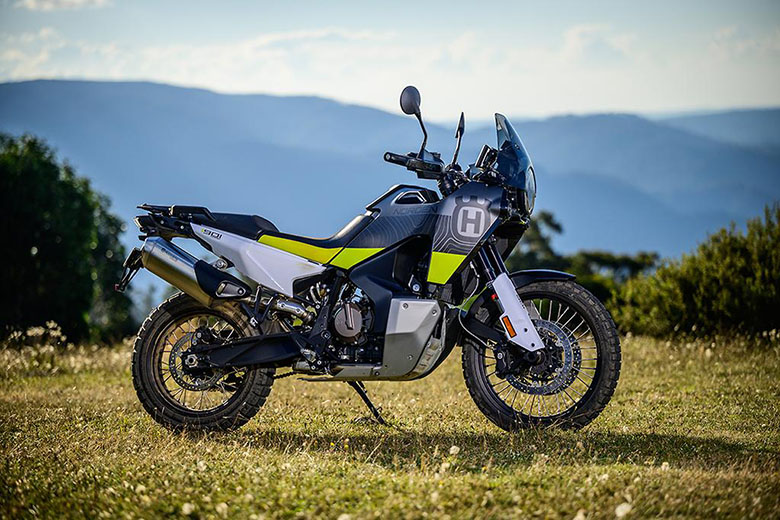 The Norden is a representation of Swedish history. Scandinavian design is renowned for its egalitarianism, simplicity, and preference for function above decoration. Norden is an example of this design philosophy, emphasizing usefulness and simplifying the spec sheet to meet user demands and price constraints. The Norden has a tool-like visual appeal, well-curved grip handles corrosion-resistant dual-drive screws, and in-mold graphics. It isn't overly precious, so it proudly displays dings and scratches as medals of distinction.
Suspension, Wheels, and Brakes
Both bikes like to be driven hard. The DesertX feels on stilts due to its 21/18-inch wheels and long-travel suspension (9.1-inch up front and 8.7-inch back), yet it handles well and feels sporty. Despite having a large, narrow front tire and a very raked-out front end, the KYB suspension is sufficiently stiff for aggressive street riding with just a few compression and rebound clicks and provides adequate feedback. Brembo M50 calipers designed for sportbikes enable one to brake hard into turns before hitting the apex and applying a lot of throttle on the way out.
Engine
The Husqvarna makes clear how these bikes approach the same duties differently. The Husqvarna Norden downs a shot of aquavit and shakes its fist at continental fanfare while the DesertX drinks ristretto from a small cup with its pinky up. The LC8c engine is rough and boisterous, but it's also wonderfully friendly. The Norden tractors along nicely at 1,500 rpm with the clutch off and no throttle input; wind on the throttle and it pulls efficiently. The initial touch of the throttle delivers all the good stuff since low- and middle grunt is what it's all about.
The Norden has expelled its wild streak above 6,000 rpm when the DesertX finds its stride, and power tapers off to its 8,500rpm redline—roughly 1,500 rpm lower than the Ducati's. Changing gears on the Norden is just as enjoyable as on the Ducati: at the lever, it's a little more notchy but wonderfully light and good to handle.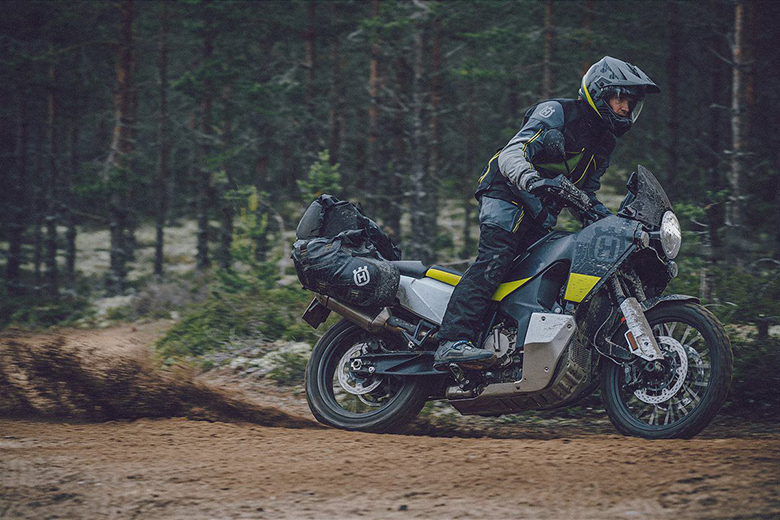 The Husqvarna, er, KTM, LC8c engine is an example of rationalization at work. It's surprisingly fuel efficient and easier to store inside the frame because of its small size. It functions like a hot-rodded twin and has strong bottom-end oomph. A 270-degree parallel twin simply cannot replicate the round, even power pulses and "Ducati feel" of the DesertX's Testastretta 11°, which is peakier and faster-revving than typically associated with the traditional 90-degree desmo twin.
Equipment
The electronics package on DesertX is also of the highest quality. Six ride modes include four power settings that let you adjust your engine's output and throttle responsiveness, three degrees of ABS, eight traction control settings (plus "off"), four wheelie control settings (plus "off"), and three engine-braking control levels. The three ride modes on the Norden have far less adjustability. Power output and throttle mapping depend on the ride mode and cannot be changed separately. Traction control and ABS can be switched between "on" and "off" modes.
Both motorcycles appear somewhat weakened when transitioning from tarmac to dirt over extended miles of pavement. Although short windscreens are stylish, they can be uncomfortable on the highway due to the loud wind noise. The DesertX is superior to a tourer right out of the box, thanks to a slightly quieter screen and an engine that runs more smoothly at motorway speeds. On the Norden, the engine feels active and slightly vibratory at 70 mph and 4,500 rpm in top gear.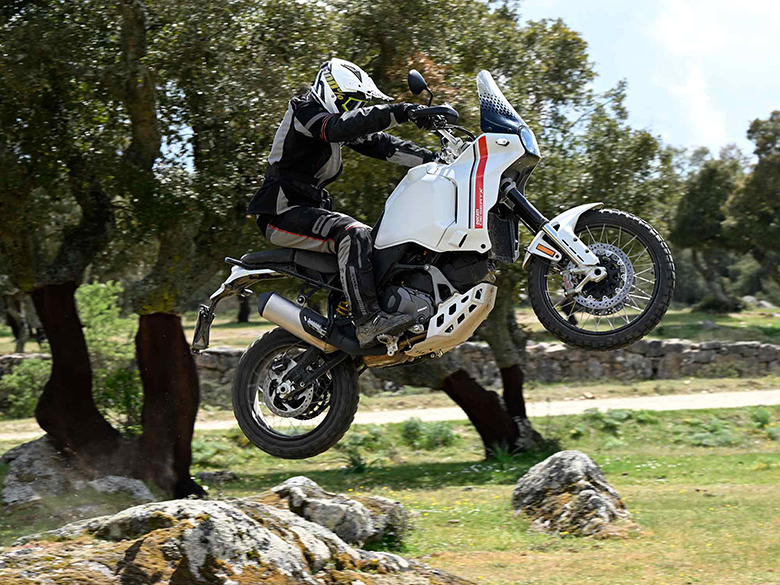 On the Husqvarna Norden 901, the rider can't help but be drawn to mud and gravel; on the DesertX, the internal homing beacon directs one to the winding tarmac. Few ADV motorcycles give riders as much confidence as the Norden, inspiring them to explore the terrain on other motorcycles that they might otherwise shun. The Norden's small parallel twin and pannier-style tank produce a low center of gravity that completely changes the game. The Norden naturally picks itself up when the rear end boosts sideways over a sharp-edged rock. One is encouraged to leave it in a gear that is too high and creep through challenging terrain because of the tractor-like torque and analog-feeling throttle response. The Norden has a dynamic riding experience that makes it feel like a smaller, lighter motorbike due to its quickness and stability.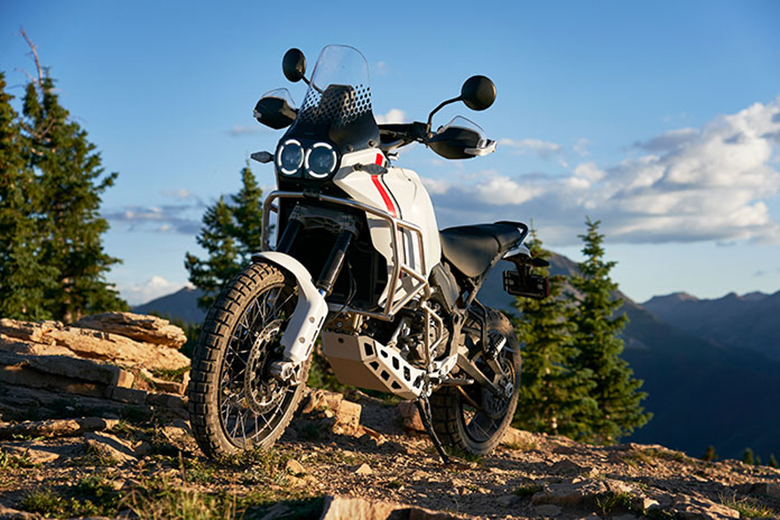 Ducati 2022 DesertX vs Husqvarna 2022 Norden 901 – Technical Specifications
| Specs \ Bikes | Ducati 2022 DesertX | Husqvarna 2022 Norden 910 |
| --- | --- | --- |
Price
Engine
| | | |
| --- | --- | --- |
| Type | Testastretta 11° desmodromic, liquid-cooled L-twin; 4 valves/cyl. | DOHC, liquid-cooled 4-stroke parallel twin; 4 valves/cyl. |
| Displacement | 937cc | 889cc |
| Bore x stroke | 94.0 x 67.5mm | 90.7 x 68.8mm |
| Compression ratio | 13.3:1 | 13.5:1 |
| Transmission/final drive | 6-speed/chain | 6-speed/chain |
| Horsepower | 110 hp @ 9,250 rpm | 105 hp @ 8,000 rpm |
| Torque | 68 lb.-ft. @ 6,500 rpm | 73 lb.-ft. @ 6,500 rpm |
| Fuel system | Bosch electronic fuel injection w/ 53mm throttle bodies; ride-by-wire | EFI w/ 46mm DKK Dell'Orto throttle bodies |
| Clutch | Wet, multi-plate slipper and self-servo; hydraulic actuation | Wet, multi-plate PASC slipper; cable actuation |

Chassis
| | | |
| --- | --- | --- |
| Frame | Tubular steel trellis | Chromium-molybdenum steel |
| Front Suspension | KYB 46mm upside-down fork, fully adjustable; 9.1 in. travel | 43mm WP Apex USD fork, fully adjustable; 8.7 in. (220mm) travel |
| Rear Suspension | KYB mono-shock, fully adjustable, remote preload adjustable; 8.7 in. travel | WP Apex monoshock, rebound and preload adjustable; 8.5 in. (215mm) travel |
| Front brake | Radial-mount Brembo M50 Monoblock 4-piston caliper, dual 320mm semi-floating discs w/ Bosch Cornering ABS | 4-piston radially mounted caliper, dual 320mm discs w/ cornering ABS, Off-road mode disengageable |
| Rear brake | Brembo floating 2-piston caliper, 265mm disc w/ Bosch Cornering ABS | 2-piston floating caliper, 260mm disc w/ cornering ABS, Offroad mode disengageable |
| Wheels, front/rear | Cross-spoked, tubeless; 21 x 2.15 in. / 18 x 4.5 in. | Tubeless aluminum spoked wheels; 21 x 2.50 in. / 18 x 4.50 in. |
| Tires, front/rear | Pirelli Scorpion Rally STR; 90/90-21 / 150/70R-18 | Pirelli Scorpion Rally STR; 90/90R-21 / 150/70R-18 |
Dimension
| | | |
| --- | --- | --- |
| Rake/trail | 27.6°/4.8 in. | 25.8°/4.2 in. |
| Wheelbase | 63.3 in. | 59.6 in. |
| Ground clearance | N/A | 9.9 in. |
| Seat height | 34.4 in. | 33.6 in. (adjustable to 34.4 in.) |
| Fuel capacity | 5.5 gal. | 5.0 gal. |
| Avg. Consumption | 42.2 mpg | 49.3 mpg |
| Curb weight | 492 lb. | 449 lb. |
Conclusion
Natural rivals are DesertX ($16,975) and Norden 901 ($13,999). The difference between the two is only 48cc, five horsepower, five lb-ft of torque, and around 10 pounds. The Norden's off-road usability, charismatic engine, and tough usefulness make it a doorway in more ways than one. Its ability to do its task while having fewer tools than the Ducati attests to the range of its advantages and the unique way it makes the classic big, tall adventure bike more widely available.
At its core, middleweight adventure motorcycles are designed to transport riders to remote locations and over terrain, they would never risk on a big-bore adventure tourer, and the Norden excels in that area. Not because it is a more capable motorbike than the DesertX but because many riders will probably feel more at ease riding it.