The 1100 Sport PRO, Ducati's top-of-the-line Scrambler for 2020, is undoubtedly the most technologically advanced model in the wildly popular Scrambler line. The Sport PRO comes with fully adjustable Ohlin's suspension front and back, while the Ducati 1100 PRO rides on 45mm Marzocchi forks and a side-mounted direct Kayaba rear. Despite sharing the same lovely air-cooled Desmodromic L-twin, Bologna has added two new Scramblers to its lineup that must adhere to the strict new Euro 5 rules in some markets. For 2020, Ducati has also implemented many positive design improvements, including a redesigned rear end, a distinctive double-stacked exhaust, and a relocated number plate. Let's find out the full comparison review of 2021 Scrambler 1100 Pro vs 2021 Scrambler 1100 Sport Pro.
2021 Scrambler 1100 Pro vs 2021 Scrambler 1100 Sport Pro – Comparison Review
Pricing Comparison
The slightly more affordable $18,400 (Ride Away) Marzocchi-forked 1100 PRO comes with larger bars and is available in summery "Ocean Drive" paint. With lower, narrower handlebars and topped with bar-end mirrors, the Sport PRO with Ohlin's is available for a few dollars more, or $21,100 (Ride Away). Additionally, it is available in matte black, which is undoubtedly hot but may not be particularly summery.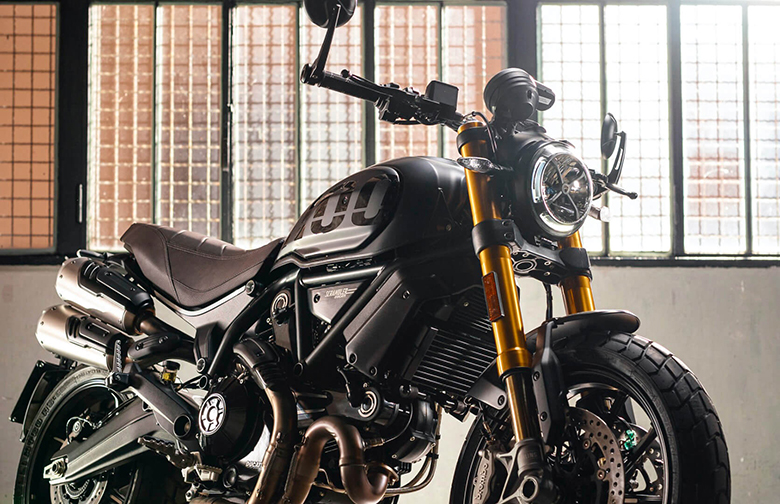 Engine Comparison
The two-valve-per-cylinder engine is entirely a product of Italian engineering. In 2011, the Monster employed a motor that was quite comparable to this one. Before strict emission regulations were implemented, it was reported to have 100 horsepower, and it is still one of the most visually appealing engines Ducati has ever built. It has dramatically improved Scrambler's curb appeal with the new double-stacked exhaust, which now looks like a stylish aftermarket accessory.
1100 is pretty dynamic under acceleration and ticks over well at idle. Ducati chose to stick with the charming, air-cooled engine rather than trying to get more power from an ugly, mostly characterless liquid-cooled lump.
For all vehicles, the improved fueling results from similar Euro 5 regulations. However, refinement has not been lost. With useable torque available from low in the rev range and the ability to quickly accelerate from modest speeds in a tall gear, it is effortless and accurate from small throttle openings. As you might anticipate from a rather low-revving air-cooled twin, fuel economy isn't too poor. The attractively designed 15-liter fuel tank has an acceptable range of 250–270 km.
Riding Comparison
With its more relaxed riding position, the standard PRO's ergonomics are more accommodating. Two trip meters, a digital fuel indicator along the bottom, and a range to empty are all features of the distinctive digital clocks.
Ergonomics Comparison
Compared to the standard PRO model with its broader bars, the sportier Sport 'bars are significantly lower and straighter, encouraging you to ride with greater aggression. With its redesigned ergonomics and bar-end café racer-style mirrors, the Sport has a sportier look and feel. It also moves you farther forward in the chassis.
On the move, you may feel the Scrambler's benefits right away, including its simplicity and natural ability, mainly due to its easy handling and lightweight. Given that the suspension has no rear linkage, the Ohlin's suspension is regulated but not overly sporty-firm; the ride is comfortable and even a little opulent.
You roll into corners, maintain corner speed, experience feedback from that superb suspension, and use torque to accelerate out of them. Although the Pirelli MT60RS rubber has a wet race look, the tires handle and grip much better than they might initially appear to. Additionally, you have lean-sensitive traction control on the way out and cornering ABS on the way in if you become overly eager. This Scrambler isn't ashamed to show the world what the bottom of its engine looks like mid-corner because it has a lot of ground clearance.
Suspension and Tires Comparison
Ducati didn't buy its suspension at the Dollar Store because the basic PRO isn't pouring in Ohlin's suspension. No worse than the top model, neither Marzocchi nor Kayaba has inferior adjustment options. The MT60RS tires, as well as the rake, trail, and all other chassis measurements, are unchanged. Additionally, according to Ducati, the dry weight is the same.
Dimension Comparison
However, more upright 'bars give the impression that the PRO model is slightly lighter. It could be because wide 'bars give you more leverage and make it simpler to maneuver the bike.
Again, the ride quality on the base PRO model is excellent; it may even be slightly more accessible than on the Sport due to less weight on the spring and more loaded sag at the rear. The suspension's ability to handle road irregularities, bumps, and crests when traveling at high speed is the primary distinction, other than stance.
The Sport is more at ease; it supports its weight wonderfully, and the suspension moves freely while keeping the bike steady and providing feedback, much like a swan whose legs churn wildly below the surface of the pond while it is so gracefully floating above it.
Brakes Comparison
The PRO with Marzocchi/Kayaba equipment jolts more when moving quickly. It doesn't iron the road as flat or react as quickly as the hlins setup. The hlins design is always precise when you push the handling hard and open up the throttle.
On the Sport variant, the Ohlin's setup performs better, but the regular PRO's taller, more comprehensive, and more upright riding stance is preferred. It can be forced into turns nearly like a Supermoto instead of dangling off the inside, which feels strange on a Scrambler.
Equipment Comparison
The Ducati Safety Pack, or rider assistance to you and me, is a standard feature on both models and is the same on both motorcycles. Excellent ABS cornering performance is combined with lean-sensitive traction control that can only be turned off at a complete stop. There are three rider modes: City, Journey, and Active, which make life easier. For whatever reason, Ducati has abandoned the previous Urban, Touring, and Sports categories.
Power Comparison
City mode features a mild throttle map, a 10 horsepower reduction, and increased traction control. Both Journey and Active are operating at full power, but they have different TC settings, engine, and throttle characteristics. On the move, switching between the modes is comparatively simple, and using the essential dash is relatively simple.
ABS
Non-intrusive ABS is usually a plus, but on wonderful summer days (like the one we got for the test) when the grip feels limitless, you might question whether you need adjustable traction control or a rider mode that further cuts the Scrambler's 86 horsepower.
The Scrambler isn't scared to go off-road briefly. Mostly smooth fire trails and dusty tracks, where the rider aids may also be helpful, especially for less experienced riders. The already venerable Ducati Scrambler 1100 was understated but sleek and refined. It was manageable and had just enough power to make your day better.
2021 Scrambler 1100 Pro vs 2021 Scrambler 1100 Sport Pro – Technical Specifications Comparison
| Specs \ Bikes | 2021 Scrambler 1100 Pro | 2021 Scrambler 1100 Sport Pro |
| --- | --- | --- |
Engine
| | |
| --- | --- |
| Type | 1,079 cc, L-Twin, Desmodromic distribution, two valves per cylinder, air-cooled |
| Bore x Stroke | 98 x 71 mm |
| Compression Ratio | 11:1 |
| Power | 62.3 kW / 86 hp at 7500 rpm |
| Torque | 88.4 Nm at 4750 rpm |
| Fueling | Electronic fuel injection, 55mm throttle body including entire Ride by Wire (RbW) |
| Gears | 6 speed, Straight cut gears, Ratio 1.85:1,chain; Front sprocket 15 and Rear sprocket 39 |
| Clutch | Light action, wet, multi-plate clutch including hydraulic control. Self-servo action on a drive and slipper action on over-run |

Chassis
Frame
Trellis
Forks
Marzocchi fully adjustable Ø45 mm USD fork
Öhlins fully adjustable 48 mm USD fork
Shock
Kayaba mono-shock, pre-load and rebound adjustable
Öhlins mono-shock, pre-load, and rebound adjustable
Tires/Wheels
10-spoke in light alloy, 3.50″ x 18″ / 10-spoke in light alloy, 5.50″ x 17″
Front Brakes
2 x Ø320 mm semi-floating discs, radially fixed Brembo Monobloc M4.32 callipers, 4-piston, axial pump featuring Bosch Cornering ABS as standard equipment
Rear Brake
Ø245 mm disc, 1-piston floating caliper including Bosch Cornering ABS as standard equipment
Electronics
Riding Modes, Power Mode, LED rear light featuring diffusion light, Ducati Safety Pack (Cornering ABS + DTC), RbW, Machine-finished aluminum belt covers, LED light-guide, LCD instruments including gear and fuel level indications , Steel tank including interchangeable aluminizes, Under-seat storage compartment featuring USB socket
Instrumentation
LCD
Dimension
| | |
| --- | --- |
| Dry Weight | 189 kg |
| Kerb Weight | 206 kg |
| Seat Height | 810 mm |
| Wheelbase | 1,514 mm |
| Rake / Trail | 24°.5 / (4,4 in) |
| Fuel Capacity | 15 L / 5.2 l/100km – CO2 120 g/km |
Others
| | |
| --- | --- |
| Service Intervals | 12,000 km /12 months |
| Warranty | 24 months unlimited mileage |
| Available | Now |
Price
| | | |
| --- | --- | --- |
| Price | $18,400 Ride Away | $21,100 Ride Away |