There is a number of ways to decide which bike model should be compared to another. One of the most practiced ways is that models must have same engine size regardless of the categories. In this article, we will conduct a comparison test between Triumph Street Twin vs Ducati Scrambler Icon vs Yamaha FZ-07. These bikes belong from different categories but they have price and number of a cylinder in common. These bikes are well-known for their performance and cheap price factors. The proper Triumph Street Twin vs Ducati Scrambler Icon vs Yamaha FZ-07 comparison test is given below.
Triumph Street Twin vs Ducati Scrambler Icon vs Yamaha FZ-07 – Review
Triumph Street Twin
The Triumph Street Twin is an incredible bike featuring an incredibly powerful engine. It features the classic styling with the powerful liquid-cooled parallel-twin engine. Its overall beauty is enhanced by the use of tread design Pirelli Phantom tires. The Street Twin is the brilliant combination of Modern Classic featuring a lot of features like ride-by-wire throttle, traction control and much more. The new speedometer has now white font color and black background color. It does not include a tachometer and the small LCD is somewhat difficult to read. However, the dashboard does provide useful information. It is not very expensive and contains a lot of features. It has the single action dual piston front brake calipers to ensure better-stopping power.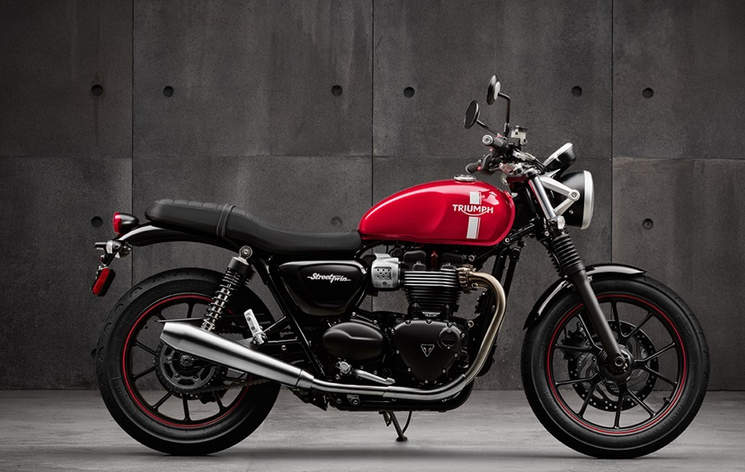 The Triumph Street Twin is somewhat larger than other two model which gives it an attractive look. Its seat height is about 29.8 inches and handlebars are kept closure to the seat for better handling experience. The overall weight of the bike is slightly heavy especially when the tank is full of gas. Maneuvering in this bike takes a lot of effort as compared to other two models. The suspension system works fine in it containing an old-fashioned twin shock and no adjustment except for the rear spring preload. It has a toolbox held on its right side cover.
Ducati Scrambler Icon
The Italian manufacturer Ducati introduced its Scrambler models back in the 1960s and since then they are very famous for their looks and performance. The Ducati Scrambler Icon comes with the single stylish aluminum fuel tank covers with attractive handlebars, tires and comfortable seat. It features the 803cc V-Twin engine offering an amazing performance at above 4,000 RPM. Its clutch is light and easy to use, thanks to the use of APTC (Adler Power Torque Clutch) mechanism. The throttle response of engine is mind-blowing.

The comfortable seat design ensures that rider can have a comfortable ride yet it provides plenty of space for movement. The seat has a soft form which adds another level to comfort. Some riders may find the handlebars too wide and high. The footpegs are carefully positioned for better ride plus they give a retro look to the bike. The latest and high-tech digital dash has multiple displays providing all the necessary information. The only negative point is regarding to the styling of Ducati Scrambler Icon is that its evaporative canister is positioned at its front left of the engine and the swingarm-mounted rear mudguards, both of these look like afterthoughts.
Yamaha FZ-07
The Yamaha FZ-07 is really an impressive, less-expensive, twin-cylinder engine featuring an excellent style and provides an outstanding performance. The price of Yamaha FZ-07 is $6,990 which is about $1,200 less than the price of FZ-09. It does not have a ride-by-wire throttle, variable drive modes, ABS, traction control and suspension damping adjustments. But it has the powerful four-piston front calipers providing the best stopping power. It gives an aggressive riding position with the flat and sportbike-style saddle. It has a low weight of about 379 pounds in dry conditions which offer excellent maneuvering experience. The seat height is the bit taller i.e. 31.8 inches but the junction between seat and gas tank is narrow which can easily accommodate the short rider as well. This Yamaha bike comes with the 17s shod with swoopy-looking Michelin Pilot Road 4 radials. Its suspension is somewhat low-tech but it works very well on rough surfaces.

The powerful liquid-cooled, eight-valve 689cc parallel-twin engine performs well in all conditions. It's low-end and midrange torque gives an incredible takeoff. It is 67.8 hp engine just a few points bigger than Ducati's engine i.e. 67.1 hp. The Yamaha FZ-07 is best known for its sporty shifting and close-ratio six-speed transmission. The overall gearing is very low means the rider will find himself at one gear taller as compared to Ducati and Triumph. It has a digital dashboard offering plenty of information. The overall styling might be attractive for young riders due to its transformers look, but older and adult riders may not like its design. It will be turned off by the acres of faux carbon finders and the side plates that are made of plastic. The color combination makes it even more attractive which is its plus point.
Triumph Street Twin vs Ducati Scrambler Icon vs Yamaha FZ-07 – Specifications Comparison
| Specs\Bikes | Triumph Street Twin | Ducati Scrambler Icon | Yamaha FZ-07 |
| --- | --- | --- | --- |
Power
| | | | |
| --- | --- | --- | --- |
| Horsepower | 52.2 at 6120 RPM | 67.1 at 8100 RPM | 67.8 at 8800 RPM |
| Torque | 57.0 lb.-ft. at 3070 rpm | 45.6 lb.-ft. at 5800 rpm | 47.6 lb.-ft. at 6500 rpm |
| Braking 30-0 MPH | 32 ft. | 33 ft. | 34 ft. |
| 60-0 MPH | 128 ft. | 129 ft. | 136 ft. |
Dimension
| | | | |
| --- | --- | --- | --- |
| Dry Weight | 461 lb. | 375 lb. | 379 lb. |
| Fuel Capacity | 3.2 gallons | 3.6 gallons | 3.7 gallons |
| Seat Height | 29.8 inches | 31.1 inches | 31.8 inches |
| Wheelbase | 56.8 inches | 56.9 inches | 55.4 inches |
Mileage and Speed
| | | | |
| --- | --- | --- | --- |
| Fuel Mileage | 49 mpg | 47 mpg | 46 mpg |
| 1/4 Mile | 13.37 sec. @ 97.17 mph | 12.46 sec. @ 106.03 mph | 12.06 sec. @ 109.35 mph |
| 0-60 MPH | 4.4 sec. | 3.7 sec. | 3.4 sec. |
| Top Gear 40-60 MPH | 4.0 sec. | 3.7 sec. | 3.3 sec. |
| 60-80 MPH | 4.8 sec. | 3.9 sec. | 4.0 sec. |
Price
| | | | |
| --- | --- | --- | --- |
| Price | $8,700 | $8,895 | $6,990 |
Conclusion
This article is about the comparison test between the Triumph Street Twin vs Ducati Scrambler Icon vs Yamaha FZ-07. The Triumph Street Twin is somewhat fallen behind in terms of performance, classic look but it has a lot of attractive and latest features. It is the most enjoyable bike to ride in this group.
The Yamaha FZ-07 is the best sports bike among these three and is cheap as well. One can save $2,000 if he purchases it but it only contains few features. It is great for young riders but the older people may try not to go for it.
The Ducati Scrambler is the most stylish bike in the comparison test but it is not good is performance side plus it is looting expensive and comfortable. But it offers a lot of customization and is available in six different versions. One may choose it according to his taste.