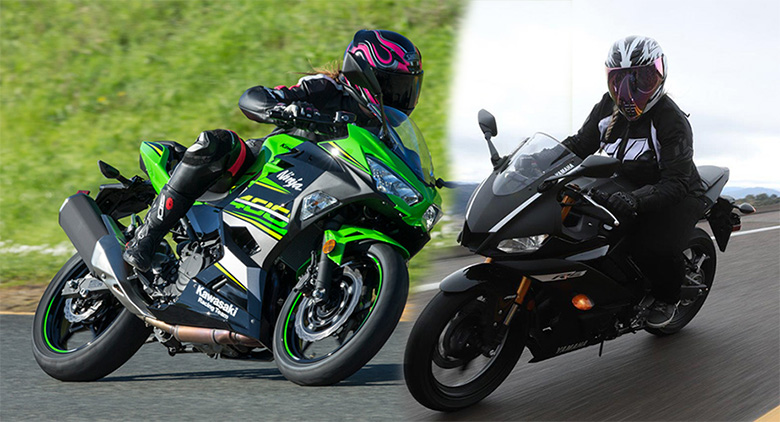 Today, we are going to have a brief comparison review of Kawasaki 2019 Ninja 400 vs Yamaha 2019 YZF-R3. Both of these bikes are known for their impressive horsepower engine and higher lean angles. There excellent styling and breathtaking performance have won the number of hearts.
It's a universal truth that most riders want more horse and impressive; both are present in Kawasaki Ninja 400 and Yamaha YZF-R3. Their exciting performance and thrill speed classify them. They have low-seat height with ultimate power and nimble handling that comes as an affordable price range. Even the experienced riders will find it hard to ride these bikes. So, don't worry, our passengers have are professional road racer who will take these bikes to their limits. So, let's a brief look at their comparison review.
Kawasaki 2019 Ninja 400 vs Yamaha 2019 YZF-R3 – Comparison Review
The Kawasaki Ninja 400 is best for its performance in small-displacement super sports segments. It has got a power parallel-twin 399 cc engine packed in tubular-steel chassis. The reason behind its success is lightweight Ninja's title of the best on-road seller in the entire Kawasaki lineup. At the same time, it offers riders more room for aerodynamic changes claimed to make it 7-percent more slippery plus raise top speed by 5mph. On the other hand, the Yamaha YZF-R3 features 321cc parallel-twin engine that is unchanged but the bike contains 37 mm inverted KYB fork including LCD dash and aggressive ergonomics. Yamaha says that they have sold more than 20,000 YZF-R3's in the past three years accounting for approximately half of all R-model sales.
Well, most of the motorcycle users use bikes for the mode of transportation. Still, both of the companies have not given any sort of city riding information regarding these bikes. So, we will only focus on the racing aspect of both of these bikes. But moving towards the ground, let's have a look at both of these bikes on-page. It clearly shows the Kawasaki has the advantage of 78 cc displacement. The Kawasaki can easily harness 43.4 hp at 9,900 rpm and 24.7 pound-feet of torque at 8,300 rpm while the Yamaha YZF-R3 can deliver 36 hp at a higher 10,700 rpm and 19.8-pound feet of torque at 9,000 rpm.
Let's have a look at the torque chart of both of these bikes, the Ninja's torque curve is steeper in its midrange, and it pulls longer after peak output giving useful over-rev and more flexibility in shift points. Riding a Kawasaki is like riding a missile. On the other hand, the torque curve of Yamaha YZF-R3 is flatter as compared to Ninja and the power drops off more dramatically. So, Ninja 400 takes the lead here by giving out eight mph quicker than Yamaha on straight race.
With just a minor twist of a throttle, Ninja can quickly produce the power above 7,500 rpm giving enormous speed leaving R3 far behind. It indicates that the YZF-R3 will have to keep the momentum in the higher revs; otherwise, it will be out of the race. But still, that's fine for the bike having 321cc engine fighting against 400class bike.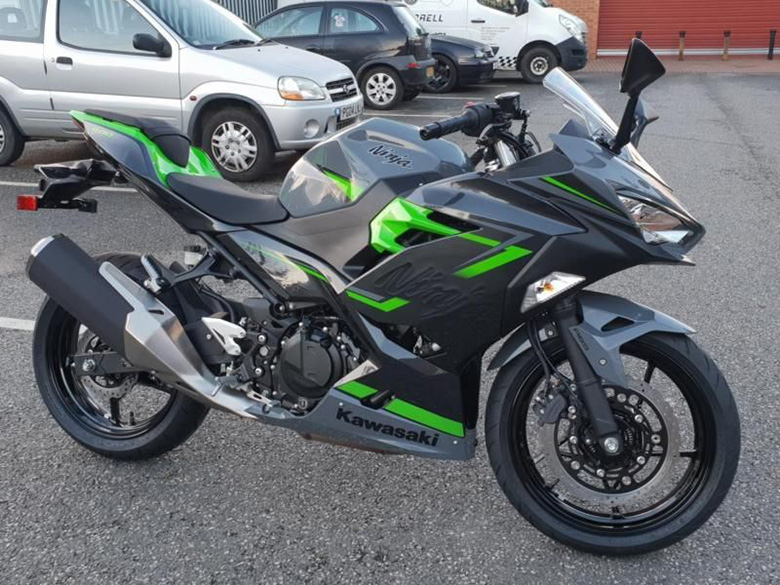 In terms of handling, the Ninja is not as good as R3. It is because of the massive power that it is not easy to handle. On the other hand, YZF-R3 gives a comfortable handling experience. It is because of R3's superb front-end feel that gives perfect riding pleasure.
The Ninja has good braking results on the track. Although riders never apply 100 % of the brake during the race still Ninja gave excellent results. But Yamaha YZF-R3 has some other characteristics that make it amazing. Its stiffer fork is a bit higher in its stroke, so it allows the rider to know exactly how much brake presser is being applied and how much is left. The Ninja does not provide the same feel but it has excellent braking power.
Although the Kawasaki Ninja 400 is a bit difficult to ride, it gives an incredibly fun ride. Its power, slipper clutch and superb handling is an ideal platform for inexperienced riders who wants to learn more. Moreover, it provides good riding pleasure in city traffic as well. Just sit back and don't give much of a throttle. Its softer suspension is considered to be best on the road, soaking up all the bumps.
The Yamaha YZF-R3 has a short first gear that makes it easier for the new rider, but its second shift requires a rapid change. It needs a large clutch slipping if the rider wants to be in the race. It has a big sixth gear and thanks to the superior wind protection that offers maximum comfort at highway speeds.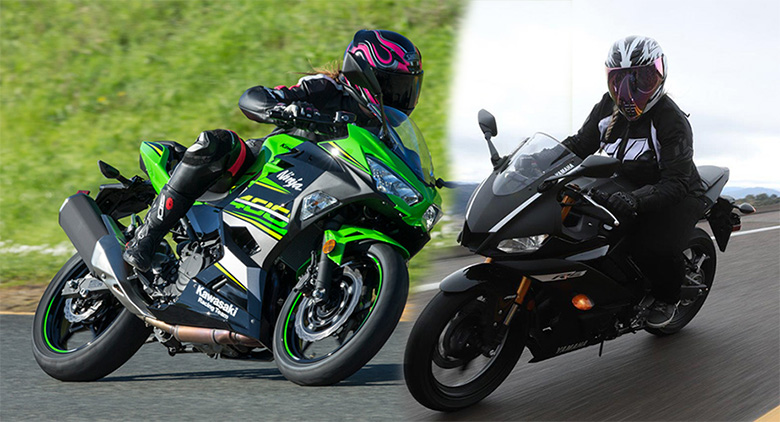 Both of these bikes are available at $5,299 with ABS, but both of them have different characteristics. So, it depends on the rider and buyer what he prefers.
Kawasaki 2019 Ninja 400 vs Yamaha 2019 YZF-R3 – Technical Specifications
| Specs \ Bikes | 2019 Kawasaki Ninja 400 | 2019 Yamaha YZF-R3 |
| --- | --- | --- |
Engine
Engine Type
The liquid-cooled, four-stroke parallel twin
Displacement
399cc
321cc
Bore X Stroke
70.0 x 51.8mm
68.0 x 44.1mm
Compression Ratio
11.5:1
11.2:1
Valvetrain
DOHC, 4 valves/cylinder
Induction
(2) 32mm throttle bodies
Trans./Final Drive
6-speed/chain
Horsepower
43.4 hp @ 9,900 rpm
36.0 hp @ 10,700 rpm
Torque
24.7 lb.-ft. @ 8,300 rpm
19.8 lb.-ft. @ 9,000 rpm
Fuel Consumption
43.6 mpg
43.4 mpg
Chassis
Front Suspension
41mm Showa telescopic fork; 4.7-in. travel
37mm KYB inverted telescopic fork; 5.1-inch travel
Rear Suspension
KYB shock w/adjustable preload; 5.1-in. travel
KYB shock w/adjustable preload; 4.9-inch travel
Front Tire
Dunlop Sportmax GPR-300 110/70-17
Rear Tire
Dunlop Sportmax GPR-300 150/60-17
Dunlop Sportmax GPR-300 140/70-17
Dimension
Rake / Trail
24.7°/ 3.6 in.
25°/ 3.7 in.
Wheelbase
53.9 in.
54.3 in.
Seat Height
30.9 in.
30.8 in.
Fuel Capacity
3.7 gal.
Dry Weight
371 lb.
356 lb.
Others
| | | |
| --- | --- | --- |
| Quarter Mile | 13.19 sec. @ 102.5 mph | 14.18 sec. @ 92.78 mph |
| 0-30 | 1.66 sec. | 1.82 sec. |
| 0-60 | 4.63 sec. | 5.22 sec. |
| 0-100 | 12.63 sec. | 19.82 sec. |
| Top-Gear Roll on 40-60 | 4.07 sec. | 6.0 sec. |
| Top-Gear Roll on 60-80 | 4.38 sec. | 6.58 sec. |
| Braking 30-0 | 35.3 ft. | 45.0 ft. |
| Braking 60-0 | 134.6 ft. | 165.9 ft. |
Price