The new Indian Chief lineup is where strength and simplicity meet. Chief models are built on a traditional steel welded tube frame and are mechanical and straightforward. Four-gallon fuel tanks bobbed rear fenders, two outboard rear shocks with preload adjusters, dual exhaust, LED lighting, keyless ignition, and Pirelli Night Dragon tires are included in the selection. Selecting one of the three riding modes—sport, standard, or tour—allows Chief riders to modify the throttle responsiveness in addition to the cruise control.
The Indian Chief range exudes confidence and is accessible for any rider because of its short wheelbase of 64 inches, the low seat height of 26 inches, and wet weight as low as 670 pounds. The Chief is a competent bike for even the most challenging riding routes because of its standard 46mm front forks with 5.2 inches of travel, 28.5-degree lean angle, and pleasant ergonomics.
Indian 2022 Super Chief Limited Cruisers – Features and Price
Thunderstroke 116
With 120 ft-lbs of raw torque for passing power in all six gears, the air-cooled Thunderstroke 116 allows you to leave everything and everyone in your tailpipe.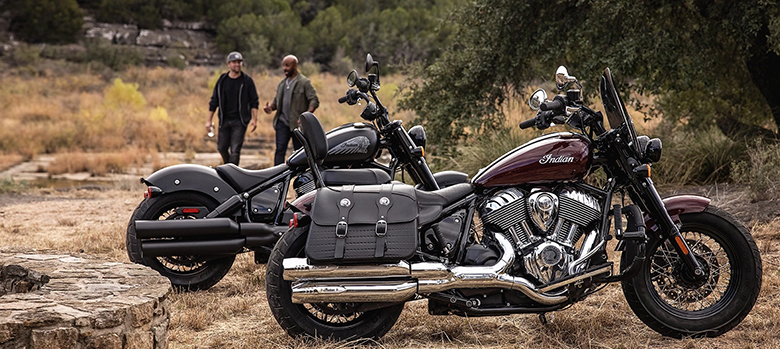 Designed For Adventure
Cut no shortcuts while designing anything practical. Built to handle anything, it comes equipped with floorboards, wire wheels, and saddlebags.
Touchscreen with Ride Command
By posing as an analog gauge, the 4-inch touchscreen maintains its traditional appearance. Use it as a tachometer and speedometer. It features a Bluetooth connectivity for phone calls and music control, as well as turn-by-turn navigation with real-time weather and traffic.
The classic style you'll want to Flaunt
With Super Chief Limited, the classic design combines contemporary functionality and a broad list of premium features.
Premium Chrome Finishes
Large headlamp nacelle, wire wheels, premium chrome finishes, Indian Motorcycle script badging on the tank.
Comfort For Miles
To provide a comfortable riding posture, floorboards, classic cruiser handlebars, and a two-up touring seat are standard equipment.
Ready For Anything
You may extend your journeys with standard saddlebags, and a quick-release windscreen is simple to remove for a new appearance and feel.
Modern Technology Hidden in Plain Sight
Everything you'll need for the next journey.
Choose Your Ride
Choose between Tour, Standard, or Sport to choose the ride mode that best suits your riding preferences.
Light Your Way
The road ahead is quite visible, thanks to full LED illumination.
Features For The Win
Keyless ignition, a USB connector for charging devices, cruise control, and very grippy Pirelli® Night Dragon tires are standard equipment on every Super Chief Limited.
Indian 2022 Super Chief Limited – Test Ride
Historical comparisons are fascinating. They may demonstrate both the extent of our progress and the gravitational pull of the past. After two decades in operation, Indian debuted one of its most well-known models, the Chief, for the 1922 model year. According to Allan Girdler in The Harley-Davidson and Indian Wars, "It was a fantastic moniker, unquestionably the nicest name an Indian could have." And precisely 100 years later, for the 2022 model year, Indian has wholly revamped its Chief lineup.
Legendary engineer Charles Franklin built the midsized Scout, one of Indian's best-selling bikes, which served as the basis for the original Chief, another renowned model. The new Chiefs follow a similar strategy. When Indian was re-launched under Polaris ownership in 2014, the Chief Classic and Chief Vintage made their debut as two of a three-bike lineup. They featured the traditional styling most frequently associated with Indians, including valenced fenders, illuminated Indian headdress ornaments, spoked chrome wheels, and details like seat ponchos and leather fringe. They were significant, substantial, and had been that way for a while.
The Chief collection for 2022 is more minimal and basic, matching current trends. The new Chiefs, like their forebear, are influenced by the contemporary Scout, with a reduced wheelbase and visible dual laydown rear shocks as opposed to a single surprise concealed by bodywork. And they're a lot lighter. Compared to the Chief Classic's claimed wet weight of almost 800 pounds, the 2022 Chief is just 670 pounds. (For those who still want a traditional style, Indian still offers the Vintage and Vintage Dark Horse models with "Chief" deleted from their names.)
There is an unexpected historical analogy at work here. Early in the Roaring Twenties, which followed World War I and the fatal influenza epidemic of 1918–1920, the first Chief was introduced. It was a time of enormous opportunity, affluence, modernization, and a cultural renaissance. The 1920s saw the development of several modern-day staples, including cars, airplanes, electric appliances, phones, radios, movies, fashion, jazz, and a host of other things. The economic expansion tide raised all boats. Here we are, with a brand-new Chief, just as another epidemic sweeps the globe. What the 2020s will hold for us is a question that one cannot but ponder.
There will be more riding, for sure. We will ride motorcycles into a more promising future because they are experience machines. The Super Chief Limited is a good option for driving on wide highways in America. Stretch your leg out, get comfortable in the seat, and point the pullback handlebars towards the direction of the horizon.
Why is this Chief Limited and what makes it so Super? The essential Super Chief ($18,499), like the Chief and Chief Bobber, is powered by Indian's air-cooled, 49-degree Thunderstroke V-twin, measuring 111ci (1,811cc), producing 108 lb-ft of torque at 3,200 rpm (claimed). It includes standard finishes, an optional ABS ($800), and an analog gauge. The Super Chief Limited ($20,999) goes up to the 116ci (1,890cc) Thunderstroke V-twin with 120 lb-ft of torque and adds a 4-inch Ride Command touchscreen display standard ABS, and luxury finishes. It is similar to the higher-specified Chief Dark Horse and Chief Bobber Dark Horse.
A quick-release windscreen, saddlebags, a two-up seat, and footboards differentiate the Super Chief and Super Chief Limited from the Chief and Chief Bobber. The Super Chiefs and Chief Bobbers run on 16-inch black-wire spoked wheels with Pirelli Night Dragon tires, with a hefty 130mm front and a 180mm rear, as opposed to the Chief's cast wheels in 19-/16-inch proportions.
Indian offered to take us on a two-day, 350-mile test drive across Arizona from Sedona to Vulture City, a deserted gold mining town near Wickenburg, and back. It was the ideal situation to give Super Chief Limited a thorough, real-world shakedown. With temperatures ranging from the 40s to the 70s, fluctuating winds and rainstorms, and an itinerary that featured mountains, deserts, tiny villages, and wide highways.
The frame is where the new Chief platform has seen the most alteration. A tubular steel frame that wraps so closely around the engine that one of the down tubes is detachable takes the place of the modular aluminum backbone. The model on the previous platform most closely resembles the Super Chief Limited is the 2021 Vintage, with its windscreen, soft saddlebags, and standard ABS (SCL). In contrast, the wheelbase is now just 3 inches shorter and, at 64 inches, is only 2 inches longer than the Scout's. However, the trail is the same at 5.2 inches; the SCL has a higher rake (29 degrees as opposed to 25).
The SCL's claimed wet weight is 739 pounds, 97 pounds less than the Vintage. Numerous factors contribute to weight loss. The SCL features a lighter chassis, smaller fenders, no driving lights or highway bars, a lesser fuel capacity (4.0 gallons as opposed to 5.5), and other differences. The decreased weight and more manageable proportions have a significant positive impact on mobility. It is considerably simpler to lift the bike off its side stand, push it into and out of parking spots, make U-turns, and go through city streets. Steering on narrow, tricky routes also feels lighter without compromising stability. Even when pushed to the edge of cornering clearance, the SCL maintained its line and complied with commands.
Indian 2022 Super Chief Limited Cruisers – Price
The new Indian 2022 Super Chief Limited Cruisers are available in the range of $20,999 to $21,499 only.
Indian 2022 Super Chief Limited Cruisers – Technical Specifications
Engine and Drivetrain
| | |
| --- | --- |
| Bore x Stroke | 4.063 inches x 4.449 inches (103.2mm x113mm) |
| Compression Ratio | 11.0:1 |
| Displacement | 116 cubic inches (1,890 ccs) |
| Drive/Driven Clutch | Wet, Multi-Plate |
| Electronic Fuel Injection System | Closed loop fuel injection / 54mm bore |
| Engine Type | Thunderstroke 116 |
| Exhaust | Dual Exhaust with Crossover |
| Peak Torque | 120ft-lbs (162Nm) |
| Peak Torque RPM | 2,900RPM |
| Transmission/Final Drive | 2.2:1 |
| Transmission/Primary Drive | Gear Drive Wet Clutch |

Dimensions
| | |
| --- | --- |
| Fuel Capacity | 4 gallons (15.1 Liters) |
| Ground Clearance | 4.9 inches (125mm) |
| GVWR | 1,160lb (522kg) |
| Lean Angle | 28.5-degree |
| Overall Height | 47.4 inches (1,203mm) |
| Overall Length | 90 inches (2,286mm) |
| Overall Width | 42.5 inches (1,079mm) |
| Rake/Trail | 29-degree / 5.2 inches (131.5mm) |
| Seat Height | 26.2 inches (665mm) |
| Weight | 714 lbs |
| Wheelbase | 64.0 in (1,626 mm) |
Brakes
| | |
| --- | --- |
| Front Brakes | Single / 300mm Semi-Floating Rotor / 4 Piston Caliper |
| Rear Brakes | Single / 300mm Floating Rotor / 2 Piston Caliper |
Tires / Wheels
| | |
| --- | --- |
| Front Tires | Pirelli® Night Dragon 130/90B16 67H |
| Front Wheel | Wire Spoke 16 in x 3 in |
| Rear Tires | Pirelli® Night Dragon 180/65 B16 81H |
| Rear Wheel | Wire Spoke 16 in x 5 in |
Suspension
| | |
| --- | --- |
| Front Fork Tube Diameter | 46 mm |
| Front Suspension | Telescopic Fork |
| Front Travel | 5.2 in (132 mm) |
| Rear Suspension | Dual Shocks w/adjustable preload |
| Rear Travel | 3.0 in (75 mm) |
Features
| | |
| --- | --- |
| Color / Graphics | Black Metallic, Blue Slate Metallic, Maroon Metallic |
| Factory Warranty | 2 Years, Unlimited Miles |
| Gauges | Speedometer, Tachometer, Odometer, fuel gauge, compass, ambient temperature, Gear indicator |
| Infotainment | 4″ Round Ride Command® Display with connected services such as real-time traffic weather and traffic overlay included for a complimentary 1-year trial for connected features from the vehicle sales date (after which fees apply). Touchscreen display includes real-time clock; ambient air temperature; heading; audio information display; map/navigation with real-time traffic and weather; Bluetooth status for phone and headset; vehicle status (voltage, engine hours, oil change); vehicle info (speed, fuel range, RPM, gear position); current ride data (distance, moving time, stop time, altitude, altitude change); trip meters; ride mode selection; screen brightness; and vehicle trouble code readout. |
| Lights | LED Headlight, LED Tail/Brake/Turn Signals |
| Standard Equipment | ABS, Ride Modes, Keyless Ignition, USB charge port, 12V Charge Port, Rear Cylinder Deactivation |