Introduction
Honda VT1300CX is undoubtedly an original motorcycle. A custom type with which the eye and the excited directions, order a custom efficacious which the same Asserts, same quality and same reliability as all other Honda.
Largely illustrated by a steering column high perched, an interminable tank and a saddle which is ultra-low, its shifted style holds the attention inevitably. Soft lines and an extreme attention paid to the details make of it a machine which seems straight exit of a workshop of high couture, rate put except for!
The heart of the Honda VT1300CX is a twin-cylinder out of V with 52° of 1,312 Cm3 which is characterized by a single crank pin crankshaft, a double beam of balancing of the vibrations and a feeding system per injection PGM-FI. This motorization delivers performances of first order at the same time as an incredible sonority while the consumption remains ridiculously low. Lastly, transmission shafting clean, reliable and without maintenance seems the warranty that the Honda VT1300CX will spend more time on the road than to the garage…
Dimensioned braking, the disc before ø 336 mm is assisted by a back element of ø 296 mm. A system combined with anti-locking ABS is also available in option, offering an optimal security and bracings perfectly making safe.
Comfort is also well beyond the current references custom. The forms of what seems to be a rigid framework dissimulate in fact a clever system of adjustable suspension in relaxation and reload (35 positions).
Principal characteristics
Twin-cylinder out of V with 52° of 1,312 Cm3 with single crank pin crankshaft, double beam of balancing of the vibrations and feeding system per injection PGM-FI.
Rims aluminum with pneumatic tire postpones of 200 mm and before 90 mm to create a reinforced visual impact.
Disc before 336 mm, disc postpones of 296 mm for a soft and powerful braking.
In option, system compound-ABS especially adapted to the style minimalist of the machine for a braking even more reassuring.
Distinctive back part dissimulating a suspension postpones with adjustable mono shock in relaxation and preload (35 positions), associated with an oscillating arm in aluminum.
Chrome headlight and LED taillight harmoniously complementing the simple and elegant style.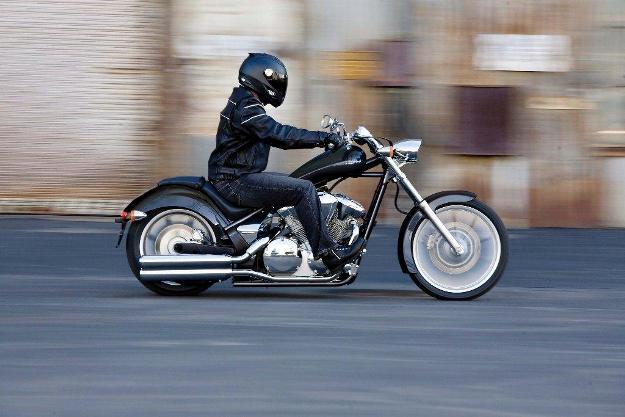 Color
Black Graphite
Metal blue Glint Wave
Optional equipment
Honda Access Europe proposes a broad range of accessories and optional equipment intended for the VT1300CX to still increase its style and its versatility:
Chrome momentary splash plate
Cushion for splash plate
Front deflector in the coordinated colours
Preparing of mudguard postpones chrome
Cover external protection
Engine
Type: Twin-cylinder out of V with 52°, 4 times, simple ACT and 6 valves, cooled by water
Cubic capacity: 1,312 Cm3
Boring X chases: 89.5 X 104.3 mm
Volumetric report: 9.2: 1
Maximum power: 42.5 kW/4 250 min-1 (95/1/EC)
Mode of idle: 900 min-1
Oil capacity: 4.3 liters
Supplies
Carburetion: Electronic injection PGM-FI with automatic choke
Body of injectors: 38 mm
Air filter:  Fat, with cartridge
Fuel capacity: 12.8 liters
Fuel consumption: 20.3 km/l (WMTC Mode*)
Electric system
Lighting: DIGITAL 3D with electronic advance
Ignition timing: 8˚ AvPMH (slowed down) | 57,7˚ AvPMH (5 250 tr/min)
Candle: DCPR6E (NGK); XU20EPR-U (DENSO)
Starting: Electric
Battery: 12 V/11,2 AH
Alternator: 381 W
Headlights: 12 V, 55 W X 1 (crossing)/60 W X 1 (road)
Transmission
Clutch: Multidisc in oil bath
Box: 5 reports
Primary reduction: 1,758
Final reduction: 2,661
Final transmission: By tree with gimbals joint
Part cycles
Dimensions (LxlxH): 2,575 X 900 X 1,150 mm
Footing: 1,805 mm
Castor angle: 32 °
Trail: 90 mm
Turning radius: 4.1 m
Height of saddle: 678 mm
Keep on the ground: 126 mm
Full weight all facts: 303 kg (AV: 128 kg; AR: 175 kg), *309 kg (AV: 131 kg; AR: 178 kg)
Maximum transport capacity: 160 kg
Laden weight: 463 kg, *469 kg
All these characteristics are indicative and likely to evolve without notice
Data resulting from tests which were carried out by Honda in the respect of standards WMTC. These tests were carried out by a pilot alone, on open road and with a standard model without additional optional equipment. Fuel consumption can vary according to your style of piloting, the maintenance brought to the vehicle, the weather conditions, the state of the roads, the pressure of the pneumatic tires, the possible presence of accessories, the load, the weight of the crew and many other parameters.