Long-distance trips are the focus of bagger-style touring bikes, often equipped with saddlebags and wide-nose fairings. A few aftermarket parts can turn almost any bike into a touring machine. But bagger-style touring bikes built in factories already have stock saddlebags, fairings, windscreens, crash bars and powerful engines. Many heavy-duty touring bikes are equipped with easily replaceable parts, making it easy to convert them into cruisers. Because of its versatility, Harley-Davidson Grand American Touring models are highly sought after by custom builders. Find out the detailed comparison review between the 2023 Kawasaki Vulcan Vaquero vs 2023 Harley Road Glide below.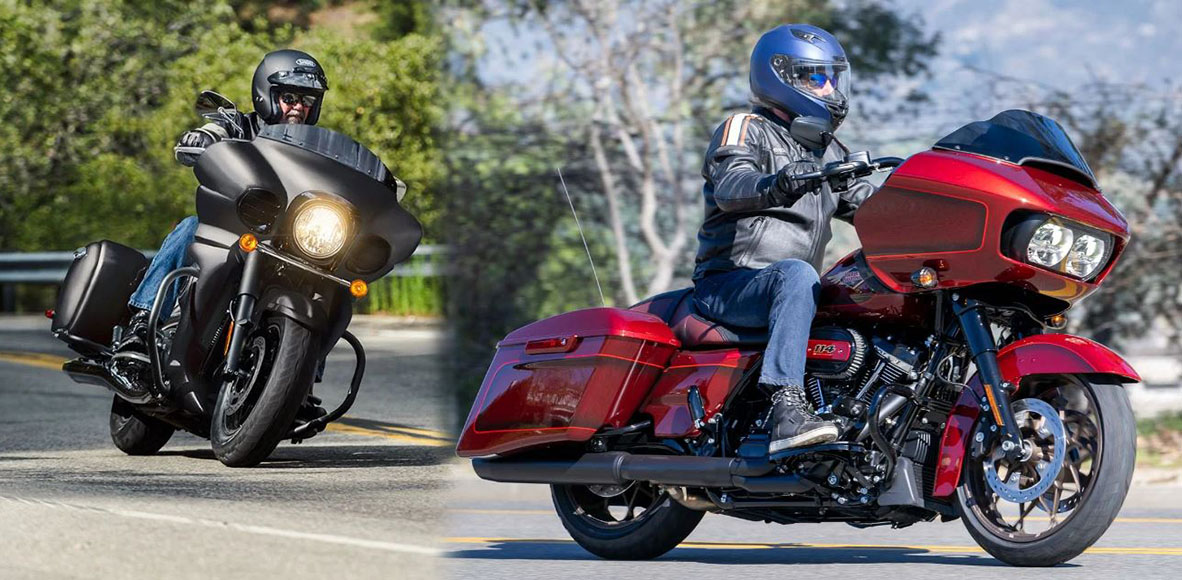 2023 Kawasaki Vulcan Vaquero vs 2023 Harley Road Glide – Features Comparison
Design
The Kawasaki Vulcan 1700 Vaquero is a small and distinctive bagger-style touring bike. It has handlebars, cylinder heads, side mirrors, and exhaust pipes that are all chrome and come in a metallic matte Graphene Steel Gray color scheme. Most components are covered in black, including the wheels, air filter, front forks, and gearbox. Designed in a distinctive style, the front fairing with a small windscreen, a round headlamp, four analog instruments, a small digital display screen, an audio system, and two lockable storage bins are standard equipment on the Kawasaki Vulcan Vaquero. Unlike other touring bikes with factory infotainment systems, the digital controls are straightforward and the gauges are easy to read.
The Kawasaki Vulcan Vaquero sports a sizeable rear fender with a V-style tail/stop light, license plate holder, and rear turn signals. The front fender is shorter and more sporty. Additionally, it has a large radiator mounted in front of the engine to help control engine temperature. The Kawasaki Vulcan Vaquero also comes standard with blacked-out crash bars and a side-opening, reinforced saddlebag with a 20-gal storage capacity. It features a single-piece saddle with two-up riding capabilities. Additionally equipped with low-mounted, pulled-back handlebars is the Kawasaki Vulcan Vaquero.
The most prominent features of the Harley-Davidson Road Glide are its aggressive appearance, shark nose fairing with fashionable dual headlamps, and a short windscreen. When the handlebars are turned, the shark nose fairing, which is attached to the frame, remains intact. Additionally, the shark nose fairing features a smaller display screen, dual speakers, and analog gauges. The center-mounted, stretched handlebars are where the chrome side mirrors attach. The single-piece step-up seat on the Harley Road Glide allows for two-up riding.
Additionally, the seat has a dip to support the rider's lower back. Most components, including the front fork, handlebars, crash bars, air filter, cylinder head, gearbox and exhaust pipe, are finished in chrome, giving the motorcycle a timeless look. The Harley Road Glide also features floorboards and factory saddlebags with 23 cubic feet of storage space. It has a front fender that has been hacked off, giving you a closer look at the Enforcer II cast aluminum wheels and Dunlop tires.
Engine and Performance
A 1,700cc liquid-cooled, 52° V-Twin engine with 82 hp of torque at 5,000 rpm and 145.89 Nm horsepower at 2,750 rpm powers the Kawasaki Vulcan 1700 Vaquero. It includes a six-speed transmission connected to the rear wheel via a carbon fiber-reinforced belt.
Like most heavyweight touring bikes, the Kawasaki Vulcan Vaquero has a high-power output V-Twin engine. The 52° V-Twin engine provides a quick throttle response and produces excellent, smooth torque. The Kawasaki Vulcan Vaquero also features a liquid-cooled engine and a large radiator behind the front wheel, which maintains engine temperature even when passing through heavy traffic. The V-Twin engine provides a comfortable ride by avoiding excessive vibration.
Standard safety and ride-assistance features on the Kawasaki Vulcan Vaquero include electronic throttle valves, an ABS, electronic cruise control, and Kawasaki Advanced Coactive Braking (K-ACT). Even if you come to a sudden stop at high speed, the K-ACT brake stops both wheels in an instant without knocking the rider off the motorcycle.
When riding at a steady pace, the weight of the Kawasaki Vulcan Vicaro is hardly noticeable. However, for inexperienced riders, this bike can be challenging to ride at low speeds. Despite not being a speedy motorbike, the Kawasaki Vulcan Vaquero offers excellent overall performance and provides a smooth and comfortable riding experience.
The Harley Davidson Road Glide is powered by a 107 cubic inch Milwaukee-Eight 107 engine that produces 150.5 Nm of torque at 3,250 rpm and 93 hp at 5,020 rpm. Due to its lightweight piston design, the Milwaukee-Eight 107 engine is known for its smooth power and torque delivery. A comfortable, long-distance two-up riding experience is provided by the Milwaukee-Eight 107's adequate horsepower and torque. Engine temperature is maintained less effectively than an air-cooled system, especially when driving in traffic.
While cruising on freeways and open roads, the Harley Road Glide offers a comfortable riding experience. While easy to control when traveling at high speeds, a larger motorcycle makes low-speed maneuvers more difficult. For a safer riding experience, the Harley Road Glide also includes a standard cruise control feature, Electronically Linked Braking (ELB), and an optional ABS.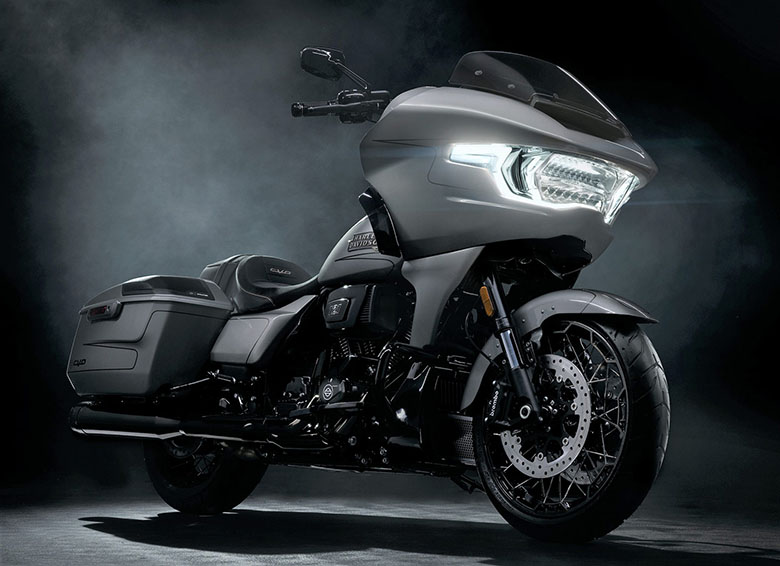 Two variants of the Harley Road Glide are offered: the Harley Road Glide Special and the Harley Road Glide Limited. Both Harley Road Glide models feature 114 cu Milwaukee-Eight 114 engines, which are big and powerful. The Harley Road Glide Limited also features a spacious trunk and a plush passenger seat and backrest for extra storage space.
Comfort and Ergonomics
With a wheelbase of 65.6 inches and a wet weight of 844.5 lbs, the Kawasaki Vulcan Vaquero is a big bagger motorcycle. Due to the large and heavy weight of the bike, it is more difficult for a novice or small rider to control. However, it features ergonomics that are comfortable for a rider of average height or taller. The Kawasaki Vulcan Vaquero features low-mounted, tapered handlebars that are within easy reach of the rider and offer a comfortable riding position. Additionally, it has floating floors that are mounted at the front and provide ample legroom. The Kawasaki Vulcan Vaquero is a comfortable bagger-style touring bike for long trips and highway riding.
One of the most comfortable touring bikes of the Harley Grand American Touring model is the Harley-Davidson Road Glide. It has handlebars placed in the middle and pulled back to guarantee an upright riding stance. The Harley Road Glide offers plenty of legroom thanks to its low seat height of 25.9 inches and forward-mounted floorboards. The Harley Road Glide is suitable for both tall and short riders due to the position of the handlebars, low seat height, and ample legroom. But since it is a heavy bike, it is difficult to control while turning or going slow. A large windscreen, SISSY bars, rider and passenger backrests, and luggage racks can turn the Harley Road Glide into the ultimate touring machine.
Frequently Asked Questions (FAQs)
Which is More Comfortable: the Kawasaki Vulcan Vaquero or the Harley Davidson Road Glide?
Long-distance touring and commuting are desirable uses for the Harley-Davidson Road Glide and Kawasaki Vulcan Vaquero. Both motorcycles offer comfortable ergonomics, with forward-mounted floorboards, recessed handlebars, and ample legroom. However, the Harley Road Glide's low 25.9-inch seat height is ideal for shorter riders. The Kawasaki Vulcan Vaquero, on the other hand, offers a comfortable ride thanks to its low-vibration engine, floating floorboards, ABS and K-ACT brakes.
2023 Kawasaki Vulcan Vaquero vs 2023 Harley Road Glide –Specifications Comparison
| Specs \ Bikes | 2023 Kawasaki Vulcan Vaquero | 2023 Harley-Davidson Road Glide |
| --- | --- | --- |
Engine and transmission
| | | |
| --- | --- | --- |
| Displacement | 1700.0 ccm (103.73 cubic inches) | 1,746.0 ccm (106.54 cubic inches) |
| Engine type | V2, four-stroke | Milwaukee-Eight™ 107 |
| Torque | 145.9 Nm (14.9 kgf-m or 107.6 ft. lbs) at 2750RPM | 150.5 Nm (15.3 kgf-m or 111.0 ft. lbs) @ 3250 RPM |
| Gearbox | 6-speed | 6-speed |
Chassis, suspension, brakes and wheels
| | | |
| --- | --- | --- |
| Front Suspension | 45mm Showa telescopic fork | 49mm Dual Bending Valve. |
| Rear Suspension | Swingarm featuring twin air-assisted shocks, including 4-way rebound damping | Twin shocks. Premium Low Hand-Adjustable Rear Suspension. |
| Front tire | 130/90-16 | 130/70-B19 |
| Rear tire | 170/70-16 | 180/55-B18 |
| Front brakes | Double disc. ABS, dual four-piston calipers, K-ACT II. | Double disc. Optional ABS. 4-piston |
| Rear brakes | Single disc. ABS, twin-piston caliper, K-ACT II | Single disc. Optional ABS. 4-piston |

Physical measures and capacities
| | | |
| --- | --- | --- |
| Weight incl. oil, gas, etc | 383.1 kg (844.5 pounds) | 388.0 kg (855.4 pounds) |
| Overall length | 2510 mm (98.8 inches) | 2431 mm (95.7 inches) |
| Ground clearance | 145 mm (5.7 inches) | 140 mm (5.5 inches) |
| Wheelbase | 1666 mm (65.6 inches) | 1625 mm (64.0 inches) |
| Fuel capacity | 20.06 litres (5.30 US gallons) | 22.7 litres (6.00 US gallons) |