Every motorcyclist has a different perspective on what it means to ride. Some people depend on relaxing. Some people ride because it gives them a sense of freedom. Some people mostly travel by bike. There is a group of bikers, however, who ride just for the rush. Riders who want to hit the redline at 16,500 RPM and who don't mind replacing the knee pucks in their one-piece leathers after extensive track use. People who want to move very fast must read our list of Top Ten Super Sports Motorcycles to Buy in 2022.
Top Ten Super Sports Motorcycles to Buy in 2022 – Top Rated
10: 2022 Honda CBR600RR
There is nothing wrong with the outstanding Honda CBR600RR. One had to come tenth in 2022 among the fantastic new and ongoing supersport motorcycles.
The CBR600RR is a perfect example of why more significant displacement isn't always better. The small Honda bike, with a super powerful 600cc inline-4, has emerged as the epitome of what actual sports riding is all about. It accelerates quickly off the line, handles turns easily, and both front and rear brakes have a positive, confident feel.
9: 2022 Suzuki GSX-R1000R
The iconic "Gixxer" was perhaps never better than the Suzuki GSX-R1000R. The bike combines outstanding engineering, incredible looks, and pretty remarkable stats after years of testing and development.
The 999cc inline-four that powers the GSX-R1000R produces around 200 BHP. It's low and mean, has aggressive gearing, and rides in what's charitably called a sporty tuck.
However, the fact that it's not the easiest supersport to just throw a leg over and ride makes it only number 9 on this list. The bike is so powerful that it has a reputation for throwing off the rider who tries to push it a little further than it can go.
8: 2022 Ducati Panigale V2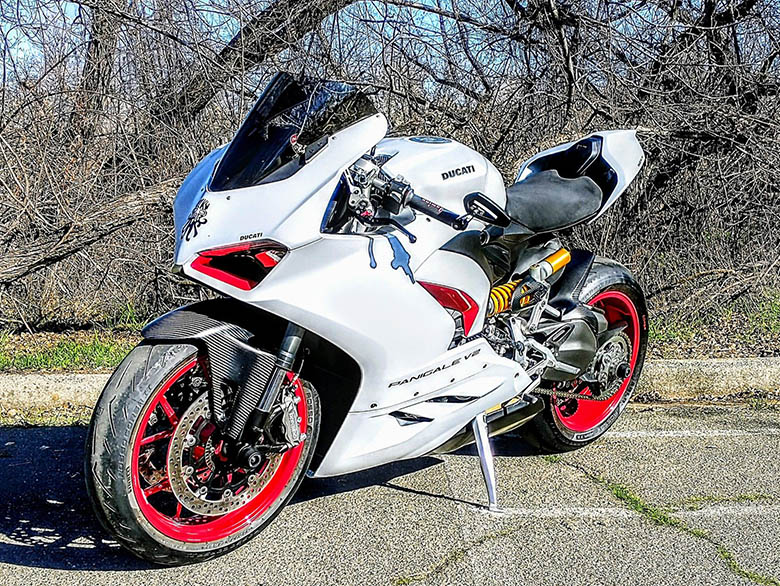 Ducati remembered to respect the past when they unveiled their Panigale V4 motorcycles in 2020. The Panigale was just called the Panigale before 2020. Now that the V4 is available, the original Panigale has undergone some changes.
Panigale V2 is the name of the "junior" motorcycle. Its 955cc Super Quadro V-twin engine produces 155 BHP, which is track friendly. It's slimmer, has a revised shape that emphasizes the front-tuck position, and is a few pounds lighter than its bigger V4 brother.
In short, the Panigale V2 Ducati focuses on what made the first Panigale such a resounding success.
7: 2022 Yamaha YZF-R7
The 749cc CP2 cross-plane parallel-twin engine may only produce 106 HP, but the YZF-R7 is a complete spec racing homologation machine. MotoAmerica Racing created the SuperTwins category to address the severe shortage of elite twins competing internationally. Yamaha thought it would be more entertaining to release a twin-powered supersport to meet the synergy requirements to compete in a new category after years of developing the YZF-R6. They made the bike more aerodynamic, lighter, smaller, and more maneuverable than the R6. If you don't trust us, we invite you to visit your nearest Yamaha dealership and test drive one.
6: 2022 Aprilia RS660
No, we're not laughing right now. Yes, this year's list of super sports includes two parallel twin bikes. The 2022 Aprilia RS660 was developed and planned to be a track-capable supersport that is somewhat enjoyable even for inexperienced track-day riders, unlike the YZF-R7, which is intended for a new racing class. Built and designed as a homologation bike.
Compared to other Sports Motorcycles, "pure" 600cc or 636cc Supersports, 660ccs and 100 HP might not sound like much, but remember that the bike weighed less than 400 lbs wet and was built by a team that is two top Competes in motorsports. The distribution of the Aprilia RS660 was a calculated gamble and is one of the few motorcycles from either company actually to survive.
5: 2022 Ducati V4S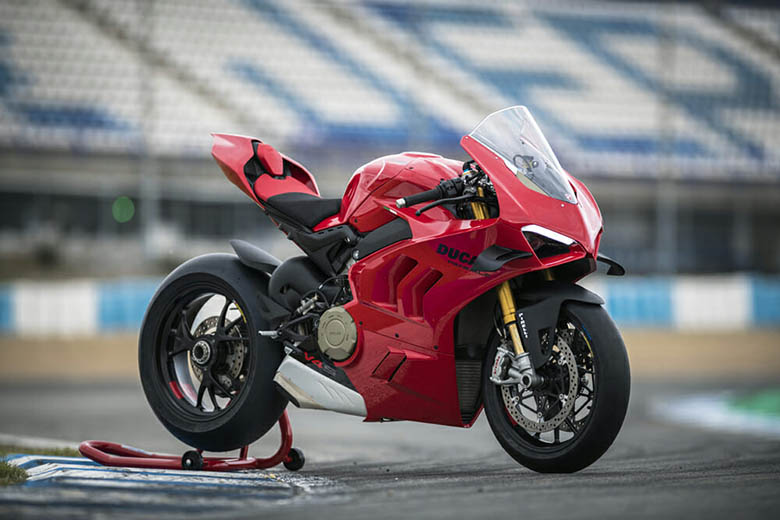 According to Ducati, the top-ranked bike from 2021 was not the fully developed, final version of the V4S that they wanted to release to the market. Because of this, the 2022 V4S "represents the final stage of Borgo Panigale sports bikes exclusive journey" in their own words.
So what makes it the best version? A recent modification is the newly redesigned aero winglets, but the transmission and suspension have seen a lot of changes. The first, second, and sixth ratios of the "New SBK" gearbox have been increased compared to the 2021 version to provide faster acceleration and higher top gear power and speed.
4: 2022 Aprilia RSV4 Factory 1100
Surprisingly, the top-of-the-line Italian bike on the super sports list this year is not decked out in red. Instead, a lightweight aluminum dual-beam chassis housing a 1,099cc V4 with 217 HP at 13,000 RPM gets a black and soft yellow paint scheme. The only bike Aprilia needed in 2021 to complete its lineup was the 2022 Aprilia RSV4 Factory 1100. Now that it's only available in North America, it's undoubtedly on par with the industry's top models. The RSV4 features winglets similar to other bikes developed from their MotoGP or World SBK counterparts, but unlike some of the other bikes on this list, they followed Kawasaki's lead and got front and side fairings. I hid, with only a small distance between them. Them
3: 2022 BMW M1000RR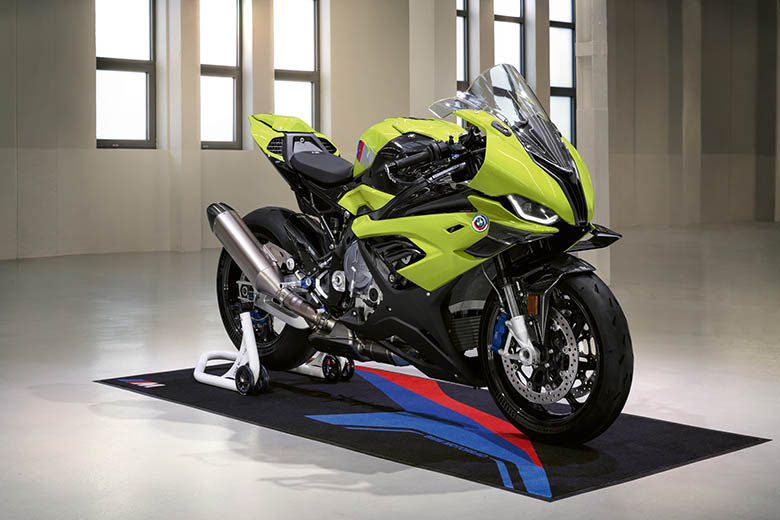 The BMW M1000RR, which will go on sale in late 2021 as a 2022 model, is one of the examples in which the Germans have improved the S1000RR, a bike that was already excellent. The M1000RR is practically an exact reproduction of the race bike, with only a few additions for road legality, while the S1000RR is based on the BMW sports bikes in the World SBK Championship.
BMW has catered exclusively to track day enthusiasts, who it expects will buy the M1000RR.
2: 2022 Yamaha YZF-R1 60th Anniversary
A constant favorite, the bike that won first place this year was a close choice. For the R1's 60th anniversary, there was a choice between the wacky carbon fiber R1M or the base, standard R1, and which variant would be added to the list. As you might expect, only the 2022 60th Anniversary Edition took first place.
With insights learned on the track in both MotoGP and MotoAmerica Supersport 1000cc racing, Yamaha Motorcycles continues to develop and refine the Supersport formula. The 2022 development adds a slightly better clutch with improved launch help and slip, as well as 0.1 inches of extra travel in the front KYB inverted forks, up to 0.1 inches.
1: 2022 Kawasaki ZX-10R
What a change a year can bring! The bike finished a solid third in 2021, but thanks to several upgrades by Kawasaki, it moved all the way up in 2022. The 2022 ZX-10R got a better deal thanks to research and development—the ZX-10RR Special Edition model itself was inspired by the 2020 World SBK ZX-10RR Championship bike.
The same 6-axis IMU, Kawasaki Intelligent ABS, Quickshifter (up and down), and electronically adjustable throttle valves are all included. However, this year's bike is sharper in the valleys and bends, thanks to a new cornering management system and a fully active launch control system.
Top Ten Super Sports Motorcycles to Buy in 2022 – Top List
| Sr. # | Top Ten Super Sports Motorcycles to Buy in 2022 |
| --- | --- |
| 1 | 2022 Kawasaki ZX-10R |
| 2 | 2022 Yamaha YZF-R1 60th Anniversary |
| 3 | 2022 BMW M1000RR |
| 4 | 2022 Aprilia RSV4 Factory 1100 |
| 5 | 2022 Ducati V4S |
| 6 | 2022 Aprilia RS660 |
| 7 | 2022 Yamaha YZF-R7 |
| 8 | 2022 Ducati Panigale V2 |
| 9 | 2022 Suzuki GSX-R1000R |
| 10 | 2022 Honda CBR600RR |