Kawasaki Indonesia has just revealed Kawasaki Z250, a small roadster which seems well to take again the technical base of Ninja 250. Aesthetically much typified Z; it could come well to join Ninja 300 with the catalog of Kawasaki Europe. And why not become Kawasaki Z300 on the way…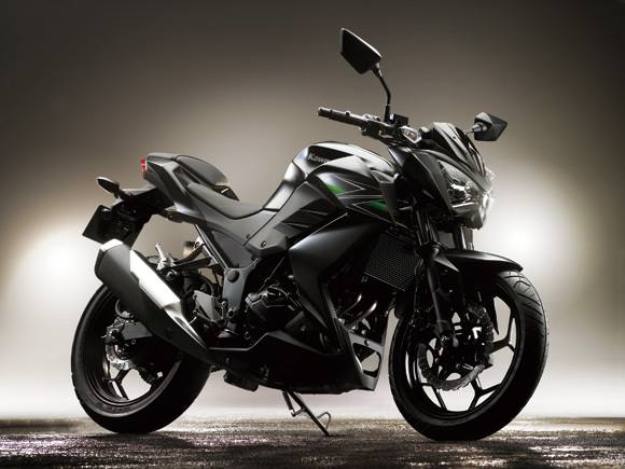 The Asian subsidiaries of the large Japanese constructors often book surprises us… which do not remain it a long time. Kawasaki Z250 was presented in an official way, promotional clip with the support, on the official site of Kawasaki Indonesia. It is referred there like one 250 Cm3, taking again the technical base of Ninja 250 already distributed in Asia since the end of the year 2012. This small Kawasaki Z250 2013 resembles Kawasaki Z 800  much, innovation headlight of Kawasaki for 2013, taking again its distinctive light unit in particular.
Heart of Ninjette
For the motorization, Kawasaki again took the block of Ninja 250: a twin online doubles ACT cooled by water and food by injection. For Europe and the United States, Kawasaki again worked over this engine while carrying its cubic capacity to 300 Cm3, to give rise to Ninja 300, distributed on our premises since the end of 2012.
This motorization does not miss approval, as we could judge some at the time from our comparative 250. There is a hope to see unloading Z 300 on the Western markets, there is only one step that Kawasaki will certainly not hesitate to cross, the more so as Europeans in particular are fond of delicacies roadsters.
Soon a Kawasaki Z300 for the A2 licenses?
It should not indeed be difficult to transform Kawasaki Z250 into Z 300 and that would make it possible at Kawasaki to lower its ticket of entry in the family of more than 125 Cm3 (Ninja 300 costs 4 999 € without ABS).
Moreover, that would also make it possible to propose a relevant variation being given at a rate for being more accessible insurance, certain sporting insurers applying the scale to small the Ninja.
Kawasaki Indonesia announces the following values concerning Kawasaki Z250: 168 kg all full facts and 31 horses against 172 kg all full facts and 39 horses for our Ninja 300. To be continued!