2015 Harley-Davidson's Softail Special is the new cruiser bike available in the market. It has a 1690 cc Air-cooled 103B Engine. This Engine will generate a torque of 132 nm at 3250rpm. The Twin cam 103B engine is designed by efficient Technicians of Harley Davidson's. The motorcycle has maintained its standard of 60's and 70's. Fat-Boy is known by its name, the main idea of the style lies in the name. When you say Fat-Boy, your minds imagine of a huge fat machine assembled on two cast aluminum 17" wheels. The fuel system (ESPFI) will deliver a best mileage of 300km per 19 liters.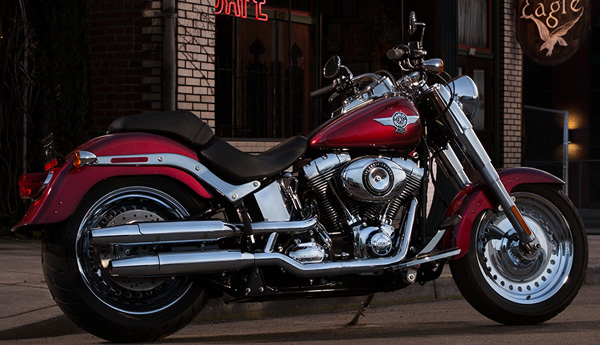 Harley-Davidson's has been manufacturing bikes from more than 40 Years but this motorcycle is the best heavy bike they ever built. The bike's design is very authentic and aggressive because it is loaded with many sensational features. You can run this bike continuously for many hours because of its fat build. As for as the ease and driving is concerned; a narrow seat is adjusted with an inclined low handlebar. The Rider has also the facility of long footboard which helps him during long rides.
Harley Davidson Fat-Boy Main Features:
Fat Custom Design
Fat Fuel Tank of 19 Liters
Fat steel wheels
Hidden Back Shocks
Mirrored Chrome Wheels
Original Harley-Davidson Style
6-Speed Cruise Drive  Transmission
Engine Heritage of Twin Cam 103™
Smart  H-D®  Security System
New Anti Lock Braking system
Big and fatty Dunlop Tires
Long Footboards for Rider
New design Narrow Saddle
Low-adjusted Chrome Handlebars
Changeable  2-Piece Seat
Comfortable and easy to ride.
Double gun silencer coated with chrome
Light Steel Aluminum wheels
Comfortable  ride in difficult terrains
Twin-cam 103B Engine:
This bike runs on the power of a new 1690 cc Air-cooled 103B engine. This Twin-cam engine makes this motorcycle a pure Harley Davidson's machine having 132 nm torque at 3250rpm. When you touch the start button, the sound of the engine is amazing and its intensity is high. The engine also covers a wide area due to its fat look.
Pure Fat Tank Style:
This motorcycle keeps the design and heritage of hardtail choppers of the early 70's. This is the true Fat-Boy machine lying down from rear, having full darkened look and the cruise style. The panels are finished with chrome and all is so classic.  The best thing during the ride is the simplicity offered by Fat-Boy in its authentic design. All the handling and driving equipment is assembled in such a special manner that you will love to ride this motorcycle. This easy design will make your ride a very comfortable and sensational ride.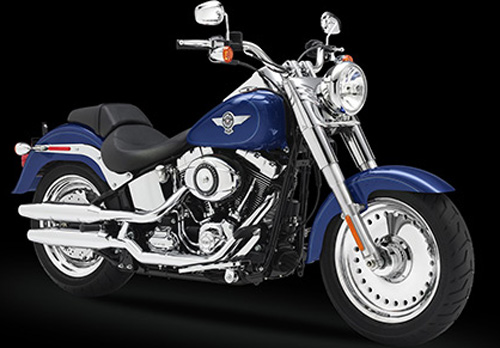 2015 Harley-Davidson Softail Special:
Large and fat in every part and panel is the trick. Its black wheels of 17-inch, disc-cast aluminum, bullet-hole, makes an impression. The Tires are especially made of 140mm fat on front and 200mm thick on back. The fat fork at the front with a huge headlamp adds beauty to its front view. The soft handlebars are widely assembled of stainless steel with chrome coating. This is really a huge fat in a single big motorcycle. You have always the desire to be it yours.
Hidden Rear Shocks:
If you are watching a bike with a decent calm look, definitely this is the one. It has a special suspension system of rigid material. We have made its rear shocks hidden as these were in the vintage bikes but today's sock are made up of quality material and extreme innovation. You have classic lines of a vintage cruise frame with the rear shocks hidden behind the panels. This is a pure hardtail signature look of a Softail® model.
Blacked Out Finishes:
All of the blacked out components are mixed with chrome to give an outstanding look to the Fat Boy®. The front shock covers, frame, derby cover, horn cover, air cleaner cover swing arm, coil cover and  oil tank cover all has a special Black Denim finish that is eye-catching. The 17" cast aluminum wheel, have black center and outer side. Black thick exhaust strips on the chromed gun exhaust. The motorcycle has glossy black full length footboards, fully Blackened mirrors and headlight. Also black coating on engine and cylinder panels make this bike a Black-Fat wonder.
Pure Harley-Davidson Styling:
Have your eyes on the powerful 1690 cc, Twin Cam 103 engine and it looks perfect with no complaints in its technology. This is basic Harley-Davidson style from the years with an effort that you won't go for any other bike company. Black coated heads and cylinders are well finished by cooling fin tips and chrome covers. You can say it a "jewel machined from metal".
Six-Speed Cruise Transmission:
The 6-Speed Drive transmission of Fat-Boy will provides you gentle, smooth shifting of gears and lows engine torque on the country roads. You will be able to get a genuine match between engine rpm and speed. It's very less when you ride when a bike and the machine responds like this.
H-D® Smart Security System:
This is a special feature installed by factory. This security system includes a hands-free Fob that automatically locks and unlocks the motorcycle security system. You have the freedom to do this from a distance apart from your bike. Always put the fob with your ignition key-ring and leave to this for rest.
Standard Anti-Lock Brakes:
As for as the stopping power is concerned of the Fat Boy® Special model, the parts of our ABS are installed and stylized within the hub. The extreme stopping power is offered with this special ABS system and you can control your bike freely and comfortably.
Front Braking System:
A new front brake system engineered on the Fat-boy® models in 2015 model. It will give forty percent reduction in the force of lever required at peak braking. The front master cylinders and handlebar have been redesigned. There is a new four-piston fixed caliper with 34 mm and 32mm pistons with a larger 300 mm Disc. It all ends in less effort for stopping fast.
Fat Dunlop Tires:
Fatter is the best. The 140mm wide rubber get grip from the street for a comfortable ride. And a 200mm Back tire gives a confident sensation when contact with the track. And when the Name of Dunlop® is in mind, you don't have to worry for the quality, because these are the best one.
Full-Length Rider Footboards:
When you sit on a Harley Davidson Softail, you will come to know that, your foots are resting on floor. These foot loaders are mixed with rubber material to give you a comfortable ride. You will find it very easy to shift with heel and toe. After some rides you will have the real control and rhythm for shifting gears without any difficulty.
Low Designed Handlebars:
The low designed thick handlebars offer you an easy position to ride. It is perfectly styled for new riders to explore the roads. You have the ultimate grip and comfort sitting with this stylish fatty Handlebar.
Narrow Designed Seat:
The seat of the Harley Davidson Fat-Boy is the best designed by the company till date. It has all the features; a rider wants to have them. Its low level adjustment and its narrow design will make this a superb piece. With all these setting you will be able to get a fantastic ride.
2015 Harley-Davidson Softail Special Price:
You have to contact your Local dealer for the current pricing and colors also may vary from country to country.
2015 Harley-Davidson Softail Special Specs:
Engine:
| | |
| --- | --- |
| Type | Air-cooled, Twin Cam 103B™ |
| Power | 1690 cc |
| Bore | 98.4mm |
| Stroke | 111.1mm |
| Compression ratio | 9.6:1 |
| Fuel | Electronic Sequential port fuel injection "ESPFI" |
 Gears:
| | |
| --- | --- |
| Gears | 6-speed |
| 1st Gear Ratio overall | 9.311 |
| 2nd Gear Ratio overall | 6.454 |
| 3rd Gear Ratio overall | 4.793 |
| 4th Gear Ratio overall | 3.882 |
| 5th Gear Ratio overall | 3.307 |
| 6th Gear Ratio overall | 2.79 |
| Primary Drive | Chain |
Performance:
| | |
| --- | --- |
| Engine Torque Analyzing Technique | EEC/95/1 |
| Engine Torque | 132 Nm |
| Engine RPM | 3,250 |
| Exhaust | Over and under shotgun mufflers with chrome coating |
| Wheels | Bullet hole disc with mirror chrome Aluminum |
| Brakes | 4-piston caliper front and 2-piston caliper rear |
| Lean angle Right | 26.2 degree |
| Lean angle Left | 27.0 degree |
| Fuel average economy | 55km per 3 liters |
Dimensions:
| | |
| --- | --- |
| Front tire | 140/75R17 67V |
| Rear tire | 200/55R17 78V |
| Fuel capacity | 18.9 liters |
| Engine Oil capacity with filter | 3.3 liters |
| Weight | 318 kg |
| Braking System | ABS |
| Wheel | Aluminum alloy with black cast |
| Colors | Dealer to Dealer availability (May change or vary) |
| Security System | H-D security system |
| Length | 2396mm |
| Saddle Height | 690mm |
| Ground Clearance | 130mm |
| Wheel Base | 1635mm |
| Steering angle degree | 31 degree |
| Trail | 147mm |
| Electronics | Led lights and gauges |
Conclusion:
The Harley-Davidson's 2015 Softail Fat is a very meaty and fatty bike as its names depicts. The bike's heart is 1690 cc Air-cooled 130B engine which generates enormous power. Its six-speed gearbox then transmits this power to double gun chromed exhausts with the help of ESPFI fuel system. As for as the wheels and tires are concerned, Bullet hole disc with chromed mirror wheels are used and Dunlop 140mm front and 250mm rear tire is installed that is a real fat one.  Other main features are H-D smart security system and ABS braking system. With these you can manage the locking unlocking of the motorcycle from a distance and ABS system helps you to control the extra speed generated by 103-B 1690 cc engine. A comfortable and easy ride is offered by the Fat-Boy due to its low inclined handlebar and narrow design seat. The fuel tank is also very fat and capable of 19-Liters which help in long rides. In all, this bike is loaded with premium features that are rarely offered by any brand.