The 2015 Victory Hammer 8 Ball is the great cruiser bike introduced in this year. It is loaded with a lot of new features. This bike has a gorgeous cruiser figure. This new cruiser bike has come with a huge power house. Victory 2015 Hammer is propelled by a 1713cc, 50 degree, V-Twin, 4-stroke engine. This will increase the bike's power and run. This power is then mixed and transferred by a 6-speed gearbox technology. The fuel is then injected through electronic ignition that brings life in the engine's mechanism. All is set for you to experience the amazing cruise ride of this motorcycle. Victory 8 Ball has heavy weight but it will not affect the bike's overall performance. This motorcycle is a real gift for cruise bike lovers.  2015 Hammer 8 Ball strength relies only on 1713cc four-stroke, V-Twin engine. It is the heart of bike and will give tremendous power and torque that any rider will want. This cruise category bike has no companion regarding its design and look. There are many fantastic accessories available for Victory 8 Ball in order to modify this special cruiser and have a pure motorcycling look.  This  bike will give you a pure unique ride that you will always love to have. The awesome style and design is the result of company's hard work to make this a fantastic cruiser bike. An increased level of interest has developed after Victory 2015 Hammer is released. This beautiful bike is painted in pure Black gloss color, which is basically the main reason of people attracting towards it. It is loaded with a lot of exceptional features.
New Cruiser Motorcycle Features:
1713cc, 4-stroke 50 degree V-Twin engine
6-speed constant mesh transmission
EFI technology.
Front Cartridge Telescopic Fork having 5.1 inches travel
Back suspension of cast aluminum with pre-load adjusted tube of gas and 3.0 inch travel
Glossy Black color
4.5 gallons huge fuel  tank
Conventional Braking system
Front disc of 300mm diameter with four piston caliper
Rear disc of 300mm diameter with two piston caliper
Dunlop Elite 3 tires
Low adjusted saddle at 26.0 inches
Special cruise effect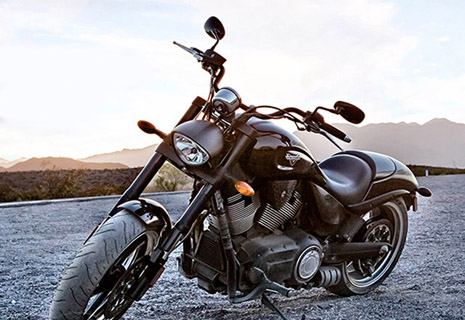 Victory Hammer 8 Ball Accessories:
Victory Company is well known for cruise bike's accessories. Almost every part has its accessory for a better performance and outlook of the bike. Victory allows you to select a best matched accessory for your cruiser bike. There is a long list of components available for Victory 2015 Hammer 8 Ball. After installation of the new accessories, you will find your cruiser bike best in the business.  These parts are easily available in the market for the customers, just choose and buy. The cost of components is also cheap,  so everybody can easily buy these. Below is a list provided for the customers to select and install these on 2015 Victory.
VICTORY®  Black Beveled Brake Arm
VICTORY®  Black Engine cover
VICTORY®  Black Floorboards
VICTORY®  Black Grip
VICTORY®  Black  Heel shifter
VICTORY®  Black Ignition covers
VICTORY®  Black License plate
VICTORY®  Black Pegs
VICTORY®  Black Shift Brake peg
VICTORY®  Black Tensioner covers
Chrome brake Arms
Chrome Cruiser shift linkage
Chrome Engine covers
Chrome Exhaust Tips
Chrome License plate
Chrome Passengers Floorboards
Chrome Shift Brake peg
PRICE:
2015 Victory Hammer 8 Ball price is very reasonable. A rider will have the freedom of making this simple cruiser to a special cruiser by adding few dollars in purchasing its accessories. Victory 2015 has an affordable price amongst the bikes in such class. The huge power house is available in the market starting from just $14,999. A rider will have all the opportunities that are offered by a cruise bike in such reasonable price.
2015 Victory Hammer 8 Ball Review:
According to me the 2015 Victory Hammer 8 Ball is the top cruise bike of today than the others that have the same features and specifications. Victory brand has heritage of producing cruise bikes. This motorcycle is on the top of everyone with its awesome and amazing features. Victory 2015 Hammer can gain speed up to a maximum of 115mph. Victory 8 Ball demands respect from the audience watching it on roadside due to its special blacked-out feature. EFI fuel system makes this bike run easier on the road and constant mesh 6-speed gears system helps in transmitting fuel to energy. The front cartridge fork with 5.1 inches travel and rear pre-adjusted cast aluminum suspension with 3.0 inches travel makes this heavy cruiser run on any uneven road.  The fantastic ride is then controlled by a conventional brake system. Both wheels have 300mm diameter with 4-piston caliper front and 2-piston caliper back disc rotor. The art of control lies in the Dunlop Elite-3 tires installed to give optimum grip and performance. Victory 8 Ball has a 17 Liters fuel tank, capable of giving you a long and comfortable ride. All the accessories are available in two categories; Blacked and chromed effect. We can modify our Victory 8 Ball in two styles. The pure Black glossy color adds beauty in the bike's dignity and makes this a wonderful attracting machine. The chromed panels and instruments are eye-catching. You will feel no difficulty in buying these special accessories because these all are easily available in the stores.
VICTORY® Blacked Bevel Engine covers, Grip, Pegs, passenger Foot loaders are main accessories which are available for customization.   The bike's fuel tank is perfectly engineered to cover long distances and give a better economy even with a maximum speed of 115mph. The Black glossy color sets the theme of inspiration and dignity.
Victory Hammer 8 Ball Specs:
Cruiser Bike Engine:
| | |
| --- | --- |
| Type | 4-stroke , 50 degree V-Twin |
| Displacement | 1713cc |
| Bore X Stroke | 101mm x 108mm |
| Compression Ratio | 9.4:1 |
| Ignition | EFI with double 45mm T-Body |
| Transmission | 6-speed constant mesh |
| Final Drive | Reinforced Carbon Fiber Belt |
| Primary Drive | Torque Compensator Gear Drive |
| Valve Train | Hydraulic Overhead single camshaft with 4-Valves per cylinder and self adjusting cam-chains |
Chassis
| | |
| --- | --- |
| Suspension Front | 43mm inverted cartridge Telescopic Fork with 130mm/5.1 inches travel |
| Suspension Back | Preload adjusted gas tube of cast aluminum with 76mm/3.0 inches travel |
| Braking system | Conventional |
| Brakes Front | 300mm 4-piston floating rotor caliper |
| Brakes Rear | 300mm 2-piston floating rotor caliper |
| Tires Front | 130/70R 18 Dunlop Elite-3 |
| Tires Rear | 250/40R 18 Dunlop Elite-3 |
| Front wheel | 18×3.5 inches |
| Rear wheel | 18×8.5 inches |
Dimensions:
| | |
| --- | --- |
| Rack | 33° |
| Trail | 140mm / 5.5 in |
| Length | 2382mm / 93.8 in |
| Seat Height | 660mm / 26.0 in |
| Wheelbase | 1689mm / 66.5 in |
| Ground Clearance | 5.3 in / 135mm |
| Fuel Capacity | 4.5 gal (17 Liters) |
| Weight | 533 kg |
| Color | Gloss Black |
CONCLUSION:
The elegant cruiser Victory Hammer 8 Ball will attract many bikers towards itself due to its Black glossy color and superior design. 1713cc, 4-stroke engines make possible to deliver best performance and power. 110 ft-lb Torque can be achieved through its 50° V-Twin engine. The bike with such strength can make you proud many times in your life if you are a biker.  An adventurous ride is offered by Victory 2015 Hammer 8 Ball, keeping in view of its suspension system, big 300mm Disc for controlling super speed and Black glossy color, you can name this bike as super cruiser of the year. The affordable price and loaded with fantastic features makes it a special motorcycle. Due to vast range of parts available in the market you can customize your Victory 8 Ball as you required. The big fuel tank is installed to help you run cross country. Dunlop Elite-3 tires are matted with 18 inch wheels to run this heavy machine. The big 250mm rear tire is specially designed for extra road grip and also high speed. It also helps in the overall control of the bike. You can style the bike in your way just by adding some components made by the Victory. These accessories are available in two varieties, Blacked and Chromed, the choice is yours.