Following the example of his/her V7 cousins, stainless Moto Guzzi Nevada received a twin-cylinder largely re-examined in 2012, announced as it is 10% more powerful than the previous model. Not what to make a power cruiser of it, certainly, but abundance of ponies never harms…

Introduced at the end of 2010, Moto Guzzi Nevada's "new look" inherits for 2012 as the evolution of the twin Moto Guzzi V7, following the example of the V7 range. The range Moto Guzzi Nevada 2012 counts two versions firstly the Classic and Anniversario (which celebrated in 2010 the twenty years of the Nevada model). Nevada Classic is equipped with bags, a top-box and a windshield.  It is to some extent "small" the California.
She will be planned out of black-chromium Aquila black or green-chromium "jade". Moto Guzzi Nevada Anniversario benefits as it more marked from a double saddle stages, with redrawn side masks, a mudguard postpones two tons and of an arch of chrome momentary maintenance… She is also characterized by a lower and narrower handlebar which changes the position of control. Its colors are exclusive that includes black and white with net of orange separation as well.
Their new twin commonly known as an "individual throttle" brings some additional horses to them. It is identified easily with its new cylinders that are of generous size to the round wings, and with redrawn of its aluminum cylinder head covers. The new unit Marelli MIU3G is the one responsible to control the injection that allows a more precise proportioning air/petrol, which in turn reduces the rejections of C02 and consumption.
The exhaust catalyzed three ways uses a probe with oxygen, in order to reduce the emissions of C02. Because of the new box with air (located from now on behind the conduit of admission in Y, behind the side masks), this Moto Guzzi V7 is supposed to produce a more flattering and clearer sonority in agreement with the custom style of the machine.
Lastly, the selection was re-examined; Guzzi promises a better control with the foot, less noise and more comfort in the changes of its reports. The part-cycle does not evolve of a hair. Moto Guzzi Nevada preserves its specific geometry having the suspensions (Marzocchi Ø 40 with front, shock absorbers inclined in the back) offering 130 and 118 mm of clearance, takes again the same brake (simple disc of 320 mm), just like the aft wheel of 16 inches. The weight in functioning order (without petrol) of Nevada begins to 184 kg.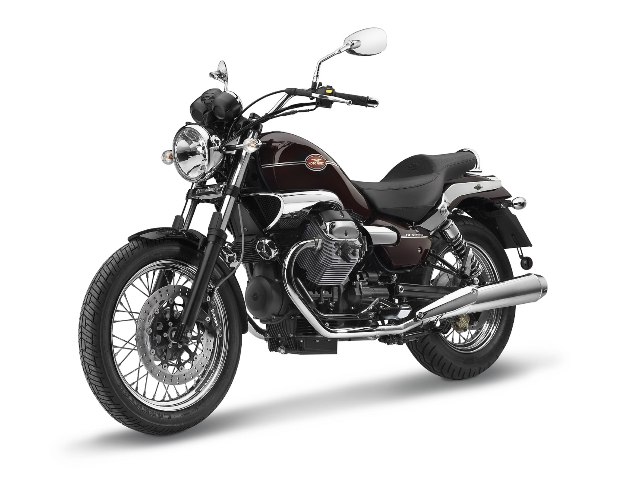 Moto Guzzi V7 Special, key points:
Two versions: Classic and Anniversario
New individual engine "throttle"
Power carried with approximately 51 ch
Couples in rise, consumption in fall
Decreased CO2 emissions
Wheels with rays
Part-cycle unchanged
Travel goods shop and windshield in series (Classical)
Narrow handlebar (Anniversario)
Black color or green (Classical)
Delivered single black-white (Anniversario)