Honda presents a new sporting scooter on the segment 50 Cm3 named as the Honda NSC50R 2013. With (with the choice)in  its Deco Moto GP Repsol Replica, its racy lines, its motorization 4 times "up to date" and its combined braking, Honda marks its return on the segment of the small-engine cars, particularly voted by plebiscite on our market.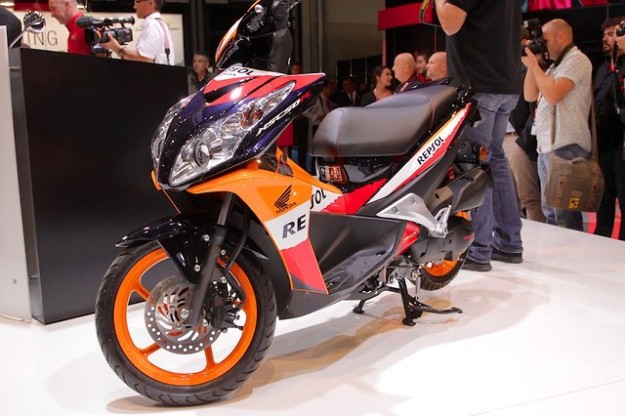 To regain places on a segment scooter 50 Cm3, which the Japanese had constructed during a few given up times, Honda presents a new model, more sporting than Vision 50 launched the last year. They named it Honda NSC50R 2013, presenting such a generous style for being more successful and a Deco Moto GP which the amateurs of competition should look like.
Appealing for its lines and its style, it satisfies for its economic aspects also. Without revealing its tariff of sale, Honda announces a scooter with the quality ratio of price quite reasonable, but also sparing for the moderation of its motorization 4 times air cooled. Indeed, according to the manufacturer, the new Honda NSC50R could traverse 50 km with only one liter.
To 30 km/h Honda NSC50R 2013's consumption would be of 1.57 l/100 km and 2.01 l/100 km according to standard ECE R47. Taking into account the presence of a reserve of 5.5 liters, the autonomy of Honda NSC50R 2013 would be particularly interesting for a scooter of small-engine car.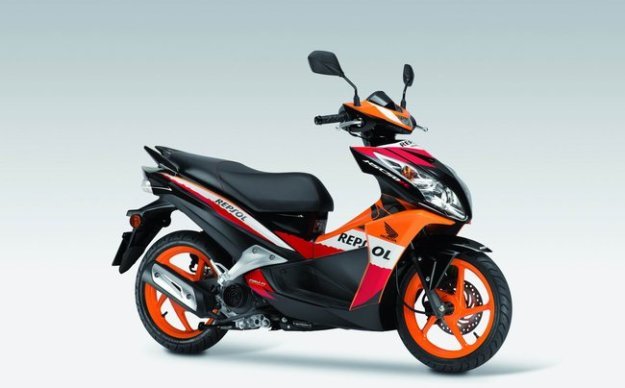 Honda NSC50R 2013 is driven by an engine with low friction
This temperance in Honda NSC50R 2013 is made possible by the output of new one-cylinder of 49 Cm3. To carry out the thermal group of Honda NSC50R, Honda certainly indicates to have work limit to the maximum internal frictions and the effectiveness of combustion. The Honda NSC50R would reach the real speed of 44.5 km/h, with forced legislation.
Driving comes to place itself within a framework out of steel tubes, rigid announcement the manufacturer, in order to support the precision of the road behavior. One finds a fork hydraulic with front, a back mono-shock absorber and rims of 14 inches, reassuring greatly for the traditional rims of 12 inches of competition.
Sportsman, but practical
In addition, this small sportsman does not remain about it as for the practical aspects since it has two filing spaces (for small bottles) in his apron. The NSC50R does not have a flat floor, but its trunk of saddle can accommodate a crash helmet. Its geometry would be studied to grant him a good agility, a facility of handling also reinforced by the weak weight of this scooter, announced to 105.2 kg.
Braking is particularly interesting on a scooter of this category like Honda NSC50R 2013 since it is combined with the left lever. And for the pleasure of the eyes, Honda NSC50R 2013 is equipped with a saddle to the red over sewn seam, a shock absorber of the same color and aluminum footrest. This new 50 Cm3 Honda NSC50R 2013 is anticipated in metal gray, white beads, and famous Respol Honda Team Replica.
Features:
One-cylinder, 4 times, simple tree and 2 valves
Air cooling
49 Cm3, boring X chase 37.8 X 44 mm
Maximum power 3.6 CH. (2.59 kw) with 8,250 tr/min
Maximum couple 0.35 daN.m with 7000 tr/min
Electronic injection PGM-FI
Reserve of 5.5 liters
Consumption: 1.57 l/100 km (to 30 km/h)
Headlight doubles optical
Transmission by variation continues V-Matic
Tally open out of steel tubes
Dimensions (L X L X H) 1,847 X 669 X 1,089 mm
Footing 1,256 mm
Castor angle 26° 5'
Drive out 83 mm
Turning radius 1.94 m
Height of saddle 760 mm
Keep on the ground 125 mm
Weight all full facts 105.2 kg (AV: 40 kg; AR: 60 kg)
Telescopic fork hydraulic AV
Simple shock absorber AR
Pneumatic tire AV 80/90 – 14
Pneumatic tire AR 90/90 – 14
Brake AV disc of 220 mm deer. Clamp doubles combined piston
Brake AR drum combined of 130 mm diam.