The 2023 Honda Navi Urban Bike, the most recent in a succession of friendly, enjoyable Honda miniMOTO motorcycles, has become the best-selling vehicle in the United States in only one year after its release. The Navi bridges the gap in the market by combining the motorcycle-like styling of the Ruckus with the scooter-like conveniences of the Grom (both of which have become so popular that they have their subcultures), with Honda's V-Matic automatic gearbox (just twist the throttle to go) as a bonus. The Navi is more convenient than public transport or carpooling and is within the financial grasp of practically any consumer because of its low list price, efficient performance, and lengthy service intervals. More and more people may now experience the freedom, flexibility, and efficiency of riding a motorbike thanks to the Navi.
2023 Honda Navi Urban Bike – Features and Specs
Friendly power
The Navi's little but potent 109 cc single-cylinder engine gives enough go-power for hopping about the city but is simple to operate for beginner riders just getting up to speed.
Proven reliability
A bike as practical as the Navi will likely be used a lot, so we've ensured it's highly dependable. The air-cooled, SOHC, four-stroke engine employs proven components and needs a minimum of maintenance, so riders get to ride, not fix.
Automatic Transmission
Suit up, climb, start the engine, crank the throttle, and go. It truly is that simple to ride the Navi. Its Honda V-Matic automatic gearbox with belt drive means no shifting, clutch, or stalling.
Compact design
The engine's basic, compact design adds to the Navi's low weight and comfortable size, further increasing performance and simplicity of use for riders of all sizes and skill levels.
Practical fun
Easy to handle, easy to park – at only 106 kg (234 lb.), the Navi's small weight and outstanding agility make it so much fun to ride. The rider will forget how useful it is for commuting, errands, etc.
Firm footing
The rider will never feel unsteady while stopped at a light while riding the Navi. The low 762 mm (30 in) seat height allows your feet to be securely planted on the ground.
Design / Styling
The Honda Grom, the best-selling miniMOTO and one of the most popular models in the power sports business, is an excellent source of design ideas. Instead of a scooter-style step-through/floorboard design, the Navi has the appearance and feel of a fast motorcycle, with the rider's legs straddling the fuel tank and feet positioned on side-mounted pegs. The scooter-style left-hand lever for the rear brake has been replaced with a right-foot lever.
However, like a scooter, the motor is positioned in the back, making room for a lockable storage pod in front of the seat, where riders can safely keep their books, a jacket, and a water bottle. Everything from the chassis and wheels to the suspension and exhaust is black, yet the bike's sides are covered in bright colors and have forms that recall Honda's famed CRF line of dirt motorcycles. A prominent hexagonal headlamp is featured.
The Navi, like the Grom, is essentially a blank slate waiting to be occupied with the owner's unique touches using the wide variety of available Honda accessories. Custom graphics kits developed in tandem by cutting-edge Portland gear manufacturer Icon and South Carolina hunting apparel manufacturer True Timber are just two examples of the many options available in the aftermarket for Honda miniMOTO motorcycles.
The instrument cluster is basic yet functional, with a big, simple analog speedometer and a practical fuel gauge.
Engine / Drivetrain
While it may have a motorcycle's aesthetic, the engine is a scooter, positioned in the back and requiring no gear changes. The engine is taken straight from Honda's highly regarded Active (a bestseller in scooter-crazy Asia). It boasts the company's cutting-edge eSP friction-reducing technology, resulting in a remarkable 110.3 mpg in Honda's fuel efficiency tests.
When riders factor in Honda's well-deserved reputation for reliability and long service life, riders will see that operating costs are low. These features, together with security and ease of use, were developed with the Navi in mind. The engine is a four-stroke, single-cylinder, fan-cooled, 109.2cc unit with two valves and an overhead camshaft at 80 degrees toward the front. The compression ratio is kept at 9.5:1, and the bore and stroke measure 55.0mm and 55.6mm, respectively. The Navi has enough helpful power to get going again after stopping or passing slower traffic, and it can go rider for miles and miles without a hitch.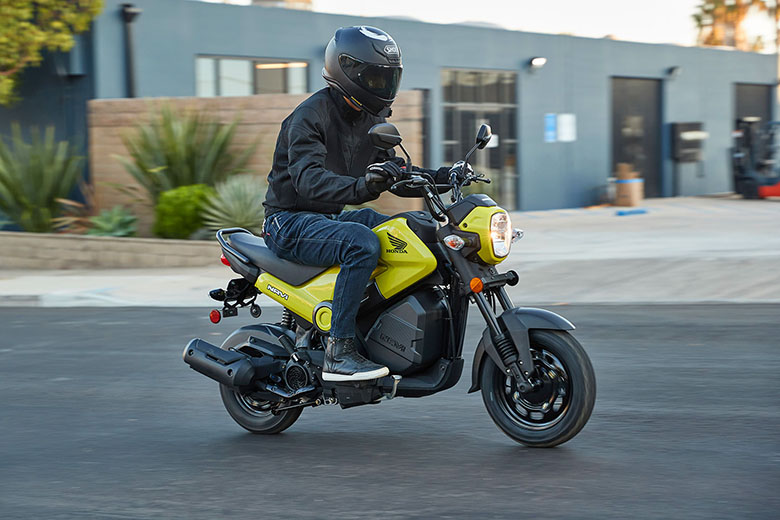 A 16mm carburetor handles fuel injection, while Honda's tried-and-true V-Matic automatic gearbox channels output to a durable belt drive. Since there is no need for a clutch or gear change, the rider can concentrate on the road and the surrounding environment.
Chassis / Suspension
Navi's frame design incorporates the engine as a stressed element, and it's meticulously developed to provide a great feel behind the wheel and excellent stability, in no small part because of the car's comparatively large wheelbase (50.6 inches). The ride is comfortable.
The pressed steel wheels, measuring 12 inches in diameter up front and 10 inches in diameter at the back, can confidently manage road irregularities thanks to the 26.8mm inverted telescopic fork and the side-mounted single rear shock absorber. There are 130mm drum-type front and rear brakes for stopping and slowing and a parking brake that may be engaged using a lever on the left side of the handlebar.
Most riders can quickly stop with both feet on the ground because of the low 30.0-inch seat height and forward-tapering seat design. A passenger's safety is ensured by a grab rail located at the back of the seat.
The Navi's astonishing range results from its small fuel tank, which holds only.9 gallons. The Navi, when fully loaded, weighs just 234 pounds, making it easy to transport by car, push into a tight parking place, or even load into a trailer hitch.
A one-year, unlimited-mileage limited warranty may be transferred; additional coverage can be purchased via the Honda Protection Plan.
A Gearbox That Shifts Itself
One significant distinction from the rest of our miniMOTO range is this bike's: It's because of the Navi's CVT gearbox. That means the rider doesn't need to use the clutch or change into gear—the rider can just turn the throttle and go.
Integrated Storage Area
Taking your belongings with a rider is now much less of a hassle. The Navi includes a large, secure, built-in storage compartment. What the rider puts in it is up to ride; it can fit a laptop, lunch, and more.
Compact Size
The Navi's portability is a significant selling point. In addition, that facilitates parking. In terms of size, it's comparable to the Grom, another one of our favorite miniMOTO motorcycles.
Fuel Capacity
Stop being afraid of petrol stations! The Navi's petrol tank only holds one gallon, so it's cheap to fuel up. Riders won't have to fill the tank as frequently since it uses so little gas.
Two-Up Capability
Does the rider want to enjoy this with a companion? Don't worry; the Navi has a set of passenger footrests built right in.
109cc Four-Stroke Engine
The Navi's Honda engine is one of its most vital points. It's air-cooled so it's easy to maintain, it gets excellent gas mileage, and it produces a lot of power. It requires very little maintenance and is dependable due to its single-cylinder and overhead cam design.
Low Seat Height
The Navi's seat height of about 30 inches makes getting in and out of the vehicle a breeze. It's much simpler to flat-foot it at stoplights and parking lots. The large, flat seat allows even taller riders to find a comfortable riding posture and move quickly.
Electric Starter
Simply insert the key, push the button, and off rider go. Getting going is a breeze thanks to the Navi's electric starter and backup Kickstarter.
Standout Style
Our redesign makes it impossible to mistake a Honda Navi for any other vehicle. It's a far cry from typical scooters, asking to be customized to your tastes. It's so urban and calm that it'll turn heads everywhere riders go.
10/12-Inch Wheels
The Navi's wheels help make it easy to maneuver. Compared to the wheels of a full-size motorbike, their diameters of 10 and 12 inches, respectively, are substantially smaller. That helps the Navi stay compact overall while also making it easy to maneuver and entertaining to drive.
Telefork Suspension
The Navi, like a regular motorcycle, has a telescopic fork up front to improve handling and feedback from the road.
Single Rear Shock
The Navi's single hydraulic rear shock helps smooth the ride no matter how bumpy the road is.
Strong Steel Frame
The Navi's undergone steel frame is built to withstand the abuse that rough metropolitan streets can dish out while still providing a solid foundation for the bike's responsive handling.
The Navi's brakes are arranged similarly to a full-size motorcycle, with a foot pedal for the rear brake and a lever on the brand-new handlebar for the front brake. In addition, riders can stop safely and quickly with our integrated brake system.
2023 Honda Navi Urban Bike – Price
The new 2023 Honda Navi Urban Bike is available at $1,807 only.
2023 Honda Navi Urban Bike – Technical Specifications
Engine
| | |
| --- | --- |
| Type | 109.2cc fan-cooled four-stroke 80º single cylinder with eSP friction-reducing technology |
| Valve Train | OHC; two-valve |
| Bore x Stroke | 55.0mm x 55.6mm |
| Compression Ratio | 9.5:1 |
| Induction | Carburetor w/ 16mm bore |
| Ignition | Full transistorized |
| Starter | Electric (w/ kickstart backup) |
| Driveline | Belt final drive |
| Transmission | V-Matic CVT |
| Clutch | Automatic centrifugal dry |
Suspension
| | |
| --- | --- |
| Front | 26.8mm telescopic inverted fork; 3.9 inches travel |
| Rear | Single shock fixed on the left side; 2.8 inches travel |
Brakes
| | |
| --- | --- |
| Front | Single mechanical 130mm drum with parking brake |
| Rear | Single mechanical 130mm drum |
Tires
| | |
| --- | --- |
| Front | 90/90-12 |
| Rear | 90/100-10 |
Measurements
| | |
| --- | --- |
| Rake (castor angle) | 27.5º |
| Trail | 79mm |
| Length | 71.2 in. |
| Width | 29.1 in. |
| Height | 41.1 in. |
| Seat Height | 30.0 in. |
| Ground Clearance | 5.8 in. |
| Wheelbase | 50.6 in. |
| Fuel Capacity | .9 gal. |
| Curb Weight | 234 lbs. |
Other
| | |
| --- | --- |
| Colors | Red; Grasshopper Green; Nut Brown; Ranger Green |