The proportions of the 2023 Harley-Davidson Breakout 117 Cruiser, particularly in the back three-quarters, are striking. The Softail rear end, which includes a 240-rear tire, a bobbed fender, and minimum indicator/brake lights, looks great. It seems we're not alone in this sentiment, as Harley-Davidson has reinstated the Breakout to its portfolio after an absence of a few years.
The Breakout was last recorded in 2020 with a Milwaukee-Eight 114 engine; the 117 variant of that V-twin is now standard equipment. The gasoline tank has been increased to 5.0 gallons (from 3.5), the handlebar riser is 0.75 inches higher, and both cruise control and traction control are now included as standard features. The bespoke cruiser puts form before function, but that doesn't mean it's any less impressive.
2023 Harley-Davidson Breakout 117 Cruiser – Features
117CI Milwaukee-Eight Engine
The biggest engine available in regular-production Harleys is the 45-degree, counterbalanced Milwaukee-Eight 117 V-twin, which the Breakout receives. True, The Motor Company has recently revealed the forthcoming 121, but in 2023, this will be the pinnacle of their offerings. The first Milwaukee-Eights appeared in 2017 with displacements of 107ci and 114ci. The 114 is now the standard size, although the 117 is available on specific, more premium versions, such as the Breakout. Can we safely predict a 117-121 increase by 2024 the record shows it to be true.
To return to the Breakout, the Milwaukee-Eight 117 (1,923cc) has a compression ratio of 10.2:1 and bore and stroke dimensions of 103.5 x 114mm. The number "Eight" in the model's name indicates that the engine has eight valves. Each cylinder has two rocker arms controlled by a single come with four lobes—hydraulic roller tappets control valve clearances. The oil is drawn from a dry sump and cooled by a circulation pump.
Using Electronic Sequential Port Fuel Injection, we feed air into the engine via a chromed Heavy Breather intake and open the throttle. Each cylinder has two spark plugs—one in the middle of the combustion chamber and the other out to one side. Combusted gases are released via chromed, heat-protected 2-into-2 staggered exhausts with catalysts.
A wet multi-plate clutch with assist capability reduces the effort required to lift the bar by transferring power from the main motor to the compensator via chain. Then, the belt final drive sends the power to the rear wheels after going through the six-speed Cruise Drive gearbox.
Chassis
The Breakout has a steel swingarm and backbone structure, making it very long and low. The Softail's concealed shock has 3.4 inches of travel and can be adjusted for spring preload with a remote knob that requires no tools. A 49mm conventional (right-side up) fork with 5 inches of travel sits up front. The wheelbase is 66.7 inches in diameter, the rake angle is 34 degrees, and the trail is 5.7 inches—the shallow seat height measures only 26. The manufacturer claims a fully loaded, operational wet weight of 683 pounds.
The wheels and tires of the Breakout are crucial to its attitude. A 21×3.5 cast aluminum wheel with a contrast cut and a 130/60-21 Michelin Scorcher 11 tire equip the front. The massive 240/40-18 tire on the matching eight-by-18-inch wheel can be found in the rear. Front brakes are handled by a four-piston caliper clamping a 300mm disc, while the brakes at the back are operated by a twin-piston caliper and a 292mm disc. Of course, ABS is required.
Electronics
Electronics the small LCD instrument screen and a couple of rows of warning/indicator lights sit atop the straight, chromed handlebar, which is mounted on a riser that is +3/4 inch taller than the previous Breakout. The Breakout's keyless ignition uses a fob, and the pod on the left handlebar displays all necessary information. Whether you find the left and right turn signals convenient, they remain separated. An easy-to-use multi-function button on the bike's left handlebar controls the conventional cruise control, while a separate switch on the right pod disables the optional TC.
A rival-shaped array of LEDs provides the front lighting, but the combination of turn signals and taillights still uses incandescent bulbs. A smartphone on the handlebars may be charged through the USB port at 2.4 amps, allowing uninterrupted navigation.
First impression Custom-style cruisers are motorbikes that look content doing nothing more than cruising the neighborhood boulevards. But if you use the Breakout to see under the surface, you'll realize that not everything is as it seems.
It's a lot of fun to treat each green light like a "tree" at a dragstrip and launch the bike from one to the next. When a Tesla is waiting in the next lane, the 117's amazingly flat torque curve from 1,750 to 4,000 rpm makes it tempting just to let go of the clutch and let it rocket off the line. However, this bike's capabilities extend well beyond its sprinting prowess.
When you have a lot of low-to-midrange torque and an utterly linear power curve up the rpm range, there isn't much need to rev it to the limit. Keeping your gear ratio relatively low and riding out the curve's sweet spot may pay you handsomely, and it is almost hard to do otherwise. Keeping the bike revved up is a blast, thanks to the satisfying action of the clutch and the smooth shifting of the gearbox.
Traction control is a no-brainer ($200 more) yet came standard on our Breakout. Of course, it's entertaining to disable it and let the back tire shoulder off the line, but if you want it to hook up with all that torque, you'll need the TC. Besides, we're sure the 240-section tire isn't cheap.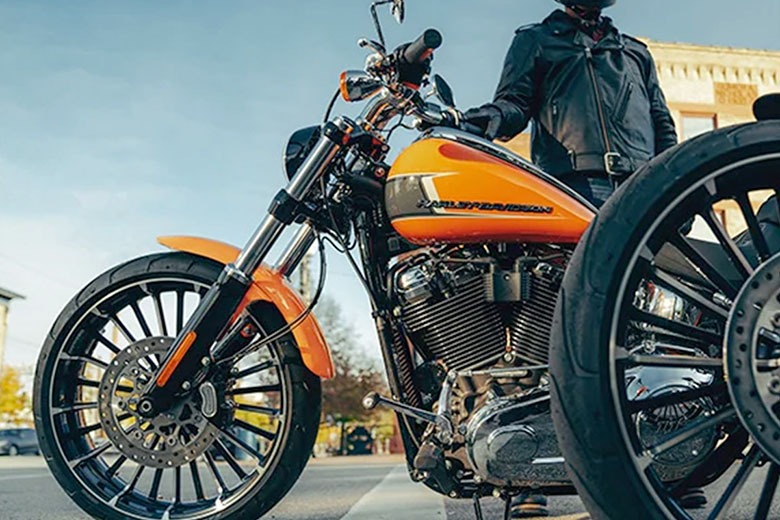 Regarding that tire, really. If you ride a Breakout around town, you won't have to worry about its "snapping" into turns because of the vast back tire. Instead, you need to counter-steer firmly at the handlebars to start the favor and let the lean bring the tire up to the edge. More work is necessary for a tighter turn, but you'll quickly adjust.
The low, 26-inch-or-so seat height should make it simple for most riders to maintain stable footing at stops and gives riders more control when navigating tight spaces or parking the bike. When halted, the front foot controls are helpful since they avoid getting in the way of the legs and feet.
In the spirit of things not being what they seem, When you see someone sitting like that, with their legs extended out in front of them, you may wonder how they can be comfortable for longer than 20 minutes. We were astonished at how revitalized we felt after a full day of riding the Breakout all around town and into the foothills. One of us, at 5 feet, 11 inches, found that the seat's deep pocket provided excellent back support, and the easy reach to the flat handlebar was a nice bonus. However, at 6 feet and 3 inches tall, Bradley Adams found that his lengthy legs caused his right appendage to bump uncomfortably against the air vent.
The Breakout's heavy steering and additional bar work in town make it seem home only on the vast, winding mountain roads. You won't feel like the back tire is working against you, and you'll get a lot of stability in the middle of corners. When the road is a succession of giant sweepers, the Breakout is a lot of fun; however, hairpins are a different story and duplicate the slowness of the urban surroundings. It's simple to judge how far you can lean the bike before the pegs start grinding into the pavement since the bike prefers to drift over onto the side of the tire rather than snap from side to side. Picking it back up slightly as it begins to grind prevents the heel of your boot from being smoked.
2023 Harley-Davidson Breakout 117 Cruiser – Price
The new 2023 Harley-Davidson Breakout 117 Cruiser is available at $21,724 only.
2023 Harley-Davidson Breakout 117 Cruiser – Technical Specifications
Dimensions
| | |
| --- | --- |
| Length | 93.3 in. |
| Seat Height, Laden | 25.6 in. |
| Ground Clearance | 4.5 in. |
| Rake | 34 |
| Trail | 5.7 in. |
| Wheelbase | 66.7 in. |
| Tires, Front Specification | 130/60B21,63H,BW |
| Tires, Rear Specification | 240/40R18,79V,BW |
| Tire, Type | Michelin Scorcher "11" front and rear |
| Fuel Capacity | Five gal. |
| Oil Capacity (W/Filter) | Five qt. |
| Weight, As Shipped | 653 lb. |
| Weight, In Running Order | 683 lb. |

Engine
| | |
| --- | --- |
| Engine | Milwaukee-Eight 117 |
| Bore | 4.075 in. |
| Stroke | 4.5 in. |
| Displacement | 117 cu in |
| Compression Ratio | 10.2:1 |
| Fuel System | Electronic Sequential Port Fuel Injection (ESPFI) |
| Exhaust | 2-into-2 staggered; catalyst in muffler |
Performance
| | |
| --- | --- |
| Engine Torque Testing Method | J1349 |
| Engine Torque | 123 ft-lb |
| Engine Torque (RPM) | 3500 |
| Horsepower | 101 HP / 75 kW @ 4750 rpm |
| Lean Angle, Right (DEG.) | 26.8 |
| Lean Angle, Left (DEG.) | 26.8 |
| Fuel Economy Testing Method | Estimated City/Hwy |
| Fuel Economy | 47 mpg |
Drive train
| | |
| --- | --- |
| Primary drive | Chain, 34/46 ratio |
Chassis
| | |
| --- | --- |
| Front fork | Dual-bending valve 49 mm telescopic with aluminum fork triple clamps; dual-rate spring |
| Rear Shocks | Hidden, free piston, coil-over monoshock; 43mm stroke; toolless hydraulic preload adjustment |
| Wheels, Front Type | Gloss black, 26-spoke cast aluminum |
| Wheels, Rear Type | Gloss black, 26-spoke cast aluminum |
| Brakes, Type | Front and rear black, Split 7-spoke floating rotors |
| Brakes, Caliper Type | 4-piston fixed front and 2-piston floating rear |

Electric
| | |
| --- | --- |
| Lights (as per country regulation), headlamp, tail/stop/front signal lights | All LED, low beam, high beam, and signature position lamps; Incandescent bullets. |
| Gauges | 2.14-inch viewable area LCD with speedometer, gear, odometer, fuel level, clock, trip, range, and tachometer indication |
Rider Safety Enhancements
| | |
| --- | --- |
| Anti-Lock Brake System (ABS) | Included |
| Traction Control System (TCS) | Optional |
Conclusion
The Breakout 117 from Harley-Davidson seems like the perfect custom cruiser, with its extended, low profile, but the good news is that it excels in many more ways. Given that the Breakout no longer has serious rivals, it, too, may be considered a survivor. The only other motorcycle we can think of off the top of our heads is the Honda Fury, but that bike is a raked-out chopper-type machine and is more of a middleweight.
Although only the Breakout and Fat Bob have a custom-cruiser profile among the lineup's bikes, Harley-Davidson has delivered a style-heavy machine that performs in a way that its competitors in the past have never been able to replicate. Form and function are harmonious.
You probably won't take the Breakout on a cross-country trip, but as its intended purpose, it holds its own. The Milwaukee-Eight 117 is fantastic, turning the Breakout into a stoplight-drags hero; the cockpit and riding posture are surprisingly comfortable, and there is no denying that the outrageous design sticks out in the sea of matte-black and subdued colors that are so trendy right now. In a nutshell, the performance will satisfy your aesthetic expectations.