Ready for a road trip? With the Suzuki Boulevard C50T, you'll feel at home on both the highway and the boulevard. Its 50 cubic-inch fuel-injected V-twin engine is designed for comfort and delivers plenty of torque. While an extensive list of amenities makes it perfect for comfortable long-distance travel, its distinctive look makes it stand out from the crowd. A spacious riding beam, an aerodynamic windscreen, saddlebags that look like leather and dual seat studs with matching studs are all tour-ready features that provide all-day comfort for rider and passenger.
2021 Suzuki Boulevard C50T Touring Bike – Features and Specs
Engine Features
Exceptional low-rpm torque is achieved by tuning the 805cc, liquid-cooled, SOHC, four-valve-per-cylinder, and a 45-degree V-twin engine for fuel injection.
Visually impressive cylinders with symmetrical cooling fins complement the engine's polished aluminum and chrome core—the offset crankpin results in firing intervals that are perfectly balanced and deliver distinctive V-twin rumbling.
For smooth low-to-mid-rpm throttle response, Suzuki Dual Throttle Valve (SDTV) electronic fuel injection technology keeps intake tract air velocity at its ideal level.
By monitoring the coolant temperature, the Auto Fast Idle System (AFIS) automatically adjusts the throttle valve opening during a cold engine start. Advanced 3D-mapped digital ignition technology that uses a throttle position sensor helps boost the low-down torque of the massive V-Signature Twin.
A loud, rumbling exhaust noise is produced by the chromed and staggered twin exhaust system located on the right side of the engine. The five-speed gearbox has a high fifth gear ratio with a wide ratio for comfortable highway cruising.
Chassis Features
The chassis is supported by a strong, double-cradle steel frame suitable for cruising or long hauls.
Rich paintwork, gleaming chrome, and wide front and rear fenders with sculpted ends are just a few of the classic aesthetic cues embraced by the Boulevard. Complete protection from the wind is provided by an easily removable, height-adjustable windscreen, which has a vintage design and a distinctive chrome garnish with the boulevard emblem. Saddlebags with ample storage space, leather texture, boulevard emblem, and practical twist-lock closures are available.
A truss-style swingarm with seven-way spring preload adjustment and single shock absorbers are connected to a link-type rear suspension that resembles the hardtail lines of classic cruisers. This arrangement offers 4.1 inches of responsive and smooth suspension travel.
A smooth, pleasant ride is provided by the sizeable 65.2-inch wheelbase and kick-out, 33-degree rake. Sturdy telescopic front forks offer 5.5 inches of smooth wheel travel. A nice ride both in the city and on the highway is made possible by wide handlebars, forward-mounted floorboards, and leather-textured, padded seats. For a classic cruiser look, a large 15-inch rear tire and 16-inch front tire with wide white sidewalls are mounted on bright, spoked rims.
The rear drum and hydraulic front disc brakes offer mighty, reliable stopping power. A low seat height of 27.6 inches is perfect for comfortable driving and assured stops on a thickly padded seat with broad, colorful studs.
2021 Suzuki Boulevard C50T Touring Bike – Comparison Review
I had no shortage of potential competitors among the American-made cruisers already on the market and the countless imports trying to look like them. In the spirit of fairness and because of the unique styling and displacement variations, I chose to focus on Kawasaki, one of Suzuki's major domestic rivals, and its 2020 Vulcan 900 Classic LT from the US. There is competition.
All these motorcycles have similar design elements, like two peas in a pod. The Suzuki looks a little more attractive thanks to the whitewall tires, which appear to highlight the spokes, which are mounted on the vast, shrouded front forks and the tall, shallow fenders.
Since they share a false-hard structure, it makes sense that their profiles would be highly similar. A windscreen, backrest, and saddlebag round out the touring equipment, while studded leather accents complete the overall design. There is not much variance in look between the two.
Both bikes are cushioned by fairly common suspension, but that's standard for "basic" and even some non-basic cruisers. Both bikes lack ABS, but at least the Kawi has replaced the drum brakes like the C50T with disc brakes.
Although the Kawi motor runs a 55-degree V, which makes it look less natural to someone accustomed to seeing H-D plants, both mills are pretty handsome. No big deal. Both have water cooling and fuel injection, but the C50T has more electronic engine gadgetry, making the Vulcan motor look simpler. The Kawi has slightly more power than the 805 ccs C50 mill with its 50.9 pound-feet of grunt, a total of 903 cubic centimeters and 58.2 pound-feet of torque. It gives Kawi a narrow advantage.
The Vulcan wins again with a starting price of $8,999 at the register, a few dollars less than the C50 T's list price of $9,599. I worry that brand loyalty or a compelling test drive will be the only way for an individual consumer to choose between the two, given the similarity in form and price.
2021 Suzuki Boulevard C50T vs. 2020 Harley-Davidson Low Ride
Cruisers from Harley-Davidson® don't play with the opposition. The competition is often at a severe disadvantage, especially if it's a Suzuki model, a longtime enemy. H-D® doesn't sweat just because these two brands are in a competitive situation. The 2020 Harley-Davidson® Low Rider is decked out in paint, chrome and a '70s-inspired vibe. While the Suzuki Boulevard C50 is a capable urban rider, it can't compare to the Low Rider®. Our brief comparison of the 2020 Harley-Davidson® Low Rider® and 2021 Suzuki Boulevard C50 is one of many reviews we provide to help clients decide between their preferred options. The Low Rider® is a cruiser built in Stuart, Port St. Lucie, Fort Pierce, and Vero Beach and offers much more than the C50.
Design
On the Low Rider®, Harley-Davidson® goes chopped and custom with a robust set of pipes that are shocking in chrome. You get the vibrant blue and white Harley-Davidson® artwork from the tank designs of the 1970s, which will last a long time. When you choose the vintage look, you can always look back and enjoy the past while reaping the benefits of the Milwaukee-Eight® 107. The Suzuki C50 looks more contemporary. Despite having a nice plush seat and chrome, some customers find the model's bulky look cumbersome. It lacks the carefree attitude of the vintage H-D® Low Rider® model.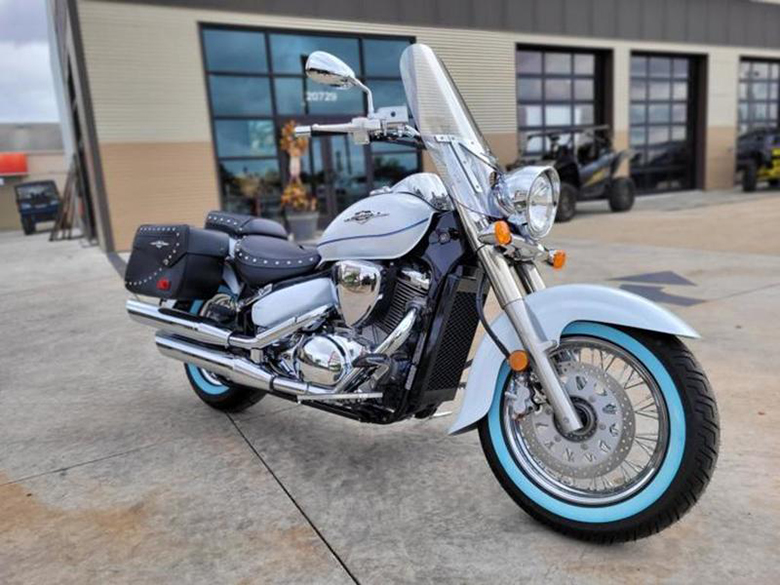 People often come back to H-D® bikes because of their sharp looks. High-performance components are built into the design of every Harley-Davidson® motorcycle. It is a beautiful thing. The C50, on the other hand, is both fierce and stylish. Is it enough for you, or not? Or would you prefer something classy, timeless and classic? If you love a classic, only the H-D® Low Rider® will delight your riding senses this year. It is the climax of the epic.
Power
When a rider feels shiny, cruisers aim to shine. The Low Rider® has 100 horsepower available to dish out to its lucky riders, which is a lot of power. Many riders will be disappointed by the C50's modest 53 horsepower this year. Only the Low Rider® can highlight things, though both bikes are capable of exploring the city and don't struggle when taking off. Additionally, it offers excellent throttle response and 119 ft-lb of torque for Stuart Port St. Lucie, Fort Pierce and Vero Beach. The C50 can put out only 51 ft-lb of torque. For most customers who have shopped at Treasure Coast Harley-Davidson® before, that won't be enough.
Suspension
Harley-Davidson ® has no other suspension system on the market, but Suzuki is notably behind in its offers. Cast wheels on the Low Rider® work in tandem with a high-performance front suspension system. The model's racing cartridge features a unique "weight reduction" technology that blends seamlessly with the Low Rider® frame. The Suzuki, however, has a strong steel frame that will hold up over time, but its actual performance is much lower than the Low Rider®. If you choose the Boulevard C50, you will feel as if something is missing in your entire being.
Winner: 2020 Harley-Davidson® Low Rider®
While Harley-Davidson® cruiser bikes are legendary, the Low Rider® was among the most incredible vehicles of its model years. It had a design distinctly reminiscent of the 1970s and shook up the helicopter currency. H-D® encourages its Low Rider® riders to personalize the items that mean the most to them. You have the opportunity to own this consistently winning Harley-Davidson® from the Treasure Coast as it is still early in its career.
2021 Suzuki Boulevard C50T Touring Bike – Price
The new 2021 Suzuki Boulevard C50T Touring Bike is available at $9,599 only.
2021 Suzuki Boulevard C50T Touring Bike – Technical Specifications
Engine
| | |
| --- | --- |
| Engine | 805cc, 4-stroke, liquid-cooled, SOHC, 45˚, V-twin |
| Bore x Stroke | 83.0 mm x 74.4 mm (3.268 in. x 2.929 in.) |
| Compression Ratio | 9.4:1 |
| Fuel System | Fuel injection with SDTV |
| Starter | Electric |
| Lubrication | Wet sump |
Drivetrain
| | |
| --- | --- |
| Clutch | Wet multi-plate type |
| Transmission | 5-speed constant mesh |
| Final Drive | Shaft drive |

Chassis
| | |
| --- | --- |
| Suspension Front | Telescopic, coil spring, oil damped |
| Suspension Rear | Link style, solo shock, coil spring, oil damped |
| Brakes Front | Disc brake |
| Brakes Rear | Drum brake |
| Tires Front | 130/90-16 M/C (67H), tube type |
| Tires Rear | 170/80-15 M/C (77H), tube type |
| Fuel Tank Capacity | 15.5 L (4.1 US gal.) |
| Color | Pearl Brilliant White |
Electrical
| | |
| --- | --- |
| Ignition | Electronic ignition (transistorized) |
| Spark Plug | NGK DR7EA or DENSO XX22ESR-U |
| Headlight | 12V 60/55W H4 |
| Tail Light | LED |
Dimensions
| | |
| --- | --- |
| Overall Length | 2500 mm (98.4 in.) |
| Overall Width | 955 mm (37.6 in.) |
| Overall Height | 1110 mm (43.7 in.) |
| Wheelbase | 1655 mm (65.2 in.) |
| Ground Clearance | 140 mm (5.5 in.) |
| Seat Height | 700 mm (27.6 in.) |
| Curb Weight | 292 kg (644 lb.) |

Warranty
| | |
| --- | --- |
| Warranty | 12-month unlimited mileage limited warranty |
| Extension | More extended coverage periods, including other benefits available through Suzuki Extended Protection (SEP) |