The Niken GT and Tracer 900 GT are known for their ultimate performance and agility. In this article, we will try our test to provide a brief comparison review between them. So, read the 2019 Niken GT vs 2019 Tracer 900 GT.
2019 Niken GT vs 2019 Tracer 900 GT – Comparison Review
2019 Tracer 900 GT
Yamaha Tracer 900 was first revealed as an FJ-09 sport-tourer in the 2015 model. It gained more worth than the earlier 2015 model due to the upgradation in the GT version with cruise control technology, heated grips and hard bags. It was being sold at $12,999, which was too much for the parent model. Tracer GT is believed to be the best option for those riders who don't want any outdoor show-off and is considered less costly than other higher brands with similar characteristics.
Managing its reputation with a submissive cross-plane three-cylinder engine that's airbox sounds like a swarm of hornets ready to sting your rear. It is similar to four engines that give a buzzy sound at above 6000 rpm and torque increases towards the downside. The gearbox is smooth and the quick shift works flawlessly. Throttle response can be switched to category A, which is the most aggressive one but agitated and category B is less aggressive. Usually, it feels uncomfortable for the sport-tourers. Still, when a rider drives aggressively, it becomes much more balanced due to increased load with suspensions and effects on travel stroke.
The Tracer GT has a Yamaha-like overall feel. Everything like throttle, shifting, and handling is almost perfect. The trademark telepathic steering from Yamaha is present, resulting in a motorbike that is incredibly flickable without being shaky or flighty. Put the sport-toury precision of the Tracer GT down to a sporty 24-degree steering angle, a relatively short wheelbase, a robust aluminum chassis, and taut damping. It's similar to Yamaha's R series' sharp-edged racing genome. Edge of Tracer discourages lazily spending a long day in the saddle. The Tracer 900 has a sporty look because of its clean lines and narrow overall shape.
2019 Tracer 900 GT falls into the category of light sport-touring because of a few factors like less wind protection, buffeting at expressways speeds, smaller panniers, slight TFT dash, and navigation and switch gear quite the opposite. For better wind protection, long-distance riders might consider a larger windscreen.
2019 Yamaha Niken GT
Compared to a standard motorbike, it adds front-end grip and a sense of confidence in conditions with less traction. One cannot ignore its peculiarity and complexity. It works excellently on rugged and steep routes. On poor traction, its extra wheel availability gives much more confidence to the rider.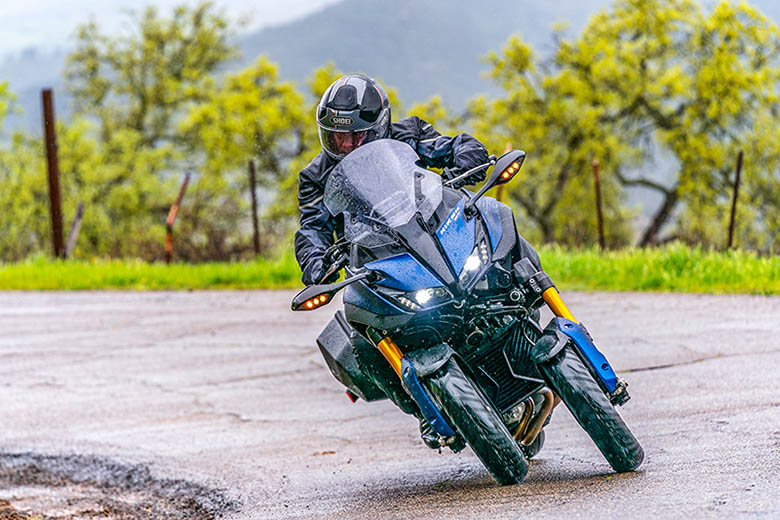 The Niken GT is remarkably stable, performing slow-speed moves on the tire edge because of the broad stance up-front. Riding it feels like a balancing act overall. It provides a comforting sense of security without lessening the traditional handling dynamics. While braking, a further benefit becomes apparent. The rider might be less hesitant while slamming on the binders because of a tiny front-end drop and two contact patches up-front.
Despite having less front-end travel than the Tracer, the Niken's tilting front end functions almost like a different sort of suspension. Think about what would happen if one wheel went into a pothole, the front end would pivot, sending one wheel down to take the impact while the bike remained upright. Unlike other bikes with semi-active electronic suspensions, the Niken has a more magical feel.
Its cross-plane three-cylinder motor also underwent slight modifications, including a stronger crank for improved driveability and torque. Additionally, the rear sprocket includes two extra teeth to reduce gearing. Despite the Niken's slower spin-up time, it makes up for it with a smoother throttle response and more power at lower revs.
It is $1,300 more costly than non-GT versions, and the total cost exceeds $17,299 to an additional $4,300 with a typical multi-link front end. It has heated grips, a center stand, a bigger windscreen, and semi-rigid panniers than Tracer. Nikon GT moved the rider back into the vehicle to attain a 50/50 weight balance. Because of the prominent saddle and further front footpegs, the egos are even more relaxing than on the Tracer.
The drawbacks like the bags are more negligible, non-waterproof, and only have a zip closing, making them insecure. The dash is LCD rather than TFT, and the windscreen isn't movable.
2019 Niken GT vs 2019 Tracer 900 GT – Technical Specifications
| Specs \ Bikes | 2019 Niken GT | 2019 Tracer 900 GT |
| --- | --- | --- |
Pricing
Engine
| | | |
| --- | --- | --- |
| Type | 847cc, liquid-cooled, DOHC inline-triple | 847cc, liquid-cooled, DOHC inline-triple |
| Transmission / Final Drive | 6-speed/chain | 6-speed/chain |
| Horsepower | 104.49 hp @ 9,930 rpm | 104.9 @ 9,930 rpm |
| Torque | 60.19 lb.-ft. @ 8,320 rpm | 59.81 @ 8,340 rpm |
Chassis
| | | |
| --- | --- | --- |
| Frame | Steel tubes and castings with aluminum swingarm pivot area | Cast aluminum |
| Front Suspension | 43mm/41mm dual tube fork KYB adjustable for compression and rebound; 4.3 inches travel | 41mm KYB fully adjustable inverted fork; 5.4-in. travel |
| Rear Suspension | KYB monoshock adjustable for preload & rebound; 4.9-in. travel | KYB monoshock adjustable for preload & rebound; 5.6-in. travel |
| Front Brake | Nissin 4-piston calipers, 298mm twin discs w/ ABS | 4-piston calipers, 298mm twin discs w/ ABS |
| Rear Brake | Nissin 2-piston caliper, 282mm disc w/ ABS | 245mm disc w/ ABS |
Dimension
| | | |
| --- | --- | --- |
| Rake / Trail | 24.0°/2.9 in. | 24.0°/3.9 in. |
| Wheelbase | 59.4 in. | 59.1 in. |
| Sear Height | 32.9 in. | 33.5/34.1 in. |
| Fuel Capacity | 4.8 gal. | 4.8 gal. |
| Wet Weight | 603 lb. (w/o bags) | 480 lb. (w/o bags) |
Others
| | | |
| --- | --- | --- |
| Consumption | 35.8 mpg avg. | 42.7 mpg avg. |
Conclusion
It was evident after riding the Niken that it has an incredible front-end grip and unparalleled stability, especially in dangerous, low-traction circumstances. But there is a price to pay. In comparison to the Tracer GT, the Niken GT is more extensive, more expensive, more complicated, and less well-equipped.
We favored the Tracer GT even though it could use a few minor refinements due to its reduced weight, lower price, and a few more excellent features. Except for the harshest riding conditions, Yamaha succeeds in achieving its goals with the Niken but falls short with the Tracer.