Kawasaki is known for its adaptability, creativity, and relentless pursuit of ultimate performance, and the all-new 2019 Versys 1000 SE LT+ Kawasaki Sports Touring Bike epitomizes this concept. It's Kawasaki's most adaptable adventure-style motorbike ever; it's ready for any route, at any time. For 2019, the all-new Kawasaki Versys SE LT+ is equipped with a 1,043cc in-line four-cylinder engine that incorporates the latest engine tuning and design technologies, as well as a high-performance chassis and a comprehensive suite of state-of-the-art advanced rider assistance systems.
2019 Versys 1000 SE LT+ Kawasaki Sports Touring Bike – Features and Price
Powerful Engine
A 1,043cc liquid-cooled power the 2019 Versys 1000 SE LT+ Kawasaki Sports Touring Bike, DOHC, 16-valve in-line four engines with a bore to stroke of 77.0 x 56.0 mm and diameter and 77.0 x 56.0 mm, which produces strong low-mid range torque and allows for smooth power delivery. The engine has been tuned for versatility, with excellent throttle response and torque over the whole rpm range. For 2019, Electronic Throttle Valves (ETV) add to the engine's performance and design. New fuel injection mapping, exhaust design, and a new catalytic converter design are further improvements for 2019.
The ECU can now manage the amount of fuel and air fed to the engine through the fuel injectors and throttle valves, thanks to the all-new Electronic Throttle Valves. The best fuel and air inputs result in smooth, natural engine response and the best engine power. The accelerator position sensor is included in the throttle assembly on the ETV system, which eliminates the need for a throttle cable.
Transmission
The gear ratios of the Versys 1000 SE LT+ were intended to allow a wide variety of riding circumstances, including sport riding, highway cruising, and riding with a passenger and baggage.
A contactless-type rapid shifter is new for 2019 on the Versys 1000 SE LT+ motorbike, allowing ultra-quick, full-power upshifts and clutchless downshifts. When the shift lever is activated, the Kawasaki Quick Shifter (KQS) recognizes it and signals to the ECU to stop ignition so that the next gear may be engaged for clutchless shifting. During deceleration, the KQS system adjusts engine speed to match engine RPM, seamlessly engaging the lower gear and enabling simple downshifts.
Clutch
An assist & slipper clutch, race-inspired technology that delivers both a back-torque limiting function and a light feel at the lever, complements the gearbox.
When severe engine braking occurs due to rapid or unintentional downshifts, the slipper function is activated. The slipper cam engages, pushing the clutch hub and operating plate apart, relieving pressure on the clutch plates, and helping to prevent the rear tire from jumping and sliding.
Chassis
The Versys 1000 SE LT+'s frame comprises a five-piece cast aluminum design that includes the steering stem, left and right main structures, and two cross-sections. Die-casting ensured a flawless surface finish on the two significant frame components, which feature open C-shaped cross-sections. The engine is a stressed part in the lightweight, extremely stiff frame, which adds to handling by providing a challenging, grounded sensation and light, snappy turning. The sub-frame is made out of a steel tube trellis construction that allows for a large payload. The frame was built with the fewest number of welds feasible to achieve a sleek look.
Suspension
Both the rear and front suspension of the 2019 Versys 1000 SE LT+ Kawasaki Sports Touring Bike has 150 mm long travel. Kawasaki Electronically Controlled Suspension technology is used in the 43 mm Showa cartridge fork and Showa BFRC light rear shock (KECS).
Built-in stroke sensors in the forks and shock offer real-time stroke speed and compression data. Every millisecond, the sensor coils provide data to the KECS ECU. The IMU (acceleration/deceleration) and the FI ECU (vehicle speed) produce information every ten milliseconds, which is supplemented by information from the IMU (acceleration/deceleration) every ten milliseconds. The KECS ECU then sends electricity to the solenoids, which change the damping as needed. As a consequence, you'll have a quicker response time to road conditions and a more natural sensation when riding, which is essential for feeling at one with your motorbike.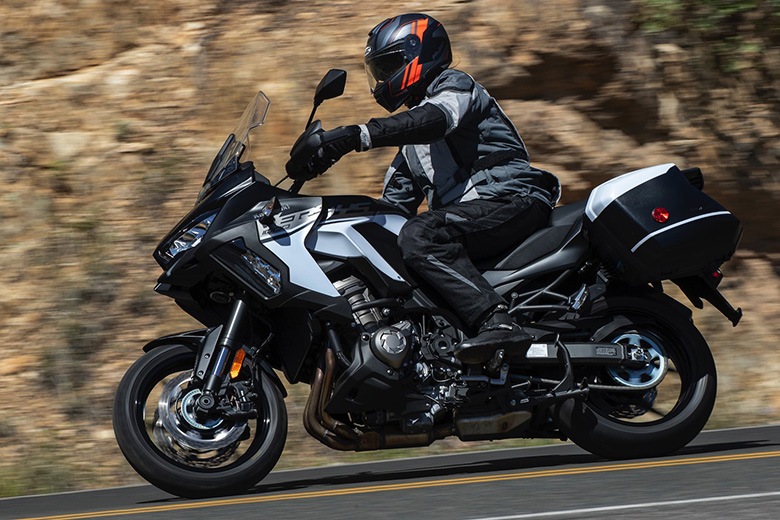 While combined with a Showa 43 mm inverted cartridge fork and BFRC lightweight suspension components, the KECS provides increased confidence on bumpy roads and ensures that the tires feel grounded when cornering.
Brakes & Wheels
Front and rear sporty, lightweight six-spoke 17-inch wheels are standard on the Versys 1000 SE LT+. It was critical to find tires that offered excellent cornering performance for more fun in the hills, fantastic high-speed stability, and a solid on-road image to fit the bike's athletic attitude for a motorcycle with boundless street riding potential.
A complete disc brake system with Kawasaki's Intelligent anti-lock Brake System (KIBS) technology handles braking responsibilities on the all-new 2019 Versys 1000 SE LT+ Kawasaki Sports Touring Bike. A set of 4-piston radial-mount monobloc calipers hold a pair of 310 mm brake discs, delivering plenty of stopping power, thanks to the radial-pump front brake master cylinder. A single-piston pin-slide caliper grips a 250 mm disc in the rear brake.
Ergonomics
The Versys 1000 SE LT+ has been updated for 2019 with various ergonomic innovations to improve performance and comfort. A redesigned adjustable windshield, vent arrangement, and cowl design contribute to improving performance and comfort at the front of the motorbike. The substantial new windshield height can now be changed from the rider's seat using two knobs on the inside of the screen, without any equipment to fit the rider's height choice. A centrally situated vent in the adjustable windshield helps lessen the negative-pressure effect in the cockpit, improving rider comfort at high speeds. The revised top cowling design and broader fairing give more wind protection while yet allowing fresh air to flow to the hotter parts of the engine compartment.
Kawasaki Quick Release 28 Liter Saddlebags
The 2019 Versys 1000 SE LT+ Kawasaki Sports Touring Bike's saddlebag attachment system uses the Kawasaki Quick Release mechanism, allowing quick and straightforward saddle bag removal and installation. The clean-mount system seamlessly integrates the saddlebags with the rear of the bike, positioning them near the motorbike's centerline and ensuring that the bike's back still looks beautiful with the saddlebags removed owing to its clean, clutter-free design. The regular KQRTM 28-liter hard saddlebags are certified for up to 11 pounds of storage weight and include a one-key system that allows them to be unlocked and removed with the ignition key. They're also color-matched to the bike's body and imprint the Kawasaki logo on the covers, ensuring a seamless, high-quality appearance. The Versys 1000 SE LT+ may be configured with a top case and saddlebags, giving you more alternatives.
Styling
The Versys 1000 SE LT+'s new design flows from the front to the back of the bike. The front fairing and top cowl have been redesigned, signaling the next phase in the Versys motorbike line's growth. The engine and sub-frame region were purposefully portrayed as a stylistic feature in the new design since it highlights the trellis-style sub-frame. In addition to the strategic use of colorful parts, the new design demonstrates a balanced mix of metal and composite materials, with the substance of each section reflecting its purpose. A redesigned front design with long, slender reflectors adds to the athletic appeal while increasing fork inner tube protection. The new sporty, compact silencer complements the refined appearance and image that has been given to the bike's rear end.
Electronics & Rider Aids
The basis of Kawasaki's cutting-edge electronics has always been the very complex programming that offers the ECU an accurate real-time image of what the chassis is doing and what the rider wants, utilizing little hardware to best support the rider's aims with a natural feel.
Kawasaki Cornering Management Function (KCMF) monitors engine and chassis parameters throughout the corner to assist riders in tracing their intended line through the intersection, using the latest evolution of Kawasaki's advanced modeling software and input from a compact Bosch IMU (Inertial Measurement Unit). The Kawasaki Electronic Controlled Suspension (KECS) and the Kawasaki Intelligent anti-lock Braking System maximize ride quality on the Versys 1000 SE LT+ (KIBS).
2019 Versys 1000 SE LT+ Kawasaki Sports Touring Bike – Price
The new 2019 Versys 1000 SE LT+ Kawasaki Sports Touring Motorcycle is available at $17,999 only.
2019 Versys 1000 SE LT+ Kawasaki Sports Touring Bike – Technical Specifications

Power
| | |
| --- | --- |
| Engine | 4-stroke, 4-cylinder, DOHC, 16-valve, liquid-cooled |
| Displacement | 1,043cc |
| Bore x Stroke | 77mm x 56mm |
| Compression Ratio | 10.3:1 |
| Maximum Torque | 75.2 lb-ft at 7,500 rpm |
| Fuel System | DFI having 38mm Keihin ETV throttle bodies (4) |
| Ignition | TCBI with digital advance |
| Transmission | 6-speed, return shift, Kawasaki Quick Shifter (KQS) |
| Final Drive | Sealed chain |
| Electronic Rider Aids | Kawasaki Electronic Control Suspension (KECS), Kawasaki Cornering Management Function (KCMF), Kawasaki Traction Control (KTRC), Kawasaki Intelligent anti-lock Brake System (KIBS), Kawasaki Quick Shifter (KQS) (dual direction), Electronic Cruise Control, LED Cornering Lights |

Performance
| | |
| --- | --- |
| Front Suspension / Wheel Travel | 43mm inverted fork having KECS-controlled rebound and compression damping, manual spring preload adjustability, and top-out springs/5.9 in |
| Rear Suspension / Wheel Travel | Horizontal back-link New Uni-Trak®, BFRC gas-charged shock with piggyback reservoir, KECS-controlled rebound and compression damping electronically-adjustable spring preload/5.9 in |
| Front Tire | 120/70 ZR-17 |
| Rear Tire | 180/55 ZR17 |
| Front Brakes | Dual 310mm petal-style discs having four-piston calipers, ABS |
| Rear Brakes | Single 250mm petal disc including single-piston caliper, ABS |

Details
| | |
| --- | --- |
| Frame Type | Twin-spar aluminum |
| Rake/Trail | 27-degree/4 inches |
| Overall Length | 89.4 inches |
| Overall Width | 37.4 inches |
| Overall Height | 58.7 inches |
| Ground Clearance | 5.9 inches |
| Seat Height | 33.1 inches |
| Curb Weight | 566.7 lb |
| Fuel Capacity | 5.5 gallons |
| Wheelbase | 59.8 inches |
| Special Features | Rideology the App Smartphone Connectivity, TFT Instrumentation, Highly Durable Paint, LED Headlight, LED Cornering Lights, LED Taillight |
| Color Choices | Metallic Flat Spark Black/Pearl Flat Stardust White |
| Warranty | 24 Month Limited Warranty |
| Kawasaki Protection Plus™ (optional) | 12, 24, 36, or 48 months |
Conclusion
In the end, team Bikes Catalog would love to say that the new 2019 Versys 1000 SE LT+ Kawasaki Sports Touring Bike is an impressive touring motorcycle that comes with plenty of unique features. Its highly performing engine is always ready to deliver massive power output with impressive throttle response. The fuel tank has enough capacity to hold 5.5 gallons of fuel that are enough for long-distance rides. Furthermore, the comfortable seat ensures that the rider never gets tired during the ride.