The newly launched 2017 HP4 Race BMW SuperSport Bike is an impressive sports bike model by BMW brand. The primary objective behind this sports motorcycle was to deliver such iconic bike, which can bring revolution in the world of super sports category. The engine is optimized for an ultimate performance while its chassis features the best color combination. The overall design is perfectly ergonomics and handlebar, seat and footpegs are carefully positioned to achieve the best riding position. The wheels and tires offer the best grip on corners. The suspension and braking system is optimized for best performance and smooth ride. The review of new 2017 HP4 Race BMW SuperSport Bike with its specification and pics are written bellow.
2017 HP4 Race BMW SuperSport Bike – Specification, Price and Pics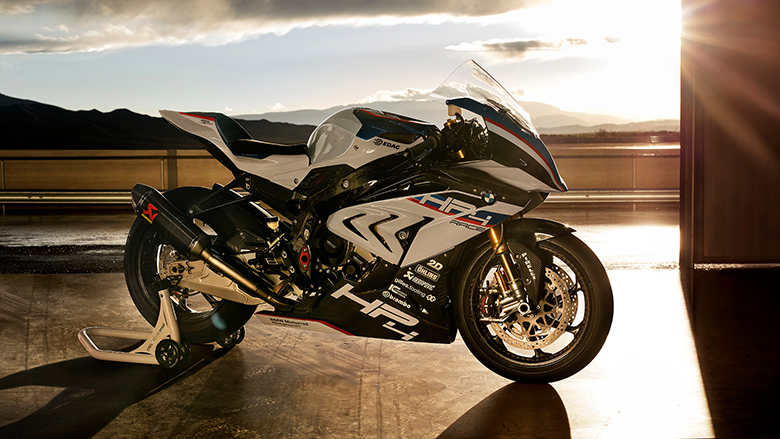 More than the Sports Bike
The new 2017 HP4 Race BMW SuperSport Bike comes with the latest technology and innovative design. It is developed for those riders who are passionate about the bike riding and who wants to push the limits to their riding passion. This motorcycle is the first bike in the world which features the full carbon frame and full carbon wheels. It weighs only about 146 kilos and is capable of delivering the 215 horsepower.
Ultimate Performance
The new 2017 HP4 Race BMW SuperSport Bike is the masterpiece by BMW brand providing an ultimate performance. It is the 750 limited-edition racing machine, which is purely handmade by the BMW engineers to ensure the best performance. This purpose behind this beast was to provide such bike which can satisfy the thrust of those riders who want to touch the limits of bike riding.
All-New Benchmark in Lightweight Construction
The frame of new 2017 HP4 Race BMW SuperSport Bike is made by the endless carbon fiber and is the continuous component from the steering head to its swing arm pivot. Its weight is about four kilos less as compared to the standard frame. This carbon technology not only looks great but it facilitates in the pre-calculation and incorporation of function-dependent torsion and rigidity. This carbon fiber frame is as rigid as an aluminum and as hard as the steel frame. It makes this bike not only light in weight but flexible as well.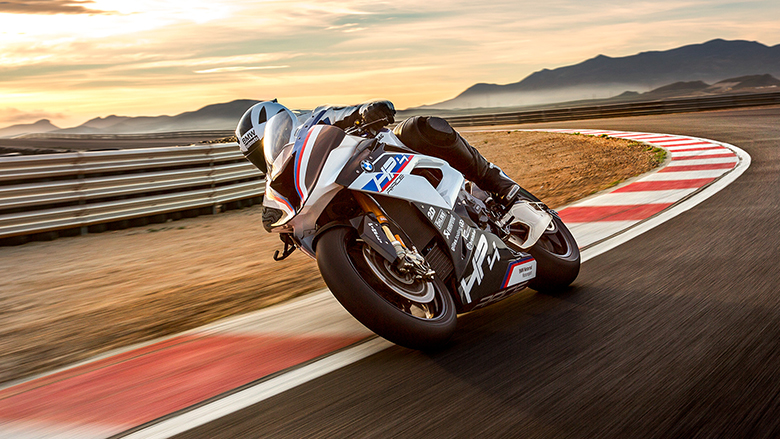 Perfection in its Smallest Detail
The all-new 2017 HP4 Race BMW SuperSport Bike is developed for the racetracks featuring the self-supporting carbon front which practically demolishes the headwind due to its aggressive split-face with the ram air behind. It has the dome-shaped windscreen offering the great protection to the rider plus it maintains the overall shape streamline. The paintwork of this superbike is mind-blowing making it an ideal bike to ride on. It comes with the Motorsports colors i.e. Light-while uni / Racing Blue Metallic / Racing-red uni. This kind of color combination as introduces the new era of dawning for color too.
Handmade for Best Performance
The all-new 2017 HP4 Race BMW SuperSport Bike is made by hand in Berlin. Its engine has the further development from the long-distance WM and the World SBK. This engine delivers the 215 horsepower (158 kW) and the maximum rotational speed is also increased to 14,500 rpm. The max torque achieve is about 120 Nm at 10,000 rpm. Like the 2017 BMW R 1200 RS, this sports bike is also known for its best performance. The first service including the oil change is carried out after the engine has been run in and recorded the test stand by the BMW specialists. This engine is endo-scoped and the control times and the valve clearance are adjusted. In other words, the new 2017 HP4 Race BMW SuperSport Bike is ready to reach its full potential on the racetrack.
Equipment
The all-new 2017 HP4 Race BMW SuperSport Bike comes with the latest equipment and advanced technology. It features the 2D dashboard in its self-supporting carbon front shows all the important information required to rider and engineers. There is 2D data recorder as well, which allows the data to be saved and read when required. The new DTC (Dynamic Traction Control) is operated with the precise button and it provides an ultimate traction for all racing situation. The electronics are topped off with its cable harness and the new lithium-ion batteries are installed in the self-supporting carbon frame tail. The carbon frame tail is adjustable up to three levels.
Engine and Transmission
The all-new 2017 HP4 Race BMW SuperSport Bike features the shift assistant Pro with the shift direction inversion providing the clear feedback at every gear shift. There is six-gear transmission giving the close-ratio and it is adopted to the World Championship specification. It can be further adapted for an additional secondary transmission. It features the oil and water-cooled four-cylinder four-stroke engine delivering the best performance. It delivers the power of 215 horsepower.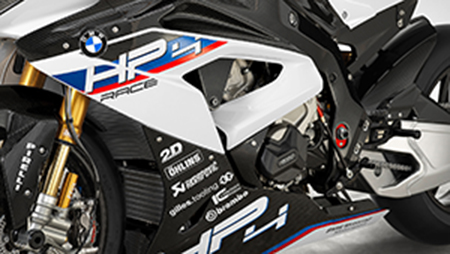 Suspension and Brakes
The all-new 2017 HP4 Race BMW SuperSport Bike comes with the FGR 300 upside down fork and the TTX 36 GP spring strut made by Ohlins are very famous from World Superbike. Its Brembo GP4 PR brake calipers are used in MotoGP and they are optimized for excellent brake performance. They feature the 6.75 mm thick and 320-T-Type racing steel brake discs. The new carbon-fiber woven rims reduce the overall weight about 1,540 grams as compared to the forged wheels. This sports bike features the new Volltitan exhaust system from Akrapovic and the all-new hand-brushed aluminum tank. The overall dry weight is about 146 kg and the new titanium screws installed in the sizes of 6, 8 and 10 not only save weight but are also on the tools required.
2017 HP4 Race BMW SuperSport Bike – Price
The all-new 2017 HP4 Race BMW SuperSport Bike comes with the price of £68,000.
2017 HP4 Race BMW SuperSport Bike – Specs with Pics
Engine
| | |
| --- | --- |
| Type | Water/oil-cooled 4-cylinder four-stroke in-line engine, four titanium valves per cylinder, two overhead racing camshafts, milled oil sump, Pankl connecting rod, precision-balanced and lightened crankshaft |
| Bore x stroke | 80 mm x 49.7 mm |
| Capacity | 999 cc |
| Rated output | 158 kW (215 hp) @ 13,900 rpm (maximum speed 14,500 rpm) |
| Max. Torque | 120 Nm @ 10,000 rpm |
| Compression ratio | 13.7-13.9: 1 |
| Mixture control / engine management | Electronic racing injection, variable intake pipe length, four selectable modes |
| Emission control | Akrapovic full titanium 4-in-2-in-1 WSBK exhaust system |

Performance / fuel consumption
| | |
| --- | --- |
| Maximum speed | Over 300 km/h |
| Fuel type | Super plus unleaded petrol, minimum octane number 98 (RON) |
Electrical system
| | |
| --- | --- |
| Alternator | 406 W |
| Battery | 12 V/5 Ah, Li-ion maintenance-free |

Power transmission
| | |
| --- | --- |
| Clutch | Multidisc clutch with oil bath, anti-hopping clutch and is mechanically operated |
| Gearbox | Constant-mesh six-speed racing transmission (EVO) with the new straight-cut gears |
| Drive | 16/43 (adjustable as part of equipment pack: sprocket 15, 16, 17, chain wheel 41, 42, 43, 44, 45) |
Chassis/brakes
| | |
| --- | --- |
| Frame | Carbon monocoque RTM frame with the best steering head angle and the new swinging arm pivot adjustment, load-bearing engine |
| Front wheel location/suspension | Öhlins FGR 300 WSBK fork, adjustable rebound and the compression stage damping, adjustable spring preload, Öhlins SD052 adjustable steering damper, front wheel quick-change system thanks to the rotatable fork legs with the front-wheel cover mounted (brake calipers need not be removed to change a wheel) spring stiffness 10.5 N/mm |
| Rear wheel location/suspension | Aluminium WSBK swinging arm, Öhlins TTX 36 GP central spring strut, adjustable rebound and the new compression-stage damping, adjustable spring preload, top spring strut pivot point adjustable (0/3 mm), adjustable spring strut deflection (tension strut length), contact surfaces for wheel spacer bush on a chain tensioners for simple/hands-free wheel fitting, chain tensioner titanium on the outside, aluminum on the inside, CFRP auxiliary stand mountings on swinging arm, spring stiffness 95 N/mm |
| Suspension travel front/rear | 130 mm / 120 mm |
| Wheelbase | 1440 mm |
| Castor | 102.5 (adjustable between 95-112) |
| Steering head angle | 65.5° (adjustable 0.0°, +/-0.5°, +/-1°) |
| Wheels | Carbon wheels including the press-fitted wheel spacer bushes for an easy wheel fitting |
| Rim, front | 3.50 x 17″ |
| Rim, rear | 6.00 x 17″ |
| Tires, front | 120/70 ZR 17 Pirelli Diabolo with Superbike Slick SC2 |
| Tires, rear | 200/60 ZR 17 Pirelli Diabolo with Superbike Slick SC2 |
| Brake, front | Brembo Racing twin disc brake, T-floating racing brake discs, 320×6.75 mm diameter, 4-piston Monobloc WSBK GP4-PR fixed caliper with titanium pistons, Brembo Racing RCS19X18 master cylinder, including an adjustable Brembo Racing brake lever and the Brembo Racing clutch lever (without clutch switch) |
| Brake, rear | Brembo Racing single-disc brake, 4-piston WSBK fixed caliper with titanium pistons, brake disc diameter 220×4.0 mm |

Dimensions / Weights
| | |
| --- | --- |
| Length | 2.070 |
| Width (inc. mirrors) | 777 |
| Height (excl. mirrors) | 1193 |
| Seat height, unladen weight | 831 mm (rider seat low / high, 816 / 846 mm) |
| Inner leg curve, unladen weight | approximately 1859 mm (rider seat low/ high, 1829 mm / approximately 1889 mm) |
| Unladen weight, road ready, fully fuelled | 171.4 kg |
| Dry weight | 146 kg |
| Usable tank volume | 17.5 liters |
| Reserve | approximately 4 liters |

Conclusion
This article is all about the review of new 2017 HP4 Race BMW SuperSport Bike and it is covered under www.bikescatalog.com. It contains the powerful engine delivering the powerful torque and acceleration. It contains the lightweight carbon fiber frame containing an awesome color combination. Its suspension and braking system provides the best performance. The tires provide an ultimate grip on all road surfaces.