EICMA KTM Duke 690 R 2013 Specs
KTM has as a practice to propose its roadsters and super motored in standard version then in version R. this is thus that the KTM Duke 690 doubles is a version R for 2013. With the menu, not of technical mess: just some different equipment, as well as a more aggressive painting.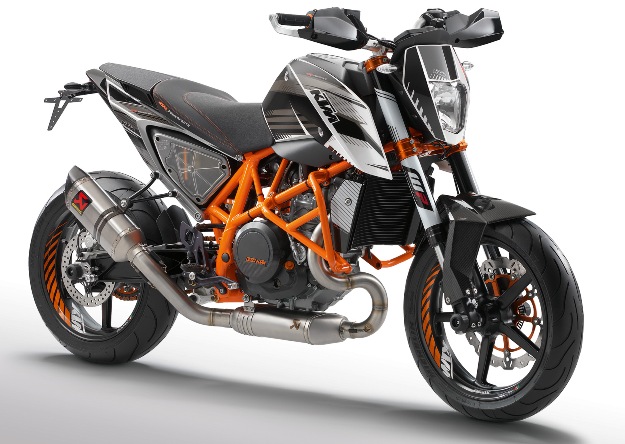 This KTM Duke 690 R was elaborated in race, at the time of European Junior Cup, which was held in margin of the handles of the Super-bike world championship. Thus, the adjustments of suspensions were redefined, while additional adjustments make their appearance at the top of the tubes of fork as on the shock absorb. Clearances are increased and base is raised.
All this contributes to increase the ground clearance in order to take more angles in curve, on circuit. But the fans of sporting piloting will be able to appreciate it on the road. The technical changes relates only to the part cycles: the engine preserves the 70 horses of the standard version. The KTM Duke 690 R is equipped despite everything some accessories in addition: case of translucent air filter way Buell XB12, avoid-casings and anodic parts orange way SMC 690 R.
KTM 690 Duke R, essence:
One-cylinder, cooled by water, injected, wrinkle by wire
Cubic capacity: 690 Cm3
Power: 70 horses, couples: NC
Tally steel lattice, buckles back out of aluminum, oscillating arm out of aluminum
Re-examined suspensions, additional adjustments, lengthened clearances
Specific color R
Accessories line R