Triumph motorcycles are investing in a new range of smaller models, and the growing number of nameplates has been abandoned in the past as emissions regulations are tightened. Ducati has announced that it will become an electric motorcycle supplier for the MotoE World Cup starting in 2023, a shocking turning point in its claim that it will never go EV.
As we made to the end of the year, when we usually look back at the past year, thoughts often turn to what else has changed in motorcycling – and, if you go far back. So much more than you realize.
Top Ten Things You Will No Longer See in Bikes – Top Rated
10. 'Easy' motorcycle tests
Of course, there was a time when there was no such thing as a test for a car or a motorcycle. It was made mandatory in 1935 and was essentially an observational test involving a ride around a city block or a comparative lasting about 30 minutes.
There was no capability restriction, and if you passed your motorcycle test, you were immediately eligible for a ride. From July 1, novice riders were limited to 250cc machines (although they still did not need a helmet, which became mandatory in 1973).
The first prominent changes came in 1981 with the introduction of the 125cc learner and a new two-part test that initially required basic off-road instructions. The pursuit test, in which the examiner rode a motorcycle, was introduced in 1989, the theory test in 1996, and the new A2, direct access, and other categories in 1997.
Long ago were the days of riding your 250 around the block searching for an examiner with a clipboard.
9. Simple (but rubbish) bike gear
At one time, typical motorcycle gear consisted of a helmet (mandatory), a jacket (primarily for fashion), gloves (optional but necessary). In the 1970s and 1980s, when leather suits were for racers only, motorcycle boots were either dairy (boring) or Dr. Martis (or similar), Kevlar and Gore were not taxed, space Soccer and Arab scarves were used instead. Neck warmers and Army surplus stores have replaced sports bike shops.
Then came Frank Thomas, selling copies of Paddock bots and racing like the first GSX-R style racer gear, and the world was never the same again.
8. Trail bikes, 250s, and more
Famous cycling lessons used to be quite different in the first days. In the 1970s, it was Suzuki's aspiring four-cylinder UJM (Universal Japanese Motorcycles), similar to the GS750, with a handful still old British or Italian riders, and most of us rode RD250s or GT380s. Trail bikes and 250 (due to liner rules) were too many in the early 1980s – Yamaha had both DT (two-stroke) and four-stroke (XT) 250 trailers, equivalent to the rest of the Japanese 'Big Four.'
Celebrities such as Neil Hudson and Dave Thorpe made headlines. The 125-learner legislation of 1983, as well as the big 'trailers' of the widespread Dakar popularization in Paris, such as Yamaha's 1983 XT600Z Tenere, then Honda's Africa Twin, and a brand new adventure cycle class, changed a lot.
7. 'Easy' home maintenance
Once upon a time, a motorcycle enthusiast would take care of almost all of their motorcycles at home for the price of their salt. If we needed any help, we have given simple man or center stands, simple underset tool kits, and a Hans manual.
I remember changing the clutches, fork seals, tires, gaskets, and other components with a bit of thought. Unless you are a classic buff, you do nothing but lubricate/adjust the chain (which is impossible without a paddock stand and more sophisticated equipment).
6. Truly British motorcycle brands
And I'm not just talking about bicycles. Yes, Triumph is a British company, but almost all motorcycles are manufactured in Thailand. Norton will soon resume manufacturing at Solihull, although it is now controlled by TVS (India), and BSA will follow suit.
We are not bothered by any of this. But what about British-made clothing and accessories? In the 1970s and 1980s, helmets were made by British companies such as Stadium, Centurion, Congolese (as worn by Halewood in 1978), Aurochs, Premier, and others, with Bob Heath's Weisser. Clobber was created by Belstaff, Kett, Ashman, and later, Frank Thomas.
5. The art of buying & selling
Remember the last time you sold or bought a bike? Body paper with your motorbike printed in matte resolution ink eliminates most of the effort you have to polish it to attract potential customers.
There was a time when turning through weekly commercials was more interesting than reading the news. On Thursdays, you will buy your local classified newspaper or magazine, then spend an hour with a lighter pen, on some budget, some hope.
If you were selling, you would call them on the landline, and a representative would come with Polaroid; you would choose your 28 words carefully, and you would be sure that if you missed the call, you Don't stray too far from the phone. The ring you were trusting.
We now have cell phones, eBay, and social media to give your motorbike all the attention it deserves.
4. The lottery of winter starts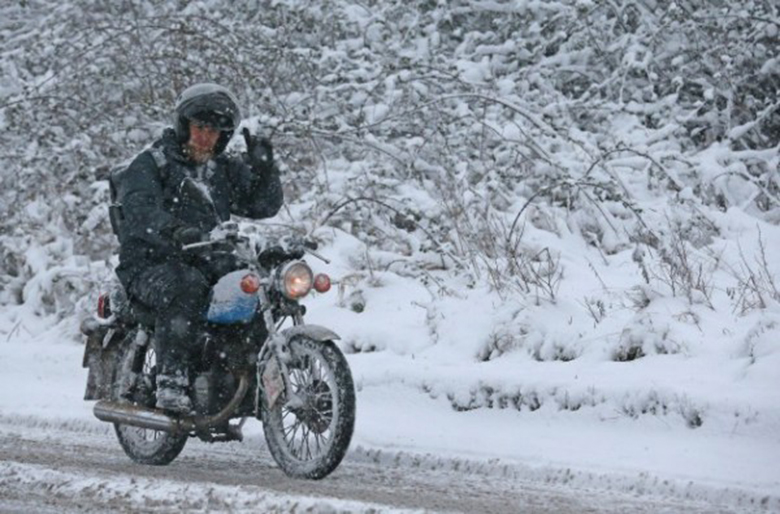 If you only want to go to the modern garage, fuel injection, and trickle charges, then you know nothing. Winter mornings were (again) a form of pain and art during the day.
Your bike was almost always outside, on the street, or in the backyard. If you were smart, it was under a canvas or plastic lid that the dogs had pissed on and covered with ice.
Even if your motorcycle had an electronic starter, you still had to get a fuel tap and a square lever'. You were laughing if it kicked after the first two or three.
3. Truly amateur club racing
Many of us may have tried our hand at racing, usually at small clubs like Auto 66 or Pegasus: getting your ACU license, saving some crappy second-hand gear, occasionally developing a nose-of-pride racer, Sending for your race rigs (about 40 quid, if I remember correctly), then come early Sunday morning with the bike trailer or tray van and usually have a good day.
Top-of-the-line race clothing, custom painted look, and total body armor? Check, check, and check again. Meanwhile, the rider is now in his 50s and has lost his shot in the greatness of racing for 30 years.
2. Getting lost
Maps – Do you remember them? Yellow-scale Michelin continental maps, in particular, with natural green roads.
Before any trip abroad, a detailed, pleasant route planning, a short note (N6 – Rouen, N42 – Chartres, or similar) will be written on paper, then your tank bag before you set up. I will slip under the window. Embark on an adventure that resonates with the slightest uncertainty and intrigue.
Yes, you made a mistake, and you were upset. You reviewed the map and "chatted" with your friends. And you devised a new way to get back on track. Everything was a thrill and a real adventure. You are now tracking your phone or phone and you do not know where you have gone.
1 – 'Proper' bike clubs
Clubs dominated bikes. In some ways, it still is – classic mark groups, racing clubs – but most of them are now digital, replacing Facebook sites and forums with club posts and meetings. In many cases, that's a good thing.
If someone is looking for information, advice, or marketing for a particular type of motorcycle, their social media is an ideal place to start. However, this is all a frustrating virtual reality.
The meetings of the Real Bike Club are few and far between, and the large rallies are unusual. And the fragrance is everything.
Top Ten Things You Will No Longer See in Bikes – Top List
| Sr. # | Top Ten Things You Will No Longer See in Bikes |
| --- | --- |
| 1 | 'Proper' bike clubs |
| 2 | Getting lost |
| 3 | Truly amateur club racing |
| 4 | The lottery of winter starts |
| 5 | The art of buying and selling |
| 6 | Truly British motorcycle brands |
| 7 | 'Easy' home maintenance |
| 8 | Trail bikes, 250s, and more… |
| 9 | Simple (but rubbish) bike gear |
| 10 | 'Easy' motorcycle tests |