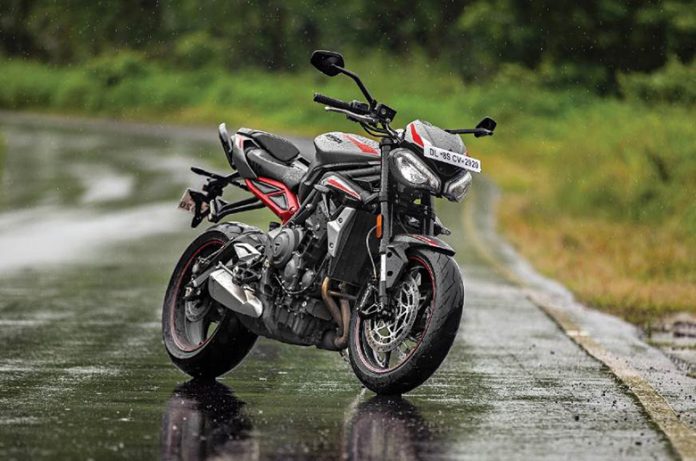 Some of the most expensive sports, street, and cruiser bikes in India come in the 10 lakh range. The comfort of these bikes allows riders to cover long distances on highways and metropolitan roads while also getting an adrenaline rush. Despite being expensive, they have a diverse user base that enjoys taking scary rides or speeding on roadways. This article will cover the top ten bikes under ten lakhs in India. Follow along!
Top Ten Best Motorcycles Under 10 Lakhs INR in India – Top Rated
1. Ducati Scrambler Nightshift | Price: ₹ 9,84,600
The Ducati Scrambler Nightshift has a sleek look. It has advanced technology such as a servo-assisted slipper clutch, top-down telescopic front forks, and a Kiaba rear mono shock. It enhances handling and stability, while the broader handlebars and cafe racer-style seats make for a more comfortable ride.
2. Triumph Street Scrambler | Price: ₹ 9,65,000
Dual-channel ABS and disc brakes are included on the front and rear ends of the Triumph Street Scrambler. It has several technical features, including an ABS switch and switches for traction control and three riding modes. A USB charging socket and an immobilizer are also included. Split seats, knobby tires, and single-sided dual exhausts are other sporty features.
3. Harley-Davidson Iron 883 | Price: ₹ 9,42,300
The bike follows the philosophy of a Sportster and has an uncluttered appearance while retaining the focus of an American cruiser. A chrome finish on the wheels, exhaust, and frame, as well as a riding position that favors the front end, further emphasizes the sporty appearance. Additionally, the motorcycle features dual springs at the rear, telescopic forks at the front, an LCD, and switchgear.
4. Honda CBR 650R |Price: ₹ 8,97,400
It is considered one of the best motorcycles under Rs 10 lakh in India as it has excellent mechanical and power features. It features the previous model's twin-pod headlights, muscular tank, rear-view mirrors on the fairing, split seats, and a complete fairing design. Additionally, it has dual-channel ABS, slipper clutch, HSTC, HISS, and ESS technology. Full LED lights are also included.
5. Triumph Street Triple R | Price: ₹ 8,86,000
The Street Triple R is one of the superbikes under Rs 10 lakh and features a complete LED lighting system, an up-down rapid shifter, an LCD with an analog tachometer, three riding modes, and traction control. Additionally, Showa suspension, Brembo brakes, and Pirelli Diablo Rosso III tires are included in the hardware package.
6. Kawasaki Z900 | Price: ₹ 8,82,800
The bike, touted as a bare-bones beast for under 1 million, comes in only one color option but otherwise shares the same features as the earlier models. It has a 4.3-inch Bluetooth-enabled TFT touchscreen, a muscular fuel tank, a low-slung full-LED headlamp, and a bare tail section. Additionally, it has traction control, two power modes, four riding modes, and alloy wheels shod in Dunlop Sports Max Roadsport tires.
7. Triumph Street Twin | Price: ₹ 8,03,200
The Triumph Street Twin has some cosmetic changes over its predecessor, including new side panels, headlight brackets, decals, and foil tank badges. It also features new cast wheels, a bench seat with a fresh design, and mechanical details. Its features are further enhanced by telescopic front forks, rear mono-shock, dual-channel ABS, and two riding modes.
8. Triumph Trident 660 | Price: ₹ 7,48,700
The Trident 660 is a Triumph motorcycle priced under Rs 10 lakh in India and features retro-style full-LED round headlamps, a circular fuel tank, and a single-piece seat with a floating tail. Additionally, it has ride-by-wire throttle, two ride modes, a computerized panel, and switchable traction control.
9. Kawasaki Ninja 650 | Price: ₹ 6,68,000
The Kawasaki Ninja 650 has rear and front disc brakes and dual-channel ABS and is available in just one variant and two color choices. Additionally, the bodywork is made more attractive by color and pinstripe designs. Furthermore, it is swift and robust thanks to the slipper clutch and six-speed gearbox.
10. Kawasaki Vulcan S | Price: ₹ 6,16,000
The Kawasaki Vulcan S middleweight cruiser retains the same attributes as its predecessors and gets only cosmetic changes. Other highlights include dual-channel ABS, comfortable ergonomics, telescopic front forks, a rear mono-shock, and an engine mated to a six-speed gearbox.
Top Ten Best Motorcycles Under 10 Lakhs INR in India – Top List
| Sr. # | Top Ten Best Motorcycles Under 10 Lakhs INR in India |
| --- | --- |
| 1 | Ducati Scrambler Nightshift | Price: ₹ 9,84,600 |
| 2 | Triumph Street Scrambler | Price: ₹ 9,65,000 |
| 3 | Harley-Davidson Iron 883 | Price: ₹ 9,42,300 |
| 4 | Honda CBR 650R |Price: ₹ 8,97,400 |
| 5 | Triumph Street Triple R | Price: ₹ 8,86,000 |
| 6 | Kawasaki Z900 | Price: ₹ 8,82,800 |
| 7 | Triumph Street Twin | Price: ₹ 8,03,200 |
| 8 | Triumph Trident 660 | Price: ₹ 7,48,700 |
| 9 | Kawasaki Ninja 650 | Price: ₹ 6,68,000 |
| 10 | Kawasaki Vulcan S | Price: ₹ 6,16,000 |