Triple Triumph Street for 2013: New framework, reduced wheels, exhaust at low position, ABS as an option… and drastic mode: 6 kg less on the balance! More succeeded, also moving; Triumph Street Triples R always announces like one of the best in compromising as regards sporting roadster, all rolled confused.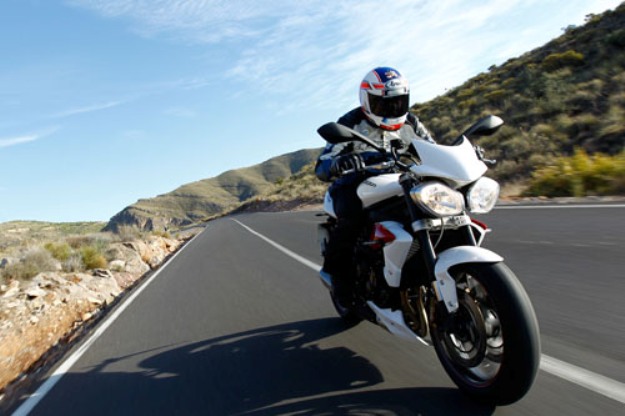 Installed with the orders of Triumph Street Triples 2013, I discover an improved instrument panel. On the Spanish motorway, around Almeria, I note quickly that the saddle introduced here this time is a little more comfortable than in 2012. However, it was not quite difficult. I reconsider the evolution of this motor bike which has sharp success, in particular on Maxi test Triumph where the various versions of Triumph Street Triple do not cumulate less than 119 opinions to date.
2007: launching of the first Triumph Street Triples 675. 2009: first year of marketing of Triumph Street Triples 675 R. 2011: light aesthetic recasting, with the adoption of almond headlights. 2013: first true technical evolution for this sporting roadster of rolled average.
Thanks to Triumph Street Triple, the English manufacturer asserted himself like an inevitable actor on all the markets, and the little demon of Triumph ran out with step less than 50,000 specimens, including 14,000 in France. With a distribution with 55/45 in favor of version R. Approach thus Triumph Street Triples R 2013 is tripled.
Blow of Speed for the look
Posed on its pretty side crutch, draped in a white color spiced by the new back loop of framework painted in red, equipped with more aggressive side scoops, Triumph Street Triples R 2013 points out the Speed frankly Triples R 1050. That shows at which point small Street Triples R goes up in range vis-a-vis large the Speed, whose sales erode slowly but surely.
A small round to note the care taken in realization, and I hasten to climb in saddle. With a base culminating to 820 mm, the Street news Triples R is shown a little higher than the model 2012 and its 815 mm. With 1.70 m under the measuring apparatus, one flat does not pose any more the feet, but the Street news Triples standard will propose a saddle to 800 mm.
It is not so serious with the final one, because according to Triumph, Street Triples ultra light lose 6 more kilo already, that is to say 183 kg all full facts except ABS, which weighs only 1.5 kg. To gain as much weight on such a light motor bike at the beginning should not have been simple. Morality, at the time as of operations cut engine, one can only note his absolute lightness, even if the distinction with old grinding is not obvious. Light it was, Triumph Street Triple R 2013, light it remains it.
Steering with English
Triumph announces to have improved the steering angle of 3°. It is true that there is a little better. Or all at least, it is less bad. In the practical chapter, the coded key makes its appearance, just like a site for U specific Triumph under the saddle, a gauge with petrol and with the option of ABS. Extremely of all that, Triumph improved approval with the daily newspaper of Triumph Street Triple, even if there is still no warning.
For the rest, the small English preserve its fundamental to allure, namely an engine that is flexible, round, which agrees to begin again with 1,500 tr/min on the reports usually used without jolt. Moreover, the first lengthened report makes it possible to go down again in first without the motor bike not presenting a too reactive character to the gas handle nor a too marked engine brake. In fact, light Triple Street remains such a motor bike easy to take along and its handiness is an asset downtown, even if the new rear view mirrors do not support the interfile.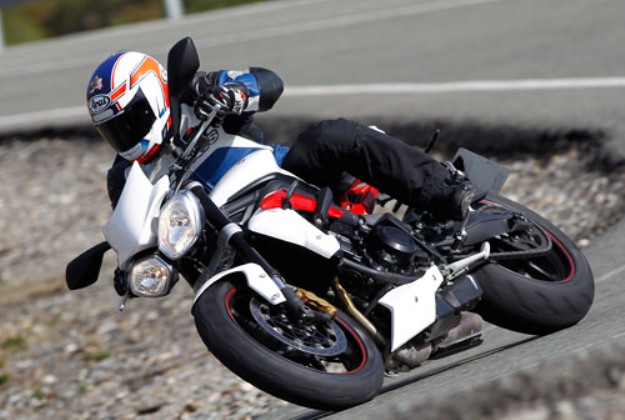 3 cylinders, 675 Cm3, 106 ch.: winner triple forecast
That made 40 km which our pack of journalists traverses the motorway and I do not perceive embarrassment caused by the new saddle: a significant progress in comfort. A little more rocked on before, one suffers from the catch to the wind at 130 km/h. With this pace, the new ratio of box of the first two reports does not enter any more counts, and the engine always turns to 7,000 tr/min. Mechanics seems not to suffer from this relatively high mode, had regard to its lengthening-piece.
One finds the whistle characteristic – and awkward for someone too – emanating of the primary transmission, as well as light vibrations not unpleasant finally. Although private of its dB killer, the silencer Arrow Racing placed right under the tympanums generates a completely bearable sound volume, including on the dull motorway.
Two or three muscular recoveries show at which point the three cylinders have trunk. Really couple as if it cubed more, it is not also lazy to go up in the turns, even if some MV Agusta Brutal 675 are shown today more nervous..
Nevertheless, the driving approval of the Triumph block is always a great success. Flexibility, couple, lively power in the rises in mode, ultra vast beach of use and the feeling very pleasant to request an engine which does not suffer from a castrating fastening: that pleasure! Phew, finally, it is time to leave the motorway to approach the sinuous secondary roads towards our pause lunch, 1,400 m higher.
A lethal weapon on minor road
And it is precisely on this ground full with turns that we expect the news Triumph 675 Street Triple R. And it rewarded us of a festival. Considered like one of the best sporting roadsters of the kind, the year 2013 inserts the nail. Angle of column is slightly closed, drives out increased, reduced weight of 6 kg, centre of gravity lowered thanks to the low exhaust, distribution of the masses increased by 3% on before… Triple Street henceforth presents one of the very best compromises between agility and stability.
It always nimble in the sequences of turns, always very precise of nose gear, it has a stability in curve very reassuring like – and it is rather new – an excellent directional stability at high-speed. One thus remains bluffed by the promptness of this motor bike to plunge to the cord of the turns while preserving an impeccable rigor in turn at unfavorable speeds. Admittedly, sometimes, the capacity to rejoin so quickly to the interior of the turns has what to surprise, and one must adapt his piloting and to let it return rather outside.
Also, the suspensions are always rather firm. During our test, they were regulated slightly flexible because of the wet climatic conditions in the beginning of the presentation, but despite of everything, they broadcasted the small shocks rather curtly. Optional ABS will not be too much to limit the risks of inopportune blocking in the event of braking reflex. Considering the corrosive one of the unit, it is a good thing to be able to count on a guard insane. On dry ground and hooker, the proportioning of the lever remains very pleasant all the same, the reduced weight of the motor bike not being besides foreign to this pleasure.
Assessment: Easy, light, but not for the beginners
As regards sporting roadster midsize, one did not think possible to do better than Triumph Street Triple, except ABS. With this new generation, Triumph proves the contradictory of us. The compromise reached by Triumph Street Triples R 2013 in terms of dynamic behavior is really remarkable.
Ultra fun but a hair nervous of frame, the Street news Triples is shown more homogeneous than before. Between optional ABS, the new practical aspects and the quality of manufacturing which proves the factory inhabitant of Thailand – Triple Street and Street Triples R – is on the level of that of Shockley, one can hardly find to repeat.
Side price, Triumph knows pertinently that years 2013/2014 will be delicate. As well as the Triumph Street Triple range does not increase: count 7,990 € for Street Triples standard and, 8,990 € for Triumph Street Triples R 2013 ABS, that is to say ABS offered.