When the first SV650 was released to Suzuki riders in 1999, they hit the proverbial jackpot. Since then, many improvements have been made to this legendary motorcycle, but it has retained the dynamic character that can only come from a medium-sized V-twin roadster. Designed on a slim and light chassis to provide an exciting, sporty ride, the 2022 SV650's refined engine produces incredible performance while maintaining exceptional fuel economy and low emissions. The SV650 sports a nimble chassis that generates thrilling lean angles in turns, and its two front four-piston Tokico brake calipers provide reliable stopping power. The Suzuki 2022 SV650 Street Motorcycle has a glass sparkly black body over a gold trellis frame and black cast aluminum wheels. Because of its stunning good looks, refined style, and breathtaking speed, this sport bike is an excellent buy that will appeal to many riders.
Suzuki 2022 SV650 Street Motorcycle – Features and Specs
Key Features
The Glass Gleams a black exterior, a gleaming gold chassis, and black tires characterize the 2022 SV650. Trellis-style frame composed of high-strength steel tubes contributes to the motorcycle's lightweight and compact chassis while also being aesthetically pleasing. The smooth exterior is aesthetically pleasing and functionally beneficial.
Cornering at extreme lean degrees is made possible by the placement of the muffler and its brushed stainless steel cover. Excellent stopping power is provided by front-mounted 290mm fully floating stainless steel rotors protected by twin four-piston Tokico brake calipers.
The 645cc four-stroke DOHC 90-degree liquid-cooled engine pulls strongly and smoothly from idle to its redline of 10,000 rpm. During takeoff and low-speed runs, Suzuki's Low RPM Assist feature, part of the company's cutting-edge EFI technology, automatically adjusts engine rpm to smooth out power delivery and reduce the risk that the rider would stall the motorcycle.
Engine
Robust and compliant with modern emission standards, the 645cc, DOHC, V-twin engine delivers exceptional performance and torque. It is unnecessary to use a power-sapping, heavy counter balancer since the 90-degree L-twin arrangement of the engine ensures perfect primary balance. To achieve the optimal stiffness and weight, the pistons in the energy-efficient engine were designed utilizing the Finite Element Method (FEM) analysis.
Each piston skirt is coated with a different resin, a first for a Suzuki motorcycle, and the other sliding components are tinned to minimize friction and increase durability. By developing L-shaped piston rings, Suzuki was able to reduce blow-by gas, boost combustion efficiency, and cut down on emissions.
Suzuki Composite Electrochemical Material (SCEM) coating on cylinders improves heat transfer, durability, and longevity while decreasing friction. Both cylinder heads include Suzuki's exclusive Dual Spark Technology, which enhances combustion, fuel economy, and emissions quality.
The fuel injection system employs the state-of-the-art Suzuki Dual Throttle Valve (SDTV) and 39mm throttle bodies—a servo motor for maximum efficiency in combustion and a consistent flow of power controls secondary throttle valves. To improve fuel atomization and combustion efficiency while reducing fuel consumption, each throttle body is equipped with ten long-nose fuel injectors. The EFI system uses O2 feedback and a precise intake pressure sensor to ensure optimal combustion efficiency in various conditions, significantly reducing emissions.
A Suzuki patent, the Throttle-body Integrated Idle Speed Control (TI-ISC) facilitates simpler engine starting, keeps the engine running at a constant idle speed, and helps reduce pollutants. The device is portable and lightweight. By gradually decreasing engine rpm during takeoff and low-speed running, Suzuki Low RPM Assist technology included in the TI-ISC on the SV650 helps to reduce the user's risk of stalling the motorcycle.
An electronic control module manages the engine called an Engine Control Module (ECM), which also contains updated parameters for the air intake and exhaust systems. That's why it's possible to have such excellent gas mileage and linear throttle response.
Transistorized ignition control programming ensures more precise spark timing for four iridium plugs, which live much longer. The SV650 also has Suzuki's Easy Start System, which allows the rider to start the motorcycle with a single, short press of the start switch while the transmission is in neutral. The vast capacity design of the air cleaner case directs crankcase breather gas from the engine cover, helping to increase engine output. Staggering the lengths of the air intake funnels improves mid-range torque. The new exhaust system is more lightweight and aesthetically pleasing, and practical. One component of the 2-into-1 system is a catalyst, which further reduces emissions.
Many degrees of lean are possible because of the location of the muffler and its brand-new brushed stainless steel cover. The high-efficiency radiator employs a giant cooling fan to achieve its remarkable cooling efficiency. Moreover, the engine has a compact and lightweight oil cooler that uses the engine coolant to maintain a consistent temperature. The six-speed, close-ratio gearbox was designed with ratios ideal for sporty riding and everyday commuting. In a multi-plate clutch, the pressure plate is triggered precisely by the push rod, allowing for a smooth draw and a fixed release point.
Chassis
As a result of covering the tiny, lightweight frame with slim bodywork, this bike is agile and pleasurable to ride in various road conditions, including city traffic, motorways, rural roads, and winding routes. When fully assembled, the SV650 weighs in at only 432 pounds.
The lightweight steel used in the motorcycle's manufacturing allows for its compact dimensions and distinctive trellis frame design. 785mm is the lowest seat height of any street bike in the 600-800cc category (30.9 inches).
The US and California versions of the SV650 have the same short and thin fuel tank that can hold 3.8 gallons (14.5 liters) of gasoline. Because of the seat's joint and the bike's little fuel tank, the user may plant both feet firmly on the ground while stopping.
The frame is joined to the steel-looking swing arm utilizing a chain tension adjustment mechanism. A conventional front fork with 41 millimeters of travel provides a dynamic and cushioned ride for the bike's rider. The 125 millimeters of wheel travel is equivalent to 4.9 inches. The rear shock unit, a link design with a 63mm (2.48-inch) stroke, has been tuned for a responsive and comfortable ride across a wide range of road surfaces.
The seven-position spring preload adjustability of the rear shock makes it easy to make adjustments for passengers or cargo. The front brakes have two 290mm discs and four-piston Tokico calipers for incredible stopping power. Lightweight Dunlop radial tires installed on five-spoke cast aluminum alloy wheels contribute to the vehicle's responsive steering and high fuel economy.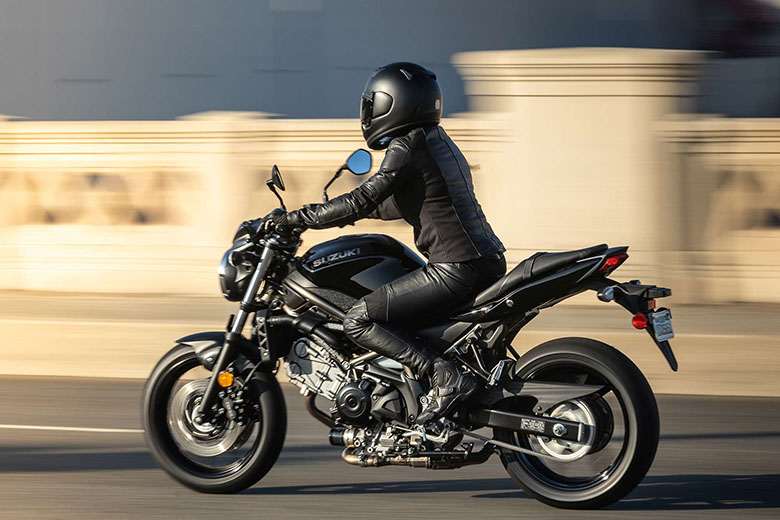 Dunlop Road Smart III tires, as fitted on the SV650, are known for their superior grip and overall performance. The necessity for motor and needle mechanics has been eliminated thanks to the full LCD on the lightweight and compact instrument panel. The instrument cluster provides access to a tachometer, speedometer, reserve trip meter, odometer, dual trip meter, clock, coolant temperature/oil pressure indicator, gear position, and fuel consumption/distance information.
The tubular handlebars and centrally located foot controls offer an athletic but ergonomically comfortable riding position. Beautifully designed, the circular headlight uses a 12V 60/55-watt halogen bulb to illuminate its multi-reflector design. A bright, long-lasting LED tail and brake light, together with amber front and rear turn signals, light the way for riders.
Careful consideration was given to the rider's comfort and sense of security, as seen by details like a high-grip cover and integrated cargo retention hooks that slide out from under the seat.
Visually, it was meant to convey a slim, lightweight build while drawing attention to the potency of the V-twin engine. As such, the clean, well-defined shapes of the body lines are made to appeal to a wide range of riders.
Addition Features
A stylized 3D Suzuki "S" emblem appears on the gas tank and the upper fork bracket, attesting to the company's commitment to quality and performance. The Genuine Suzuki Accessories catalog has various Suzuki-branded apparel options for SV owners with—a twelve-month warranty period, with specific exclusions. Suzuki Further Security provides added benefits throughout extended coverage periods (SEP).
Suzuki 2022 SV650 Street Motorcycle – Price
The new Suzuki 2022 SV650 Street Motorcycle is available for $7,299 only.
Suzuki 2022 SV650 Street Motorcycle – Technical Specifications
Engine
| | |
| --- | --- |
| Engine | 645cc, 4-stroke, liquid-cooled, DOHC, 90˚, V-twin |
| Bore x Stroke | 81.0 mm x 62.6 mm (3.189 in. x 2.465 in.) |
| Compression Ratio | 11.2:1 |
| Fuel System | Fuel injection with SDTV |
| Starter | Electric |
| Lubrication | Wet sump |
Drivetrain
| | |
| --- | --- |
| Clutch | Wet, multi-plate type |
| Transmission | 6-speed, constant mesh |
| Final Drive | Chain, DID 520V0, 112 links |
Chassis
| | |
| --- | --- |
| Suspension Front | Telescopic, coil spring, oil damped |
| Suspension Rear | Link type, single shock, coil spring, oil damped |
| Brakes Front | Dual, 4-piston calipers, twin disc |
| Brakes Rear | Single, 1-piston caliper, single disc |
| Tires Front | 120/70ZR17M/C (58W), tubeless |
| Tires Rear | 160/60ZR17M/C (69W), tubeless |
| Fuel Tank Capacity | 14.5 L (3.8 US gal.) |
| Color | Glass Sparkle Black |

Electrical
| | |
| --- | --- |
| Ignition | Electronic ignition (transistorized) |
| Headlight | 12V, 60/55 W (H4) |
| Tail Light | LED |
Dimensions
| | |
| --- | --- |
| Overall Length | 2140 mm (84.3 in.) |
| Overall Width | 760 mm (29.9 in.) |
| Overall Height | 1090 mm (42.9 in.) |
| Wheelbase | 1445 mm (56.9 in.) |
| Ground Clearance | 135 mm (5.3 in.) |
| Seat Height | 785 mm (30.9 in.) |
| Curb Weight | 196 kg (432.0 lb.) |
Warranty
| | |
| --- | --- |
| Warranty | 12-month limited warranty |
| Extension | More extended coverage periods with other benefits are available through Suzuki Extended Protection (SEP) |