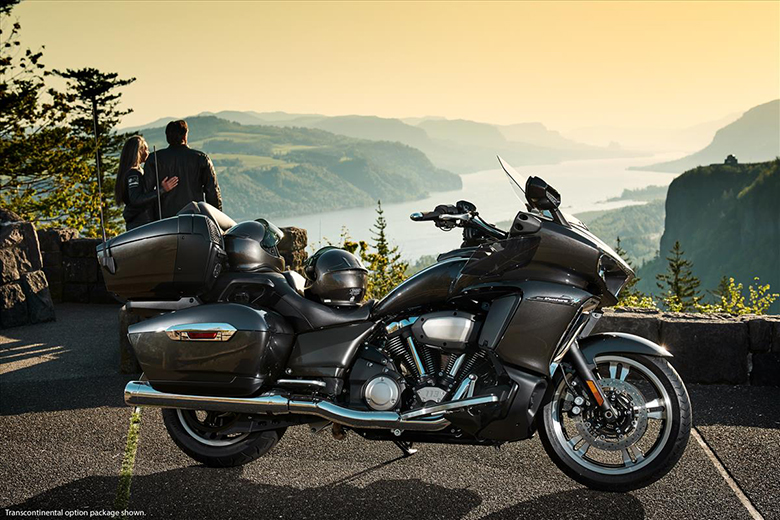 The Yamaha brand always wants to make its mark in different fields of motorcycling. It's Star Venture 2018 Yamaha Transcontinental Touring Bike is one of the best and high performing bike that provides the superb riding pleasure of all times. This touring bike can combine its V-Twin performance with cutting-edge comfort and technology. The overall review of this Star Venture with its price and specifications are given below.
Star Venture 2018 Yamaha Transcontinental Touring Bike – Features and Price
The Yamaha Star Venture 2018 is available for $24,999.
Engine Features
The 2018 Star Venture Transcontinental Touring Bike features 1,854cc air-cooled V-Twin engine that powers the bike with 126 pound-feet of torque. Its four-valve cylinder heads give the maximum power output that makes it best of all times. The Yamaha has been refining its four-valve, twin-spark-plug, and pent-roof engine design for about 20 years, and it delivers exceptional power and drivability that can conquer everyone's heart. This engine can provide tremendous torque with a thrill V-twin pulse that gives maximum potential in the hands of a ride. The lightweight forged alloy pistons with a carefully-tuned counterbalancer and latest composite engine make the luxuriously smooth ride ideal for every rider. The newly developed six-speed gearbox makes the bike an ideal for long-distance touring. This transmission system contains specifically chosen gear ratios that make the most of the tremendous low-end torque available for 1,854cc engine.
The Star Venture can easily tackle the big-mileage trips without even breaking the sweat, and the new Yamaha Sure-Park System makes the controlling easy. The small electric motor that provides forward and reverses drive to handle tricky parking situations, especially on rough and poor traction surfaces. The new semi-dry-sump design lowers the active center of gravity that allows the engine to sit lower in the frame, plus its external oil tank is integrated into the aluminum sub-frame to centralize mass and to reduce weight. The compact oil cooler is hidden between the front down tubes, which is responsible for maintaining ideal engine temperature. The Yamaha's Chip Controlled Throttle YCC-T, a ride-by-wire throttle control system that converts the rider's grip into precise throttle control for better engine response and enhanced levels of refinement from the high-torque engine.
This Yamaha Touring bike comes with an advanced rider assistance technology that includes Yamaha D-Mode and traction control. The D-Mode lets the rider choose from two different throttle responses i.e., ultra-smooth touring mode and horizontal mode. The traction control system helps the passenger to prevent the rear wheel spin when dealing with reduced traction road conditions. The new Yamaha's refined cruise control system comes as standard that uses the YCC-T ride-by-wire technology to offer the convenient push-button solution for comfortable long highway journeys. The Yamaha's assist and slipper clutch use internal ramps that give an additional clamping force under the acceleration along with the proven advantages of a back-torque-reducing and slipper-style clutch. It is a two-way design that uses the lighter clutch springs to minimize the clutch lever effort and gives smoother deceleration, especially when downshifting.
The Star Venture's exhaust system contains the twin-muffler style with the more critical V-twin exhaust note for custom fans seek. This exhaust note has been carefully developed by Yamaha experts in collaboration with the audiophiles at Yamaha Music throughout the entire rpm range. The touring bike features paired alternators, which are attached low and forward in the engine cases. They provide ample electric power for heated seats and grips, audio systems, and lighting. The 750 watts of total output riders can feel free to add standard electrical accessories or heated apparel without taxing this Yamaha motorcycle's charging system.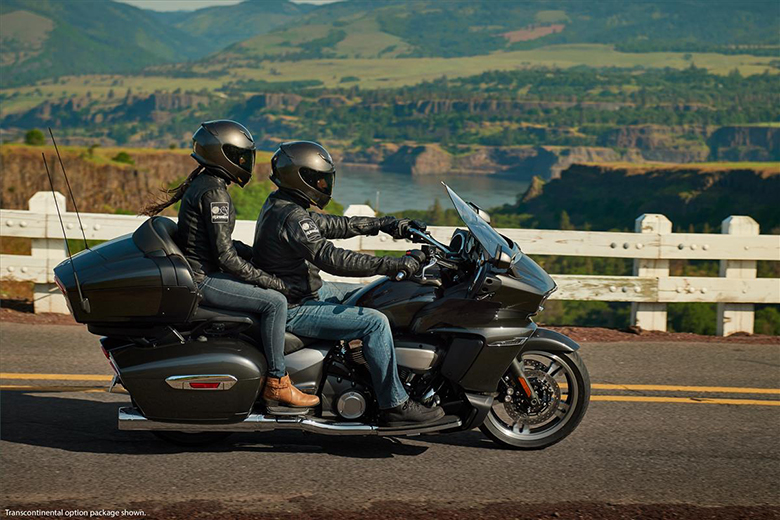 Infotainment
This Yamaha Touring Monster comes with the latest and state-of-the-art infotainment system better than 2018 Star Eldure Transcontinental Touring Bike. This system has been installed high in the cockpit for better visibility. It consists up of 7 inches of full-color LCD that gives a tremendous amount of information, and rider can easily control it with the help of fingertips. This system is controlled via touchscreen, handlebar controllers, or via voice commands. This infotainment package provides full access to the bike control and data, a range of audio sources with the option of wireless Bluetooth communication options.
The vehicle systems are not integrated into the infotainment console. It helps in running data such as trip computer functions and tire pressure to be monitored on-screen while the rider himself can control some other things like heated seats. The Bluetooth-equipped smartphones can be easily linked with the Star Venture 2018 Yamaha Transcontinental Touring Bike, and it gives the rider complete control of communications for both rider and passenger and the full world directly through the infotainment display. A pair of high performing speakers are also part of this infotainment system that gives the charming sound output. A rider can play any kind of soundtracks either from the local radio stations or via his smartphone connected with the Bluetooth technology.
Chassis/ Suspension
The Star Venture 2018 Yamaha Transcontinental is built around the latest hybrid chassis that have been designed for agile and confidence-inspiring handling. The steel frame makes use of casting and forgings to place material exactly where needed for optimal rigidity. The rear sub-frame is developed from Yamaha's advanced aluminum die-casting techniques for low weight and centralize mass. The balanced chassis provides solid straight-line stability and agility on the curviest of roads. The advanced frame design is possible due to the semi-dry-engine and its careful positioning in the frame.
The vast 46 mm telescopic fork contains the damping and spring rates being selected to provide an ideal balance of bump absorption with high speed handling all without losing the light, and the responsive road feels. This Yamaha Star Venture is the real riding machine that gives ultimate riding performance with the plush comfort expected from the luxury touring bike. The rear suspension contains the linkage-type system with a gas-pressurized shock to create a compact design with a plus and controlled feel. The front fork damping and spring rates have been carefully considered to provide an ideal balance of comfort and better road feedback, and convenient tuning is being offered with the help of remote rear shock spring preload adjuster.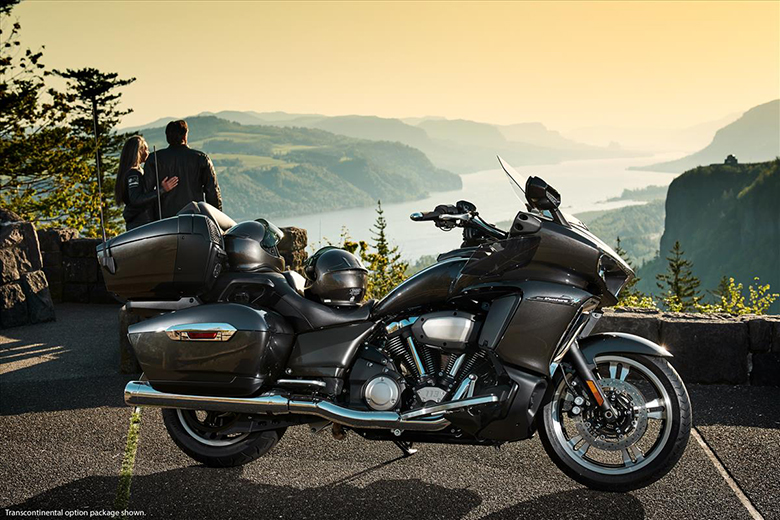 The braking performance of this Yamaha Transcontinental Beast is mind-blowing. Its new triple-disc brakes contain the latest electronic controls for superb braking force. The Yamaha's Unified Braking System dynamically adjusts front and rear braking force balance in real time to guarantee ultimate braking feel and power. The Yamaha's ABS prevents the wheel lock-ups when dealing with reduced traction road conditions. The lightweight front and rear aluminum alloy wheels have been finished with machined detailing that highlights the combination of strength and lightness. The front section consists up of 18 inches of the wheel with 130/70 radial tire for light and neutral steering feel. The rear section contains 16 inches of rim attached with a huge 200/55 radial. There is an advanced tire pressure monitoring system available, which regularly updates the instrument panel with the current tire pressure data.
The fuel carrying capacity of 2018 Yamaha Star Venture is 6.6 gallons, and with the full tank, it can easily reach up to 200 miles. The overall ergonomics of this touring machine is beautiful and attractive. The hand levers are adjustable in five positions, a deeply padded seat with a height of 27.4 inches makes the ride full of comfort. Plus, the rider backrest is adjustable in three locations. The passenger backrest is over 17-inche wide, offering plenty of room to move around, and passenger floorboards are easily adjusted between two positions.
Star Venture 2018 Yamaha Transcontinental Touring Bike – Technical Specifications
Engine
| | |
| --- | --- |
| Type | 113-cubic-inch (1854cc) air-cooled, OHV, V-twin, eight valves |
| Bore x Stroke | 100 mm x 118 mm |
| Compression Ratio | 9.5:1 |
| Fuel Delivery | Yamaha Fuel Injection including YCC-T and D-Mode |
| Ignition | TCI: Transistor Controlled Ignition |
| Transmission | 6-speed; multi-plate assist and wet slipper clutch |
| Final Drive | Belt |

Chassis
| | |
| --- | --- |
| Suspension / Front | 46mm telescopic fork, 5.1 inches travel |
| Suspension / Rear | Single shock with remote preload adjustment; 4.3 inches travel |
| Brakes / Front | Dual hydraulic disc, 298 mm; Unified Brake System and ABS |
| Brakes / Rear | Hydraulic disc, 320 mm; Unified Brake System and ABS |
| Tires / Front | 130/70R18 Bridgestone® Exedra® |
| Tires / Rear | 200/55R16 Bridgestone® Exedra® |

Dimensions
| | |
| --- | --- |
| L x W x H | 106.3 inches x 39.9 inches x 55.5 – 59.1 inches |
| Seat Height | Wheelbase |
| Wheelbase | 67.3 inches |
| Rake (Caster Angle) | 31-degree |
| Trail | 5.7 inches |
| Maximum Ground Clearance | 4.9 inches |
| Fuel Capacity | 6.6 gallons |
| Fuel Economy | 34.0 mpg |
| Wet Weight | 963 lb |

Other
| | |
| --- | --- |
| Warranty | 5 Year Warranty Coverage |
Conclusion
In conclusion, team Bikes Catalog would love to say that the Star Venture 2018 Yamaha Transcontinental Touring Motorcycle is one of the best so far, in the entire touring lineup. Its attractive and carefully designed ergonomics, beautifully crafted heated seats and backrests, all of them are showing class and legacy. This touring bike is the best option for long-distance riders.