The BMW brand is very famous when someone talks about the automobile industry. This brand is manufacturing the number of amazing bikes and this year it has launched its new BMW 2017 S 1000 RR Sports Bike. It comes with the latest technology and incredible features making it an ultimate bike to ride on. The overall design and look of this bike are kept stylish and modern. The body shape is kept perfectly ergonomics, seat design and handlebars are carefully positioned to achieve the best seating position and an ultimate performance in all conditions. The review of newly launched BMW 2017 S 1000 RR Sports Bike with its pics and specification are written below.
BMW 2017 S 1000 RR Sports Bike – Specification and Pictures
An Icon Among Superbikes
The new BMW 2017 S 1000 RR Sports Bike is one of the revolutionary bikes in the super sports bike category. This bike is continued to be developed for better performance and ultimate ride like its bigger brother 2017 BMW R 1200 RS. This new sports bike has maintained the legacy of BMW brand by offering an impressive power, ultimate performance, and aggressive ride. The all-new BMW 2017 S 1000 RR Sports Bike comes with the DTC Dynamic Traction Control as the standard for greater riding dynamics and road safety. Its results in the best traction over all kinds of surfaces. The use of innovative technology enables the rider to experience its ultimate performance with best intensity and immediacy than ever.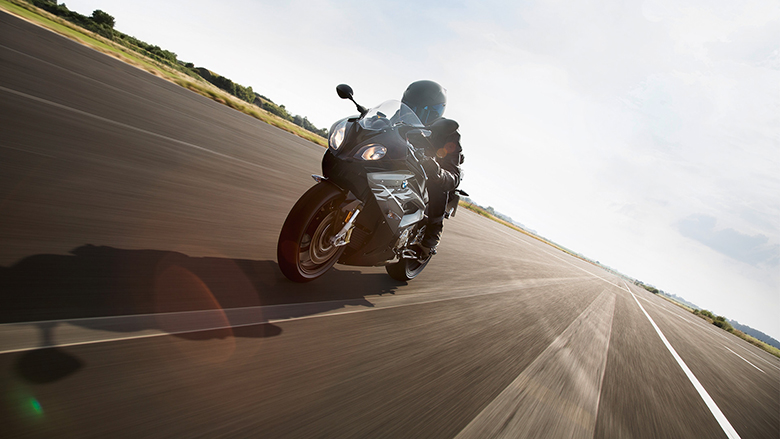 The Look of a Winner / High-Performer / Fighter
The all-new BMW 2017 S 1000 RR Sports Bike features the best design and stylish body offering an amazing look. It comes with the distinctive split face and asymmetrical front headlamps, which represents the true face of BMW RR family. The razor-sharp fly line offers the look of extreme clarity. This sports bike features the supreme quality from the front to rear section and it is optimized for high-level performance. It provides the pure acceleration and speed, which every rider demand. The BMW has chosen three different color combination for this beast.
The Granite gray metallic with Black storm metallic offers an ultimate dark beast look.
The racing red with the light white with its red wheel lining provides an ultimate performance.
The light white with the Lupin blue metallic and racing red with the red trim lines offers an eye-catching view.

Winning statistics and Powerful performance
The new BMW 2017 S 1000 RR Sports Bike features the liquid-cooled four-cylinder in-line engine. This engine is capable of delivering the power of 146 kW (199 horsepower) at 13,5000 rpm while the maximum torque is about 113 Nm at 10,500 rpm. With this statistics, this bike can easily conquer any battle. Its level of performance is even further enhanced by the use of standard DTC Dynamic Traction Control for maximum safety. This BMW bike complies with the EU-4 standards and provides an impressive level of performance. There are three different riding modes available in it i.e. Rain, Sport, and Race. These modes add another level of comfort and confidence in all conditions Plus they ensure an extreme level of coordination between electric throttle, ABS, and ASC. The new DTC and ABS comes as standard to guarantees the best safety during the ride. The use of electric throttle ensures that the immense power is being dispensed even more finely and directly. The instrument panel gives the clear display of the rider's selected settings with the road speed and engine speed.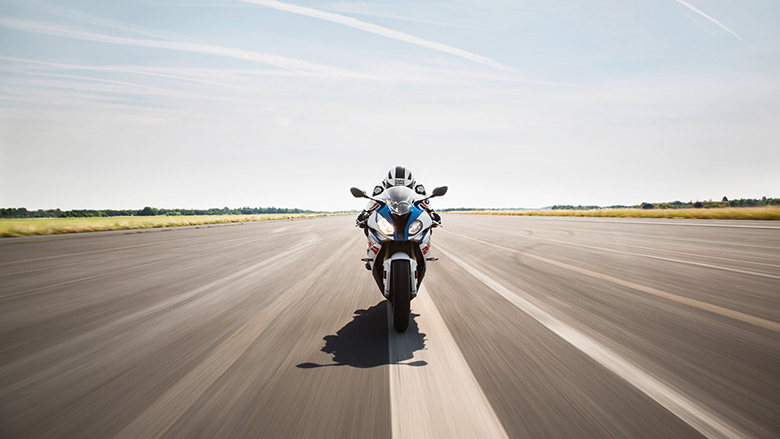 Performance and Perfection
There is always a chance of further refinement, so the new BMW 2017 S 1000 RR Sports Bike features an optional accessory Pro Riding Modes. These modes are Slick and User Mode as well as ABS within inclined position sensor. An optional Pro Shift Assistant allows the rider to shift gears up and down without having to actuate the clutch or throttle grip. The Launch Control and Pit Lane limiter also come from the pit lane. If rider opts for the High Power battery (Li-Ion), this will further reduce the overall weight by 1.5 kg so it offers an even better racing sports sensation. Like the older models i.e. 2014 BMW S 1000 RR, this new bike will remain in the top class of sports bike.
BMW 2017 S 1000 RR Sports Bike – Specs with Pics
Engine
| | |
| --- | --- |
| Type | Water/oil-cooled 4-cylinder 4-stroke in-line engine, four titanium valves per cylinder, two overhead camshafts |
| Bore x stroke | 80 mm x 49.7 mm |
| Capacity | 999 ccm |
| Rated output | 146 kW (199 hp) at 12.500 rpm |
| Max. torque | 113 Nm at 10.500 rpm |
| Compression ratio | 13.0:1 |
| Mixture control/engine management | Electronic injection, variable intake pipe |
| Emission control | Closed-loop 3-way catalytic converters, EU-4 norm with electronically controlled interference pipe |

Performance/fuel consumption
| | |
| --- | --- |
| Maximum speed | over 200 km/h |
| Fuel type | Super (premium) unleaded, octane number 95 – 98 (RON) (knock control; rated output at 98 Electrical system RON) |
Electrical system
| | |
| --- | --- |
| Alternator | 406 W |
| Battery | 12 V / 9 Ah, maintenance-free |
Power transmission
| | |
| --- | --- |
| Clutch | Multi-plate clutch in oil bath, anti hopping clutch and mechanically controlled |
| Gearbox | Constant mesh 6-speed gearbox, straight-toothed |
| Drive | Chain 17/45 |

Chassis/Brakes
| | |
| --- | --- |
| Frame | Aluminum composite bridge frame, partially self-supporting engine |
| Front wheel location/suspension | Upside-down telescopic fork Ø 46 mm, compression and the rebound stage adjustable, Adjustable preload |
| Rear wheel location/suspension | Aluminum 2-sided swing arm, compression and rebound damping adjustable, adjustable preload |
| Suspension travel front/rear | 120 mm / 120 mm |
| Wheelbase | 1.438 mm |
| Castor | 96.5 mm |
| Steering head angle | 66.5° |
| Wheels | Aluminum cast wheels |
| Rim, front | 3.50 x 17″ |
| Rim, rear | 6.00 x 17″ |
| Tires, front | 120/70 ZR 17 |
| Tires, rear | 190/55 ZR 17 |
| Brake, front | Twin disc brake, floating brake disc, 4-piston fixed caliper, diameter 320 mm |
| Brake, rear | Solo disc brake, solo piston floating caliper having diameter 220 mm |
| ABS | BMW Motorrad Race ABS (part-integral), disengage-able with modes to select |

Dimensions/Weights
| | |
| --- | --- |
| Length | 2.050 mm |
| Width (including mirrors) | 826 mm |
| Height (excluding mirrors) | 1.140 mm |
| Seat height, unladen weight | 815 mm |
| Inner leg curve, unladen weight | 1.805 mm |
| Unladen weight, road ready, fully fuelled | 208 kg |
| Permitted total weight | 407 kg |
| Payload (with standard equipment) | 199 kg |
| Usable tank volume | 17.5 liters |
| Reserve | app. 4 liters |

Conclusion
This article is all about the review of new BMW 2017 S 1000 RR Sports Bike and it is covered under www.bikescatalog.com. This article shows that it is an incredible sports bike which contains the number of features providing an ultimate performance. Its different color combination adds another level to its amazing look. It's different riding modes ensure an ultimate performance and maximum comfort. In short, it is an amazing bike and one should purchase it and enjoy its ride.