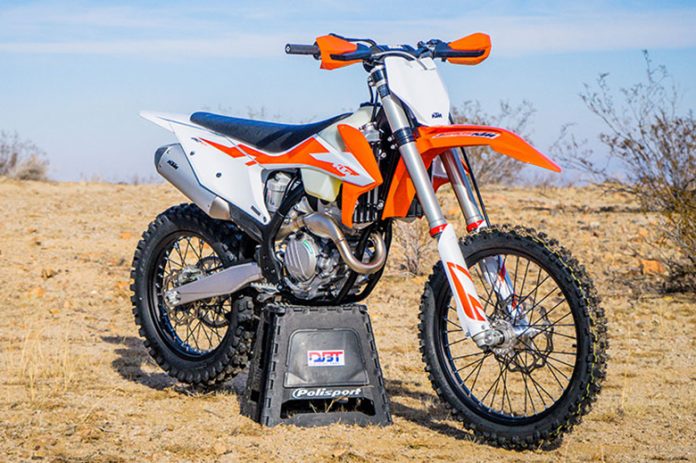 The 250 ccs 4-stroke environment is very competitive. However, the KTM 2022 250 XC-F Dirt Motorcycle has been the leader for years, having a state-of-the-art engine management system, the most potent 250 ccs 4-stroke engine in pit lane, and a high-performance, race-bred chassis configuration. The KTM 250 XC-F remains a master class in speed and agility.
KTM 2022 250 XC-F Dirt Motorcycle – Features and Price
Engine & Exhaust
Exhaust
In terms of power delivery and performance, the exhaust on all 4-stroke models plays a crucial role and delivers a formidable punch. It has a model-specific header pipe with an enhanced resonator known as FDH (Flow Design Header), a tiny chamber around the header pipe. The design permits disassembly of the exhaust without removing the shock absorber and enables improved access to the shock. The silencer's aluminum sleeve, end cap, and internal design allow for thinner ergonomics, making the bike seem smaller without compromising noise regulations.
Engine
The KTM 2022 250 XC-F Dirt Motorcycle engine is the most powerful in the 250 cc category. It screams at the top of its exhaust at 14,000 RPM but is just as content creating massive amounts of torque and power throughout the remainder of the rev range. Its small construction leads to excellent mass centralization, enhancing the bike's rideability and it weighs just 47.6 pounds. It includes the very useful E-starter.
Transmission
The engine is equipped with a new and more robust 6-speed semi-close PANKL gearbox with seamless shifting. A sophisticated 'No Dirt' design for the gear change lever prevents dirt and sand from obstructing the joint and ensures trouble-free shifting. All 4-stroke engines come with a gear position sensor, allowing each gear to have distinct engine characteristics. The transmission shaft is fitted with a C4 bearing that offers a more significant overlap and ensures excellent dependability even under intense working circumstances.
E-Starter
The KTM 250 XC-F is equipped with an exclusive E-starter as standard, which offers a distinct edge in the heat of battle. A Mitsuba starting motor can repeatedly fire at the stroke of a button. Even in harsh circumstances due to the O-increased ring's heat resistance.
Chassis
Airbox
Together with the intake snorkels, the airbox on the KTM 250 XC-F guarantees excellent flow dynamics, resulting in optimal power and throttle response. In addition to the apparent performance advantages, this design provides optimal protection against air filter contamination. An all-new massive Twin-Air air filter is installed on a well-constructed, rigid cage that reduces the likelihood of improper installation. As with prior models, filter maintenance is simple and requires no tools; this is a typical, original KTM feature.
Frame
The new high-tech, lightweight chrome-moly steel frame has a propensity for effortless handling, exceptional rideability, pinpoint turning, and excellent stability. You may also rely on the frame's properly calculated rigidity. It improves the energy absorption of the front and rear suspension, allowing the vehicle to absorb more energy from leaps and bumps. In brief: increased comfort and reduced rider fatigue. Lightweight, laterally-attached aluminum engine head stays (the connection between the cylinder head and frame) lead to sharper cornering and less vibration. Engineers successfully did all of this while making their frame 2.2 pounds lighter than that of the market's lightest rival. Moreover, it is simpler to maintain, easier to operate, and provides more room for the tank and other components. The bicycle also boasts an aluminum subframe that weighs less than 2 pounds and is very lightweight.
Wheels
The KTM 250 XC-F is equipped with lightweight, CNC-machined hubs, high-end Giant rims, and black spokes with aluminum nipples that provide optimum stability with the lowest weight. The most recent Dunlop Geomax AT81 tires offer optimal traction and performance.
Front Suspension
The new lightweight WP XACT front fork featuring AER technology was developed closely with KTM as a 48 mm USD air-sprung split fork with independent functions for each leg. It indicates that the damping functions are on the right, while the air spring is on the left. This left leg has a two-chamber system and a capsuled air cartridge to avoid air pressure loss. If the exterior seal begins to leak, the internal cartridge pressure will hold the bike in place. A single air valve makes it simple to adjust the air spring to the weight of every rider. No other equipment is necessary; the fork air pump is included with the bicycle. The right fork leg has a damping cartridge tailored to your specific damping requirements. With the turn of a dial, it may be tailored to the track conditions and the rider's preferences (compression from the top, rebound from the bottom, 30 clicks each). With its redesigned damping characteristics and updated piston, this fork is more comfortable and responsive than ever. But it can still be hammered to death.
Rear Suspension
The WP XACT shock absorber was designed with the entire frame and swingarm architecture, including the new linkage system and WP XACT front forks, in mind. Compared to roughcast reservoirs, it is a premium, high-end product with machined and anodized components. A new, confidence-inspiring setting with enhanced damping characteristics nicely complements the front-end setup, and the WP color scheme demonstrates that you have outstanding suspension taste.
Brakes
You are combining advanced Brembo brakes with lightweight Wave brake discs. You couldn't brake any harder, better, quicker, or more robust.
Fuel tank
All XC-F versions include polyethylene fuel tanks with an integrated gasoline pump system and a 2.25-gallon capacity. The filler cap's internal threads provide for a simple and dependable sealing. Manufactured from transparent acrylic, you can always see how much gasoline is left at a glance.
Ergonomics & Comfort
Seat
Ergonomically ideal, the seat's substantial foam volume provides outstanding comfort and durability while maintaining a low weight.
Footpegs
While riding in deep ruts, sophisticated 'No Dirt' footpegs prevent the footpeg pivot from clogging. Want a more elevated riding position? Install the footpegs of the EXC models, which are 6 mm taller than those of the XC types.
Bodywork & Graphics
Decals
The mere act of riding a KTM 250 XC-F catches the attention of passersby, but the new inlay graphics cause people to look twice.
Software & Electronics
Handlebar Map Select Switch
The map switch allows the rider to choose between a conventional map configuration and a more aggressive map for loose, high-grip dirt situations with the push of a button. It is convenient for changing track conditions or riders seeking more control as they get fatigued.
Battery & wiring harness
A powerful lithium-ion battery energizes the engine and adds to the vehicle's lightweight. The wire harness and lightweight batteries are in a compartment above the air filter box, enabling the technician to remove the subframe without disturbing the electronics. A satisfied mechanic is a competent mechanic.
KTM 2022 250 XC-F Dirt Motorcycle – Price
The new KTM 2022 250 XC-F Dirt Motorcycle is available at $9,799 only.
KTM 2022 250 XC-F Dirt Motorcycle – Technical Specifications
Engine
| | |
| --- | --- |
| Transmission | 6-speed |
| Starter | Electric starter |
| Stroke | 52.3 mm |
| Bore | 78 mm |
| Clutch | Wet multi-disc DS clutch, Brembo hydraulics |
| Displacement | 249.9 cm³ |
| EMS | Keihin EMS |
| Design | 1-cylinder, 4-stroke engine |
Engine Accessories
| | |
| --- | --- |
| Buy Now | Buy Now |
| Buy Now | Buy Now |
Chassis
| | |
| --- | --- |
| Weight (Without Fuel) | 100 kg |
| Tank Capacity (Approx.) | 8.5 l |
| Front Brake Disc Diameter | 260 mm |
| Rear Brake Disc Diameter | 220 mm |
| Front Brake | Disc brake |
| Rear Brake | Disc brake |
| Chain | 5/8 x 1/4″ |
| Frame Design | Central double-cradle-type 25CrMo4 steel |
| Front Suspension | WP XACT-USD, Ø 48 mm |
| Ground Clearance | 370 mm |
| Rear Suspension | WP XACT Monoshock with linkage |
| Seat Height | 950 mm |
| Steering Head Angle | 63.9 ° |
| Suspension Travel (Front) | 310 mm |
| Suspension Travel (Rear) | 300 mm |
Chassis Accessories
| | |
| --- | --- |
| Buy Now | Buy Now |
| Buy Now | Buy Now |
Conclusion
250cc 4-stroke racing is competitive. The KTM 250 XC-F boasts a state-of-the-art engine management system, the most potent 250 ccs 4-stroke engine in pit lane, and a race-bred chassis. KTM 250 XC-F is fast and agile. The silencer's aluminum sleeve, end cap, and internal design make the bike seem smaller without breaking noise requirements. KTM's 250 XC-F is the most powerful 250cc engine. It screams at 14,000 RPM yet produces enormous torque and power throughout the rpm range. The engine has a smooth-shifting 6-speed semi-close PANKL gearbox.