Due to the success of the Chieftain Dark Horse, Indian Motorcycle launched the new Indian 2022 Roadmaster Dark Horse Cruisers to its Dark Horse lineup in 2022. It provides blackout service and the most cutting-edge Indian technology. The Ride Command system combines state-of-the-art technology, a 200-watt music system, plus touring comforts for your riding enjoyment. If you like power, the Indian Roadmaster Dark Horse has a Thunder Stroke 116 engine that produces over 120 lb-ft of torque.
Indian 2022 Roadmaster Dark Horse Cruisers – Features and Specs
Design
The Roadmaster is a perfect example of how Design Indian draws on its deep historical origins to create an attractive blend of advanced design with a nostalgic edge. The full-length front fender does away with the skirting in favor of retracted sides, revealing a sizable portion of the front wheel at first glance. For example, the war bonnet fender ornament has been used since the early 20th century and is an excellent example of a throwback feature. In contrast to the preponderance of black in the powerplant area, the sturdy front forks have typical beercan fork skirts finished in chrome.
The Dark Horse variant of the Roadmaster is distinguished from its forebears by a more straightforward, batwing-like front fairing that omits the slots for passing lights in favor of a sleeker, more aerodynamic design. The Cyclops LED headlight peers out from between two fairing vents that serve dual purposes for your comfort. It reduces the exhaust heat's buffeting impact on the rider's head and stuffs cool air into the rider's protective pouch. The windshield may be adjusted at the touch of a button, allowing for customized comfort and ventilation based on the weather or your preferences. To top it all off, heated handgrips are provided for use when the weather becomes chilly.
A pair of round analog gauges with a small LED panel for displaying speed, RPMs, and other data. The freshly enhanced quad-core Ride Command system has a seven-inch color TFT display that serves as the interface, bringing together the many functions (such as weather, navigation, music, and communications) for quick and easy use. The touchscreen is sensitive enough to operate with gloves on, so one can pinch, drag, and tap his way through the options.
Chrome and black accents on the dashboard set it apart from the top of the 5.5-gallon teardrop fuel tank, which had the iconic Indian head/war bonnet logo in white against a black background. The 26.5-inch seat height and pullback handlebar/front footboard configuration provide an ergonomically ideal rider's triangle from which reaching the floor is a breeze.
The heated p-pad and saddle provide extra warmth on cold days. The touring trunk provides a full-width backrest with armrests to ensure your friend's comfort on long rides, and the passenger's specific points of touch, like fold-up footpegs and a lofted pillion cushion, are all preserved. A pair of speakers on the trunk match the ones on the front batwings to provide a full stereo image.
A pair of full-face brain buckets, or a complete passel of items, may fit in the trunk, and the sturdy saddlebags, which run with expanded sides, provide a great deal of dry, secure storage space. The rear has the standard license plate holder and turns signal bar, while the wide taillight uses spectacular LED technology to ensure your visibility to oncoming traffic.
Chassis
The tubular components, strong spine, and twin downtubes give the Roadmaster Dark Horse's double-cradle frame a rock-solid foundation. Because the engine is supported in this design instead of being used as a stressed component, a robust frame is used to protect the lower cases. With a rake of 25 degrees and a trail of 5.9 inches on a wheelbase of 65.7 inches, the steering head is braced by substantial plates. The Roadmaster lineup demonstrates a balance of quickness and stability while still being hungry for the bends with a 31-degree lean angle to both sides.
Metzeler Cruisetec boots on 10-spoke contrast cut wheels will replace Dunlop Elite tires sized 130/60-19 in the front and 180/60-16 in the rear beginning in 2021. Front suspension is supported by 46 mm inner fork tubes, which are strong, but the stems are unimpressive and inflexible. The rear air-adjustable monoshock takes care of business with an exciting ride you can only get from the air and 4.5 inches of travel that can endure severe urban damage.
The factory-installed ABS will safeguard you no matter which color scheme you choose. Dual 300mm discs and four-piston anchors slow the front wheel, while a pair of pistons seize a single rear disc.
Drivetrain
The polished aluminum, chrome, and blackout of the Roadmaster Dark Horse's engine and gearbox casings and covers highlight the striking look of the engine's Thunder Stroke 116 powerplant. With an increase in cubic inches from 111 to 116 (1,890 ccs), the newest Thunder Stroke is one of the largest V-twins available for mass manufacture. Similar to the previous iteration, this one includes a pair of rocker-box lids with phony cooling fins and four parallel pushrod tubes reminiscent of early to mid-century flathead engines. Waste heat is managed by traditional air-cooling, and much like its forerunner, the "116" has Rear Cylinder Deactivation, which, when engaged, prevents the rear jug from firing at idle to lessen rider discomfort caused by high temperatures.
The Thunder Stroke is a prime example of how torque is not proportional to engine size, producing 126 lb-ft at an astonishingly low 2,900 rpm. Therefore, you may enjoy relaxed highway travel and enough acceleration across the whole rev range. However, this is the only way to modify the smoothness of your ride. Thus the Roadmaster Dark Horse is still, without a doubt, an indispensable tool. There is a Ride Mode option on the Indian Ride Command system that lets you tailor the throttle response to the conditions.
The rear wheels are driven by a carbon-reinforced belt that travels through a six-speed transmission after being powered by a gear-type primary that engages a wet clutch. The engine's entire driving ratio and power allow it to reach its maximum speed of 115 mph. It's a respectable rate of travel for urban streets.
Indian 2022 Roadmaster Dark Horse Cruisers – Pricing
There are various color bundles available at a discount from Indian Motorcycles. Black Smoke, the least costly option, combines with the blackout treatment to give an entirely monochromatic look and costs $30,999 MSRP. Polished Bronze and Silver Quartz Smoke are also available for an additional $31,749 off the starting price.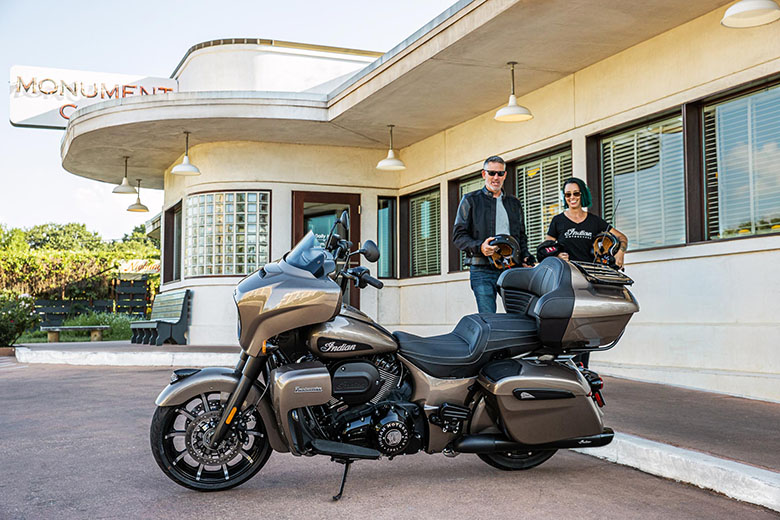 Indian 2022 Roadmaster Dark Horse Cruisers – Technical Specifications
Engine & Drivetrain
| | |
| --- | --- |
| Bore x Stroke | 4.063″ x 4.449″ (103.2mm x113mm) |
| Compression Ratio | 11:1 |
| Displacement | 116 cu in (1,890 ccs) |
| Drive/Driven Clutch | Wet, Multi-Plate, Assist |
| Electronic Fuel Injection System | Closed loop fuel injection / 54 mm bore |
| Engine Type | Air-cooled Thunderstroke 116 |
| Exhaust | Split Dual Exhaust w/ Cross-over |
| Gear Ratio (1st) | 9.403: 1 |
| Gear Ratio (2nd) | 6.411: 1 |
| Gear Ratio (3rd) | 4.763: 1 |
| Gear Ratio (4th) | 3.796: 1 |
| Gear Ratio (5th) | 3.243: 1 |
| Gear Ratio (6th) | 2.789: 1 |
| Peak Torque | 126 ft-lbs |
| Peak Torque RPM | 2,900 RPM |
| Transmission/Final Drive | 2.2: 1 |
| Transmission/Primary Drive | Gear Drive Wet Clutch |
Dimensions
| | |
| --- | --- |
| Fuel Capacity | 5.5 gal (20.8 L) |
| Ground Clearance | 5.5 in (140 mm) |
| GVWR | 1,385 lb (628 kg) |
| Lean Angle | 31° |
| Overall Height | 55.7 in / 1415 mm |
| Overall Length | 102.1 in / 2593 mm |
| Overall Width | 40.2 in (1,022 mm) |
| Rake/Trail | 25° / 5.9 in (150 mm) |
| Seat Height | 26.5 in (673mm) |
| Weight | 858 lb (389 kg) |
| Wheelbase | 65.7 in (1668mm) |
Brakes
| | |
| --- | --- |
| Front Brakes | Dual, 300mm Floating Rotor, 4 Piston Caliper |
| Rear Brakes | Single, 300mm Floating Rotor, 2 Piston Caliper |
Tires / Wheels
| | |
| --- | --- |
| Front Tires | Metzeler Cruisetec 130/60B19 66H |
| Front Wheel | 10-Spoke Contrast Cut 19 in x 3.5 in |
| Rear Tires | Metzeler Cruisetec 180/60R16 80H |
| Rear Wheel | 10-Spoke Contrast Cut 16 in x 5 in |
Suspension
| | |
| --- | --- |
| Front Fork Tube Diameter | 46 mm |
| Front Suspension | Telescopic Fork |
| Front Travel | 4.7 in (119 mm) |
| Rear Suspension | Single Shock w/ Air adjust |
| Rear Travel | 4.5 in (114 mm) |
Features
| | |
| --- | --- |
| Color/graphics | Black Smoke, Polished Bronze, Silver Quartz Smoke |
| Factory Warranty | 2-Years, Unlimited Miles |
| Gauges | Fairing-mounted instrument cluster including analog speedometer and tachometer including fuel gauge, odometer, range, and current gear. 15 LED telltale indicators; cruise control set, neutral, high beam, cruise control enabled, turn signal, ABS, check engine, low tire pressure, low fuel, battery, low engine, security system, oil pressure & MPH or km/h unit designation. |
| Infotainment | 7 inches touchscreen powered by RIDE COMMAND: The model year 2022 bikes include a complimentary 1-year trial for connected features from the bike sales date (after which fees apply). Seven in touchscreen display with a real-time clock; ambient air temperature; audio information display; heading; map/navigation including real-time traffic & weather; Bluetooth status for phone and headset; current ride data; trip meters; screen brightness; ride mode selection; vehicle trouble code readout; Apple CarPlay integration. |
| Lights | LED Headlamp / Tail / Brake / Turn Signal |
| Standard Equipment | 7 in Display powered by RIDE COMMAND including Navigation and Apple CarPlay integration; Power Windshield; Highway Bars; Driving Lights; Vinyl Rogue Seats; Adjustable Passenger Floorboards; Heated Grips; Tire Pressure Monitoring; 36.2 Gallons of Storage; Remote-locking Hard Saddlebags and Trunk; Selectable Ride Modes; ABS; Rear Cylinder Deactivation; Cruise Control; Keyless Ignition; 200 Watt Audio System including AM/FM, USB, Bluetooth, Smartphone Compatible Input, and Weatherband; 12V Charging Port |
Indian Roadmaster Dark Horse vs. Harley-Davidson Ultra Limited / Ultra Limited Low
The MoCo, like Indian architecture, is steeped in tradition from top to bottom. While both the Roadmaster and the Ultra Limited have similar front fenders and minimal Batwing fairings, the latter has a larger headlight and pimp lights placed on the handlebars, resulting in a more significant total amount of available light.
Since the Harley windshield is fixed and cannot be altered, the Indian has a distinct advantage in personalization and rider comfort. The same is true for the vents in the fairing, which are used elsewhere. Harley's fairing-integrated color TFT Boom! Box GTS entertainment system and heated handgrips are as much of a spectacle as Indian's Ride Command system. However, Indian yet again comes out on top since the Ultra Limited doesn't come with heated seats.
With its heated handgrips and Showa Dual Bending Valve forks at the back, H-D has a minor edge in the stems. The power produced by the handwheel-adjustable emulsion shock is not quite as much as the Thunder Stroke 116, but it is more than plenty for a touring bike.
Harley Davidson pulls ahead a bit in its electronics with Milwaukee
As a result of its joint efforts of these, eight 114 122 pounds of brute force are generated. As is customary with Harley bikes, the Roadmaster Dark Horse comes in a wide range of colors, each of which comes at a different price. Additionally, the bike comes standard with traction control and a Rain Mode, which helps to spread out the sticker price further.