Those who work with their hands are taught early on that they should never compromise on their equipment. Because of this, Honda's FourTrax Foreman ATVs are relied upon by so many individuals. It also helps that, like you, they put in just as much effort when having fun as they do when they're working. All three versions include a robust 518cc engine, sturdy front and rear racks, an easy-to-use reverse mechanism, a convenient utility box, and more. Every Foreman uses a swingarm rear suspension in this area since it is ideal for heavy labor or hauling. Are you on the lookout for a vehicle that has independent rear suspension? Check out our Foreman Rubicon models right here.
Honda 2021 FourTrax Foreman 4X4 Utility Quad Bike – Features and Specs
Power
A mighty 518cc engine powers the FourTrax Foreman, delivering plenty of horsepower and torque to the ground. As a result, the Foreman's general performance is improved, as well as his capacity to climb hills. With its overhead-valve, semi-dry-sump design, the Foreman's engine is not only lighter and more compact, but its lower center of gravity and higher ground clearance also helps it perform better.
Engineering
This single lever, included in our Electric Shift Program (ESP) model, is a significant step forward in terms of convenience and simplicity of use. Plowing snow, for example, requires frequent shifting from onwards to reverse. Flip the switch on the brand new electronic differential lock to enhance the amount of traction you have while you're driving in 4WD mode. When the diff lock is completely engaged, you'll be able to see it on the dashboard.
Allowing you to choose between lighter steering (in 2WD mode) and maximum traction (in 4WD mode) when you need it most, our rock-solid TraxLok system is an excellent choice. Honda's Electric Power Steering (on Honda Foreman EPS models) is speed- and torque-sensitive, so it's great for decreasing steering effort and kickback via the handlebars. In ruts, over rocks, or on lengthy sidehills, it's a tremendous assistance to have this. For the EPS unit, a specific mounting mechanism has been developed to enhance its structural integrity.
To make shifting easier, Honda offers an optional ESP system that combines push-button simplicity of upshifting and downshifting with traditional transmission strength. You may shift up or down by pressing one of two buttons on the handlebars. With no foot-shift lever, ESP comes in handy while cycling through slush or snow with heavy boots.
The Foreman's system has an oxygen sensor, improving fuel economy and reducing emissions. For best fuel economy, the ECU instantaneously changes the fuel injection programming to meet the riding circumstances. As a consequence, you'll be able to spend more time on the trail and save more money.
To ensure that our Honda engine operates at a more constant temperature and generates greater power, we use a liquid-cooled design. As a result, the engine's performance and lifespan are enhanced. Reducing friction in the drivetrain and increasing torque is achieved by placing the engine's crankshaft front-to-back rather than at an angle. Designed to protect the front axle and outboard CV joints of the Foreman, the driveshaft protectors are yet another example of Honda's meticulous attention to minor details.
Handling
Towing and hauling are more accessible with the Foreman 4×4 rear swingarm's solid axle. Its lengthy suspension stroke and soft seat let you tackle your favorite terrain or the most challenging jobs all day long in comfort.
Convenience
Racks for the Foreman have a broad flat surface and heavy-duty steel. They're also compatible with Honda's Pro-ConnectTM system. Accessories like our cargo boxes may be quickly and easily attached and removed without the need for any equipment. When the sun sets, you don't have to stop exploring or working. The vehile's powerful dual headlights well illuminate the work at hand. When it comes to the Foreman's physique, it's both aggressive and functional. There are no tools required to remove the tank and side coverings off this vehicle. That implies that the engine can be accessed quickly and easily.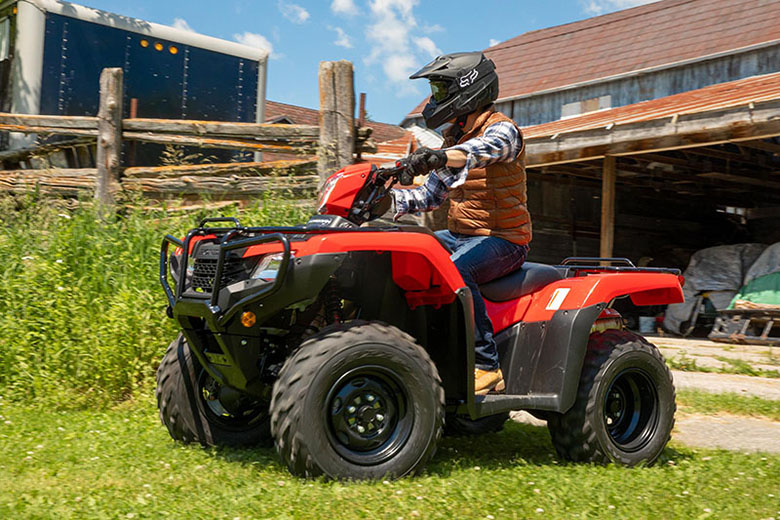 An additional clock, water temperature gauge, "maintenance minder," an indication for the electronic differential lock are all included in the Foreman's instrument panel. Everything you need to quickly grab your phone, GPS, or even an extra set of gloves fits neatly within this small, convenient case. Having a higher-output alternator means that the Foreman can handle more of your auxiliary power requirements.
Our discussion is centered on the Foreman's third headlamp, which rotates with the wheel. No matter where you're going, the lamp's 50 watts of electricity will keep you well-lit. The Foreman is ready to haul your stuff thanks to its front and rear steel cargo racks, which provide more flat surface area than those on previous versions.
Style
Despite the scratches and dents of the workplace or the woods, the bodywork of our Foreman models still gives these ATVs a robust appearance. Your Foreman will stand out from the crowd because of its clean lines, vivid graphics, and eye-catching color options.
Comfort
The suspension works in concert with a comfortable seat and an open rider triangle (bars/seat/pegs) to provide a luxurious riding experience. The Foreman is no exception to Honda's long-standing commitment to high-quality ergonomics. It's incredibly comfortable, thanks to its thick, soft foam.
Honda 2021 FourTrax Foreman 4X4 Utility Quad Bike – Price
The new Honda 2021 FourTrax Foreman 4X4 Utility ATV is available at $7,399 only.
Honda 2021 FourTrax Foreman 4X4 Utility Quad Bike – Technical Specifications
Engine
| | |
| --- | --- |
| Type | 518cc, liquid-cooled, OHV, longitudinally-mounted solo-cylinder four-stroke |
| Bore and Stroke | 96mm x 71.5mm |
| Induction | PGM-FI |
| Ignition | Full-transistorized type including electronic advance |
| Starter | Electric including optional auxiliary recoil |
| Compression Ratios | 9.5:1 |
Drive Train
| | |
| --- | --- |
| Clutch | Automatic |
| Transmission | Five-speed including Reverse |
| Driveline | Direct front and rear driveshafts having TraxLok and front differential lock |
Chassis Suspension Brakes
| | |
| --- | --- |
| Front Suspension | Independent double-wishbone; 7.28-inch of travel |
| Rear Suspension | Swingarm with solo shock; 7.28-inch of travel |
| Front Brakes | Dual hydraulic 190 mm disc |
| Rear Brakes | Sealed 160 mm mechanical drum |
| Front Tires | 25 x 8-12 |
| Rear Tires | 25 x 10-12 |
Dimensions
| | |
| --- | --- |
| Length | 82.8-inch |
| Width | 47.4-inch |
| Height | 48-inch |
| Wheelbase | 50-inch |
| Seat Height | 34.2-inch |
| Ground Clearance | 7.5-inch |
| Curb Weight | 636 pounds |
| Fuel Capacity | 3.9-gallon, including 1.3-gallon reserve |
| Turning Radius | 10.5 feet |
| Front Rack Capacity | 88 pounds |
| Rear Rack Capacity | 176 pounds |
Other
| | |
| --- | --- |
| Model ID | TRX520FM1 |
| Emissions | Meets current EPA CARB (California) off-road emissions standards. |
| Available Colors | Red, Olive, Honda Phantom Camo |
| Important Safety Information | Recommended for riders 16-year of age and older |
Factory Warranty Information
| | |
| --- | --- |
| One Year Included | Transferable, limited warranty |
| Optional Extended | Extended coverage available, including a HondaCare Protection Plan® |