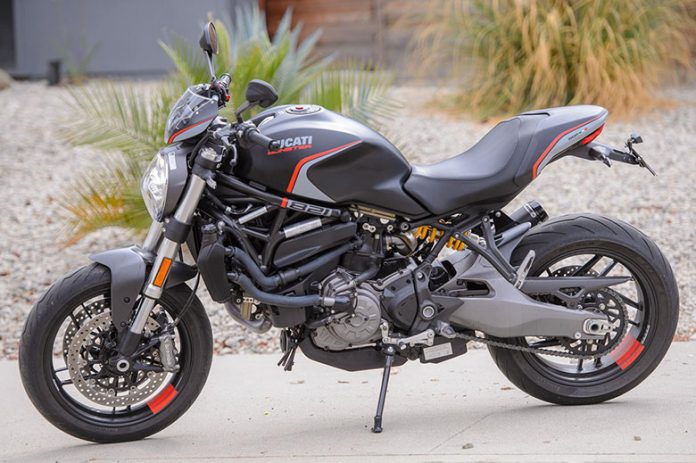 The Monster 821's design is defined by its proportions, profile, tank, and headlamp, which homage to the bike's original lines from 1993 while also adding a contemporary twist. An attaching hook is included on both the classic and new Monster tanks. The revised graphics and windscreen on the stealth edition of the Monster 821 give it a distinctive and recognizable look of its own.
2019 Ducati Monster 821 Stealth Naked Bike – Features and Price
Design
A "sport naked bike" has been reintroduced with the 821, following in the footsteps of the Monster 1200, but without radically altering the original motorcycle's looks. The tank has received a lot of attention, with a "lighter" and "more contemporary" appearance loyal to the original Monster from 1992. The traditional anodized aluminum connection clip also returns to emphasize these ties to the past further.
The Trellis subframe supports the passenger footpegs, separated from the rider's pegs by the short, compact, elegant tail. It allows riders to select their seat height to 785- or 810-mm. Sporty lines and improved ergonomics are achieved with this setup. Exhaust from the Monster 1200 R inspired the new Euro 4-compliant silencer.
The 821's circular headlamp is another distinguishing feature; it's high-tech but classic, and it's almost similar to the one seen on the Monster 1200. Ducati has been working on this model for 25 years now, and it's still going strong. What started as an off-the-shelf motorbike became a favorite for personalization and customization over two decades.
Engine
Power is provided by a twin-cylinder 821 cm3 Desmodromic Testastretta 11° engine intended to be a structural part of its chassis. At 9250 revolutions per minute, it produces 109 horsepower (80 kW) and 8.8 kilograms per minute (86 Nm) torque. It complies with Euro 4 standards. This engine has been designed to provide a wide range of torque, making it suitable for all riders and providing stunning excitement. Valve clearance only has to be checked every 30,000 kilometers (18,000 miles) on the Monster 821, making it both dependable and inexpensive.
The 821 cm3 twin-cylinder engine "breathes" through throttle bodies with Ride-by-Wire management. In addition, the secondary air system is used to optimize performance by minimizing combustion cycle dispersion without influencing emissions, and the engine is cooled by a concave radiator mounting two high-efficiency fans.
The Testastretta 11° engine's fundamental design strives to provide smooth power that is simple to control throughout the rpm range. With an 11° valve overlap angle, low-to-mid-range road riding rpm can produce a tremendous amount of energy.
Low effort cable lever control of the Monster 821's oil bath anti-patter clutch is standard. A self-servo system gradually increases the spring load. For frequent gear changes (such as in city traffic) and extended rides, the result is improved "feel" at the lever with the fingertip. The anti-patter feature is activated when the rear wheel produces back torque, reducing pressure on the clutch discs and preventing the back end from destabilizing during vigorous downshifting.
Designed for maximum power and economy, the Monster 821 exhaust system has a 50 mm cross-section and identical lengths for both cylinders. Each cylinder has its lambda sensor to ensure that fueling is both autonomous and precise. Catalytic converters assure compliance with Euro 4 requirements while an electronically controlled adjustment valve optimizes exhaust pressure across the rpm range in stacked twin silencers.
Frame
The Trellis frame is joined to the cylinder heads of the Monster 821's engine, which serves as a load-bearing element. The Panigale project was the first time a racing-derived idea was applied to a factory bike. By using oversized cross-section tubing, the motorcycle's frame becomes very light and compact while maintaining the high torsional stiffness needed to bring out all of the motorcycle's dynamic potential. Finally, the Monster 821 has a 1480 mm wheelbase thanks to its double-sided swingarm.
New footpeg struts for the passengers have been integrated into the rear seat-carrying subframe, which is also directly connected to the engine. Sport-style riding necessitates more flexibility of movement, and these pegs are removed from the riders to achieve this. Die-cast aluminum footpeg attachments for both the rider and passenger are used. Heel guards made of aluminum complete the Monster 821's sporty appearance.
Suspension
The Monster 821 has a 43 mm fork up front and a progressive linkage mono-shock in the back with spring pre-load and rebound damping adjustment. The shock absorber is mounted directly to the vertical cylinder head on one end and the die-cast aluminum double-sided swingarm on the other end of the suspension. Its nimble chassis shape and solid yet comfortable rest let the Monster 821 change direction quickly, making pure riding enjoyment accessible to everyone.
Tires and wheels
All-aluminum rims with Pirelli DIABLO ROSSOTM III tires in 120/70 up front and 180/55 at the back are standard on the Monster 821 motorcycle. The silica content in the rear bi-compound tire is exceptionally high. The grip is superb in dry and wet situations, resulting in excellent sport-style handling. Throughout their lifespan, DIABLO ROSSOTM III tires provide unrivaled performance and uncompromising quality.
Braking system
The Monster 821 has some of the best brakes on the market. 320 mm discs and a Brembo M4-32 4-piston monobloc caliper with an axial-pump brake lever with an integrated fluid reservoir are mounted up front. There is just one 245 mm disc in the back, which is held by a single Brembo caliper and uses enhanced efficiency sintered brake pads, as is the case with the front caliper. These parts provide excellent braking performance, which has long been a trademark of Ducati's.
Ducati Safety Pack (DSP)
The Ducati Riding Mode system is included in the Monster 821. Incorporating a 3-level ABS and an 8-level DTC, the DSP (Ducati Safety Pack) improves vehicle control and safety while enhancing performance.
Bosch ABS System
The Monster 821 comes standard with a Bosch 9.1MP ABS with an integrated pressure sensor to ensure 'monstrous' yet safe braking power. There are no compromises in stopping power or safety when using the Ducati Safety Pack (DSP).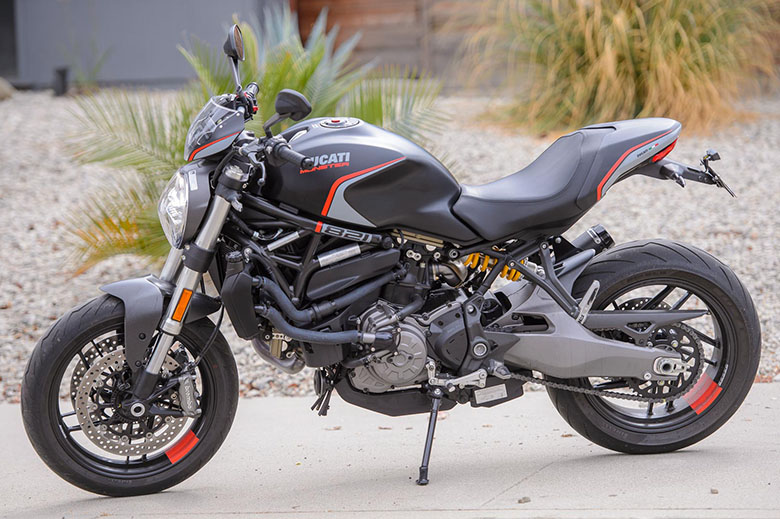 In conjunction with Riding Modes, the technology reduces stopping distances and improves rider stability. There is no rear lift-up prevention in system-level one however, in system-level 2, the same intervention is provided with modest rear lift-up protection. At level 3, braking stability and rear wheel lift-up avoidance are peaked.
Headlight and indicators
The Monster 821 has a strong halogen headlamp and LED "horseshoe" sidelights, standard on all Ducati naked motorcycles. The back of the vehicle is likewise equipped with LED illumination. When the left indicator switch is pressed for four seconds, it may be used to turn on the Monster 821's Hazard lights.
2019 Ducati Monster 821 Stealth Naked Bike – Price
The new 2019 Ducati Monster 821 Stealth Naked Bike is available for $11,995.
2019 Ducati Monster 821 Stealth Naked Bike – Technical Specifications
Engine
| | |
| --- | --- |
| Type | Testastretta 11°, L-Twin, Water-cooled, 4 Desmodromically actuated valves-per-cylinder |
| Displacement | 821cc (50.1 cubic inches) |
| Bore x Stroke | 88 mm x 67.5 mm (3.46 inches x 2.66 inches) |
| Compression Ratio | 12.8:1 |
| Power | 80 kW (109 hp) at 9,250 rpm |
| Torque | 86 Nm (8.8 kgm / 63 lb-ft ) at 7,750 rpm |
| Fuel Injection | Electronic fuel injection system, Ø 53mm throttle bodies, Full Ride-by-Wire |
| Exhaust System | 2-1 system, Two lambda probes, Stainless steel muffler having an aluminum end cap |
Transmission
Gearbox
Six-speed
Primary Drive
Straight cut gears, Ratio 1.85:1
Gear Ratios (1 – 6)
First: 37/15,
Second: 30/17,
Third: 28/20,
Fourth: 26/22,
Fifth: 24/23,
Sixth: 23/24.
Final Drive
Chain drive, Front sprocket Z15, and Rear sprocket Z46
Clutch
Slipper & self-servo wet multi-plate clutch including mechanical control
Chassis
| | |
| --- | --- |
| Frame | Tubular steel trellis frame linked to cylinder heads |
| Front Suspension | Ø 43mm USD fork |
| Front Wheel | 10-spoke light alloy, 3.5-inch x 17-inch |
| Front Tyre | 120/70 ZR 17 Pirelli Diablo Rosso III |
| Rear Suspension | Progressive linkage with adjustable mono-shock, Aluminium double-sided swingarm |
| Rear Wheel | 10-spoke light alloy, 5.5-inch x 17-inch |
| Rear Tyre | 180/55 ZR17 Pirelli Diablo Rosso III |
| Wheel Travel (Front/Rear) | 130mm /140mm (5.12 inch / 5.51 inch) |
| Front Brake | 2 x Ø 320mm semi-floating discs, radially mounted monobloc Brembo M4-32 calipers, 4-piston, axial pump with Bosch ABS as standard equipment |
| Rear Brake | Ø 245 mm disc, 2-piston caliper with Bosch ABS as standard equipment |
| Instrumentation | TFT color display |
Dimensions and weight
| | |
| --- | --- |
| Dry Weight | 180,5 kg (398 lb) |
| Wet Weight (No Fuel) | 195 kg (430 lb) |
| Seat Height | Adjustable 785mm – 810mm (30.91 inches – 31.89 inches) |
| Wheelbase | 1,480 mm (58.27 inches) |
| Rake | 24,3° |
| Trail | 93.2 mm (3.67 in) |
| Fuel Tank Capacity | 16.5 l (4.36 US gal) |
| Number Of Seats | 2 |
Standard equipment
Standard Equipment
Riding Modes, Power Modes, TFT color display, Ducati Safety Pack (Bosch ABS + Ducati Traction Control DTC), Ride-by-Wire, Passenger seat cover.
Up&down Quickshift (DQS), Anti-theft system, Ducati Data Analyzer (DDA) ready.
Warranty
| | |
| --- | --- |
| Warranty | 24 months, Unlimited mileage |
| Maintenance Service Intervals | 15,000km (9,000mi) / 12-month |
| Valve Clearance Check | 30,000km (18,000mi) |