The 2023 BMW R 1250 GS Powerful Adventure Motorcycle stands for fearless curiosity and a commitment to lifelong education. It's been a staple for four decades and yet manages to surprise with innovative new functions. Thanks to its revolutionary LED lighting design, it looks modern and provides excellent visibility. The adaptable and swiveling LED headlights ensure it. Seat heating and the seven riding modes will put you at ease no matter what the road conditions throw at you. This GS will allow you to learn as much as you want. You personify the GS ethos. The boxer engine in the 2023 BMW R 1250 GS mixes comfort and driving qualities to provide a one-of-a-kind experience, whether on extended travels or off-road. It is using cutting-edge technology to provide the best possible ride.
2023 BMW R 1250 GS Powerful Adventure Motorcycle – Features and Specs
Supreme boxer power for the International GS Trophy 2022 across Albania
Munich. From September 4-10, 2022, Albania will play host to the BMW Motorrad International GS Trophy. The magnificent Mediterranean shoreline is only some challenging terrain encountered throughout the race. This year, enduro riders worldwide will have access to one of 126 unique models of the R 1250 GS Trophy Competition, a bike designed just for the event. The country is still considered a top-secret destination for off-road adventures.
Superior thrust and power, as well as customized equipment for challenging adventures in the most difficult terrain
In 2020, the BMW F 850 GS competed in the International GS Trophy, but this year, BMW Motorrad will bring the R 1250 GS Trophy Competition, powered by a flat-twin boxer engine. The original gains improved power delivery, meatier torque, and more grip for the off-road sections that may be exceedingly challenging and require riding in low gear. The R 1250 GS Trophy Competition will set off on its seven-day voyage with several upgrades, including an exceptional two-tone paint job in Light white uni / Gravity blue metallic matt and GS Trophy stickers made just for this competition. This two-tone color scheme will also be offered on the R 1250 GS for the 2023 model year.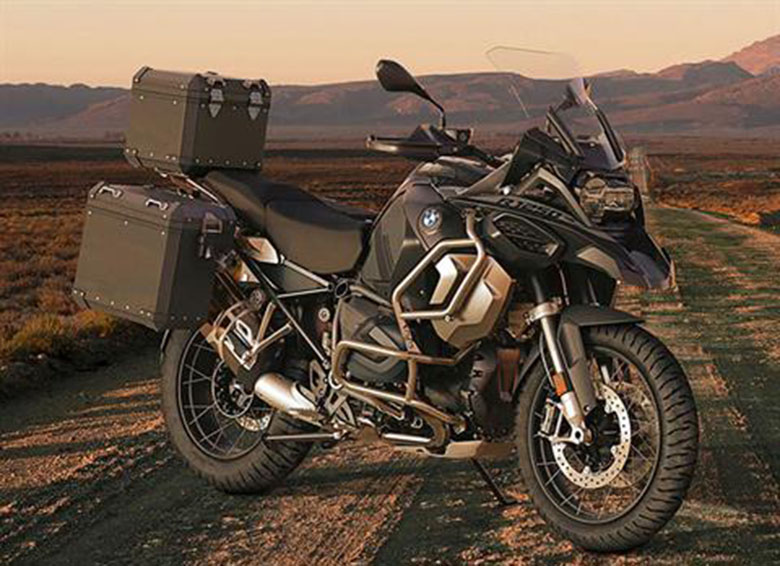 For example, this year's BMW International GS Trophy Competition Bike features a TFT display that is protected from damage caused by a fall and from falling rocks, as well as a sturdy enduro engine guard made of aluminum, a headlight protection guard, and particularly well-protected cylinder head covers. The R 1250 GS Adventure is equipped with adjustable gearshift and footbrake levers, as well as extra-sturdy enduro footrests, making it well-suited for rigorous off-road riding. The factory Karoo 3 tires on the cross-spoke wheels have been replaced with Metzeler Karoo 4 tires for improved grip in challenging terrain. The competition car has a sports windshield, a rally seat, and an Akrapovic rear silencer.
Small Tank Bag Adventure Collection as a practical companion during long exhausting riding days
The new Adventure Bag Collection includes a small tank bag perfect for storing tools, spare parts, and even a few snacks for the road, making it ideal for the contestants in the International GS Trophy. Because of its attachments, it may serve as a saddlebag for the R 1250 GS Trophy Competition. A waterproof inner bag, water-repellent, lockable two-way zips on the main compartment, a zippered lid pocket, and a cable opening for a charging wire to the inside are just some of the features of the Small Adventure Collection Tank Bag.
Equipped For Any Purpose
Your time on the R 1250 GS may be as short as a few rapid turns or as long as a few minutes, depending entirely on your preferences. Transport you safely, energetically, and luxuriously along any route with its cutting-edge technology and equipment.
The Right Mode for Every Adventure
Whether on dry pavement, wet grass, or unpaved gravel, the R 1250 GS's seven riding modes provide maximum grip and control. You may pre-select up to four different riding modes in the menu while the vehicle is stopped and then effortlessly switch between them by clicking the riding mode button. By preventing the rear wheel from slipping or jerking, the new dynamic engine brake control in the Pro riding modes improves bike stability and ease of management. More so than in previous versions, the new standard ECO Mode maximizes fuel efficiency.
See and Be Seen
Perfect illumination for all of your curves Adaptive headlights automatically switch on when the vehicle is tilted and illuminate curves optimally based on the vehicle's gradient and payload, significantly enhancing driver and passenger safety and comfort. The multifunctional rear LED flashing turn indicators increase both visual impact and safety.
Performance, Efficiency, Control
The R 1250 GS's boxer engine is a sight out of the box. Its character is shown over the whole engine speed range, from low to high, thanks to its remarkable performance and improved smoothness at low rotational speeds. BMW's ShiftCam variable camshaft management allows for more powerful torque generation over the whole engine speed range, giving the rider more control in any riding situation. As a result, you'll have more muscle and speed at your disposal at all times. The strong pull and few gear changes give you more freedom of movement. It makes the combatant's intensity much more apparent.
2023 BMW R 1250 GS Powerful Adventure Motorcycle – Price
The new 2023 BMW R 1250 GS Powerful Adventure Bike is available at $17,995 only.
2023 BMW R 1250 GS Powerful Adventure Motorcycle – Technical Specifications
Engine
| | |
| --- | --- |
| Type | Four-stroke flat twin engine, Air/liquid-cooled, DOHC, one balance shaft & variable engine timing system BMW ShiftCam. |
| Bore x stroke | 102.5 mm x 76 mm |
| Capacity | 1,254 cc |
| Rated output | 136 HP at 7,750 rpm |
| Max. torque | 105 lb-ft at 6,250 rpm |
| Compression ratio | 12.5: 1 |
| Fuel preparation | Electronic intake manifold injection |
| Emission control | A regulated three-way catalytic converter |
Performance/fuel consumption
| | |
| --- | --- |
| Maximum speed | over 124 mph |
| Fuel type | Premium Unleaded |
Electrical system
| | |
| --- | --- |
| Alternator | Three-phase generator with 510 Watt nominal power |
| Battery | 12 V / 11.8 Ah |
Power transmission
| | |
| --- | --- |
| Clutch | The wet clutch with an anti-hopping function, hydraulic activation |
| Gearbox | Constant-mesh 6-speed gearbox with helical gear teeth |
| Drive | Shaft drive |
Chassis/brakes
| | |
| --- | --- |
| Frame | Two-section frame, front- and bolted-on rear frame, load-bearing engine |
| Front-wheel location/suspension | BMW Motorrad Telelever; stanchion diameter 1.5″ (37 mm), central spring strut |
| Rear wheel location/suspension | Cast aluminum single-sided swing arm including BMW Motorrad Paralever; WAD strut (travel-related damping), spring pre-load hydraulically adjustable (continuously variable) at handwheel, rebound damping adjustable at handwheel |
| Suspension travel, front/rear | 7.5″ / 7.9″ (190 mm / 200 mm) |
| Wheelbase | 59.6″ (1,514 mm) |
| Caster | 4.0″ (100.6 mm) |
| Steering head angle | 64.3° |
| Wheels | Cast aluminum wheels |
| Rim, front | 3.00 x 19" |
| Rim, rear | 4.50 x 17" |
| Tire, front | 120/70 R 19 |
| Tire, rear | 170/60 R 17 |
| Brake, front | Dual disc brake, floating brake discs, diameter 12.0″ (305 mm), 4-piston radial calipers |
| Brake, rear | Single disc brake, diameter 10.9″ (276 mm), double-piston floating caliper |
| ABS | BMW Motorrad Integral ABS Pro (part-integral, slant-layer-optimized) |
Dimensions/weights
| | |
| --- | --- |
| Seat height | 33.5″ / 34.3″ (850 mm / 870 mm) |
| Inner leg curve | 1,870 mm / 1,910 mm |
| Usable tank volume | 5.2 gallons |
| Reserve | Approx. 1.1 gallons |
| Length (over mudguard) | 86.9″ (2,207 mm) |
| Height (over windshield) | 56.3″ (1,430 mm) |
| Wide | 37.5″ (952.5 mm) |
| Unladen weight, road ready (fully fuelled) | 549 lbs (249 kg) |
| Permitted total weight | 1,025 lbs (465 kg) |
| Payload (with standard equipment) | 476 lbs (216 kg) |