In honor of Guzzi's centennial, a special edition v9 Bobber was created with a green Otto cylindrical front guard and aluminum side covers, as well as 100th-anniversary emblems and logos, a commemorative seat, and an alloy silver fuel tank.
The Bobber's wheels are a whopping 16 inches in diameter, and its tires measure 150 sections in the back and 130 sections up front. In keeping with the Bobber aesthetic, it has extensive blackouts, flat handlebars, and a lower front end than the V7, as well as bigger wheels. As you can see in the tech breakdown down below, there are several changes, the most significant of which being the upgraded engine.
2022 Moto Guzzi V9 Bobber Centenario Classic Motorcycle – Test Ride
To think that I last rode a Moto Guzzi in 2015 is absurd. In 2015, I rode and reviewed the V7 Stone, and it was a bike that I immensely loved. Though entertaining to ride, the Stone's lack of speed made it one of the slowest bikes I've ever encountered. The recent update to a more powerful motor is so appreciated.
V9 Bobber's transverse twin originates in V85 TT. The engine has been fine-tuned to produce 47.8kW at 6800 rpm and 73Nm at 5000 rpm, with over 80% of that torque available at 3000 rpm.
When painted in Centenarian livery, the V9 Bobber becomes an even more handsome miniature cruiser. Some buyers will be able to rationalize the high cost since it is a high-quality product that is still created in Italy (you could almost buy an Interceptor and a Continental GT for the same price and they are very similarly decked out). The V9 exudes Italian flair and craftsmanship throughout. It was made with care and attention to detail and grabs attention.
You can't go wrong with this small cruiser, the V9. As well as using it as my daily commute for two weeks, I also managed to sneak in a full day loop from my Central Coast home, via the Old Pac, and on to Palm Beach by way of the National Parks. The cycle took me four hours round trip, covering slightly over 300 kilometers one way. I can't think of any other Robber-styled cruiser that I could ride for that long without becoming bored. I'm a big guy (187 centimeters). Therefore the V9 Bobber is comfortable to ride.
The bike is relatively small. The V9 may weigh in at a heavy 210 kg when fully loaded, but it has the sensation of a much lighter machine, especially for a cruiser. Since the engine's cylinders are in front of the rider's legs, the small tank has little effect on the rider's leg position. With a 785mm seat height and mid-mount foot pegs, the reach is natural, and the rider triangle is big and relaxing; even the stand is within easy reach.
One thing that worries me is how close the gear lever end is to the footpeg. For someone with a somewhat average foot size (a size 11), shifting gears was a challenge. If there is a torque demand on the gearbox, the gear lever will not return from the second gear. It may be very hazardous and an annoyance to deal with. If you don't want to have to roll off and shift twice, read on.
The engine is a work of art with more personality than any other vehicle in 2022. Like many Moto Guzzi products, this exciting duo requires some time to appreciate fully, but once you do, there's no going back. It starts gently but picks up the pace and a confident tone as it continues. There is no jerkiness in the fueling, and the acceleration from a stop is robust. The 853cc 90-degree twin in the V9 Bobber provides a ton of excitement once you get to 3500rpm.
It will not set any records at the drag strip, but it fits the bike well and is surprisingly fast for its size. You'd never guess. The lack of storage space beneath either seat (not even for phones and wallets) discouraged me from convincing Heather to go for a ride, so I can't speak to how it would fare with a pillion and baggage.
The clutch is easy to use, the gas pedal feels natural, and the gearbox is generally fluid, except for the sticky second gear return problem. There is an optimal amount of engine braking available, which does encourage some torque response from the crank and the shaft drive, but this should not be cause for alarm.
Compared to other cruisers, the V9 Bobber's handling is superb; in fact, I'd go so far as to say it's the greatest of its kind. The suspension system is the deciding factor here. Significantly few cruisers can go on rough terrain like this one. The 40mm conventional forks are almost perfect, providing a smooth ride over rough roads and urban pavement while providing enough support during hard braking and on the slippery stuff when going for it.
However, the dual shocks in the rear are likewise well-suited to the task at hand; I did not find it necessary to modify them in any way except by adding a few millimeters of preload. Very little resistance is felt while pushing forward vigorously, which is impressive given the unstrung weight of the shaft drive and rear wheel.
When the footpeg. Hero blobs touch down somewhat early on, you can feel the sturdy geometry and the broad rubber, but with a bit of additional body English, it reacts effectively. Those D404 Dun lops aren't my favorite either since they tend to overheat and get loose in the twistiest, as well as follow road imperfections, which makes for weaving on the highways. Other choices may exist, but I can't guarantee their superiority.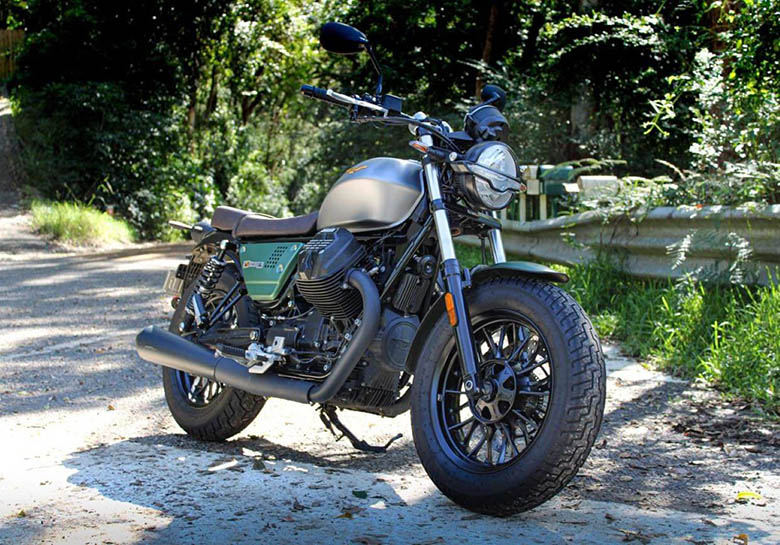 The V9 Bobber is easy to bring to a stop. The Bobber only has one front disc, but the vast (260mm) disc and quality Brembo calipers make up for it. You'll need to apply some force to the handlebars and shouldn't anticipate MotoGP handling, but they'll do the job and the anti-lock brakes will keep you safe. I took the test with the rear traction control set to L1 and cannot say whether or not it kicked in.
The core of the bike, the transverse pushrod V-twin, is such a jewel; I got very fond of the V9 Bobber. It's the engine, the lifeblood of the bike, the part that makes it seem like it's moving. The V9 Bobber is an exciting and enjoyable motorcycle due to its unique design and charming character. If you're in the garage to buy a cruiser or a naked bike, I highly recommend trying one out, but I wouldn't settle for a quick spin around the block since they're so out there. The cost is considerable, but if you want it, you may not mind paying a little more for it.
2022 Moto Guzzi V9 Bobber Centenario Classic Motorcycle – Tech
The V9 is powered by a 90° transverse, air-cooled, V-twin engine with a push rod and rocker valve train and two valves per cylinder (intake cylinders in titanium). A constant 853cc is achieved by maintaining the V9's diameter and stroke dimensions at 84 x 77mm. With a claimed maximum output of 47.8kW@6800rpm and a substantial 73Nm@5000rpm, this engine is Moto Guzzi's most advanced to date. Due to updated push rods, cams, and new technology, the unit now produces higher torque at low and medium rpm.
New for 2022, the V9 Bobber has a seat with a pared-down aesthetic, aluminum side panels, and a shorter front mudguard. The upgraded model now has an entirely new digital instrument cluster and a comprehensive LED lighting system, highlighted by a new front headlamp that has daytime running lights. The Moto Guzzi MIA multimedia system, which allows you to sync your smartphone with the bike, is sold separately.
The new frame has been designed to provide riders with a consistent sense of mastery. Front suspension is taken care of by 40mm hydraulic telescopic forks, while the back is handled by a dual swing arm with two adjustable shocks, spring preload alone. The front and rear brakes are of stainless steel; the show uses a 320mm floating disc with four-piston Brembo radially mounted calipers, while the rear has a 260mm floating disc with two pistons.
2022 Moto Guzzi V9 Bobber Centenario Classic Motorcycle – Price
The new 2022 Moto Guzzi V9 Bobber Centenario Classic Motorcycle is available at $19,330.
2022 Moto Guzzi V9 Bobber Centenario Classic Motorcycle – Technical Specifications
General
| | |
| --- | --- |
| Colours | Nero Essenziale |
| Kerb weight | 210kg |
| Fuel capacity | 15L |
| Power | 47.8kW@6800rpm |
| Torque | 73Nm@5000rpm |
Engine
| | |
| --- | --- |
| Type | 853cc four-stroke, Transversal 90 degree V-twin, 2-valves per cylinder, 84 x 77mm bore x stroke, 10.5:1 compression, EFI 52mm single throttle body, Ride by wire. |
| Gearbox | Six-speed, shaft drive |
| Clutch | Dry single disc |
Chassis
| | |
| --- | --- |
| Frame | Steel tubular |
| Suspension | 40mm hydraulic telescopic fork. Twin-sided swingarm with two adjustable shocks for spring preload. |
| Brakes | 320mm stainless steel floating disc Brembo four-piston caliper, single 260mm rear brake twin-piston caliper. |
| Wheels & Tyres | Aluminium 130/90-16, 150/80-16 |
Dimensions
| | |
| --- | --- |
| Wheelbase | N/A |
| Seat height | 785mm |
| Ground clearance | N/A |
| Instruments | LCD Dash |