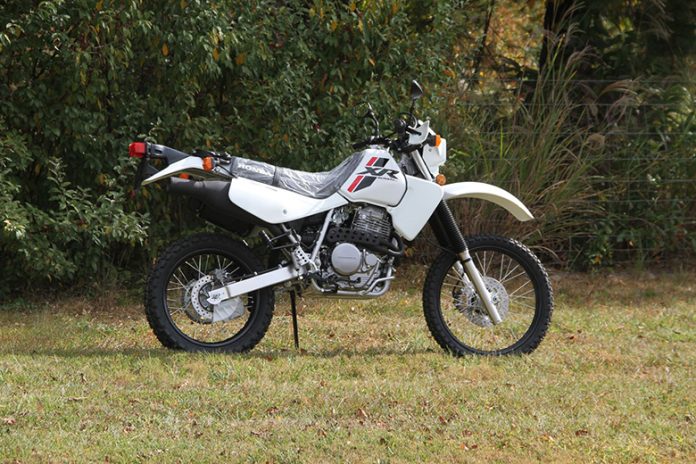 Yes, the XR650L has been a part of Honda's range for a long time, but there's a reason why the tried-and-true dual-sport model remains popular with consumers. The XR650L is highly flexible, allowing for adventure on single-track trails, gravel roads, and backroads while providing adequate city mobility. As a consequence of these qualities, as well as a rich Baja tradition, the model has a devoted following of riders, who will be glad to learn that the model has got an attractive update for the new 2022 Honda XR650L Powerful Dual Sports Motorcycle.
No matter how rugged the road or trail, everyone knows that a Honda XR650L is the bike you can always rely on. The 644cc air-cooled single-cylinder engine, the sturdy steel frame, and the long-travel suspension are all rough, uncomplicated, and tried and true. Electric starting makes getting started a breeze, as do restarts in uneven trail portions. It's totally street-legal and spacious enough to transport a person. While the 2022 XR650L remains as robust as an anvil, it now sports a new, fresh, modern style owing to a complete visual update. The black rims complement the black seat, tool bag, and fork gaiters; the white-on-white bodywork is ultra-clean; and the new tank graphics honor the 650's Honda XR history. The XR650L has never looked better, whether you're riding it for off-road excursions or as the perfect post-apocalyptic commuter.
2022 Honda XR650L Powerful Dual Sports Motorcycle – Features and Specs
Engine / Drivetrain
The Radial Four-Valve Combustion Chamber (RFVC) provides excellent power output and combustion efficiency. The 42.5mm CV carburetor provides precise throttle response, superior readability, and maximum power. The dependable electric starter technology provides for simple push-button starting. A gear-driven counterbalance reduces annoying and tiresome vibration.2-into-1 free-flowing exhaust system with USDA-qualified spark arrester/muffler. The maintenance-free automatic cam-chain tensioner and the maintenance-free CD ignition with electronic advance keep you on the road and out of the shop. Dry-sump engines provide more power by reducing crankshaft wind age and engine temperature. A rugged five-speed gearbox offers gear for every on- or off-road circumstance—a heavy-duty clutch with many plates. #520 O-ring-sealed drive chain is a heavy-duty, low-maintenance option.
Chassis / Suspension
Colors and graphics inspired by Honda Racing. The semi-double-cradle steel frame is lightweight, robust, and provides accurate handling. The Showa 43 mm cartridge fork has a 16-position compression damping adjustment and excellent off-road performance. Rear suspension with Pro-Link®. Aluminum box-section swing arm that is lightweight, sturdy, and durable, with a quick-detach rear wheel. Front and rear disc brakes offer excellent stopping force. Wheels that are both light and robust. Passenger footrests are installed on the frame for two-up riding. Front and rear aggressive dual-purpose tires provide excellent on- and off-road performance—18-inch rear wheels for more tire options. Straight-pull spokes are used on lightweight rims and hubs. Cool air is directed to the engine via a combination headlight/number plate and twin airflow shrouds. High/low beams are available on this endure-style headlamp.
The motocross-style seat is comfortable and enables the rider to move freely. Large, long-lasting fenders keep debris off the rider. Engine guard made of lightweight tubular steel. Footpegs with a wide section, foldable design, and cleated surface are pleasant and self-cleaning. Turn signals placed on flex are resistant to fracture.Tripmeter/odometer, neutral light, high-beam, turn-signal, and side-stand indicators are all included in this compact speedometer. Comfortable grips and brush guards are features of high-quality controls. A one-year, unlimited-mileage limited warranty is transferable; extended coverage is available with a Honda Protection Plan. Meets current CARB and EPA regulations. Because of emissions equipment, the California version changes somewhat.
Four-Stroke Engine
The XR650L's four-stroke, single-cylinder engine is fuel efficient and has a broad power band. Furthermore, its tried-and-true powertrain needs relatively minimal maintenance.
Disc Brakes
Superior stopping power is provided by front and rear disc brakes. The front and rear disc rotors are drilled for weight reduction and improved wet-weather performance.
Electric Starter
Adventure is just a button press away. The XR650L's electronic starter eliminates the drama of starting off-road, starting on a chilly morning or starting the bike after sitting all week.
Street-Legal Features
Turn signals, license plate lights, mirrors, speedometers, and other features make this vehicle ready for the road. There's also a passenger grab strap and foot pegs.
Passenger Ready
With a passenger grab strap, foldable passenger pegs, a long MX-style seat, and lots of Honda power, the XR650L makes it simple to transport a passenger.
Sealed Battery
Even in the event of an off-road tip over, there will be no maintenance issues. The sealed battery provides ample cranking power for the electric starter and is well-insulated from off-road vibrations.
Dry-Sump Lubrication
The dry-sump design of the XR engine keeps the engine small and removes the oil pan for improved ground clearance and damage resistance. Furthermore, with the engine oil in the frame, the framework is a giant oil cooler.
BLACK RIMS In line with the XR650L's sleek new style this year, we've given it black rims front and rear. It's remarkable how much cleaner the bike looks with these, particularly when matched with the black fork boots, seat, and tool bag.
18-Inch Rear Wheel
The 18-inch rear wheel provides a better overall ride and additional sidewall protection against flats while allowing you to choose between on- and off-road tires.
21-Inch Front Wheel
The 21-inch front wheel provides various tire options for different riding circumstances.
Long-Travel Front Suspension
The air-adjustable 43mm fork has 11.6 inches of travel and 16-position compression damping adjustment, allowing you to fine-tune it to cope with the bumps of off-road riding.
Pro-Link® Rear Suspension
The Honda Pro-Link® rear suspension technology provides a compliant and pleasant ride with excellent wheel control. Initial rates are soft to provide flexible action over tiny bumps and ripples, while rising stiffness resists bottoming and maintains rear-wheel control on more demanding terrain.
Steel Frame
The steel frame of the XR650L is built to withstand the rigors of off-road touring. Furthermore, the frame's backbone functions as the engine's oil tank, reducing weight and space.
2022 Honda XR650L Powerful Dual Sports Motorcycle – Price
The new 2022 Honda XR650L Powerful Dual Sports Bike is available at $6,999 only.
2022 Honda XR650L Powerful Dual Sports Motorcycle – Technical Specifications
Engine
| | |
| --- | --- |
| Type | 644cc air-cooled, dry-sump, single-cylinder four-stroke |
| Valve Train | SOHC; 4 valve RFVC |
| Bore x Stroke | 100mm x 82mm |
| Compression Ratio | 8.3:1 |
| Induction | 42.5mm of diaphragm-type CV carburetor |
| Ignition | CD with electronic advance |
| Starter | Electric |
| Transmission | Five-speed |
| Clutch | Multiplate wet |
| Final Drive | #520 O-ring sealed chain; 15T/45T |
Suspension
| | |
| --- | --- |
| Front | 43mm air-adjustable leading-axle Showa cartridge telescopic fork with 16-position compression damping adjustability; 11.6 inches travel |
| Rear | Pro-Link Showa single shock with spring preload, 20-position compression damping and 20-position rebound damping adjustability; 11 inches travel |
Brakes
| | |
| --- | --- |
| Front | Single 2-piston hydraulic caliper with 256mm disc |
| Rear | Single 1-piston hydraulic caliper with 220mm disc |
Tires
| | |
| --- | --- |
| Front | 3.00-21 |
| Rear | 4.60-18 |
Measurements
| | |
| --- | --- |
| Rake (Caster Angle) | 27° |
| Trail | 102 mm (4.0 in.) |
| Length | 86.2 in. |
| Width | 33.7 in. |
| Height | 49 in. |
| Seat Height | 37.0 in. |
| Ground Clearance | 13.0 in. |
| Wheelbase | 57.3 in. |
| Fuel Capacity | 2.8 gal., incl. 0.6 gal. reserve |
| Curb Weight | 346 lbs. |
Other