Be impulsive. Explore urban areas once again. While moving, staying connected. The updated Ride by Wire 2022 BMW C 400 X Scooter. A mode of transportation plus. Thanks to optional BMW Motored Connectivity, you can dominate city traffic while listening to your audio. Your city is your field of play. You have been "Plugged to Life."
2022 BMW C 400 X Scooter – Features and Price
Choose your color
The 2022 BMW C 400 X Scooter exudes a sense of sporting personality. The numerous color options also reflect this. Jarring or understated? Which color option are you choosing?
Style Sport with Black Storm Metallic 2/Racing Blue Metallic Matte Paintwork; this vehicle is nimble, quick, and agile. Silver Storm Black 2 The primary color is excellent and vibrant, with a matching black and grey seat. Metallic granite gray subtle clarity: The athletic design is highlighted by the granite grey metallic finish.
Agile and with a strong character
The 2022 BMW C 400 X Scooter is agile thanks to its design. Narrow lanes, heavy traffic? The trim panel components' proposed V-shape gives every line vitality and agility, giving the impression that the scooter is light and elegant. With its lofty proportions, provocative front-wheel cover, sizable, asymmetric headlights with full-LED technology, and an optional horizontal, Y-shaped LED daytime riding light, the vehicle's strong GS history is evident everywhere.
Highlights
Enhanced ASC ensures stable traction on slick or rainy road conditions. An athletic windshield shields you from the weather while you go through metropolitan areas. Single-cylinder internal combustion motor fulfills the Euro 5 criteria and has no trouble driving in any alley. LED headlights with a riding light for the day the optional, Y-shaped daytime riding light makes the front end seem sportier and is reminiscent of GS models. There is a USB charging port in the storage area. It ensures that the smartphone has enough power, ensuring you never run out of battery in a city. BMW Motorcycle integration with many controllers. Making phone calls, playing music, and using GPS are all options. The smartphone and scooter are connected. Utilize the multi-controller on the handlebars to operate features. You are riding the wire. The new Ride provides a better and smoother throttle response with Wire electromotive throttle controller. Flex case with better illumination. When parked, enjoy a ton of storage space that is wonderfully lit from the top.
Relaxed trips
Are you commuting in a busy city stressful? Not you; you will see your urban surroundings from a fresh angle with the 2022 BMW C 400 X Scooter. Vibration-free, stable ride on the straight and in the turns. Dry road surface? ASC optimization ensures enough traction and improved power transfer. After work gathering with friends? When parked, the Flex case may be stretched to provide you with plenty of storage space. Helmets and gloves are conveniently stored. Do you want to leave again on your own? Simply climb up. The key may remain in your pocket if Keyless Ride is chosen as an option.
Networked mobility
You, your smartphone, and your 2022 BMW C 400 X Scooter. You all operate as a team thanks to the furthermore accessible BMW Motored Connectivity. What music is appropriate for traveling around cities? When you're on the go, do you ask your buddies where they are? What is the shortest way to the meeting place? Choose and quicken. Utilize the multi-controller for simple access to all features. While moving about, you remain #PluggedToLife.
Made for urban environments
Quick maneuvering. Swift at intersections. Gliding in motion. The C 400 X's single-cylinder combustion engine was designed for metropolitan areas. Thanks to the innovative Ride by Wire electromotive throttle controller, it always responds with excellence. Even at low speeds, it reacts to riders twisting the throttle lever smoothly. As soon as the traffic lights turn green, you start moving. The engine complies with the latest Euro 5 requirements while enjoying straightforward riding.
Equipped for you
Now it's up to you to customize the 2022 BMW C 400 X Scooter with a wide range of extra features and genuine BMW Motored optional accessories. We recommend that you allow yourself to be inspired.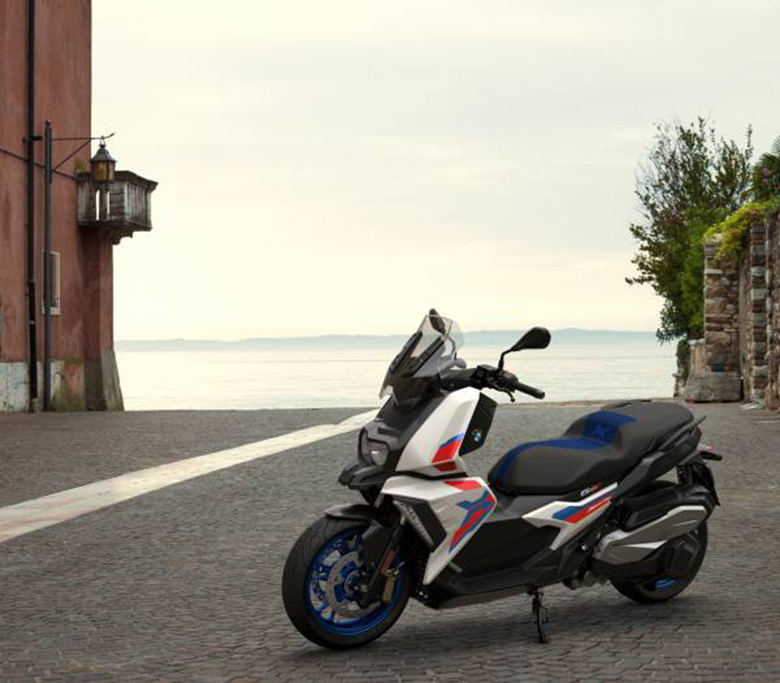 Sufficient Storage Space – Black Collection
Carry everything you need with you: the new Black Collection bags provide you with the room you need. They may be expanded or deflated for storage, and they are waterproof. Additionally, the redesigned bags now suit a variety of BMW Motored vehicles for the first time.
2022 BMW C 400 X Scooter – Technical Specifications
Engine
| | |
| --- | --- |
| Type | Water-cooled, four-stroke engine featuring four valves-per-cylinder, single-cylinder, overhead camshaft with rocker, and wet-sump lubrication |
| Bore x stroke | 80 mm x 69.6 mm |
| Capacity | 350 cc |
| Rated output | 25 kW (34 PS) at 7,500 rpm |
| Max. torque | 35 Nm at 5,750 rpm |
| Compression ratio | 11.5: 1 |
| Mixture control | Electronic intake pipe fuel injection/digital engine management: BMS-ME with e-throttle grip |
| Emission control | The closed-loop 3-way catalytic converter compliant with EU-5 emission standards |
Performance / fuel consumption
| | |
| --- | --- |
| Max. speed | 139 km/h |
| Fuel consumption/100 km based on WMTC | 3.5 l |
| CO2 emissions, according to WMTC | 81 g/km |
| Fuel type | Unleaded petrol (RON 95/90 AKI, max. 15% ethanol, E15); country-specific activation of OE 639 (RON 91, max. 15% ethanol, E15) |
Electrical system
| | |
| --- | --- |
| Alternator | Permanent magnet generator with 316 W |
| Battery | 12 V / 9 Ah, maintenance-free |

Power transmission
| | |
| --- | --- |
| Clutch | Centrifugal dry clutch |
| Gearbox | Stepless CVT gearbox |
| Drive | Two-step spur gearing |
Chassis/brakes
| | |
| --- | --- |
| Frame | Steel tube construction with aluminum die-cast unit |
| Front-wheel location/suspension | Telescopic fork with 35 mm diameter |
| Rear wheel location/suspension | Double aluminum swingarm, adjustable preload, double spring struts |
| Suspension travel, front/rear | 110mm / 112mm |
| Wheelbase | 1,565 mm |
| Castor | 81 mm |
| Steering head angle | 63.6° |
| Wheels | Aluminum cast wheels |
| Rim, front | 3.50 x 15" |
| Rim, rear | 4.25 x 14" |
| Tyre, front | 120/70 R15 |
| Tyre, rear | 150/70 R14 |
| Brake, front | Double disc brake, rigid, diameter 265 mm, 4-piston calipers |
| Brake, rear | Single disc brake, diameter 265 mm, 1-piston floating caliper |
| ABS | BMW Motorrad ABS |
Dimensions / weights
| | |
| --- | --- |
| Seat height | 775 mm |
| Inner leg curve | 1,762 mm |
| Usable tank volume | 12.8 l |
| Reserve | 3 l |
| Length (over mark carrier) | 2,210 mm |
| Height (over windshield, at unladen weight) | 1,305 mm |
| Width (incl. mirrors) | 835 mm |
| Unladen weight, road ready, fully fuelled | 206 kg (dry weight: 195 kg) |
| Permitted total weight | 405 kg |
| Payload (with standard equipment) | 199 kg |