The all-new 2019 Kawasaki W800 Café Classic Motorcycle has a striking resemblance to the iconic 1966 W1 model. The original W1's spirit inspired the renowned Kawasaki Z1 and Ninja H2TM. Trailblazers who love the throaty sound of classic performance may ride on the W800 CAFE, which has been modified to preserve the W1's genuine character. The 773cc retro air-cooled vertical twin engine has a lot of low- and mid-range power and torque. Clean emissions and quick starting are all benefits of modern fuel injection. When downshifting, Assist and Slipper Clutch give a softer lever feel and a back-torque limiting feature to decrease rider strain and wheel hop. A café-racer-style front cowl helps deflect wind while enhancing the retro look of the motorcycle. M-shaped handlebars contribute to a forward-leaning stance ideal for both leisurely rides and interstate travel.
2019 Kawasaki W800 Café Classic Motorcycle – Features and Price
Engine and Transmission
There is plenty of low-mid range performance and torque on the 2019 Kawasaki W800 Café Classic Motorcycle, thanks to its 773cc air-cooled, fuel-injected, SOHC, vertical twin-engine design. When it comes to low- and mid-range torque, the engine uses a hefty flywheel. Precision distribution of gasoline, pure emissions, and quick starting are all provided by the fuel injection system. With two 34 mm throttle bodies, the air box is connected to the pistons in a direct line. Low- to mid-range performance is boosted by long, narrow intake funnels. Sub-throttles are also used to guarantee that the engine responds to the driver's command and limit noise emissions. It was decided to use a bevel gear cam drive and a SOHC four-valve per head design to deliver widespread, responsive power. With a five-speed gearbox, there is a gear for any situation.
Straight lines and smooth curves make up the nostalgic style of the classic muffler. With long tailpipes and thin chambers, the bike's peashooter-style silencers add to its iconic aesthetic. Parallel-twin engines are known for their throaty exhaust notes thanks to their mufflers. The vertical dual 360-degree crankshaft design, which was also employed in Kawasaki's original W1, was brought out in full force by the twin mufflers, which were meticulously adjusted to put forth a roar with each twist of the throttle.
2019 Kawasaki W800 Café Classic Motorcycle's air-cooled twin was designed to generate a visually appealing power plant. The retro-styled engine is light, fun, and easy to look at. The iconic bevel-gear-driven cam enhances the cylinder head's aesthetic appeal while also adding to the vintage feel and look of the engine. The W800 CAFE's silver bevel-gear cover highlights the engine's distinctive appearance and lends a sense of luxury. The fuel injection components have been discretely hidden, resulting in a tidy engine compartment. Combining the engine's rich look and character with its powerful bottom-end responsiveness enhances the timeless joy of riding a vintage motorbike.
Assist & Slipper Clutch
A race-inspired Assist & Slipper Clutch completes the drivetrain, providing a light lever feel and back-torque-limiting functionality. It is noticeable by the lighter pull on the clutch lever that helps decrease rider fatigue in stop-and-go traffic.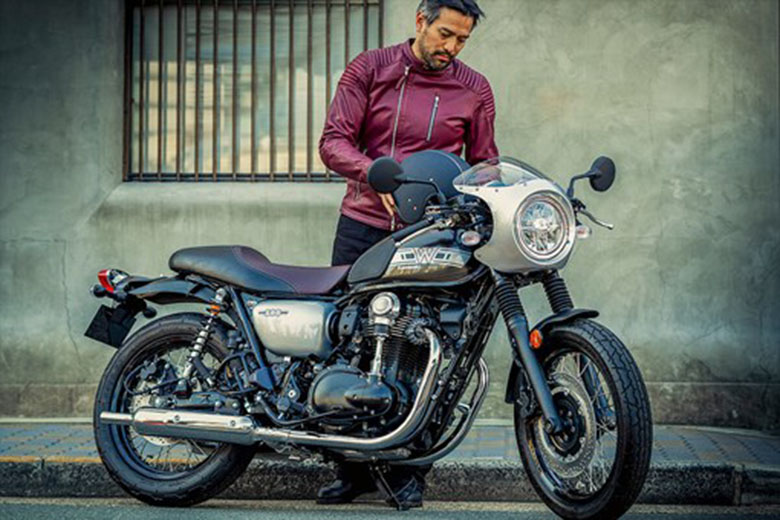 When downshifting too quickly or accidentally, the slipper function is activated, causing the engine to brake excessively. As a result of the slipper cam, which separates the clutch hub and operating plate to alleviate clutch plate pressure and prevent back-torque, the rear wheels will no longer hop or skid.
Chassis
However, despite its similarity to its predecessor, the double-cradle frame design is entirely different. For optimal performance, Kawasaki's dynamic analysis software was used to establish the precise stiffness of each piece of tubing in the new design. Pipe diameters were kept constant while thicknesses were modified as needed.
The 2019 Kawasaki W800 Café Classic Motorcycle's 50 mm square-section backbone provides a highly stable ride and well-balanced overall design thanks to the double-cradle frame construction. Retro-inspired round-down tubes were selected to go with the 50 mm square-section spine. For better aesthetics and less weight, the number of gussets and brackets was kept to a minimum. With few welds and gussets, the high-quality look of the round tubes is enhanced. Improved handling and reduced weight are achieved by using a swing arm with a high degree of rigidity.
Suspension
The 2019 Kawasaki W800 Café Classic Motorcycle has a big diameter front fork with firm springs, robust bottom triple-clamp, and powerful twin shocks to suit the new, more rigid frame. The result is a classic look with contemporary handling.
On well-traveled city streets, the 41mm tubes with a telescopic front fork effectively absorb up bumps. A smooth ride and a tidy appearance are provided by the dual spring preload-adjustable rear shock absorbers.
Brakes & Wheels
A sophisticated ABS-equipped disc brake package handles the 2019 Kawasaki W800 Café Classic Motorcycle's braking responsibilities. A front disc with a 320 mm diameter and a rear disc with a 270 mm diameter provide robust and rapid stopping power.

The 2019 Kawasaki W800 Café Classic Motorcycle has 18-inch wheels on both the front and rear axles to keep the vintage look and feel of a genuinely classic motorcycle while providing powerful yet composed handling. The metal rims are very corrosion-resistant. Dirt and filth may be easily wiped off the spokes and nipples thanks to a coating applied to them. Tube-type tires provide traditional tread patterns and lots of traction.
Ergonomics
The dynamic, forward-leaning riding posture of the W800 CAFE makes it suitable for a wide variety of riding scenarios and activities. Clubman-style handlebars, with their "M"-shaped design, encourage a somewhat forward-leaning posture. Comfort and visibility are prioritized, yet a forward lean is still possible at highway speeds thanks to the vehicle's optimal riding posture. For added convenience, the W800 CAFE comes with a sleek, two-person cafe seat. A five-position adjustable clutch lever and four-position adjustable front brake lever have been added to the W800 CAFE for improved rider comfort.
Styling
The 2019 Kawasaki W800 Café Classic Motorcycle has an original authenticity and timeless beauty uncommon to find on current bikes because of its stunning vertical twin-engine, traditional proportions, and thorough attention to detail.
The 2019 Kawasaki W800 Café Classic Motorcycle's chassis is simple, practical, and elegant in its design. Classic proportions are maintained with large diameter, spoked wheels, and a steel double-cradle frame. In addition to being an important design feature, the gasoline tank's angular shapes make it a focal point.
The 2019 Kawasaki W800 Café Classic Motorcycle has a cafe-racer-style front cowl that adds to the motorcycle's vintage look. The W800 Cafe has a 170 mm LED headlight with a brilliant white light that blends classic and current styling. It has six chambers, four for low-beam and two for high-beam, with six cavities. You may get a retro-style bulb headlight look by positioning bulbs in high-beam chambers. Small features such as the convex lens and chromed headlight ring were selected for their high-quality and timeless look. Rubber gaiters on the front fork protect the fork tubes and extend the life of the fork seals while enhancing the classic look and feel of the bike. Tight turn signals give your vehicle a unique look right out of the box. Simple, clean lines on the front and rear fenders go well with the W800 CAFE's black engine and wheels, giving it a classic vibe. A modular rear fender makes it easier for riders to personalize the vehicle.
2019 Kawasaki W800 Café Classic Motorcycle – Price
The new 2019 Kawasaki W800 Café Classic Motorcycle is available at $9,799 only.
2019 Kawasaki W800 Café Classic Motorcycle – Technical Specifications
Engine
| | |
| --- | --- |
| Type | 4-Stroke, SOHC, 4-Valve Cylinder Head, Air-Cooled, Vertical-Twin |
| Displacement | 773cc |
| Bore and Stroke | 77mm x 83mm |
| Maximum Torque | N/A |
| Compression Ratio | N/A |
| Fuel Injection | DFI® including Dual 34mm Keihin Throttle Bodies (2) |
| Ignition | TCBI with Digital Advance |
| Transmission | 5-Speed with Positive Neutral Finder |
| Final Drive | Sealed Chain |
Chassis
| | |
| --- | --- |
| Rake/Trail | N/A |
| Front Wheel Travel | N/A |
| Rear Wheel Travel | N/A |
| Front Tire Size | 110/90-19 |
| Rear Tire Size | 130/80-18 |
| Wheelbase | N/A |
| Front Suspension | 41mm Hydraulic Telescopic Fork |
| Rear Suspension | Dual Shock with Adjustable PreLoad |
| Front Brake | Type Single 320mm Disc including 2-Piston Caliper |
| Rear Brake | Type Single 270mm Disc |
| Fuel Tank Capacity | N/A |
| Seat Height | N/A |
| Curb Weight | N/A |
| Warranty | 12-month |
| Kawasaki Protection Plus | 12-, 24-, 36-, or 48-month |