The 2019 FourTrax Rancher Honda Utility Quad Bike is one of the best and multi-performance bikes ever. If you are in search of best quad bikes, then you should come directly to this fourtrax rancher by Honda brand. All the Honda Rancher features the latest generation 420 cc, liquid-cooled, single-cylinder engine with fuel injection.
Furthermore, it has two-and four-wheel drive system, separate Rear Suspension, and a swingarm/solid-axle according to the desire of riders. It contains the Standard manual transmission and most demanding feature Electric Shift Program, innovative and advanced Automatic Dual-Clutch Transmission (DCT) with the facility of Electric Power steering. The review of 2019 FourTrax Rancher Honda Utility Quad Bike with its price and features are given below.
2019 FourTrax Rancher Honda Utility Quad Bike – Features and Price
Engineering
The 2019 FourTrax Rancher Honda Utility Quad Bike comes with an advanced technology i.e., Automatic Dual-Clutch transmission that provides durable internals, quick shifts, and exceptional control with satisfying braking features.
Moreover, it has a system that makes shifting easier for perfect riding. The rider can enjoy ease and reliability in push-button changing through this great feature by Honda engineers i.e., Electric shifting program. The rider only has to press one button to upshift and one button to downshift. Also, a rider will receive a genuine compression braking for better speed control when riding in steep terrain.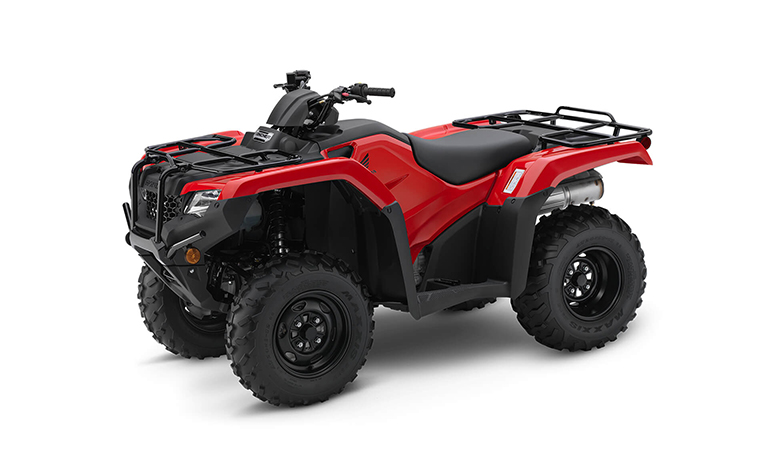 The digital instruments of new 2019 FourTrax Rancher Honda Utility Quad Bike are designed with many exclusive features that include standard gear position indicator, speedometer, odometer, trip meter, and hour meter. The rider will receive all kinds of information like fuel level, clock, water temperature, speed, and Honda's "maintenance minder" system that helps in reminding when its time for service.
These Honda Rancher models come with the disc brakes for a powerful braking force better than 2018 Honda FourTrax Rancher Utility Quad Bike. The crankshaft is placed front to back in the framework of ATV and side-by-side with engines. The engineers have routed the flow of power straight to the wheels without needless right-angle detours, reducing the powertrain friction and putting more grunt to the ground for smooth movement.
The 2019 FourTrax Rancher Honda Utility Quad Bike features the Compact and lighter-weight, overhead-valve semi-dry-sump design that creates an engine that's shorter from top to bottom. It assists in improving handling by reducing the engine center of gravity plus it delivers much-improved ground clearance. Shaft drive is brilliant for this quad bike, and it is very beneficial, convenient, clean, and outstanding. You don't be concerned about lubrication and another adjustment on the trail plus it also keeps the ATV clean. This ATV allows the rider to choose either from 2WD or 4WD to have superb riding pleasure.
Performance
Thanks to the latest Programmed Fuel Injection (PGM-FI) that features the 34mm of the throttle body, new 12-hole Denso injector, and an oxygen sensor that helps a direct adjusting fuel mapping in every riding situation. This Honda beast not only guarantees to have a trouble-free operation in the cold, but it also reduces emissions and enhances fuel efficiency.
Handling
The 2019 FourTrax Rancher Honda Utility Quad Bike features the Rancher Automatic DCT with an Independent Rear Suspension (IRS) system containing over 8 inches of travel and 9 inches of clearance. It gives two advantages. First, it provides continuous tire connection with the road for better friction. Secondly, it provides the smoother ride, so the rider doesn't get disturbed on the trail. The reverse lever is straightforward to use.
This quad bike is comfortable and very to be used. It features electric power steering that reduces bump steer plus it lessens the steering effort in situations of rocks, woods, and sidehills. The new rear swingarm incorporates an enclosed, solid-axle design for power and solidity. When you need to pull a heavy load, the swingarm removes rear suspension squat as the weight is placed on the axle itself, not on the rear shock.
Comfort
The new 2019 FourTrax Rancher Honda Utility Quad Bike contains a plush seat and open rider triangle for rider's easiness. The Honda brand always gives much importance to have a better ergonomics. It is very comfortable with soft and relaxing foam.
Check out the latest Accessories and Spare Parts of 2019 FourTrax Rancher Honda Utility Quad Bike.
| | |
| --- | --- |
| Buy Now | Buy Now |
| | |
2019 FourTrax Rancher Honda Utility Quad Bike – Price
The new 2019 FourTrax Rancher Honda Utility Quad Bike is available with a price of $5,349.
2019 FourTrax Rancher Honda Utility Quad Bike – Technical Specifications
Engine
| | |
| --- | --- |
| Engine Type | 420 cc, liquid-cooled, fuel-injected, OHV wet-sump longitudinally mounted single-cylinder four-stroke |
| Bore and Stroke | 86.5 mm x 71.5 mm |
| Induction | Keihin® 34 mm throttle-body fuel-injection system |
| Starter | Electric with an optional auxiliary recoil |
| Compression Ratio | 9.9:1 |

Drive Train
| | |
| --- | --- |
| Clutch | Automatic |
| Transmission | Five-speed with Reverse |
| Driveline | Direct rear driveshaft |
Chassis
| | |
| --- | --- |
| Front Suspension | Independent double-wishbone; 6.69 inches of travel |
| Rear Suspension | Swingarm with single shock; 6.69 inches of travel |
| Front Brake | 190 mm Dual hydraulic disc |
| Rear Brake | 160 mm Sealed mechanical drum |
| Front Tire | 24 x 8-12 |
| Rear Tire | 24 x 10-11 |

Dimension
| | |
| --- | --- |
| Length | 82.8 inches |
| Width | 47.4 inches |
| Height | 46.2 inches |
| Wheelbase | 49.9 inches |
| Seat Height | 33.7 inches |
| Ground Clearance | 7.2 inches |
| Curb Weight | 573 pounds |
| Fuel Capacity | 3.9 gallons, including 1.3-gallon reserve |
| Turning Radius | 9.2 feet |

Other
| | |
| --- | --- |
| Model ID | TRX420TM1 |
| Emissions | Meets current EPA off-road emissions standards |
| Available Colors | Red, Olive |
| Note | No operator under age 16. Honda recommends that all ATV riders take a training course and read their owner's manual thoroughly. |
Factory Warranty Information
| | |
| --- | --- |
| One Year | THis Honda ATV features transferable limited warranty; extended coverage available with a Honda Protection Plan |

Conclusion
This review article provides the full review of 2019 FourTrax Rancher Honda Utility Quad Bike, and it is covered under bikescatalog.com. This quad bike features the powerful and high performing engine that ensure to deliver the best riding pleasure of all times. Those riders who want to use this utility bike for their daily farm work should purchase it. It's quality suspension gives an outstandingly smooth ride on all kinds of surfaces. Moreover, the rider can easily take the luggage with him. The clean shaft-drive don't require any regular maintenance.