Electric vehicles are still in their infancy; let's face it. Especially electric motorbikes. It is possible to argue that they should only be used as a luxury choice or as a weekend toy, not as primary transportation or for long-distance travel. Many factors are holding them back. Despite their outrageous price tags, they are useless for long-distance or emergency travel due to their poor range and long charging times. Not to mention that they use expensive replacement batteries whose mineral components, such as lithium and cobalt, are extracted from the world's most exploited countries with devastating environmental impacts.
Additionally, child labor and hired labor play a significant role in the unethical extraction of these minerals. But there's no denying that electric cars, and especially motorcycles, are becoming more and more popular and have a lot to offer. They dramatically change some of the most physically intense aspects of riding: there are no more screeching engines, gear shifting is gone, and full power is instantly available. Depending on your perspective and experience level, this can be a pro or a con. Three companies are currently at the forefront of this technology: Zero vs Livewire vs Energica.
Zero vs Livewire vs Energica – Brand Comparison
Energica Bikes Have The Best Range
Any electric vehicle, primarily one as small as a motorcycle, is powered by its battery. There is no need to overcome the fact that these motorcycles have a shorter range and require more frequent and longer charging than filling the gas tank. An electric bike's range and speed must also be balanced because the faster you go, the shorter your range, which will affect whether you're commuting, road-tripping, or racing. Even weather can play a more significant role than regular motorcycles. Performance, both in terms of range and speed, can be significantly affected by cold conditions. After considering everything, the question is which business performs best?
Among the three, Energica offers the fastest and average longest-range motorcycles. Each Energica model can travel up to 261 miles in the city, but that number drops to 160 miles overall and about 130 miles on the highway. It's pretty disappointing that the LiveWire One can only travel 146 miles in the city, 95 miles altogether, and 70 miles on the road. For that matter, you couldn't even travel from San Diego to Los Angeles or from Richmond to Washington, DC, without stopping for an hour to charge. Such a journey would be possible for Energicas, but it would be challenging and could be seriously uncomfortable. There's no direct comparison as Zero has a wide range of bikes, from bare road to sport to dual sport, but suffice it to say none of them could complete the trip without stopping. The Zero SR, with a range of 169 miles in the city, 112 miles overall, and 84 miles on the highway, is the closest alternative to the LiveWire One from the Zero in terms of range.
LiveWire Offers The Fastest Charge
If you're not familiar with the latest electrical terminology, charging can be a complicated topic. A battery does not charge from empty to complete at the same rate. Instead, it slows down as it fills. Energicas can be recharged up to 80% in 40 minutes with a DC fast charger in mode 4; a full recharge takes three and a half hours or eight hours using an AC charger in mode 2 or 3 at 240 V. may The top-of-the-line Energica and Zero bikes are outperformed by the LiveWire One, which can charge up to 100 percent in an hour while matching the Energica's 80% charge rate after 40 minutes. If you are considering riding one of these electric motorcycles, you should familiarize yourself with more information. The Zero SR/S achieves 95 percent of its "best charge" in one hour.
Energica offers the Best Quality.
They should perform well on the road, one would expect, given that each is sold at a much higher price than the best sportbikes available. Again, of the three manufacturers, Energica bikes are the fastest. Energica Ego RS has a top speed of 150MPH and can reach 60MPH in 2.6 seconds. The maximum rates for Energica's other bikes are 125 mph for the Eva Ribelle and EsseEsse9 and 112 mph for the Experia, though they're likely capable of more.
The LiveWire One and Zero SR/S have top speeds of 110 and 124 MPH respectively. Other models from the two manufacturers perform less well. Many of Zero's other bikes range from 85 MPH on their FX to 104 MPH on the SR, while the LiveWire S2 Del Mar can reach 100 MPH. Since there are no gears to shift thanks to the electric motors, all that speed is available upfront. It can be unpredictable and dangerous, but if you get used to it, it's also practical and thrilling. Along with the chassis itself, other aspects should be taken into consideration. Each brand includes forks from some top manufacturers, from Marzocchi 43mm adjustable forks on the Energica Ego to Showa SFF-BP forks on the One and SR/S models.
2023 Zero Motorcycles SR/S
With its updated and upgraded MY22 SR/S sportbike, Zero Motorcycles is at the forefront of the rapidly expanding EV motorcycle sector. It retains its sporty looks but backs it up with a more efficient drivetrain and surprisingly quick recharge periods. It's all managed by the all-new Cypher III+ operating system, ready to accept downloadable performance upgrades that let you tune it without ever picking up a wrench.
The form should always follow function, as would be confirmed with all high-quality street vehicles like the Zero SR/S, yet the state is always attractive. This Zero looks more than ever like it could fit with a pack of smoker bikes.
A small front fairing mounted on the front wheels and a large sportbike scoop that doubles as a chin fairing at the bottom make up the primary body construction of the front end. To increase the performance of this mod by 13% over its bare sport siblings, foil-shaped front fender uprights channel the slipstream into a laminar flow around the cowling for reduced drag.
Maybe the factory has touched too closely to traditional sportbike styling. Front turn signals are look-and-stick devices prone to damage if dropped due to their exposed location. While I agree that the thin standoffs are probably a practical look and it's probably best that they don't stick out from the front fairing, I don't particularly like how the mirrors extend. Unfortunately, mirrors are almost as exposed as blinkers and prone to sustaining damage in the slide.
2023 Zero SR/S Chassis
The frame of the Zero SR/S sees a change in trellis design, with tubular primary members and smaller diameter webbing for strength and protection of drivetrain and powerpack components. The SR/S is firmly on the "combined" end of the spectrum as it has 24.5-degree of rake and 3.7-inch of trail, giving it the suppleness and willingness to turn that sport riders crave.
Zero took suspension accessories from the top shelf. The whole trinity of adjustments is provided by a set of 43mm Showa forks that provide 4.72 inches of travel. Additionally, these forks feature separate Big Piston functions, dividing the spring preload and damping tasks between the two for mutual benefit. With 5.51 inches of travel in the rear, a 40mm Showa piggyback shock offers the same three adjustments and can withstand road shock before damaging your kidneys.
Similarly to the nobility, the anchors are two J-Juan four-bore calipers that bite the 320mm front disc. At the rear, a 240mm disc and single-cylinder binder handle the job, all overseen by the Bosch Advanced MSC function, which comes standard and helps keep the machine clean. To meet the rigors that the bike and rider will put on them, symmetrical, 17-inch wheels mount Pirelli Diablo Rosso III in a 120/70 profile with 180/55 fronts rated for 168+ mph. has been done
2023 Zero SR/S Drivetrain
Zero initially made it clear that its bikes would come with a choice of drivetrain components and features, and the SR/S is no different from its standard and premium packages. With a staggering 140 pound-feet of grunt accessible as soon as you're on a roll—no need to accelerate to get the stuff—and a direct drive clutchless/shift with twist-and-go operation. The lace action enables top speed and maximum torque to be consistent across the board. A decent horsepower of 110 ponies is fully developed at 5,600 rpm.
Typically, you can set up for a minimum of 77 miles at interstate speeds or stretch to a long-legged 227 city miles based on several factors, including charge time and maximum ranges. The motor is a Z-Force 75-10 AC air-cooled unit powered by an internal permanent magnet. To extend range, a 900 Amp, three-phase alternating current controller transfers kinetic energy from drag torque as it decelerates into electrical energy before metering it back to the motor.
Chargers have the same options as power packs. More storage capacity is an option if the range is your priority, but if you need a quick change, you can configure your system for a full charge time of less than an hour. I have to say, it's just the kind of performance the EV bike market needs. However, to be fair, zero is overly optimistic, so these numbers should be viewed more as guides than absolutes. The rear wheel is linked to the drive motor via a quiet, low-maintenance belt drive.
2023 Zero SR/S Competitor
There are plenty of EV bikes available today, but few can match the Zero in its market. Italian automaker Energica and its first EGO model line stand out as an example.
EGO Energica
Energica took its bodywork further to hide the 'electric goodies under the hood, leaving the EGO looking even more like a smokin' bike. Same with the rest of the bodywork which adds a more athletic Italian look to the mix. Let's face it, the real rub here is how performance, range and charge timelines stack up, so let's get to that.
Credit where it's due, the Energica brings its "A" game with a whopping 171 horsepower (max/moment) and 149 horsepower sustained vs. 110/140 from zero. The range is 261miles in the city, 123miles on the highway, and 153miles overall.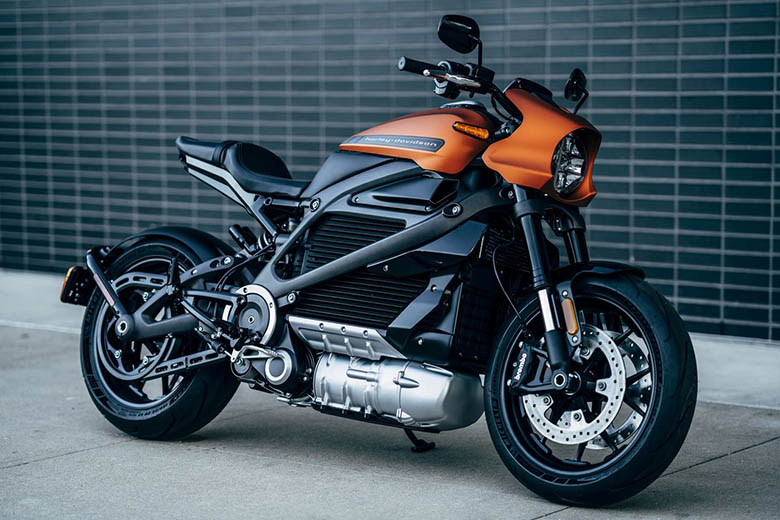 The i-Ti's top speed is limited to 150 mph to give it more top end, not that 124 mph isn't already fast enough for public roads. Regardless of the grade, the EGO's Park Assist feature makes it easy to get in and out of your parking space. However, you'll have to pay $23,870 for those extras, leaving a large chunk of change unclaimed at the register.