When Honda's CB750, often regarded as the world's first superbike, debuted in Japan, was showcased in the UK at Brighton and then went on sale shortly after, motorcycling as we knew it was forever transformed.
The CB was redefined what a big bike could be, with four cylinders, 68bhp, a world-first disc brake, and, crucially, a price nearly half that of the British and European competition. In doing so, it both opened the floodgates to the successive 'Japanese invasion' from famous Kawasaki, Suzuki, and Yamaha and sounded the death knell for the British motorcycle industry.
The Honda four wasn't the only game-changer; other bikes, such as BMW's first adventure bike, the R80G/S, from 1980, or the GPZ900R from 1983, set the standard for current superbikes, have also had a significant impact. Alternatively, how about the R1 or the GSX-R750?
In reality, there are many of them, so many that we had to leave a number of them out while deciding on a Top 10. Is there no Ducati 916? Isn't that blasphemy? Maybe it is, and perhaps it isn't. That is totally up to our readers to decide.
However, here are our Top 10 game-changing motorcycles, listed in chronological order. Without them, life would not have been the same.
Top Ten Pioneering Bikes that Changed the Motorcycle World – Top Rated
1972 – Kawasaki Z1 900
The bike solidified the four-cylinder superbike in Japan.
Although Honda's CB750 was the first, it was probably more crucial for paving the way for its superbike successor, Kawasaki's Z1 900 of 1972. When the CB750 was launched in the late 1960s, Honda's Japanese rival was also working on a four-cylinder 750, prompting Kawasaki to shift course.
Despite a 'gentleman's agreement' between Japanese manufacturers to limit capacity around 750cc, they decided to go as big as possible within the current casings, with a 66mm x 66mm bore and stroke bringing ccs up to 903.
The result, aided by the use of double-overhead-cams (DOHC) versus Honda's SOHC design, was a CB-crushing 81bhp, the Z1 becoming the most influential Japanese motorcycle ever and the new superbike king (and would remain so until Suzuki's GSX1100 in 1980), and the bike and engine layout that all-comers tried to emulate.
1973 – Ducati 750 SuperSport
Without this bike, the Ducati V-twin superbike craze would never have taken off. No 851, 916, and Panigale.
Many people are unaware that until 1973, Ducati was best renowned for its sporting, sub-350cc desmodromic singles, notably the Scrambler series, which was especially famous in the American beach racer scene and went on to influence today's current retro roadster family.
1975 – Honda GL1000 Gold Wing
The bike that gave birth to the contemporary full-dress tourer.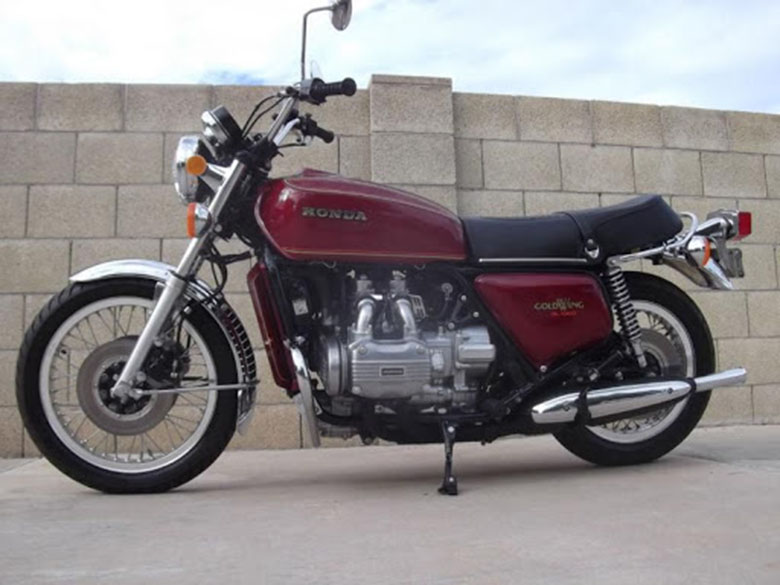 Whether you mock them or admire them, 'full-dress' tourers, complete with bespoke full fairings, sumptuous long-distance comfort, masses of luggage capacity, and more gadgets and gizmos than you can shake a big stick at, would not exist, at least not in their current form, without the appearance of Honda's original Gold Wing, the famous four-cylinder GL1000, in 1975. (Yes, Harley-ElectraGlide Davidson's tourer debuted in 1965 and was available with the optional "BatWing" fairing from 1969, but it was a much cruder and less sophisticated machine.)
1980 – Yamaha RD350LC
The first 'racing replica' that inspired a generation – and extinguished the 250 learners!
The story of the iconic 'Elsie,' celebrating its 40th anniversary this year, has been told many times, yet its significance and reverence are as powerful as ever.
The new Yamaha was designed to replace the air-cooled RD250/400 stroker and was influenced by the company's TZ racers of the time, featuring liquid cooling (thus the name), mono-shock rear suspension, and white paint with blacked-out mechanicals. But that was only the beginning.
1980 – BMW R80G/S
The bike that started the whole adventure biking craze.
It may be difficult to believe, but BMW was a mere shadow of the behemoth it is now — at least in terms of motorcycles – in the late 1970s. BMW's then line-up of boxer twins was aged, unexciting, and pricey, despite the pioneering, faired R100RS of 1976, which received fame in the hands of Ian Ogilvy's The Saint and bike-mad TV funnyman Dick Emery.
1983 Kawasaki GPz900R
This bike was the way for modern superbikes.
No motorbike is as significant in building the basis of a current superbike, neither Suzuki's GSX-R750 (below) nor Honda's FireBlade or Yamaha's EXUP, as the fantastic GPz900R by Kawasaki of 1983 is.
With almost 40 years to go back, it is hard to remember the essential 'sea change' event symbolized by the Ninja's introduction. It was like a journey through time, just like that. In 1980, the leading benchmark was Suzuki's new GSX1100, which had the same air-cooling, twin shocks and naked steel tubes that all motorcycles used to have since the 1950s, despite a new four-valve, "Twin Swirl" Heads.
1985 – Suzuki GSX-R750
The full-sized replica of the first racer.
Much has been written on numerous occasions about the original GSX-R750: a racer replica that took the philosophy of a lightweight and refurbished engines to the streets, not least of us here. Simply put: current sport bikes can easily be more flubbed, softer and, well, slower without the aluminum-framed, lightweight, oil-cooled, compact and race-style and proportionate GSX-R.
Not all were simultaneously conceived. Suzuki developed its aluminum box section frames with RG250 in 1983, influenced by its RG500 GP machinery. The brilliance of the first GSX-R750 instead was part of the overall concept, which realized the benefits that would come to street riding through the borrowing of track riding expertise and the widespread use of Suzuki the XR69 GS1000 powered endurance racer as a model.
1987 – Ducati 851
The bike that propelled sports Ducatis into the present day.
It may seem blasphemous not to include the classic Ducati 916 on this list, but the bike's grandfather, the original 'Desmoquattro,' is far more important to us. Simply put, without the 851, the 888, 916, and other numbers would not exist. Ducati might not have entered the modern superbike era at all if it hadn't been for the 851.
It's worth noting that the Italian automaker was still battling to enter the modern era in the mid-to-late 1980s. However, once Cagiva purchased the company in 1985, a program to modernize and develop its athletes began. Massimo Bordi was the brains behind the liquid-cooled, four-valve, fuel-injected Desmo V-twin, an engine that was as far removed from the old air-cooled, belt-drive Pantah unit it replaced as a Formula One car is from a Ford Fiesta.
1992 – Honda CBR900RR Fireblade
The FireBlade, of course, is in here – how could Honda's rule-breaking game-changer not be?
Honda's daring newcomer, like the GSX-R750 seven years before, changed the concept of the sports bike. The difference this time was that it was not just racetrack-light, but also 600-class compact and manageable.
Instead of pursuing class-leading speed by continually increasing power, even if the result (GSX-R1100 anyone?) was ungainly, overlarge, and possibly terrifying FireBlade head designer, Tadao Baba tirelessly pursued lightweight, tiny proportions, and racer-style quick handling.
1998 – Yamaha R1
Many years have gone by, and there have arguably been equally substantial advancements in the following 20+ years – not least including electronic rider aids, incredible power increases to now far more than 200bhp, the introduction of aero winglets, fancy TFT instruments, and so on. However, you can disagree with those.
The original R1 remains, in our opinion, one of the most significant motorcycle advancements. It was Yamaha's long overdue retaliation to Honda's game-changing 1992 FireBlade. While it followed a similar low weight/small dimensions pattern, by delivering revolutionary power simultaneously, it resulted in a motorcycle that simply took superbike performance to the next level.
Top Ten Pioneering Bikes that Changed the Motorcycle World – Top List
| Sr. # | Year | Top Ten Pioneering Bikes that Changed the Motorcycle World |
| --- | --- | --- |
| 1 | 1972 | Kawasaki Z1 900 |
| 2 | 1973 | Ducati 750 SuperSport |
| 3 | 1975 | Honda GL1000 Gold Wing |
| 4 | 1980 | Yamaha RD350LC |
| 5 | 1980 | BMW R80G/S |
| 6 | 1983 | Kawasaki GPz900R |
| 7 | 1985 | Suzuki GSX-R750 |
| 8 | 1987 | Ducati 851 |
| 9 | 1992 | Honda CBR900RR Fireblade |
| 10 | 1998 | Yamaha R1 |
Conclusion
In the end, team Bikes Catalog would love to say that our list offers the best motorcycle known for its impressive features. These motorcycles are known for their styling, extraordinary and high-performing engines, and excellent speed.