Unlike other motorcycles, adventure bike models are more common on roads and trails. Heritage motorbikes of various sizes and shapes are still in high demand, and most manufacturers have combined the two categories into heritage adventure bikes. While other manufacturers have given their newly created adventure bikes a vintage flair, Honda has taken a different route. Instead of making an Africa Twin with an '80s theme, they've given us a full-on cafe racer built from Africa Twin parts. It's an unusual strategy but one that, in our opinion, works quite well because they avoided the need to design a unique concept bike and instead offered something ready for production. Find out the Top Ten Interesting Facts about Honda Hawk 11 Café Racer.
Top Ten Interesting Facts about Honda Hawk 11 Café Racer – Top Rated
Africa Twin Engine
A parallel twin to the beloved Africa Twin is at its core. It is not a bad thing as it has proven to be reliable and relatively cheap to maintain.
No specifications have been provided, but we expect them to keep the tuning in place, which means it will produce around 100 horsepower. Performance upgrades will probably be left to the aftermarket.
Not A Sportbike
The wheels, suspension, and rear swingarm are all from the NT1100 touring bike, while the engine and frame are from the Africa Twin Adventure Cycle.
While it should be slightly lighter due to its better power-to-weight ratio, both bikes share components that weigh close to 500 pounds wet. As a result, don't expect much real-world performance.
Neo-Sports Café Racer
It will be an excellent addition to the two 4-cylinder bikes currently available, which are part of Honda's current range of cafe racer bikes.
It will fit nicely between the 650 and the more powerful four-cylinder CB1000R. There is no denying that the middleweight sector is where all the growth is now.
Heritage Bandwagon
Although this motorcycle will be marketed as "all new," as already indicated, there is nothing new or innovative about it.
Honda is acknowledging the widespread desire for a more affordable retro bike. They will probably test the market for about a year and if successful, introduce it overseas. If the math doesn't work for them, we may never learn about it again.
Suspension and Brakes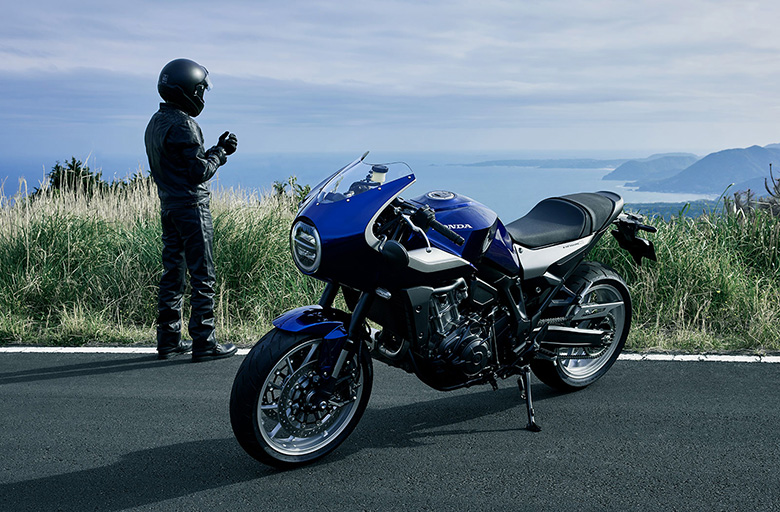 It's pretty clear that it was explicitly modified for this Heritage Edition bike and was stolen from the NT1100 (above), not the Africa Twin.
To manage braking functions, Honda relies on Nissin, which supplies most Japanese brands. That should be enough, given the bike's generally subdued performance.
Back To Basics Approach
The bike won't be as fast as other sports heritage editions, but it should still be reasonably priced.
We can only hope that Honda's radical approach to design results in a vehicle that offers excellent value for money.
Comfortable Ergos
A more stable ride and an upright, comfortable position that can accommodate most riders, regardless of height, are benefits of a more extended platform.
Without a real-world test, it's hard to say, but we doubt the handling will be remarkable. It will be more of a cruiser than a canyon chaser.
Unusual Platform
Their choice of platform is a strategy to enter this market with other bikes without investing in any R&D.
They'll use the Japanese market as a test market, and if all goes according to plan, they'll have a new motorcycle at almost no cost to the business and any kind to build. No re-tooling will be required.
Polarizing Looks
Simply put, the design doesn't work. Simply put, the designers looked at many different motorcycles from the 1980s and 1990s and added components that didn't always go together. Some people will like the result while others will not.
We think purists will despise it, especially once they learn it has a parallel-twin engine, although we love it. However, there will undoubtedly be many who will disagree.
Production Ready
The beauty of this particular idea is that it's not an idea. Instead, it is a creative approach that combines existing material to create something entirely new.
We expect to see more bicycles like this, where mass-market components are sourced from the parts bin to create limited-run or limited-edition bicycles that may not appeal to the broader market. It's a lesson in how manufacturers should change their product lineup to offer specialty products that are all about the bike without losing a ton of money.
Top Ten Interesting Facts about Honda Hawk 11 Café Racer – Top List
| Sr. # | Top Ten Interesting Facts about Honda Hawk 11 Cafe Racer |
| --- | --- |
| 1 | Africa Twin Engine |
| 2 | Not a Sportbike |
| 3 | Neo-Sports Café Racer |
| 4 | Heritage Bandwagon |
| 5 | Suspension and Brakes |
| 6 | Back To Basics Approach |
| 7 | Comfortable Ergos |
| 8 | Unusual Platform |
| 9 | Polarizing Looks |
| 10 | Production Ready |