If you want to ride a bike but are not the tallest guy, read our latest Top Ten Best Motorcycles for Short Riders in 2023. Uncomfortably long chairs and wide saddles make it challenging to find a comfortable position without swinging your leg. The leverage required to balance the bike is also reduced. Additionally, the bike's weight and center of gravity must also be considered. However, since this is a safety and control issue, you must sit on the motorcycle with both feet planted firmly on the ground.
Top Ten Best Motorcycles for Short Riders in 2023 – Top Rated
1. Ducati Scrambler
A popular bike in the United States, the Ducati Scrambler prioritizes comfort and convenience over performance. There is a low-height kit that lowers the seat height from the standard build's 31.1 inches to 30.3 inches.
People of all heights will find its slim and comfortable seat, thin tank, and smooth suspension quite appealing. The lightweight and low center of gravity is additional advantages of everything mentioned earlier.
The fact that the Scrambler is mentioned first among motorcycles for shorter riders should be no surprise.
There are several variants of Scrambler available. Nevertheless, the latest Scrambler 1100 from the collection will be the choice of any rider who desires the best Scrambler.
2. Honda CTX700
Honda CTX700 should be an obvious choice among motorcycles for shorter riders, with a seat height of just 28.3 inches. It's a highly versatile bike with exceptional comfort, excellent weather protection, and plenty of power. The footpegs and hand controls on the CTX700 are placed in front, and the riding position is very comfortable. It's a matter of preference, though, as some of us may favor a more traditional leg position over footpegs placed forward. The Automatic Dual Clutch Transmission (DCT) of this bike is one of its standout features. With Honda's renowned DCT, you can choose fully automatic or manual gears using controls on the handlebars.
3. Triumph Street Twin
Triumph's 900cc street twin features a slim parallel-twin engine, a long tank, and a saddle that rises 29.5 inches off the ground. This new addition to the Triumph Bonneville line-up upholds the brand's reputation by delighting experienced riders and beginners. The Street Twin is a capable, reasonably priced motorcycle with a torquey engine, excellent braking, reliable suspension, and a distinctive Triumph gallop. It has superior ergonomics, proper seating posture, handlebar placement, and stability. It is a bike that one can learn and develop over time. Not only is it an ideal bike for younger riders, but it is also a great beginner bike.
4. BMW G650 GS
Let's go off-road a bit now. One of BMW's smaller bikes is the G650 GS. But don't be fooled. The outstanding engineering of the BMW G650 gives you a comfortable ride whether you're driving on the tarmac or traveling off-road and tearing up the dirt.
With a low suspension option at the factory and a seat height of 30.3 inches, BMW respects those of short stature. One of your first options in adventure motorcycles for short rides should be the BMW G650GS.
5. Kawasaki Ninja 400
The Ninja 400 is a true sports motorcycle. It has excellent handling and control, is lightweight, and is versatile. If you enjoy riding sports bikes and are looking for short-rider models, you have found the ideal motorcycle.
Despite being modest, it offers an authentic sports experience and caters to a large audience. The Ninja 400's easy-to-handle design and 31.9-inch seat height make it a good choice for smaller people. One can get used to riding it as it is soft and forgiving.
6. Ducati Monster 696
The Ducati Monster 696 is a bike that lives up to its name, and it is suitable for various terrains. Apart from showcasing the latest models of naked bikes, it maintains the classic look and has millions of followers.
It provides improved engine performance, adaptability, and a light, comfortable ride. The bike is of exceptional quality, and you will be amazed by its power, torque, and simplicity of braking. Its saddle is 30.3 inches long, sure to please all smaller riders. The high-quality suspension provides a stable and firm ride. It is not surprising that the Monster 696 is quite popular among motorcyclists looking for motorcycles.
7. Moto Guzzi V7
"Both elective and necessary." I disagree with the representatives of the plant in Mendelo del Lario when they state this as fact. The V7 is a bike that retains its beauty yet maintains a vintage look. It is undoubtedly a bike that attracts attention wherever it goes. Thanks to the modest seat height of 30.3 inches, the bike is easy to control and suitable for riders with shorter legs. Handlebar, saddle, and footpeg positions have been carefully adjusted to guarantee a comfortable, upright riding posture.
8. Zero XU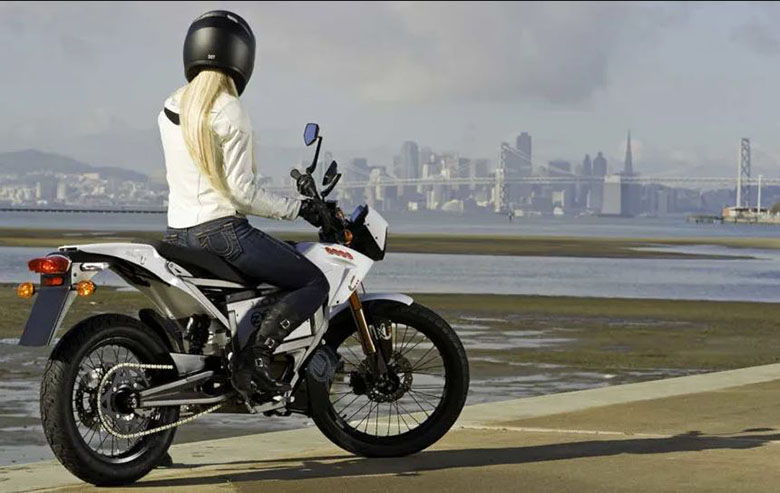 Are you looking for short-rider electric motorcycles? Since we're not limiting ourselves to a single category, let's take an e-bike out for a little extra exploration.
Zero XU stands out among motorcycles. It's small, compact, and surprisingly light. Only 30-inch separate the seat from the ground. It is completely silent and only costs money to get around, as is typical of e-bikes. The ride is enjoyable without gear restrictions. Once you insert the key and turn, you are ready to go.
9. Honda Fury
Honda has taken care to provide a motorcycle for smaller riders as well, and this particular model is a bike for those who enjoy glamour, style, and elegance. You will surely attract attention wherever you go with it because it looks fantastic. Don't let the design make you doubt the driving comfort and convenience. While perhaps not as comfortable as other bikes we've listed, it's still quite enjoyable.
10. Yamaha MT-07
Nowadays, bike styles seem to be changing rapidly, with "hyper neck" motorcycles being the most recent. Many manufacturers have made this design available, including Honda, Suzuki, and Kawasaki. The FZ-07 from Yamaha, however, dominates the entire lineup due to its high demand. Yamaha released an improved version of this bike in 2018 and renamed it MT-07.
Top Ten Best Motorcycles for Short Riders in 2023 – Top List
| Sr. # | Top Ten Best Motorcycles for Short Riders in 2023 |
| --- | --- |
| 1 | Ducati Scrambler |
| 2 | Honda CTX700 |
| 3 | Triumph Street Twin |
| 4 | BMW G650 GS |
| 5 | Kawasaki Ninja 400 |
| 6 | Ducati Monster 696 |
| 7 | Moto Guzzi V7 |
| 8 | Zero XU |
| 9 | Honda Fury |
| 10 | Yamaha MT-07 |