Below we are enlisting the top ten best maxi scooters of all time. These scooters have left a significant impact on the markets of the bikes industry. So let's not waste time and start discussing are super maxi scooters rundown. So, below is our list of Top Ten Best Maxi Scooters of All Times.
Top Ten Best Maxi Scooters of All Times – Top Rated
10. Honda NC700D Integra
This bike is a scooter like a bike. It has the chain drive with similar framework chassis as Honda NC700 motorcycle models. Honda has given the Integra the title as scooter look alike but also we know it is a motorcycle with shield benefit. But it is also missing the main factors which a scooter has plus the below seat compartment is not much in space even to put a helmet inside. The prices in the market for this scooter are quite competitive and the technology is also limited. Even though other scooter brands have many more transmissions variables in the system, but this motorcycle has a six-speed automatic gearbox implying the Honda Dual Clutch Transmission, with the addition of twist and go and semi-automatic modes. ABS of this motorcycle is standard size with 17-inch wheels and the center of this bike is heavier in weight and cost is around 7,699 pounds in OTR with the power of 51bhp.
9. Piaggio X10 350 Executive
One of the largest maxi-scooter in the industry apart from being three wheelers, the X10 350 has a suitable 33.3hp only from a single-cylinder engine with lights and a 200 kg dry engine. This sort of functions helps bigger scooter accelerates quickly. It can go up to 70 mph straight flat to 80. With a 52 liter under the seat with fuel space. The seats are very much comfortable and also protected with the weather and the ABS are heated with standard grips. The price is also 5,291 pounds also it is half the cost of BMW C650 GT Highline and the power is about 33.3hp.
8. Vespa GT 300 Super
GT 300 Super is a 278cc single-cylinder engine scooter but it has limited under-seat storage with a 91-pound option of widescreen, but we still think is it a maxi scooter? The look of this is very fresh and it has the quality to known as the world's best super scooter with super written on it and because of that, it keeps a lot of value in the markets. It has claimed to reach 82 mph and it can cruise with a satisfying ride and go up to 70 mph quickly enough to overtake another bike. Cost around 4,291 pounds and the handles are very much stable to speed and it is one of the cheapest scooters available in the list of miles with 22 horsepower.
7. Sym Maxsym 600i ABS
In 2014 Maxym 600i was new to the UK markets because of its famous color blue and black. It was winning many hearts. Cost around 5,999 pounds on the road less then Burgman around four and a half less than BMW C650 Highline it is enough to think to buy another bike in such range, like KTM Duke 390 or Suzuki SV650 just for fun. The Maxim 600i is light in weight for a maxi scooter even at 238kg, with 565 cc cylinder engine no power has been given out. The smaller version of this bike Maxsym 400i the 2014 model made by the Taiwanese, was reliable for the reputation of this model. The max400i which was invented in 2011 is also offering a four-year finance deal on the 600 with 99 pounds deposit and even monthly payments of about 157.50 pounds.
6. Aprilia SRV 850
SVR850 has a cylinder in such a matter that the space of storage you get is quite low and tiny in area, an plus you can feel all the weight of this bike which 249 kg even though other bike steel lightweight because you can feel the weight only in the center of gravity, the suspensions are soft and it cannot be handled all. It was one of the fastest producing scooters of its time with 114 mph top speed; the cost of this scooter is 8,432 pounds and its ABS each cost separately 300 pounds with 76 horsepower.
5. Honda Silver Wing
Honda silver is a perfect example of being the same and not changing its quality a bit in the model and maintaining its buying sale in the market. Updating its model not to forget the Integra scooter which hit the market and forget about the wing. With 55 liters, under the seat storage and it is more significant than Bergman. With 49bhp with parallel-twin 582cc engine and its weather shield protected and the weight as low as 238 kg and ABS are standard in size and price. It cost around 6,649 pounds and 49 horsepower.
4. Suzuki Burgman 650 Executive ABS
This machine is underrated but one of the most accomplished engines of all time and the price of this maxi-scooter is quite competitive; it has an electric screen with a heated grip function with standard size seats all in the cost of 8,932 pounds. It handles very much well even with the weight of 277 kg offering more comfort than another scooter. With two twists and go modes drive and power. It also has a semi-automatic way which is used by the buttons on the left bat of the motorcycle with a clutch which also changes less gear. Volt power is 12 and 50 liters of under-seat storage; the air class is not the same as the C650 GT, and the engine is not so loud just a little purr. One of the most economical scooters available in the market and its ABS are standard size but the latest version of 2013 is criticized for having heated grip handles and seats. With 54 horsepower also considered as the smaller Bergman 400.
3. BMW C 650 GT
This scooter has almost the same engine feature as C600 sport, but still, it feels very different especially with much more leg space and bulk in size. It is not a sports bike but it chassis think like one; that why this maxi-scooter has its unique value in the market with an electric screen that moves and tilts. Also, with heated grip and seat is one of the luxurious functions unlike many other scooters it has twin-engine, it makes growl sound in the engine when it starts just to remind us it has the combustion going inside somewhere. Space under-seat compartment is significant in space even to keep two helmets at the same time. Owning a C650 is like always cruising on a VIP tour with V10 engine ABS are standard in size. Costing around 9,795  pounds with 60bhp.
2. BMW C 600 Sport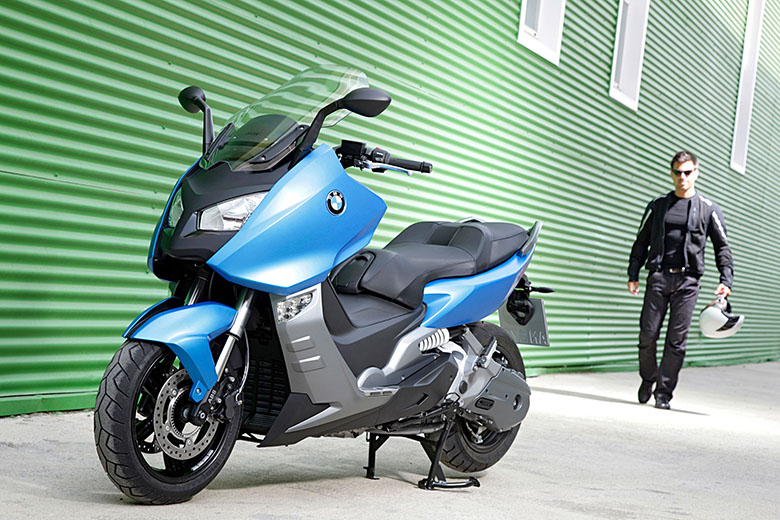 BMW C600 is one the fastest and top-ranked scooters on the list with a powerful engine and extra bulk in weight unto 249 kg. Ranking up to the quality of Yamaha which is second but it has the quality of having a fun ride. It is equipped better than others with an adjustable screen with power sockets and sharp stretchable under-seat storage space. Highline model version comes with heated grips and seats with an extra charge of £750. Costing around £9,495 OTR ,with 60bhp.
1. Yamaha TMAX
This scooter is on number one of our list because of plenty of reasons; it has the immediate throttle response than other usual bikes that go from twist and goes. It is agile and light-weighted for a maxi-scooter to be even at 217 kg. The handles bars look like sports bikes. Not one of the most economical, but it is practical and fast in a maxi list and straight line. Overall it is amazingly balanced and the ride is heaven, with 45.8bhp from 530cc parallel engine and it does not come with ABS. Yamaha is also producing its younger brother to the TMAX, the X-MAX 400. Costing around 8699 pounds with 45.8bhp power.
Top Ten Best Maxi Scooters of All Times – Top List
| Sr. # | Top Ten Best Maxi Scooters of All Times |
| --- | --- |
| 1 | Yamaha TMAX |
| 2 | BMW C 600 Sport |
| 3 | BMW C 650 GT |
| 4 | Suzuki Burgman 650 Executive ABS |
| 5 | Honda Silver Wing |
| 6 | Aprilia SRV 850 |
| 7 | Sym Maxsym 600i ABS |
| 8 | Vespa GT 300 Super |
| 9 | Piaggio X10 350 Executive |
| 10 | Honda NC700D Integra |
Conclusion
In this era where speed, agility, and power matters there is another factor that matters is the economy and comfort. So, our experts have developed the list of Top Ten Best Maxi Scooters of All Times. These scooters give superb riding pleasure all day long and they are economical in terms of mileage as well. Those of you who spend all of their days on the bike should think about purchasing the scooters as mentioned above because of their power and comfort.