You must've wondered as a male racer that why don't you see any female racers, and as a female you might have noticed that why women racers are so less as compared to the men. Well this might be because of the discrimination against women that they're not made to win the races on bikes or because they are not considered to have the same level of skill and ability according to some patriarchal experts. But here we have the list of Top Ten Best Female Racers in the Motorcycling History who want to change this perception.
Top Ten Best Female Racers in the Motorcycling History – Top Rated
10. Beryl Swain, TT
The 50cc TT of 1962 is usually identified by being the first Suzuki's TT winner, while this bike was also ridden by ex MZ rider and defector Ernst Degner. This bike was also known for marking a debut of the first female rider riding 50cc item, MrsBeryl Swain. She was behind Degner and completed half-hour two-lap races. She was ranked 22nd among the 25 passengers and had a speed of 48mph average while Degner had 75mph. However women were banned from riding the TT till 1978 which changed when Hillary Mussan came to race in 1985.
9. Patsy Quick, Enduro and Dakar
In 2003 there was a first Britain woman who competed in the Dakar and she went through a severe crash, this accident made her blind temporarily. She was saved by a helicopter of media and was flown to Cairo hospital for her surgery. She then came back in 2004 and got defeated by appalling weather, then in 2005 by mechanical breakdown. But in 2006 she became the first British woman to complete the rally and presently she's running a KTM supported riding school located in Sussex.
8. Michelle Duff, 250 and 500 Grand Prix
Michelle duff was born in Toronto Canada in 1939 and was a renowned racer in the Grand Prix in the 1960s, mike rode for Norton, Yamaha and MZ and won't three 250cc of the Grand Prix and completing the second season of 1965 behind Phil Read in 250cc. Mike spent six months in the hospital when they faced an accident in Japan, continued to race and became a motorcycle journalist after coming back to Canada at the end of 1967.
He has three children and married thrice, also wrote a book about his time in Grand Prix 1982 which was named Make Haste. Mike Duff turned into Michelle Duff in 1984 and signed retirement to spend time with classic bikes at age 60 in 2000. Michelle has a crash in 2008 at a spa and then didn't ride anymore. Now at the age of 74 Michelle lives in Ontario and still writes.
7. Katja Poensgen, 250 Grand Prix
German Katja was the winner of European supermoto championship at the age of 19, she first rode a bike when she was six and entered at 16 in her first race. Due to this success she got a position in the Grand Prix 2001 where she achieved her career-best 14th position at Mugello in 250cc Italian GP by riding Aprilia RS250. She gave birth to a daughter in 2005 and retired in 2004 and she's considered the only woman apart from Michelle to have children. She now works with a motorcycle clothing brand and races e-bikes.
6. Laia Sanz, Trials, World Enduro, Dakar
The present Women's World Enduro champion, Laia Sanz was born in Spain. She's also the winner of Women's Trial European championship ten times and Women's trial World championship thirteen times. At the age of 25 in 2011, she came 39th in the Dakar race. She started racing at the age of 7 and rode at the age of 3. She got the rank of the best female off-road rider in 2014 and she also has a competitor Jane Daniels. She's still considered to be the one who set the benchmark for women racers.
5. Maria Costello MBE, TT & Irish road races
Maria is considered to be the rider who has contributed the most to female motorcycle riders after she participated in the sports in 1997 and the Honda CB500 cup. After this, she started racing for several short circuit series which include European SuperStock, World Endurance and several others. She always focused on running in Ireland and the TT, where she held the record for a female lap for many years and also the Manx Grand Prix. She has also published an autobiography and is presently working to promote tracks for women only.
4. María Herrera Muñoz, Spanish CEV Moto3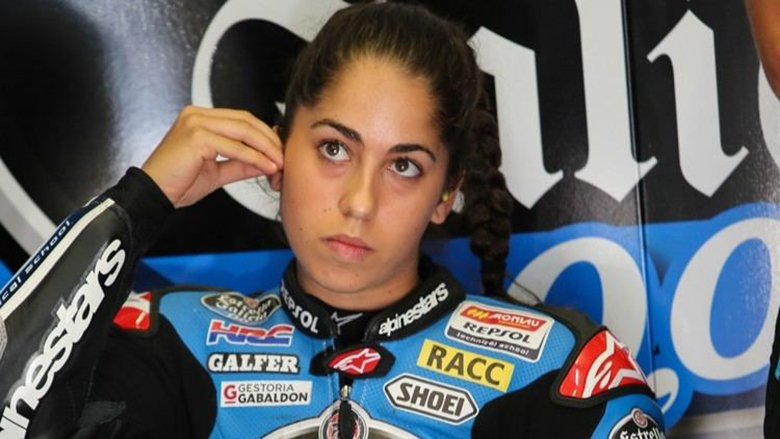 Maria is currently in the lead for the Spanish CEV Moto3 Championship and is only 17 years old from Toledo Spain. She won second place in MotoGP Moto3. She also rides Honda Moto3 NSF50 which proves that this lady has got potential and can be a role model for all teenage girls and boys who love to ride motorcycles.
3. Jenny Tinmouth, BSB
She's the woman who was an opener at 2014 Brands BSB. Making through all the strict paths, Tinmouth gained 17th position on her TWR Fireblade. The 23rd and 27th rank results describe the bike and not her abilities and talent. She started from her debut in 2000 on 125GP motorcycle and now after a long journey she became the fastest woman ever at TT to set a lap of 119.9mph in the year 2010.
2. Jane Daniels, World Enduro
The UK's number one female enduro rider is 20years old Husqvarna with supported rider Jane Daniels. She gained the second position in the Women Enduro Worldcup which held in 2013 and won the last race in France, by beating the champion of Dakar Laia Sanz. Daniels got second place in 2014 in the Spanish opening round of WEWC, and completed as of 12th position in the Expert Class at the current Tough One challenging enduro held at Hawkstone Park. Even the male riders give her a high rating.
1. Ana Carrasco Gabarrón, MotoGP Moto3
The only woman to ride a Kalex KTM in Moto3 is the 17 years old Anna Carrasco. She raced in the Spanish MiniGP and Spanish 125 and started riding when she was only 3. At the start of 2013 when she was 16, she made her debut for the Calvin KTM team and got the first World championship points later in the year in Malaysian GP. At a race in Valencia her teammate Maverick Vinales won the title and she got the 8th position. Her Motto states that she's a woman the man's world.
Top Ten Best Female Racers in the Motorcycling History – Top List
| Sr. # | Top Ten Best Female Racers in the Motorcycling History |
| --- | --- |
| 1 | Ana Carrasco Gabarrón, MotoGP Moto3 |
| 2 | Jane Daniels, World Enduro |
| 3 | Jenny Tinmouth, BSB |
| 4 | María Herrera Muñoz, Spanish CEV Moto3 |
| 5 | Maria Costello MBE, TT & Irish road races |
| 6 | Laia Sanz, Trials, World Enduro, Dakar |
| 7 | Katja Poensgen, 250 Grand Prix |
| 8 | Michelle Duff, 250 and 500 Grand Prix |
| 9 | Patsy Quick, Enduro and Dakar |
| 10 | Beryl Swain, TT |
Conclusion
We have seen very few female bike riders who are successful, renowned and popular. In this list, we have tried our best to select those female riders who are well known for their ability and skills. We don't want to fall in the discrimination against women so here's our list for the top ten best female bike riders.