The MV Agusta is one of the well-known bike manufacturers in the world due to its outstanding design and excellent reliability. Its products are stunning in terms of racing and one can make the list of enhancement on the motorcycles to make its bike most sport's orientated tourer. This year the MV Agusta has launched the new MV Agusta 2018 Turismo Veloce RC Touring Bike that has revolutionized the world of motorcycle industry due to its distinctive look and stylish chassis. The Turismo Veloce models have been known worldwide as best tourer bike for long distance ride. The MV Agusta has redefined its objectives and at this time it is more focus towards the unique design and minimal weight of the bike. Initially the MV Agusta team focused on the side mounted luggage and decided it add to the bike but later on, they changed their mind and removed the luggage. This gives an outstanding transformation of the design of the bike and provides it more aggressive look with a dynamic profile. This new Turismo Veloce RC touring bike features the compact three-cylinder 800 cc engine that has the revised black surface offering the lightweight to power ratio. The latest LED technology has been used that is integrated with the graphics DRL (Daylight Riding Light) ensuring the unique identity of the vehicle. The style of the bike is further enhanced by the use of RC version and it only manufactured in the limited edition of 250 pieces. The new MV Agusta 2018 Turismo Veloce RC Touring Bike is available in Red/ Pearl RC White/ Green color combination and its review with price and specification has been given below.
MV Agusta 2018 Turismo Veloce RC Touring Bike – Features
Engine
The new MV Agusta 2018 Turismo Veloce RC Touring Bike features the powerful three-cylinder engine with counter-rotating crank that is entirely redesigned to further reduce vibration and noise. There is some intervention in the valve guides of the head. They are redesigned to achieve better reliability, chain tensioner and harmonic damper that guarantee the significant reduction in mechanical noise alongside an updated gearing for the transmission like in 2018 MV Agusta Turismo Veloce 800 Lusso. The transmission box has been improved with the new six-speed gearbox, which has an optimized design to improve general functionality for precise and faster gear shifting. The starter motor and the associated gears are entirely revised and improved for better reliability and durability.
Design
The new MV Agusta 2018 Turismo Veloce RC Touring Bike features the stylish bodywork with excellent detailing. The new carbon fiber deflector is used on the front mudguard. The latest forged wheels have been designed to maintain lightness and racing pedigree that have been derived from the variant used on the MV Agusta F4RC. There are some latest functional changes that have been included in new sprocket that improves smooth driving characteristics and precision. The passenger seat has been entirely redesigned to improve ergonomics and comfort for the longer distance rides. The front engine mounts have enhanced the longitudinal chassis stiffness and provide subsequently driving dynamics. The standard equipment MV Agusta 2018 Turismo Veloce RC Touring Bike comes with the latest Garmin navigation system, stylish twin 30-liter capacity side panniers, center stand, adjustable windshield, cruise control and heated grips.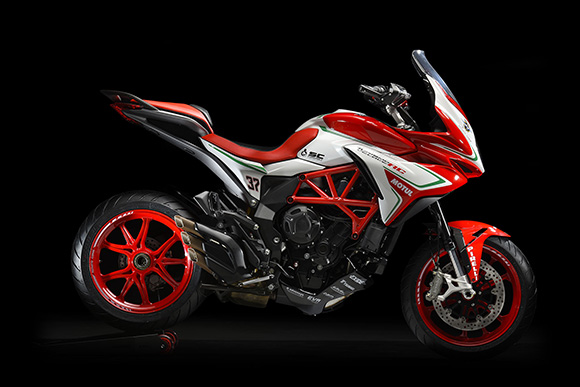 Electronics
The new MV Agusta 2018 Turismo Veloce RC Touring Bike features the latest mechanical updates that has been further refine to the MVICS 2.0 (Motor and Vehicle Integrated Control System) electronic platform which is exclusively developed by MV Agusta, with EAS 2.0 (Electronic Assisted Shift Up and Down) as well as traction control adjustable on 8 levels with the possibility of complete disengagement. The first improvement which was made to the engine control management was with an intention of increasing the engine regularity providing the more fluid and better power delivery. It results in redefining the various engine maps like Tourism, Sport, and Rain. The hardware has been subjected to significant improvement due to the Ride by Wire components for improved sensitivity, throttle control and response.
Frame and Suspension
The new MV Agusta 2018 Turismo Veloce RC Touring Bike features the high quality of chassis that is due to the integration of MVICS, front forks and the Sachs rear shock absorber are controlled by electronics on the basis of dynamic parameters of this touring bike. The semi-active suspension provides the continuous control of the response on the basis of latest Skyhook algorithm which has been revised and tuned by the MV Agusta experts.
MV Agusta 2018 Turismo Veloce RC Touring Bike – Technical Specifications
Engine
Type
Three cylinder, 4 stroke, 12 valve
Timing system
"D.O.H.C" with mechanical chain tensioner
Total displacement
798 cm3 (48.7 cubic inches)
Compression ratio
12.2:1
Starting
Electric
Bore x stroke
79 mm x 54.3 mm (3.1 inches x 2.1 inches)
Max. Power – RPM (at the crankshaft)
81 kW (110 hp CEE) at 10.150 RPM
Max. Torque – RPM
80 Nm at 7.100 RPM
Cooling system
Cooling with separated liquid and oil radiators
Engine management system
Integrated ignition – injection system MVICS 2.0 (Motor & Vehicle Integrated Control System) with three injectors. Engine control unit Eldor EM2.0, pencil-coil having an ion-sensing technology, throttle body full drive by wire Mikuni, control of detonation and misfire. Torque control with four different maps, Traction Control with eight levels of intervention with lean angle sensor
Electronic quick shift
MV EAS 2.0 (Electronically Assisted Shift Up & Down)
Clutch
Hydraulic clutch, wet multi-disc with slipper clutch
Transmission
Cassette style; six speed, constant mesh
Primary drive
19/36
Gear ratio
First gear: 22/41
Second gear: 16/35
Third gear: 18/32
Fourth gear: 20/30
Fifth gear: 22/29
Sixth gear: 21/25
Final drive ratio
16/41

Electrical Equipment
| | |
| --- | --- |
| Voltage | 12 V |
| Alternator | 450 W at 5000 RPM |
| Battery | 12 V – 11 Ah |
Dimensions and Weight
| | |
| --- | --- |
| Wheelbase | 1445 mm (56.89 inches) |
| Overall length | 2125 mm (83.66 inches) |
| Overall width | 910 mm (35.83 inches) |
| Saddle height | 850 mm (33.46 inches) |
| Min. ground clearance | 140 mm (5.51 inches) |
| Trail | 108 mm (4.25 inches) |
| Dry weight | 192 kg (423,2 lbs.) |
| Fuel tank capacity | 21.5 l (5.68 U.S. gal.) |

Performance
| | |
| --- | --- |
| Maximum speed | 230 km/h (143 mph) |
Frame
| | |
| --- | --- |
| Type | ALS Steel tubular trellis (MAG welded) |
| Rear swing arm pivot plates material | Aluminum alloy |
Front Suspension
| | |
| --- | --- |
| Type | All-new Sachs "UPSIDE DOWN" semi-active telescopic hydraulic fork MVCSC (MV Agusta Chassis Stability Control) |
| Fork diameter | 43 mm (1.69 inches) |
| Fork travel | 160 mm (6.30 inches) |
Rear Suspension
| | |
| --- | --- |
| Type | Progressive Sachs, the semi-active single shock absorber with hydraulic spring preload adjustment MVCSC (MV Agusta Chassis Stability Control) |
| Single sided swing arm material | Aluminum alloy |
| Wheel travel | 165 mm (6.50 inches) |
Brakes
| | |
| --- | --- |
| Front brake | Double floating disc with Ø 320 mm (Ø 12.6 inches) diameter, with steel braking disc and flange |
| Front brake caliper | Brembo radial-type, with 4 pistons Ø 32 mm (Ø 1.26 inches) |
| Rear brake | Single steel disc with Ø 220 mm (Ø 8.66 inches) diameter |
| Rear brake caliper | Brembo with 2 pistons – Ø 34 mm (Ø 1.34 inches) |
| ABS System | Bosch 9 Plus with RLM (Rear wheel Lift-up Mitigation) |
Wheels
| | |
| --- | --- |
| Front: Material/size | Forged aluminum alloy 3.50″x 17″ |
| Rear: Material/size | Forged aluminum alloy 6.00″ x 17″ |

Tires
| | |
| --- | --- |
| Front | 120/70 – ZR 17 M/C (58 W) |
| Rear | 190/55 – ZR 17 M/C (75 W) |
Fairing
| | |
| --- | --- |
| Material | Carbon fiber and thermoplastic |
Original Equipment
| | |
| --- | --- |
| Included accessories | Garmin navigation system, Immobilizer Heated Grips, Bluetooth, Cruise control Integrated GPS sensor, Central stand Adjustable windshield, Bags (30 l – 7.92 U.S. gal. each), Certificate of origin, Limited Edition |
Emissions
| | |
| --- | --- |
| Environmental Standard | Euro 4 |
| Combined fuel consumption | 5.8 l/100 km |
| CO2 Emissions | 129 g/km |

Conclusion
This article is about the review of new MV Agusta 2018 Turismo Veloce RC Touring Bike and it is covered under www.bikescatalog.com. It features the powerful engine that has the ability to deliver the best performance under all conditions. The stylish chassis always demand another look while an attractive color combination makes it even more attractive. The seat design always provides the comfortable long ride. Each and every component of the bike has been carefully designed and installed to have better performance and rideability.