Since its worldwide competition debut in 2010, the KTM 350 SX-F has offered a no-compromise blend of horsepower and agility. The 2022 KTM 350 SX-F bursts onto the motocross arena as the unexpected one to beat, with a remarkable power-to-weight ratio, ultra-light handling, and holeshot-winning acceleration.
KTM 2022 350 SX-F Dirt Motorcycle – Features and Price
Engine & Exhaust
Exhaust
Regarding power delivery and performance, the exhaust system on all 4-stroke models plays a critical role and delivers a powerful punch. It has a model-specific header pipe with an FDH (Flow Design Header) advanced resonator, a tiny chamber surrounding the pipe. The design enables the disassembly of the exhaust without removing the shock absorber, as well as greater access to the shock. The silencer's interior design, which includes an aluminum sleeve, end cap, and internal structure, allows for thinner ergonomics, making the bike seem smaller without compromising regulatory noise limitations.
Engine
The 2020 KTM 350 SX-engine F's are neatly placed in a small and light (58.6 lbs) design. It has a unique clutch system, a finely geared, long-lasting gearbox, and a lightweight DOHC (double overheard camshaft) cylinder head, all of which contribute to the engine's overall performance. It also has a new, more robust intermediate gear for the oil pump, which improves dependability. With an advanced electronic fuel injection system and a convenient electric starter, this incredibly competitive engine can be started with only one touch of a button.
Cylinder head
The KTM 350 SX-cylinder F's head is the key to its incredible power. Two overhead camshafts with friction-optimized super-fine surfaces are coupled to DLC-coated finger followers, which operate four lightweight titanium valves. The flow rate has been optimized by KTM experts, resulting in an ideal power band and outstanding performance over the 13,400 rpm range.
Crankshaft
The KTM 350 SX-crankshaft F's is rigid, and the connecting rod is short and light, contributing to the bike's exceptionally dynamic and efficient power delivery. Two robust force-fitted bearing shells run directly on the crank pin in the big end bearing. This design is required for the 350 cc's unrivaled power and extraordinarily high engine speed levels. The method also improves longevity by allowing longer crankshaft service intervals, which means less labor and expense – and more time on two wheels.
Crankcases and engine covers
The new lightweight engine casings are made with the help of a high-pressure die-casting technology that helps reduce weight while maintaining strength and longevity. The design enables optimum shaft configurations near the center of gravity, resulting in excellent mass centralization and improved rideability. The engine covers come with a clever surface structure that reduces the wear caused by the rider's boots, making them seem brand new.
Transmission
A 5-speed gearbox is standard on the KTM 350 SX-F. The gear ratios have been carried out from the previous model and are ideal for the MX circuit. The 'no-dirt' gear shifter is another feature of the gearbox. It eliminates dirt build-up and ensures that the next gear is always accessible, regardless of the circumstances, similar to the footpeg design.
Cylinder and piston
A lightweight, forged, bridging, box-type piston, built to the highest standards by CP, is housed in the 88 mm bore cylinder. It has a robust construction and a distinctive crown form that fits the high-compression combustion chamber well. The compression ratio is 14:1, and the engine has exceptionally dynamic characteristics due to the low oscillating masses.
Balancer shaft
A multi-functional counter-balancing shaft is included in the KTM 350 SX-F engine to balance the mass forces it generates. While driving the new water pump and timing chain, it efficiently lowers vibration.
Chassis
Airbox
The KTM 350 SX-airbox F's guarantees excellent flow dynamics, which, combined with the intake tubes, results in peak power and rapid throttle response. Despite the apparent performance benefits, the design offers the best protection against air filter contamination. The great Twin-Air air filter is set on a sturdy cage smartly engineered to stop incorrect installation. Filter maintenance is speedy and uncomplicated, and it doesn't need any tools as it did on prior models — a typical, innovative KTM feature. Every SX-F comes with a PowerParts airbox cover (included in the by-pack) with extra air intake holes for improved engine performance, allowing the airbox to be adjusted for various engine characteristics or track conditions.
Frame
The frame of the KTM 350 SX-F is expertly built from hydro-formed chromium-molybdenum steel tubes that are robot welded to assure the highest standards of consistent quality, much like the rest of the SX line. The frame's rigidity has been meticulously assessed to produce responsive handling and works in tandem with the suspension to provide great agility and high-speed stability. All 2020 KTM SX frames have legal protection and an extremely durable powder coating. The lightweight aluminum subframe gives the rider a pleasant sensation and allows for smooth mobility over the seat.
Swingarm
The one-piece swingarm of the KTM 350 SX-F is made utilizing a gravity die-cast manufacturing method for outstanding strength and lightweight. It has a broad range of rear-wheel adjustments, allowing for a shorter wheelbase on tighter, twistier tracks or a greater wheelbase on longer, more choppy courses for better stability. The new chain measurement lines on the swingarm are visible above, making adjustments more accessible and precise.
Wheels
On all SX models, KTM employs strong lightweight, CNC-machined hubs and high-end Excel rims to offer optimum stability and minimal weight. The aluminum spoke nipples are designed in such a way that they decrease the need to tighten the spokes regularly. The newest Dunlop Geomax-MX33 tires are mounted on the wheels, providing maximum grip and stability while efficiently transmitting all the power to the ground.
Front suspension
The new super-lightweight WP XACT front fork including AER technology, is standard on all full-size KTM SX models for 2020, with revised settings. It's a 48mm USD air-sprung fork including damping functions on the right side and an air spring on the left. A two-chamber system, including a capsuled air cartridge, is used on the left leg to decrease air pressure loss. The air spring is elementary and can easily be adjusted to any rider's weight with a solo air valve and the included air pump. The right fork leg features a damping cartridge that may change the track conditions and the rider's preferences to match solo damping leg needs. Additionally, the fork top caps feature a novel design that allows for easier compression (from the top) and rebound (from the bottom) adjustment (30 clicks each).
Rear suspension
The new WP XACT monoshock is standard on all full-size KTM SX models, and it was designed to function in tandem with the whole frame and swingarm architecture, the linkage system, and the WP XACT fork. It has high-quality machined and anodized components that lend a touch of sophistication and make it appealing beyond merely being practical. It's completely adjustable, including high and low-speed compression, so you can fine-tune it to fit any track and rider's tastes.
Brakes
All KTM motorcycles have always had high-tech Brembo S.P. Brakes as standard equipment. The acclaimed system, when combined with lightweight wave discs, gives the best degree of braking efficiency, allowing you to out-brake the competitors.
Fuel tank
The lightweight polyethylene fuel tanks are standard on all KTM SX models. The gasoline tank's form provides sleek ergonomics while maintaining a 1.85-gallon fuel capacity. The inner thread of the filler cap guarantees secure and stable sealing.
Ergonomics & Comfort
Footpegs
Even while digging deep ruts, sophisticated 'no-dirt' footpegs avoid clogging the footpeg pivot. Do you want to ride at a higher position? Then just install the 2019 EXC footpegs, which are 6 mm taller than the SX variants.
Seat
The seats on all KTM SX models are designed to complement the range's dynamic performance-oriented ergonomics. The silicone stripes on the seat cover give the rider a more sumptuous feel and grip. The seat is secured to the bike with a solo long, lateral screw, making it safe and straightforward.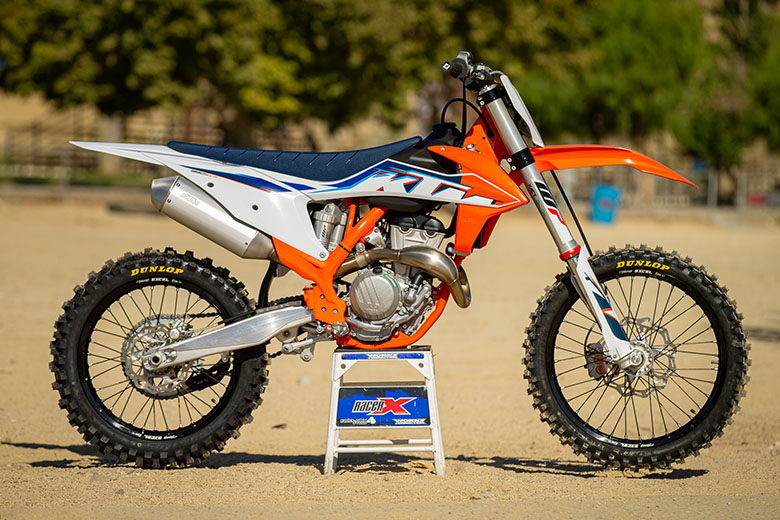 Handlebar
The new high-strength aluminum tapered handlebar produced by NEKEN is standard on all full-size KTM SX models. The handlebar is held in place by rubber-dampened mountings that may be adjusted to two different settings. On the right side, there's an ODI vulcanized grip, and on the left, there's a comfortable ODI lock-on grip that doesn't need any wire or adhesive.
KTM 2022 350 SX-F Dirt Motorcycle – Price
The new KTM 2022 350 SX-F Dirt Bike is available at $10,099 only.
KTM 2022 350 SX-F Dirt Motorcycle – Technical Specifications
Engine
| | |
| --- | --- |
| Transmission | 5-speed |
| Starter | Electric starter |
| Stroke | 57.5 mm |
| Bore | 88 mm |
| Clutch | Wet multi-disc DS clutch, Brembo hydraulics |
| Displacement | 349.7 cm³ |
| EMS | Keihin EMS |
| Design | 1-cylinder, 4-stroke engine |
Chassis
| | |
| --- | --- |
| Weight (Without Fuel) | 99.5 kg |
| Tank Capacity (Approx.) | 7.5 l |
| Front Brake Disc Diameter | 260 mm |
| Rear Brake Disc Diameter | 220 mm |
| Front Brake | Disc brake |
| Rear Brake | Disc brake |
| Chain | 5/8 x 1/4″ |
| Frame Design | Central double-cradle-type 25CrMo4 steel |
| Front Suspension | WP XACT-USD, Ø 48 mm |
| Ground Clearance | 375 mm |
| Rear Suspension | WP XACT Monoshock with linkage |
| Seat Height | 950 mm |
| Steering Head Angle | 63.9 ° |
| Suspension Travel (Front) | 310 mm |
| Suspension Travel (Rear) | 300 mm |
Conclusion
The KTM 350 SX-F has combined power and agility since its 2010 launch. The 2022 KTM 350 SX-F has an excellent power-to-weight ratio, ultra-light handling, and holeshot-winning acceleration.