Even if the KTM 790 DUKE is still elegant, the KTM 2021 890 Duke R Naked Sports Motorcycle gives it more oomph. More power, torque, and Dukeness than any other mid-weight parallel-twin before it goes into this no-compromise, no-frills bike for the street or the track. There's no better way to express your appreciation for KTM Duke than riding one of its R models.
KTM 2021 890 Duke R Naked Sports Motorcycle – Features and Specs
Engine & Exhaust
Exhaust
They are beautifully crafted from stainless steel. Allows for a small muffler with dramatic sound because of the centralization of mass provided by the middle damper This exhaust system has been subjected to hundreds of bench runs and complicated simulations to guarantee that it contributes significantly to the tractable torque curve and reasonable emission requirements.
Engine
The KTM 2021 890 Duke R Naked Sports Motorcycle engine is based on the exact parallel-twin that powers the KTM 790 DUKE, but it has been developed into a high-performance midweight titan. The KTM 890 DUKE R generates astounding new horsepower and torque levels thanks to its larger bore and stroke, improved compression, and increased maximum RPM limit.
Engine case
The crankcases of the KTM 890 Duke R are horizontally split, high-pressure cast aluminum, which reduces weight and wall thickness while retaining strength. Adding more mass to the crankshaft and flywheel increases the available torque.
Cylinder heads
Larger 37 mm intake and 30 mm exhaust valves and more aggressively profiled camshafts have been created mainly for the KTM 890 DUKE R's new cylinder head. Additionally, a new balancing shaft has been installed to accommodate the additional RPM and mass.
Ride-by-wire
In processes that use a ride-by-wire system, the rider's throttle orders are electronically translated into the optimal throttle valve settings for the present riding scenario using sensors that activate the throttle valves. All of this translates to more control while attempting to assault the turns.
Chassis
Brakes
The KTM 890 Duke R is equipped with the most excellent brakes for high-performance Street and track riding. 320 mm floating disks up front and Brembo Stylema monoblock calipers deliver a crisp and accurate braking feel when decreasing speed. In addition, the Brembo MCS master cylinder, which lets the rider change the lever ratio and brake feel, has been included. The unsprung mass has been reduced by 1.2 kilograms (2.8 pounds) compared to the KTM 790 Duke.
Frame
Similarly to the KTM 790 Duke, the KTM 890 Duke R's responsiveness and agility on twisting roads and mountain passes are due to the tubular chassis' dynamic and load-bearing construction. The frame of this KTM R is painted orange to emphasize its athletic appearance.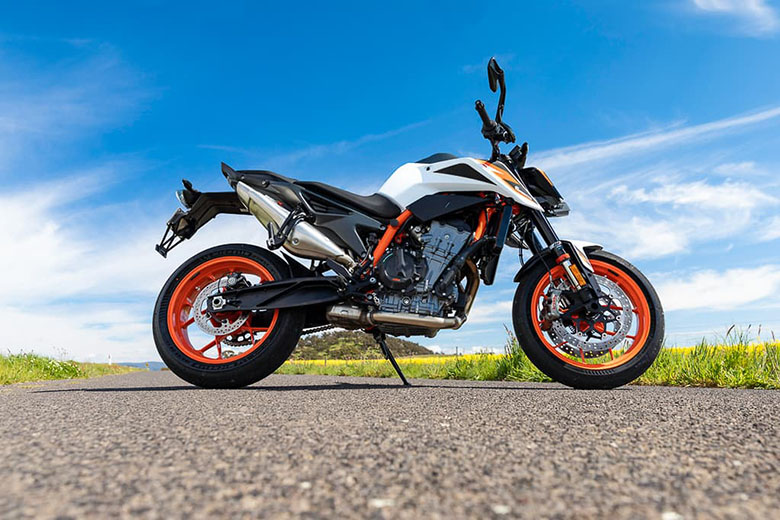 Swingarm
Although the stiff-optimized die-cast, open-lattice swingarm, its steeper angle adds excellent flexibility. You can anticipate the KTM 890 Duke R to be razor-sharp.
Suspension
The adjustable suspension on the KTM 890 Duke R has been tinkered with to be livelier with increased high-speed stability while preserving the trademark Duke Agility that has made the bike so popular.
Rear shock
At the back of the bike, a WP APEX shock with high- and low-speed compression settings and rebound adjustability take charge. Hydraulic preload adjusters enable rapid and straightforward tweaking while driving.
Wheels
All-orange KTM 2021 890 Duke R Naked Sports Motorcycle wheels are included as standard equipment on the 890 DUKE R. Additionally, the unsprung weights are minimized, resulting in a quicker turn-in and less rolling resistance the bike.
Tires
The Michelin Powercup II hypersport tires grip the tarmac like nothing else on the KTM 890 DUKE R. These tires are the latest in tire technology, providing excellent traction on the track or the street.
Ergonomics & Comfort
Footpegs
Sporty riding positions and larger lean angles can now be achieved thanks to the revised footpegs on the new KTM 2021 890 Duke R Naked Sports Motorcycle. It is also feasible to shift in the other direction without extra pieces.
Handlebar
To offer a greater level of aggressive riding posture and boost the sensation of the front tire, the handlebars have been positioned lower, lower, lower. In addition, the triple clamp has three rotating adjustments and four fine-tuning locations for riders to customize their optimum reach.
Seats
While the KTM 890 Duke R sits somewhat higher than the KTM 790 Duke, it also has a more pronounced lean angle, making it more intimidating. The KTM 890 Duke R's pillion seat is covered with the Duke's distinctive design to give the bike a more aggressive appearance.
Bodywork & Graphics
Graphics
The KTM 890 Duke R's distinctive 'R' graphics have been applied using a high-quality application procedure. It stands high from the rest of the field with its striking orange and white color scheme.
Bodywork
The KTM 890 Duke R's fearsome appearance and razor-sharp lines throw an ominous shadow. A look at its bare metal reveals that this Duke intends to take matters into their own hands. Intense graphics, a vivid orange frame, and an athletic silhouette scream KTM R.
Tank
For aggressive and calm riding styles, the KTM 890 DUKE R has the same 14-liter steel tank as the KTM 790 DUKE.
Software & Electronics
Supermoto ABS
A necessity for dedicated Supermoto riding and intentionally performed slides; Supermoto ABS enables eager and experienced riders to lock up the rear wheel. It signifies that the back wheel's ABS is off while its ABS remains active.
LED Headlight
Optimal near-field lighting and maximum light output characterize the KTM 890 DUKE R's LED headlights. To ensure that other road users know your speed, you should utilize daytime running lights.
TFT Display
An uncluttered display of vital information in a rainbow palette. The color of the display bars changes as you rev the engine, either encouraging you to go faster or letting you know that the engine is still a little chilly. In addition, the display's lighting is automatically adjusted to match the surrounding light. The display on the KTM 890 DUKE R shows the anti-wheelie and ABS modes.
Rider Aids
For KTM, electronic rider aids enhance control, performance, and pleasure on the motorcycle. There are four modes of operation: Sport for more aggressive riding; Street for comfortable urban riding; Rain for when things get a bit sloppy; and Track the ultimate assault mode.
Ride Modes
In the eyes of KTM, electronic rider aids are a method to enhance riders' sense of command, performance, and enjoyment on their bikes. Four different riding modes are available for riders that help them to customize their ride.
KTM 2021 890 Duke R Naked Sports Motorcycle – Price
The new KTM 2021 890 Duke R Naked Sports Bike is available at $11,999 only.
KTM 2021 890 Duke R Naked Sports Motorcycle – Technical Specifications
Engine
| | |
| --- | --- |
| Transmission | 6-speed |
| Cooling | Liquid-cooled with water/oil heat exchanger |
| Power in KW | 89kW |
| Starter | Electric starter |
| Stroke | 68.8mm |
| Bore | 90.7mm |
| Clutch | PASC™ anti-hopping clutch, mechanically operated |
| Displacement | 889cm³ |
| EMS | Bosch EMS with RBW |
| Design | 2-cylinder, 4-stroke, parallel twin |
| Lubrication | Forced oil lubrication with two oil pumps |

Chassis
| | |
| --- | --- |
| ABS | Bosch 9.1 MP (incl. Cornering-ABS and supermoto mode) |
| Front brake disc diameter | 320mm |
| Rear brake disc diameter | 240mm |
| Chain | 520 X-Ring |
| Frame design | Chromium-Molybdenum-Steel frame using an all-new engine as stressed element, powder-coated |
| Front suspension | WP APEX 43 |
| Rear suspension | WP APEX – Monoshock |
| Steering head angle | 65.7° |