2015 Harley-Davidson Night Rod Special is the new cruiser bike available in the market. It uses a 1250cc; four valves, wet-cooled 60 degree V-twin Engine. 2015 Night Rod has an engine power of almost 125 HP. With this enormous power, you will get torque of 111nm at 7250 rpm. Then you are able to see the needle of speedometer crossing the red line printed on the gauge. It has a special slim front and its body is wider from behind. A very fat tire on the rear is used to control its fast grip. You can easily say that 2015 Night Rod Special is cruiser of the year. It has an appeal of attraction towards it. When you see its gigantic size, you have to say that it is a power-house.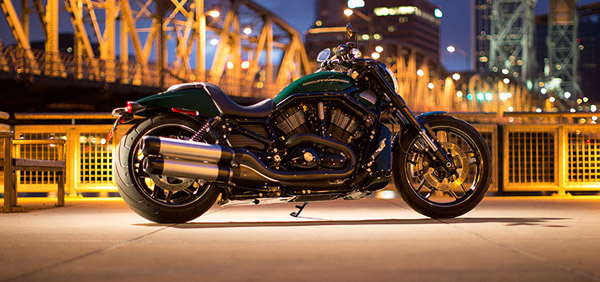 Harley-Davidson's has been producing bikes for more than 30 Years but this machine is one of the best ever they had produced. Many features are added to make this a wonderful piece of art. The engine style is authentic Harley-Davidson's company style because you cannot see this type of style in any other brand the cylinders and rocker covers are deep black. Its engine is particularly long lasting because it has passed a lot of tests taken by company on almost Roads, Hills, Grounds, City streets and in forests. Harley-Davidson Night Rod Special passed almost 500 hours of enormous running tests.
Main Features:
Low-rise swift handles for ultimate drive
Wheels are made up of cast aluminum. These are very are light, special rubber is used to give a perfect grip for the road.
Long and powerful steel chassis
Special streamlined front with a powerful look.
Blacked out look from front to back with tires, chassis, mudguards and seat are all in Black to give a praising look.
Dual barrel silencer, chromed from the center and exhaust caps are painted black with brushed double mufflers.
Radiator of this motorbike is made like one of its own components. Unlike other bikes which have not matched radiators.
Back tire of this mototbike basically controls overall grip of bikes on the roads, Its grip is like nothing
Back tail is also very prominent of this motorcycle because rear tire is fully viewed from behind and red lights on black metal raise beauty to its appearance.
Light weight rims
Darkened mirrors, chassis and shocks
Comfortable  ride on Highways
Fat tires
Comfortable and easy reached seat
Price:
Harley-Davidson 2015 Night Rod Special price starts from $16,550.I think this price for a best ever powerful stylish bike is reasonable. You are welcome to purchase this machine in such an amazing offer.
Harley-Davidson 2015 Night Rod Special First Ride:
Harley-Davidson 2015 Night Rod Special is always an authentic bike that has the design, style and fully loaded with powerful 1250cc 60 degree V-twin liquid-cooled engine. The first ride on this motorcycle would be a dream of every rider who wishes each night to ride this super bike. When you start this powerful monster, its 125Hp engine roars and you are ready to release the clutch and increase its throttle. The 32 degree leaned rake would make you grip the handle easily and ride through the way comfortably. Its seat is also very low adjusted so that smaller riders will sit on it easily. The 1250cc engines release the thrust and you are off.
Every person standing on road-side will admire its speed, thrill, uplift and stunning look. You can easily ride 100km with approximately 6.3liters of fuel through city streets or in the jungle. You will feel totally relaxed ride due to its inverted forks and find the best ever grip with Michelin fat tires manufactured for this super bike. In all you will love this superb motorbike ride and always remember it if you don't have this thing.

In my opinion, Harley-Davidson's Night Rod is a mixture of fully loaded parts that unite to form this legend. From its powerful 125 HP v-twin liquid-cooled engine you have the torque of 7250 rpm at 11nm.Its sleek and slim front and over all blacked paint enhances its beauty other brands. Harley-Davidson Night Rod comes in four demanding colors, jade pearl, superior blue, denim Black and Vivid black. So it is up to your choice that what you have decided to buy. This motorcycle has a history of bike producing for more than 30 years, but this time they engineered a supersonic bike. Extreme racers love to have this bike in their stock, its cruising speed will leave the other rival brands, and all parts in the revolutionary engine are up to standards. The outlook of Harley-Davidson's 2015 Night Rod Special is very dashing due to darkened black paint.
Harley-Davidson's Night Rod Special is available in multi colors. The buyer's have their choice to select their favorite color. Harley-Davidson's Night Rod has also H-D security system with a FOB. Its back is also attracting due to red Led's. This motorbike produces special engines from the day they started bike industry, because they made bike to win championships and races. In order to fulfill this requirement, they made 1250cc, four valve, liquid-cooled 60 degree V-twin Engine, which thrust the power when you pull the throttle. Harley-Davidson's 2015 Night Rod Special is gifted with double barrel silencers with chrome and black painted mufflers. The authenticity of Harley-Davidson's company is shown on this bike. It is fast, powerful, charming, and attractive and above all it is a winning bike Harley-Davidson's 2015 Night Rod in this price of $16,550 would be a great thing. This price is not much for this amazing motorbike because when you buy this legendary bike you have all rights to cruise it.
Harley-Davidson 2015 Night Rod Specs:
Engine:
| | |
| --- | --- |
| Capacity | 1250 cc  60°  Liquid-cooled V-twin 4-valve |
| Power | 125HP |
| Torque | 111Nm at 7250 rpm |
| Bore | 10.5cm |
| Stroke | 7.2cm |
| Compression ratio | 11.5:1 |
| Fuel | Elect. Sequential port fuel injection |
| Gears | 5-speed |
| Exhaust | Dual bore mufflers with painted black tips |
| Wheels | Black colored aluminum cast with orange strip |
| Brakes | 4 piston back and front |
| Lean angle left & Right | 32 degree |
| Fuel average economy | 300km per full tank |
Dimensions:
| | |
| --- | --- |
| Front tire | 120/70-19 |
| Rear tire | 240/40-18 |
| Fuel capacity | 19 liters |
| Oil with filter | 4.7 liters |
| Weight | 290 kg |
| Rear wheel travel | 118 mm |
| Brake system | Brembo |
| Wheel | Aluminum alloy with black cast |
| Available colors | Jade pearl, Superior Blue, Denim Black and Vivid Black |
| Security system | H-D security system with FOB |
| Length | 244cm |
| Seat height | 67.5cm |
| Ground clearance | 11.5cm |
| Wheel base | 170.2cm |
| Steering angle degree | 34 |
| Trail | 14.2cm |
| Electronics | Led lights and gauges |

Conclusion:
The Harley-Davidson Night Rod Special is definitely bike of the year. From its power to its elegance, each and every thing is stunning. The main thing on this bike is its 1250cc liquid-cooled 125HP engine which has a torque of about 7250 rpm. The main thing comes in my mind while buying this machine is Harley-Davidson's 30 year authentic design. Every brand changes its products day by day, but in this case we can proudly say that Harley-Davidson's company made a wonder in the shape of Harley-Davidson's 2015 Night Rod. Its salient features, big tires cast aluminum blackened body raise its demand and beauty.