The Harley-Davidson 2022 Tri Glide Freewheeler Trike includes brand-new braking improvements, including traction control and cornering-enhanced Reflex connected brakes with ABS. A few traditional design elements are bobtail fenders, slash cut pipes, 12-inch mini apes, and Enforcer aluminum wheels. Two full-face helmets may be stored in the cargo area and other accessories. Thanks to a Milwaukee-Eight® 114 V-Twin engine, there is plenty of power. The ride is pleasant thanks to the 49mm dual bending valve front forks and the readily adjustable rear suspension.
With a tiny ape hanger handlebar, bobtail fenders, chrome Hiawatha headlight, Enforcer wheels, and slash cut pipes, standard Cornering Rider Safety Enhancements by Harley-Davidson, and the Milwaukee-Eight 114 engine, this cruiser-inspired trike gives hot-rod attitude on three wheels. A brand-new tank medallion in the traditional "V" design is available for 2022 in Chrome and Gloss Black. The new optional Midnight Crimson/Vivid Black two-tone paint scheme is applied to the fuel tank, front and rear fenders, and the body.
With a simple frame to handle and a hot-rod attitude on three wheels, adventure is always heading your way.
Harley-Davidson 2022 Tri Glide Freewheeler Trike – Features and Specs
Milwaukee-Eight® 114 Engine
The most significant displacement is available in H-D® Touring standard versions. Power for passing and chasing the horizon comes in about 114 cubic inches.
Reflex™ Linked Brembo® Brakes with Standard ABS
They are designed to aid the rider in keeping control while applying brakes in a straight line by helping to prevent the wheels from locking up during braking. In an emergency, the ABS works separately on the front and rear brakes to keep the wheels moving and assist avoid uncontrollable wheel locks.
High-Performance Suspension
A smooth and responsive ride is provided by Trike models' premium Harley-Davidson touring suspension technology.
Bobtail Rear Fenders
The bike's traditional cruiser lines and stylistic features are provided by the pair of Harley-Davidson® bobtail rear fenders.
Enforcer Cast Aluminum Wheels
You have two more matching Enforcer wheels in the rear and one leading the way up front. Redesigned brake rotors at the show enhance the premium custom appearance of the wheels.
7-Piece Nacelle
For a slimmer, more compact appearance, a traditional design chrome headlamp nacelle is snuggled tightly against the frame and forks. Additionally, it has a sleek windshield attachment method.
Unique Trunk System
Its one-of-a-kind design stretches the length of the body for a neat appearance and opens from left to right (with one hand). Two full-face helmets may be fit comfortably in the available cargo space.
Harley-Davidson 2022 Tri Glide Freewheeler Trike – Price
The new Harley-Davidson 2022 Tri Glide Freewheeler Trike is available at $28499 in Black, $29149 in Color, and $29599 in Two Tone graphics.
Harley-Davidson 2022 Tri Glide Freewheeler Trike – Technical Specifications
Dimensions
| | |
| --- | --- |
| Length | 103 in. (2,615 mm) |
| Overall Width | 55.3 in. (1,405 mm) |
| Overall Height | 45.3 in. (1,150 mm) |
| Seat Height, Laden | 26.2 in. (665 mm) |
| Seat Height, Unladen | 27.6 in. (700 mm) |
| Static Ground Clearance | 4.9 in. (125 mm) |
| Rake (steering head) (deg) | 26 |
| Fork Angle (deg) | 32.2 |
| Trail | 3.96 in. (101 mm) |
| Wheelbase | 65.7 in. (1,670 mm) |
| Tires, Type | Dunlop Harley-Davidson Series, bias blackwall front & radial blackwall rear |
| Tires, Front Model | D408F |
| Tires, Front Specification | MT 130/60B19 M/C 61H |
| Tires, Rear Model | Signature |
| Tires, Rear Specification | P205/65R15 |
| Fuel Capacity | Six gals. (22.7 l) |
| Reserve Fuel Capacity, Fuel Injection (warning light) | One gal. (3.8 l) |
| Oil Capacity (w/filter) | Five qt. (4.7 l) |
| Transmission Capacity | 1.1 qt. (1 l) |
| Primary Chain Case Capacity | 1.1 qt. (1 l) |
| Coolant Capacity | N/A |
| Weight, As Shipped | 1,085 lb. (492 kg) |
| Weight, In Running Order | 1,118 lb. (507 kg) |
| Gross Vehicle Weight Rating | 1,700 lb. (771 kg) |
| Gross Axle Weight Rating, Front | 511 lb. (232 kg) |
| Gross Axle Weight Rating, Rear | 1,189 lb. (539 kg) |
| Luggage Capacity -Volume | Two cu ft (0.06 m3) |
Engine
| | |
| --- | --- |
| Engine | Milwaukee-Eight® 114 |
| Valves | Pushrod-operated, overhead valves including hydraulic, self-adjusting lifters; four valves per cylinder |
| Bore | 4.016 in. (102 mm) |
| Stroke | 4.5 in. (114.3 mm) |
| Displacement | 114 cu in (1,868 ccs) |
| Compression Ratio | 10.5:1 |
| Fuel System | Electronic Sequential Port Fuel Injection (ESPFI) |
| Air Cleaner | Paper, washable |
| Exhaust | Shorty slash down-style chrome finish mufflers |
| Lubrication System | Pressurized, dry-sump with fan-assisted oil cooler |

Drivetrain
| | |
| --- | --- |
| Primary Drive | Chain, 34/46 ratio |
| Final Drive | Belt, 30/70 ratio |
| Clutch | Mechanically actuated ten plates, wet Assist & Slip |
| Transmission | 6-Speed Cruise Drive |
| Gear Ratios (overall) 1st | 10.534 |
| Gear Ratios (overall) 2nd | 7.302 |
| Gear Ratios (overall) 3rd | 5.423 |
| Gear Ratios (overall) 4th | 4.392 |
| Gear Ratios (overall) 5th | 3.741 |
| Gear Ratios (overall) 6th | 3.157 |
Chassis
| | |
| --- | --- |
| Frame | Mild steel, square-section backbone including twin downtubes |
| Swingarm | Mild steel, rectangular tube sections including plate junctions; MIG welded |
| Front Fork | 49mm dual bending valve |
| Rear Shocks | Hand-adjustable emulsion rear suspension |
| Wheels, Optional Style Type | N/A |
| Wheels, Front Type | Enforcer Cast Aluminum |
| Wheels, Front Width | 3.5 in. (89 mm) |
| Wheels, Front Height | 19 in. (483 mm) |
| Wheels, Rear Type | Enforcer Cast Aluminum |
| Wheels, Rear Width | 5.5 in. (140 mm) |
| Wheels, Rear Height | 15 in. (381 mm) |
| Brakes, Caliper Type | Front: 32mm 4 pistons fixed, Rear: floating 36mm piston integrated park brake |
| Brakes, Rotor Type | Dual floating rotors (front), fixed rotor (rear) |
| Brakes, Front Diameter | 11.8 in. (300 mm) |
| Brakes, Front Thickness | 0.2 in. (5.1 mm) |
| Brakes, Front is dual | Yes |
| Brakes, Rear Diameter | 10.6 in. (270 mm) |
| Brakes, Rear Thickness | 0.24 in. (6 mm) |
| Front brake lever free travel | N/A |
| Rear brake pedal free travel | N/A |
| Brakes, Anti-Lock Braking System (ABS) | Standard |
| Suspension Travel, Front | 4.6 in. (117 mm) |
| Suspension Travel, Rear | Three in. (76 mm) |
Performance
| | |
| --- | --- |
| Engine Torque Testing Method | J1349 |
| Engine Torque | 122 ft-lb (165 Nm) |
| Engine Torque (rpm) | 2,250 |
| Power (Hp/kW) | 93 HP / 69 kW @ 4750 rpm |
| Lean Angle Testing Method | N/A |
| Lean Angle, Right (deg.) | N/A |
| Lean Angle, Left (deg.) | N/A |
| Maximum hill-starting ability | N/A |
| Fuel Economy Testing Method | Estimated City/Hwy |
| Fuel Economy | 43 mpg (5.5 l/100 km) |
| CO₂ Emissions Testing Method | N/A |
| CO₂ Emissions | N/A |
Electric
| | |
| --- | --- |
| Battery | Sealed, maintenance-free, 12V, 28-amp/hour, 405 cca (per Battery Council International Rating) |
| Charging | Three-phase, 48-amp system |
| Starting | 1.6 kW electric, including solenoid shift starter motor engagement |
| Lights, Headlamp | Dual halogen headlight 55-watt 625 low lumen beam, 65-watt 1,570 lumen high beam. |
| Lights, Tail/Stop | Incandescent |
| Lights, Front Signal Lights | Incandescent |
| Lights, Rear Turn Signals | Incandescent |
| Gauges | Speedometer, tachometer, fuel, and voltage gauges; display features odometer, trip A, trip B, range to empty, gear indicator |
| Auxiliary Lamps | N/A |
| Electric Power Outlet | N/A |
| GPS System | N/A |
| Reverse Gear | Electric reverse actuated by handlebar mounted hand controls |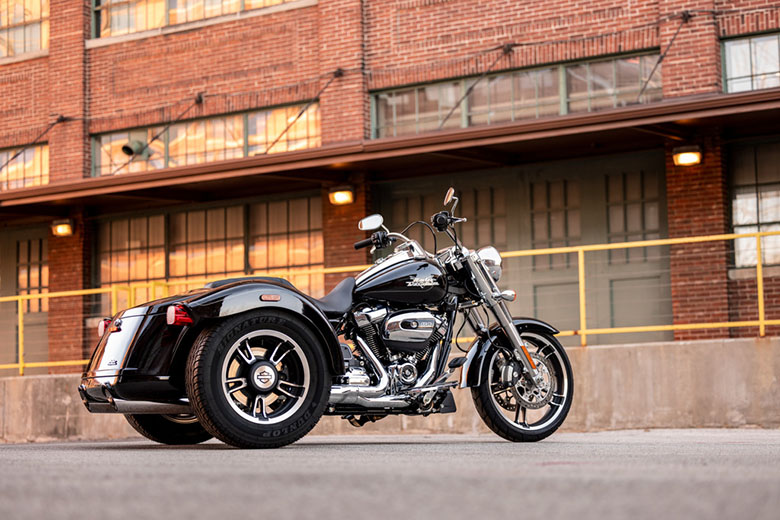 Warranty And Service
| | |
| --- | --- |
| Warranty | 24 months (unlimited mileage) |
| Service Interval | First 1,000 miles (1,600 km), every 5,000 miles (8,000 km) thereafter |