Any enthusiast will tell you what riot pocket bikes are if you ask them. After all, compared to a full-size motorcycle, these bikes allow you to test your skills and push your limits more safely and affordably. One such motorcycle is the Italian-made Benelli 2022 Tornado Naked T 125 Street Bike, which is more than capable of dislodging the well-loved Honda Grom. Let's look at it.
Benelli 2022 Tornado Naked T 125 Street Bike – Features and Price
Design and Features
The Benelli 2022 Tornado Naked T 125 Street Bike is built on bare street fighters like its bigger siblings, the TNT 600, unlike the Grom. As a result, the baby TNT adopts a strong design language and has an athletic appearance.
The TNT 125 features a stylish all-LED headlight with four internal projector LEDs. Depending on your livery, it has powerful tank panels and an exposed chassis that matches the color scheme.
But the tail section, which includes twin slash-cut exhausts that might make you think of another Italian automaker, is the real standout of the design, in my opinion. If you know whose bike maker I'm referring to, please comment below.
The tail lamp and coincident indicators are also quite distinctive and give this pocket bike a full-sized look.
Now let's move on to the features. The Honda Grom has a digital LCD instrument cluster, whereas the TNT 125 has a Digi-analog instrument cluster. It is where TNT falls short of the 125 Grom. However, this isn't a deal breaker as you still get the regular USD fork, all-LED lighting, and disc brakes at both ends.
Engine
Underneath its attractive exterior, the Benelli 2022 Tornado Naked T 125 Street Bike is powered by a 125cc, single-cylinder, Euro 5 compliant engine that produces 11.1 horsepower and 7.3 pound-feet of torque. Interestingly, the TNT has 1.5 more horsepower than the Grom, giving it an advantage.
The TNT 125 should have a faster top speed and cruising speed with a little more power. Naturally, this needs to be confirmed before we can draw firm conclusions.
A steel trellis chassis with 35mm USD forks and a mono-shock surround the TNT's powerplant. The bike gets 12-inch alloy wheels held by 210 mm and 190 mm discs, respectively.
The TNT 125 has a relatively low seat and curb weight of 780mm and 273 pounds, respectively, as expected.
Benelli 2022 Tornado Naked T 125 Street Bike – Price
On paper, the Benelli 2022 Tornado Naked T 125 Street Bike beats the Honda Grom, but Benelli hasn't introduced it in the United States. The 2021 TNT is almost 1,500 euros ($1,600) less expensive than the 2021 Honda Grom in 125 European countries, which makes it even more shocking.
Would you choose the TNT 125 over the Honda Grom, given the option? Your answer should be posted below.
Tornado Naked T 125 vs Honda Grom
The new Honda MSX125 costs just 60% more than the Benelli TNT 125, which is £1500 less expensive than its competitor. Strangely, we don't see more competitors on our roads, given how the classic MSX, sometimes known as the "Groom," has developed such a cult following around the world and many later ones. have given birth to parts. A handsome Z125 Pro from Kawasaki costs $2,999, but because it lacks ABS, it's not sold in Europe.
Is the Benelli a worthy rival to Honda's mighty Mini, whether you're looking for something with a little more personality than a beginner 125cc commuter or an experienced biker looking for something a little more fun?
First impressions
The Chinese-made TNT 125 looks more expensive than it is thanks to its slash-cut, typical Benelli pipes. While the exhaust sounds meatier than the Honda, it won't wake the neighbors. And although the number plate with mudguards seems to divide opinion, I like that it creates a clean tail.
A large analog rev counter and a liquid crystal display that shows speed (in mph or km/h), fuel level, time, two trips, and an odometer are present on the watch. An upright, 124.8cc, single-cylinder, four-valve engine with a claimed 11 horsepower at 9500 rpm is mounted on a steel trellis frame.
It's not until this bike sits next to a Honda MSX125 that you realize just how big it is. Although it's still a mini bike, the Grom's flat engine arrangement makes for an even more compact machine. The seat is 780mm higher than the ground, just 15mm higher than the Honda. And a lighter one; The Honda weighs 12 percent more than the Benelli, at 121 kg. It wouldn't be difficult for anyone to move it, but for such a small bike, it's surprisingly noticeable when you bounce between the two.
The extra cog on top of the four-speed Grom makes the TNT feel pretty quick as you accelerate. On country roads, the five gears (pretty smooth and positive) overtake with more confidence, but when the two bikes were riding side by side (riders shifted to account for the weight difference), there was no discernible difference. I was At the speed of two bikes.
Custom potential
MotoGP, a UK importer, guarantees a comprehensive selection of spares at its Chorley headquarters. Although the TNT 125 was only released in June 2017, it already has some beautiful adjustable anodized footpegs and levers, and we've been told to expect tuning components in the future.
You'll have to wait to see what becomes available or get the Grom if your only goal is to bolt on ready-made tuning and styling items. Just keep in your mind that going down this path can be expensive!
Benelli 2022 Tornado Naked T 125 Street Bike – Technical Specifications
Engine and transmission
| | |
| --- | --- |
| Displacement | 125.0 ccm (7.63 cubic inches) |
| Engine type | Single cylinder, four-stroke |
| Power | 11.1 HP (8.1 kW)) at 9500 RPM |
| Torque | 10.0 Nm (1.0 kgf-m or 7.4 ft.lbs) at 7000 RPM |
| Compression | 9.8:1 |
| Bore x stroke | 54 mm x 54.5 mm (2.1 inches x 2.1 inches) |
| Valves per cylinder | 4 |
| Fuel system | Injection |
| Fuel control | Single Overhead Cams (SOHC) |
| Ignition | TLI |
| Lubrication system | Pressure splash |
| Cooling system | Air |
| Gearbox | 5-speed |
| Transmission type | Chain (final drive) |
| Clutch | Wet Multiplate |
| Fuel consumption | 2.20 litres/100 km (45.5 km/l or 106.92 mpg) |
| Greenhouse gases | 51.0 CO2 g/km. (CO2 – Carbon dioxide emission) |
| Emission details | Euro 4 |
| Exhaust system | With catalytic converter and oxygen sensors |
Chassis, suspension, brakes, and wheels
| | |
| --- | --- |
| Frame type | Arch bar truck |
| Front Suspension | Telescopic |
| Front-wheel travel | 120 mm (4.7 inches) |
| Rear Suspension | Telescopic coil spring oil damped |
| Rear wheel travel | 28 mm (1.1 inches) |
| Front tire | 120/70-12 |
| Rear tire | 130/70-12 |
| Front brakes | Single disc. 2-piston caliper |
| Diameter | 210 mm (8.3 inches) |
| Rear brakes | Single disc |
| Diameter | 190 mm (7.5 inches) |
| Wheels | Aluminum alloy |
Physical measures and capacities
| | |
| --- | --- |
| Dry weight | 116.0 kg (255.7 pounds) |
| Power/weight ratio | 0.0957 HP/kg |
| Seat height | 780 mm (30.7 inches) If adjustable, lowest setting. |
| Overall height | 1080 mm (42.5 inches) |
| Overall length | 1770 mm (69.7 inches) |
| Overall width | 780 mm (30.7 inches) |
| Ground clearance | 160 mm (6.3 inches) |
| Wheelbase | 1215 mm (47.8 inches) |
| Fuel capacity | 7.20 liters (1.90 US gallons) |
Other specifications
| | |
| --- | --- |
| Color options | Red, black, white |
| Starter | Electric |
Conclusion
The new Benelli 2022 Tornado Naked T 125 Street Bike has no under-seat storage, so if the price is your only concern, consider a scooter instead. However, for a starter bike, a cheap commuter, or just for some extra fun, the Benelli is undoubtedly a great deal. Besides costing a lot less, it will get 86 mpg (fill-to-fill, the clock showed 98 miles, but 86 miles is longer with actual speed and distance). Additionally, this little thing is easy to filter, but its compactness allows you to effectively cut through traffic by squeezing between the front and back of parked bikes.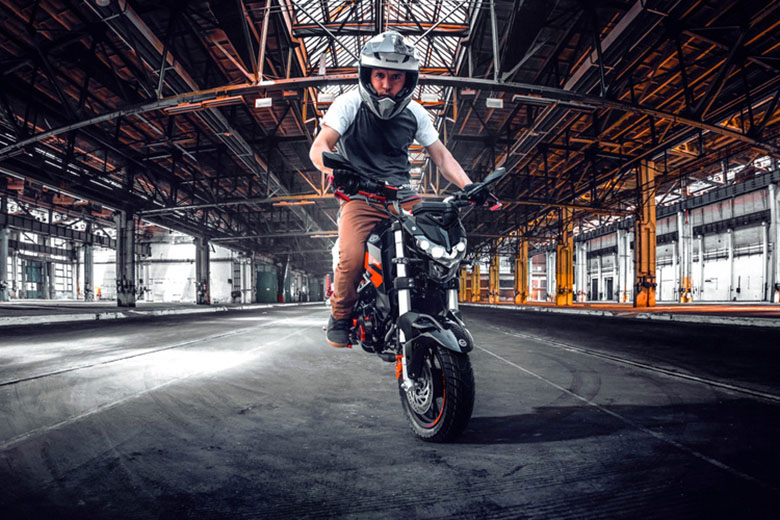 Most buyers cannot afford to keep both Honda MSX125 and Benelli TNT 125 in their garage. Although the TNT feels almost £1500 less expensive than the Grom, it's still a fantastic bike.
Granted, it doesn't stunt like the Honda, is heavier, doesn't dampen, and isn't as refined (a word you'll still be pulling with the Grom). It's also a bit buzzier than the Grom. The throttle is also a bit heavy, although lubricating or replacing the wires would probably help.
But even at a little over $2000 on the street, it's a fantastic piece of equipment. The distance between the two bikes is also extremely short for everyday use. The average rider who chooses a Benelli will probably be thrilled with it and will undoubtedly have a lot of fun riding it than they do on most 'regular' 125s.