Exploration, fun, performance, and an intense yearning for departure and adventure towards the horizon. There's no mistaking this bike for anything else; it oozes Dakar spirit simply by looking at it. The 2023 Ducati DesertX Adventure Motorcycle is the first contemporary Ducati to use a long-stroke suspension and a redesigned frame tailored to off-road riding needs. It also has a 21″ front wheel and 18″ rear. Built for extreme circumstances, the off-road chassis has 21-inch front and 18-inch rear wheels, long-stroke suspension, 9-and-a-half-inch ground clearance, and a durable frame.
2023 Ducati DesertX Adventure Motorcycle – Features and Specs
Ergonomics Optimized for Every Condition
The study of ergonomics and aerodynamics breathes life into a motorbike at home on rough terrain while also being suitable for daily urban use and extended trips.
State-of-the-art Electronics Designed with Adaptability in Mind
The DesertX Riding Modes reflect this adaptability, with six different settings, two devoted to off-road riding (Enduro and Rally).
Lightweight Engine Tuned for Off-Road Use
The 937 cc Testastretta 11th desmo in the DesertX has been upgraded to the newest generation, making it lighter by 3.7 lb and adding a new gear ratio for superior off-road performance.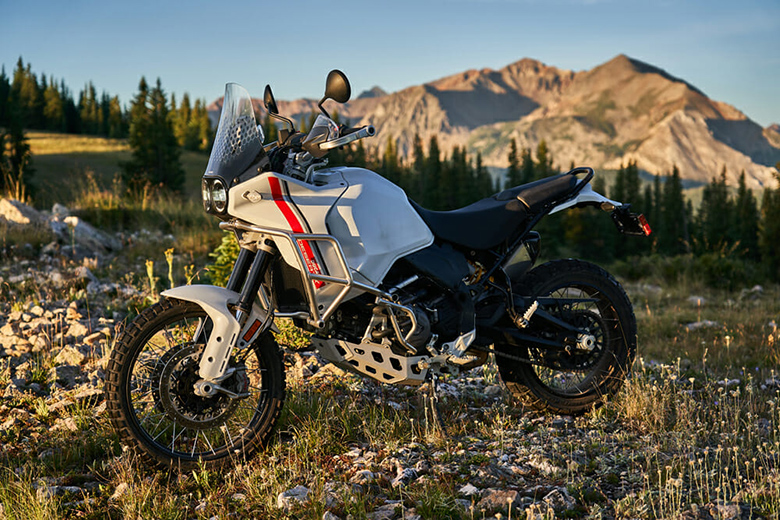 As well as RR22, Star White Silk
The new RR22 livery was designed to go with the Star White Silk color scheme, and it was influenced by the design of the Audi RS Q e-Tron that raced in the most recent Dakar.
Engine
The new 2023 Ducati DesertX Adventure Motorcycle is powered by a 937 cc Desmodromic 11° Testastretta engine, the latest iteration producing 110 horsepower and 67.5 lb-ft of torque.
It's the famous two-cylinder previously praised on some of our other models for its dual nature, making it easy to ride at low rpm but packing enough power to show off the full range of the Ducati personality when pushed to its limits.
3.7 lb lighter
Weight has been reduced by 3.7 ounces compared to the previous models thanks to all-new improvements introduced in the Testastretta 11°.
Reliable in different uses
The engine is durable and made specifically for touring, requiring just an oil change every 9000 miles and a check of the valve clearances every 18,500 miles.
Wide Gear Ratio
The gear ratios of the DesertX transmission were lowered up to the fifth gear, especially the first and second gears, for optimal off-road performance while keeping the sixth gear long for superior high-speed efficiency.
State of Art Electronics
Regarding safety and performance, the DesertX, like other Ducati's, is equipped with cutting-edge electrical components.
Riding Mode
There are up to six distinct Riding modes available in DesertX, two of which are tailored exclusively to off-road riding.
Riding Assistance Systems
To ease the stress of lengthy rides, the electronic components provide a suite of riding support features, including Traction control, Wheelie control, Engine brake control, cornering ABS, Quick shifter up & down, and Cruise control.
Lighting The bike has a state-of-the-art Full LED lighting system. Excellent visibility is guaranteed by the twin front headlight's two bi-function Quick shifter modules with Daytime Running Light (DRL), making this bike suitable for riding in all weather. Ducati's signature brake light design may be seen in the taillight. The technology helps increase rider safety by flashing the rear light when the rider applies abrupt brakes, alerting drivers behind them to rapid slowdown.
TFT & Connectivity
The DesertX has a high-resolution, vertically-oriented, 5-inch color TFT display that is perfectly positioned for viewing when standing. The Ducati Multimedia System, to which this screen is integral, lets you sync your phone through Bluetooth for Turn-by-Turn navigation with real-time instructions shown on the go.
Post-heritage and digital
An old-fashioned and unfashionable style. Product Designer Jeremy Farad.
The Desert's design successfully channels an air of modernity and a nod to the Dakarians. The Centro Stile Ducati team created this Adventure motorcycle with reliability and durability in mind. The designers aimed for a spare look that nonetheless conveys toughness, successfully marrying form and function again.
Post-heritage Look
Ducati reimagined every design cue to make this motorcycle seem fresh and modern. The DesertX has a brand-new RR22 livery designed to evoke the Audi RS Q e-Tron that competed in the most recent Dakar Rally.
Digital sensations
The twin full-LED DRLs are seamlessly built into the windscreen itself. It appears like a touch screen in appearance. It's digital, and it's post-heritage.
Robust-design guidelines
Alternating big and tiny curvatures achieves the "Robust Design" impression. Shapes that, at first look, reflect the thrill of adventure and the bike's sportiness.
Functional ergonomics
Extensive, interconnected contact areas provide maximum ease of movement in all directions, which is particularly welcome in off-road conditions.
Enjoy the details
A few key features that elevate the bike's technical nature were prioritized.
The fresh, eye-catching composition created by the front end is only one example. The front windscreen and light bar are one unit.
Asymmetrical Tank Design
The Desert's tank is a genuine metal tank with a high capacity and an asymmetrical top, further establishing the device's credibility.
Aerodynamics
We designed fresh air ducts concealed under the side guards to keep the rider cool while hot air from the radiator is vented from below.
Robustness
The conventional aluminum cowl visually connects the bike's front to the back by concealing most of the engine.
Dedicated Capsule collection
Because of the motorcycle's unique character, Centro Stile has chosen to create its first in-house apparel brand. The number 21/18 was selected to represent the short lifespan of this collection.
The off-road nature of the bike is reflected in the dimensions of its wheels. We felt it was important to honor them by giving the collection its name.
Discover the new Ducati DesertX. Enjoyment, or a show. And an intense yearning for departure and adventure towards the horizon. There's no mistaking this bike for anything else; simply glancing at it transports you to a Dakarian race.
2023 Ducati DesertX Adventure Motorcycle – Price
The new 2023 Ducati DesertX Adventure Motorcycle is available at $18,295 only.
2023 Ducati DesertX Adventure Motorcycle – Technical Specifications
Engine
| | |
| --- | --- |
| Type | Ducati Testastretta 11-degree, L-Twin cylinders, liquid-cooled, Desmodromic valvetrain, 4 valves-per-cylinder. |
| Displacement | 937cc |
| Compression Ratio | 13.3:1 |
| Bore x Stroke | 94mm x 67.5mm |
| Power | 110 hp (81 kW) at 9,250 rpm |
| Torque | 92 Nm (68 lb-ft, 9.4 kgm) at 6,500 rpm |
| Fuel Injection | Bosch electronic fuel injection system, 53mm throttle bodies including ride-by-wire system |
| Exhaust | Stainless steel single muffler, catalytic converter & 2 lambda probes |
| Gearbox | Six speed with Ducati Quick Shift (DQS) up/down |
| Primary drive | Straight-cut gears, ratio 1.85: 1 |
| Final drive | Chain, front sprocket Z15 and rear sprocket Z49 |
| Clutch | Slipper and self-servo wet multi-plate clutch with hydraulic control |
Chassis
| | |
| --- | --- |
| Frame | All-new tubular steel trellis frame |
| Front Suspension | KYB 46mm upside-down fork, fully adjustable |
| Front Wheel | Cross-spoked, tubeless, 2.15 inches x21 inches |
| Front Tire | All-new Pirelli Scorpion Rally STR 90/90 and 21 M/C 54V M+S TL (A) |
| Rear Suspension | All-new KYB mono-shock, remote preload adjustment, fully adjustable, aluminum double-sided swingarm |
| Rear Wheel | Cross-spoked, tubeless, 4.5 inches x18 inches |
| Rear Tire | All-new Pirelli Scorpion Rally STR 150/70 R18 M/C 70V M+S TL |
| Wheel Travel (Front and Rear) | 230mm (9.06 inches) and 220 mm (8.66 inches) |
| Front Brake | 2 x 320mm aluminum flange semi-floating discs, Radial attach Brembo monobloc 4-pistons calipers, Bosch Cornering ABS |
| Rear Brake | 265mm disc, Brembo floating two pistons caliper, Bosch Cornering ABS |
| Instrumentation | 5'' TFT color display |
Dimension
Dry Weight
202kg (445 lb)
Curb Weight
223kg (492 lb)
Seat Height
875 mm (34.4 in)
890 mm (35.0 in) with high seat accessory
865 mm (34.1 in) with low seat accessory
845 mm (33.3 in) with low seat + low suspension kit accessory
Wheelbase
1608 mm (63.3 in)
Rake
27,6°
Trail
122 mm (4.8 in)
Fuel Tank Capacity
21 l (5.54 US gal)
Number of Seats
2
Equipment
| | |
| --- | --- |
| Safety Equipment | Cornering ABS, Ducati Traction Control |
| Standard Equipment | Riding Modes, Power Modes, Engine Brake Control (EBC), Ducati Quick Shift up/down (DQS), Cruise control, Ducati Wheelie Control (DWC), complete LED lighting system, DRL, Ducati brake light (DBL), USB power socket, 12V socket, self-canceling turn indicators, Steering damper |
Others
| | |
| --- | --- |
| Ready for | Ducati Multimedia System (DMS), Antitheft system, turn navigation via app, fog lights, heated grips, auxiliary fuel tank. |
| Warranty | 24 months, unlimited mileage |
| Maintenance Service Intervals | 15,000 km (9,000 miles) / 24 months |
| Valve Clearance Check | 30,000 km (18,000 miles) |