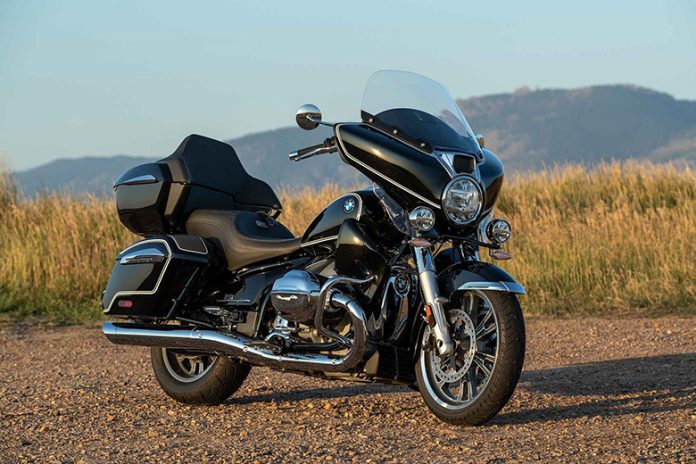 The new 2022 BMW R 18 Transcontinental Tourer embodies the essence of the traditional touring bike, designed specifically for long rides, with a large windscreen, wind deflectors, a painted top case, and a very comfortable seat.
An ultra level of comfort for both the rider and the passenger combines a unique sense of beauty. The engine is crafted in silver and is finished with a silver fork with chrome-plated fork sleeves – a superficial combination that also adds a subtle elegance to the cockpit. The Silver Instrument Cluster is made up of four chrome-plated instrument rings.
2022 BMW R 18 Transcontinental Tourer – Features and Specs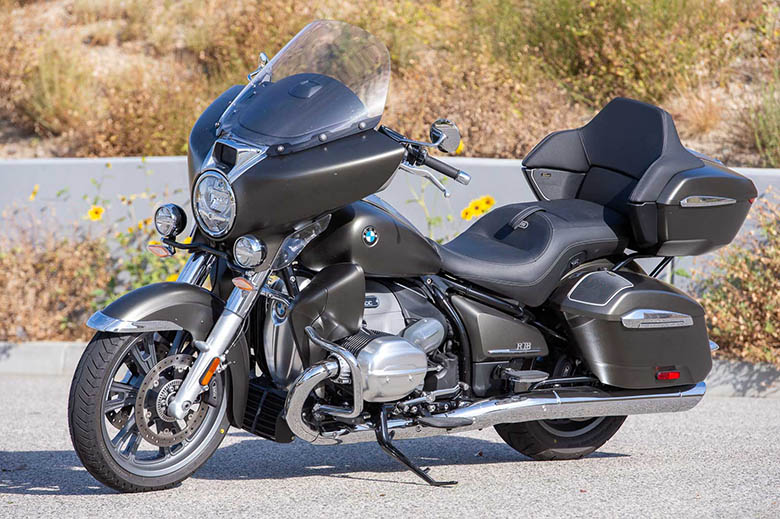 Best-Dressed Icon
The new 2022 BMW R 18 Transcontinental Tourer gives you a unique and beautiful travel experience. As a member of the R18 family, it embodies BMW Motorrad's legacy while still firmly attached to the present: its distinctive front-end high windshield and large Big Boxer offer comfortable, powerful rides for kilometers.
Travel Expands the Intellect and Shapes
The 2022 BMW R 18 Transcontinental Tourer seems to be able to eat transcontinental miles. The sleek, smooth design starts with an impressive front end with a sizeable front fender and dual auxiliary headlights.
Maintain your Course
The R 18 Transcontinental is carefully crafted for anything you can throw at it. It's designed to be as personal as you want it to be. Various original BMW Motorrad accessories further support this custom idea.
Calmness Creates Strength
When you start Big Boxer, you immediately understand why it is named. Every mile along the way, you can feel the massive displacement. You can expect at least 111 lb-ft of torque between 2,000 and 4,000 rpm with its typical boxer power program.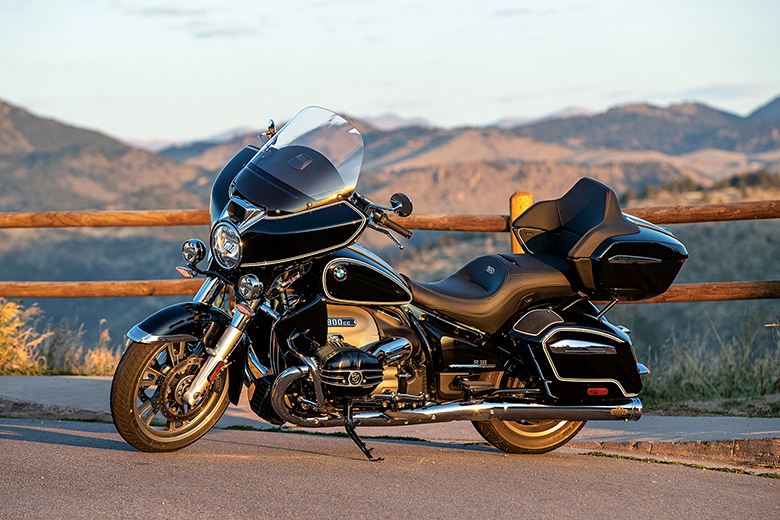 Original BMW Motorrad Accessories and Optional Accessories
The new R18 B and R18 Transcontinental will have many choices, including ride and style collection accessories. Original BMW accessories can be installed by a BMW Motorrad dealer or client or redesigned later.
A Wide Range of Components
The original BMW Motorrad Accessories collection includes alternatives to tailor the R18 B and R18 Transcontinental to customer preferences. Valve covers (cylinder head covers) and belt covers (engine housing covers), for example, are designed to be located outside the oil chamber making them very easy to replace.
Other distinctive features, such as wheels, can be added to the original BMW Motorrad accessories collection. Introducing the new R18B and R18 Transcontinental to the market, two uniquely designed combinations of mild aluminum components, developed in partnership with Roland Sands Design, are available: "Mashind" and "2-Tone-Black."
Custom option 719 with historical source
Some optional extras, weird special requests, and a variety of features were allocated to the entry code "719" at the BMW Motorrad facility in Berlin decades ago.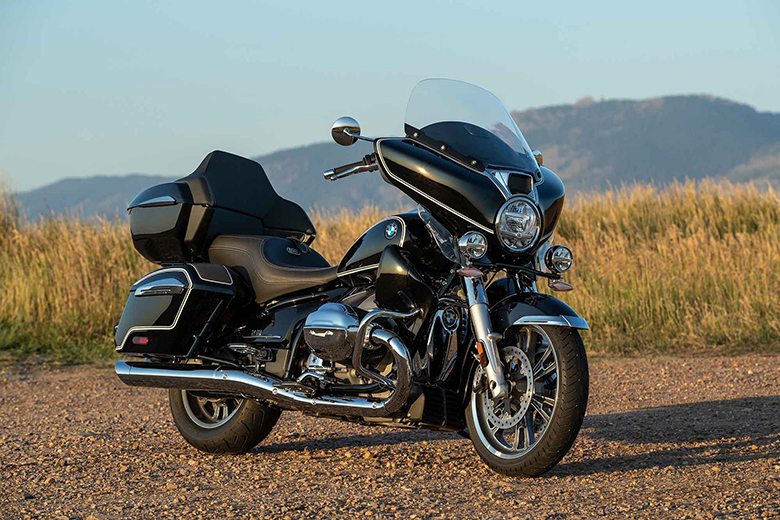 Design package Aero 719 option
Option 719 design packages include AERO sheet aluminum cylinder head cover, front cover, and intake snorkel cover with brush clear anodized finish.
2022 BMW R 18 Transcontinental Tourer – Price
The new 2022 BMW R 18 Transcontinental Tourer is available at $24,995 only.
2022 BMW R 18 Transcontinental Tourer – Technical Specifications
Engine
| | |
| --- | --- |
| Design | Air/oil-cooled twin-cylinder four-stroke boxer engine with two chain-driven camshafts above the crankshaft |
| Bore x stroke | 107.1 mm x 100 mm |
| Displacement | 1,802 cc |
| Nominal capacity | 91 HP at 4,750 rpm |
| Max. torque | 116 lb-ft at 3,000 rpm |
| Compression ratio | 9.6 :1 |
| Fuel preparation | Electronic intake manifold fuel injection/digital engine management: BMS-O with the electromotive throttle controller |
| Emission control | A closed-loop three-way catalytic converter |

Mileage / consumption
| | |
| --- | --- |
| Maximum speed | Over 111 mph |
| Fuel type | Super plus, unleaded (max. 15% ethanol, E15) RON 95 90 AKI |
Electrical system
| | |
| --- | --- |
| Alternator | Permanent magnet alternator with 660 W (nominal capacity) |
| Battery | 12 V / 26 Ah, maintenance-free |
Power transmission
| | |
| --- | --- |
| Clutch | Single-disc dry clutch |
| Transmission | 6-speed transmission |
| Secondary drive | Driveshaft |
Suspension/brakes
| | |
| --- | --- |
| Frame | Double-cradle tubular steel frame |
| Front suspension/spring elements | Telescopic fork |
| Rear-wheel guide/spring elements | Steel swingarm with central shock strut |
| Spring travel, front/rear | 4.7″ / 4.7″ |
| Wheelbase | 66.7" |
| Castor | 7.2" |
| Steering head angle | 62.7° |
| Wheels | Cast aluminum front wheel |
| Rim dimensions, front | 3.5 x 19″ |
| Rim dimensions, rear | 5.0 x 16″ |
| Tire, front | 120/70 R19 |
| Tire, rear | 180/65 B16 |
| Brake, front | Twin disc brake, 300 mm in diameter, four-piston fixed caliper |
| Brake, rear | Single disc brake, 300 mm in diameter, four-piston fixed caliper |
| ABS | BMW Motorrad Integral ABS (fully integrated) |

Dimensions/weights
| | |
| --- | --- |
| Seat height at vehicle curb weight | 29.1" |
| Inner leg curve at vehicle curb weight | 67.3" |
| Usable tank capacity approx. | 6.3 gallon |
| Of which reserve approx. | 1.0 gallon |
| Length | 104" |
| Height | 59.1" |
| Width | 2.8" |
| Vehicle curb weight, road-ready, fully fueled | 942 lbs |
| Permitted total weight | 1,389 lbs |
| Payload (with standard equipment) | 448 lbs |